Will U.S. Go to War With Iran? Trump Breaks Nuclear Deal and Risks Middle East Conflict
Updated | President Donald Trump announced Tuesday that he would reinstate nuclear sanctions against Iran, ending U.S. commitment to a landmark nuclear agreement with the country. Experts said the move could destabilize the region and spark a new conflict.
Days before a May 12 deadline set by the administration, Trump told a press conference at the White House that the U.S. would withdraw from the 2015 arrangement, known formally as the Joint Comprehensive Plan of Action (JCPOA). The deal, negotiated under former President Barack Obama and signed alongside Iran, China, France, Germany, Russia and the U.K., mandated that Iran curb its nuclear program in exchange for billions of dollars in sanctions relief.
Trump criticized the "disastrous deal" for not addressing Iran's support for armed groups across the Middle East and development of ballistic missiles. Despite pressure from its other signatories, the U.S. sided with its Middle East allies, Israel and Saudi Arabia, both of whom also opposed the arrangement and called on the U.S. to take a tougher stance on Iran.
"It is clear to me that we cannot prevent an Iranian nuclear bomb under the decaying and rotten structure of the current agreement. The Iran deal is defective at its core," Trump said. "If we do nothing, we know exactly what will happen. In just a short period of time, the world's leading state sponsor of terror will be on the cusp of acquiring the world's most dangerous weapons."
"I am announcing today that the United States will withdraw from the Iran nuclear deal."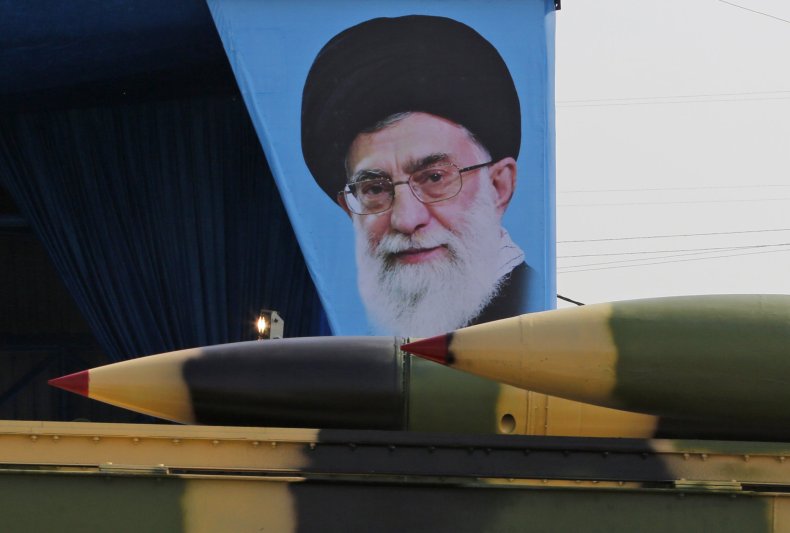 Shortly after the announcement, U.S. Ambassador to the United Nations Nikki Haley said, "The president absolutely made the right decision to pull out of the Iran nuclear deal," arguing that agreement "was a terrible deal that only allowed Iran's bad international conduct to worsen." Representative Ro Khanna of the House Armed Services Committee, however, said, that "withdrawing from the Iran deal only sends the message that the U.S. can't keep its commitments when administrations change and the only way to resolve disputes with us is through nuclear deterrence."
"Pulling out makes it more likely, not less, that Iran will acquire a nuclear weapon," Khanna added.
"Iran could start on its way back to getting a nuclear weapon. It raises the risk of conflict in the Middle East," Wendy Sherman, who served as former undersecretary of state and helped negotiate the deal, said during a conference call hosted by the progressive National Security Action and Diplomacy Works coalitions, emphasizing that Iran has been in total compliance with the deal.
Related: What is the Iran nuclear deal, and what will happen if the U.S. withdraws from it?
The International Atomic Energy Agency has verified Iran's observance to the deal at least 10 times, with IAEA Director General Yukiya Amano saying in March that "Iran is implementing its nuclear-related commitments" as dictated by the nuclear deal. Separate reviews by Trump's State Department, then headed by former top diplomat Rex Tillerson, found Iran to be "in technical compliance of the agreement."
In October, Trump decertified the deal, accusing Iran of being a "fanatical regime" that supported terrorism. After blasting the "evil dictatorship" of Iran in his "America first" national security strategy announced in December, Trump again waived sanctions a month later as "a last chance" to renegotiate before May 12.
Iran has so far fiercely opposed any attempt to reopen the terms of the agreement for debate, arguing that it has adhered to its end of the deal. Israeli Prime Minister Benjamin Netanyahu claimed to have proved otherwise during a slide show presentation last week in Tel Aviv, where he alleged his spies obtained over 100,000 records from Iran's "atomic archive."
Netanyahu said the documents proved Iran had intentions of building nuclear weapons and concealing them, but did not provide any evidence of renewed or current nuclear activities. Trump cited this presentation in Tuesday's press conference as proof that the deal was based on "fiction."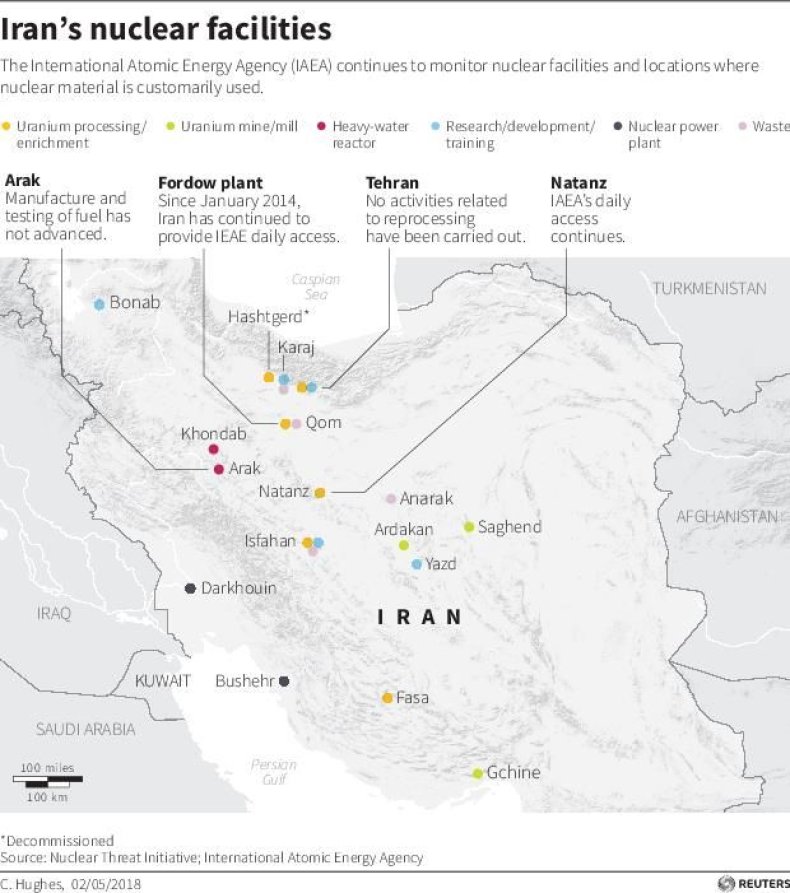 Israel and Iran's feud has already spilled over into the battlefield in Syria, where Iran has expanded its regional foothold by backing majority-Shiite Muslim militias fighting rebels and jihadis attempting to overthrow Syrian President Bashar al-Assad. Israel argues that these Iran-backed groups, such as the Lebanese Hezbollah movement, threaten Israeli national security and Israel has targeted them and their allies in Syria.
In the months since Trump honored the Iran deal for what he said was the last time, attacks against Iranians and their partners in Syria have intensified, though some of these strikes have been left unclaimed. The U.S., France and the U.K. also launched a separate barrage of missiles against Syrian government facilities allegedly involved in the production of chemical weapons after a suspected toxic gas attack in rebel-held territory last month. Iran has vowed to respond to Western and Israeli strikes in Syria and Israel has claimed it was bracing for an imminent attack, most likely from Iran's local partners.
"It would mean opening Pandora's box," French President Emmanuel Macron told German magazine Der Spiegel Saturday. "It could mean war."
"I don't believe that Donald Trump wants war," Macron said.
Also describing the situation as a "Pandora's Box," National Council for Iranian Americans President Trita Parsi said in a statement sent to Newsweek that "Donald Trump has committed what will go down as one of the greatest acts of self-sabotage in America's modern history. He has put the United States on a path towards war with Iran and may trigger a wider regional war and nuclear arms race."
"This is a crisis of choice," Parsi added. "Trump has taken a functioning arms control deal that prevented an Iranian nuclear bomb and turned it into a crisis that can lead to war," he said, criticizing the role in which Netanyahu and Saudi Crown Prince Mohammad bin Salman played in campaigning against the deal.
Israel has fought wars with Hezbollah in Lebanon and has killed Iranians in airstrikes in Syria, but it has not fought directly with Iran. Saudi Arabia, too, accuses Iran of fostering unrest and claims Iran is behind the ballistic missiles fired by the Zaidi Shiite Muslim Houthi movement in Yemen, but the Sunni Muslim kingdom has only engaged in clashes of influence with its Shiite Muslim rival.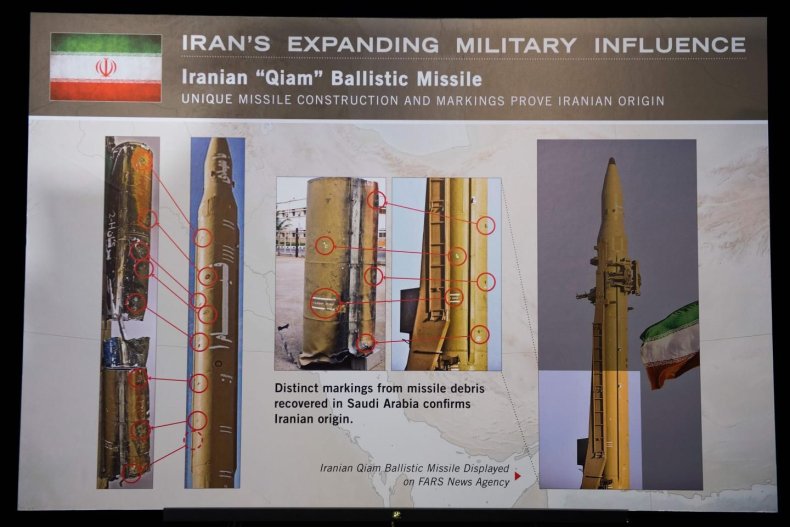 Allegations that these missiles were provided by Iran, however, served as the basis for U.S. condemnation of Iran at the United Nations, something that Iranian Foreign Minister Mohammad Javad Zarif said in December reminded him of the build-up to the U.S. invasion of Iraq in 2003. Since then, former ambassador and Iraq War supporter John Bolton has been selected as national security adviser, further raising concerns that a new war was in the works.
"Pulling out of the Iran nuclear deal could have consequences as disastrous as invading Iraq, one of the worst foreign policy decisions in U.S. history," Stephen Miles, director for the progressive Win Without War coalition, said Monday in a statement sent to Newsweek. "The Iran nuclear deal is working, blocking all pathways for Iran to build a nuclear weapon. Failing to waive sanctions on Iran would violate and effectively kill the JCPOA."
"We forced U.N. weapons inspectors out of Iraq before they finished their work, and that's exactly what we'll be doing if Trump kills the JCPOA, thereby putting us back on the path to another disastrous war in the Middle East," he added.
The U.S. also has never gone to war with Iran, but the CIA did help sponsor a 1953 coup that removed democratic opposition and re-installed an absolute monarch who supported the West. This government, led by Shah Mohammad Reza Pahlavi, was overthrown in the 1979 Islamic Revolution that swiftly cut ties to the U.S. An ensuing hostage crisis at the U.S. embassy left countries at odds for decades until the Obama and Rouhani forged the nuclear agreement in spite of conservative skepticism in both countries.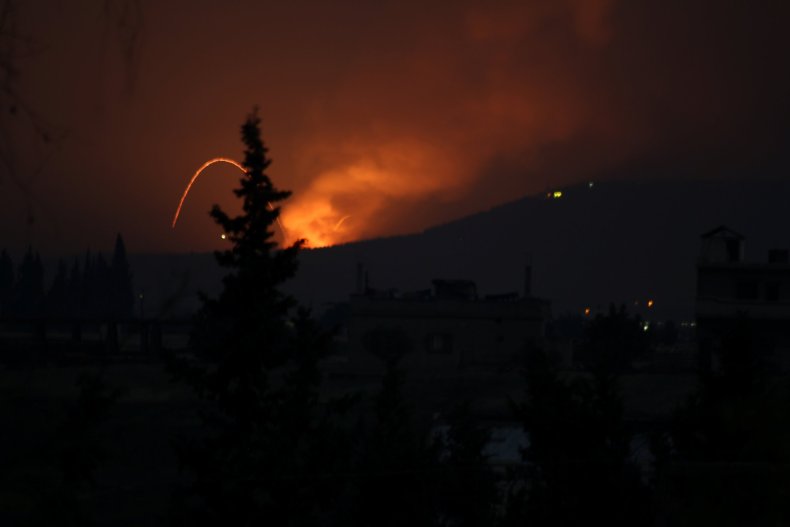 Iran has often said it would also leave the deal if the U.S. withdrew first and has warned restarting nuclear activities was an option in this scenario, a move that could provoke military action on behalf of the U.S. or Israel. Iranian President Hassan Rouhani, who led the historic nuclear initiative with Obama, suggested Monday, however, that Iran may stay in the deal, saying "if we can get what we want from a deal without America, then Iran will continue to remain committed to the deal," according to the official Iran Daily.
"What Iran wants is our interests to be guaranteed by non-American signatories," he added. "Getting rid of America's mischievous presence will be fine for Iran."
China, France, Germany and Russia have already pledged to remain in the deal. The European Union has also given its support. It remains to be seen, however, whether this and other decisions made in the coming weeks and months will be though to save the agreement and prevent any wider, potentially violent fallout from the U.S. exit.
"It would be a monumental mistake," Tony Blinken, who served as deputy secretary of state from 2015 to 2017 and also played a key role in shaping the previous administrations' policy toward Iran, said during Tuesday's call. "It puts us on a collision course with our allies, with Iran or both."
This article has been updated to include reactions from U.S. Ambassador to the U.N. Nikki Haley and Representative Ro Khanna.