Israeli Prime Minister Benjamin Netanyahu has accused Iran of having secretly continued its nuclear activities in spite of a 2015 agreement in which it pledged to curb uranium enrichment in exchange for sanctions relief.
In a special address Monday, Netanyahu said Israel obtained half a ton of top-secret data relating to Iran's alleged nuclear weapons program. Netanyahu stood before a slideshow presentation and claimed Iran secretly pursued Project Amad, a plan to "design, produce and test" five nuclear warheads, each with 10 kilotons of explosive yield and designed to be fitted onto a missile. He claimed that he had 100,000 "exact copies" of Iran's atomic archive to prove it.
"These files conclusively prove that Iran is brazenly lying when it says it never had a nuclear weapons program," Netanyahu said.
"Even after the deal, Iran continued to preserve and expand its nuclear weapons program for future use," he added. "The nuclear deal is based on lies. It's based on Iranian lies and Iranian deception."
Israel said the documents show Iran has been dishonest in saying it never sought a nuclear weapons program, had plans to continue Project Amad at the Fordow Fuel Enrichment Plant near the city of Qom and lied to the U.N.'s International Atomic Energy Agency (IAEA) about its nuclear activities in December 2015, ahead of the deal's implementation the following month. He also said the current deal did not go far enough to block Iran from developing a nuclear bomb.
Israel has repeatedly accused Iran of seeking nuclear weapons, but Iran has argued its nuclear program was always intended for peaceful purposes. Nevertheless, the U.S. and other Western countries hit Iran with heavy sanctions that have since been slowly rolled back after Iranian President Hassan Rouhani struck a deal with former President Barack Obama.
Related: U.S., Israel and Saudi Arabia want Muslims at war, Iran says
Capitalizing on conservative outrage toward the deal, President Donald Trump vowed to oppose it as he ran for office in 2016. The Republican leader shared the deep concerns about the deal expressed by Israel and Saudi Arabia while raising suspicions that Iran could covertly continue nuclear activities and devote unfrozen assets to bolstering allied Shiite militias across the Middle East and developing ballistic missiles. These activities are not covered by the agreement as it now stands.
While Iran has maintained the deal is non-negotiable, Trump has decertified it and has threatened to scrap it by May 12 unless its signatories—which include China, France, Germany, Russia and the U.K.—come up with a better version.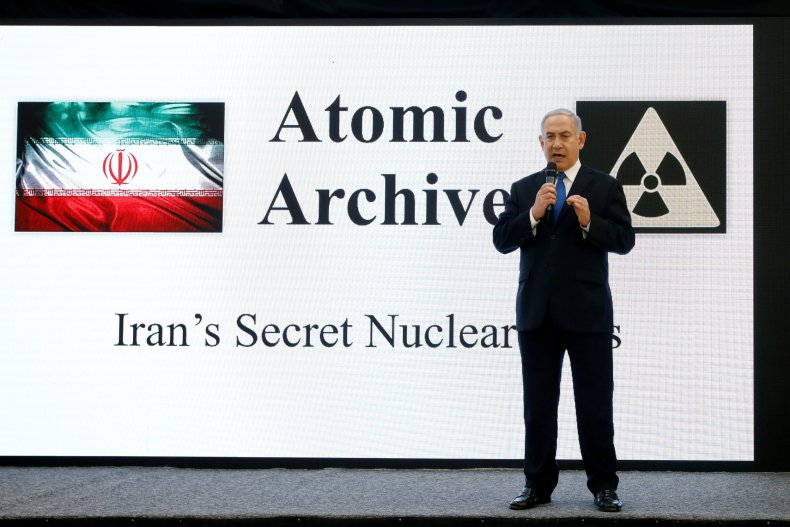 Mounting tensions between Iran and its top foes, the U.S., Israel and Saudi Arabia, over the nuclear deal have coincided with an increase in strikes against suspected Iranian positions in Syria, where Iran has joined Russia in supporting President Bashar al-Assad against an uprising backed by the West, Turkey and Gulf Arab states, and against jihadis such as the Islamic State militant group (ISIS). Iran has vowed to retaliate against both these attacks and an anticipated U.S. withdrawal from the nuclear deal.
Multiple reviews by the IAEA and Trump's State Department have so far failed to turn up any evidence that Iran has violated the agreement. Trump, however, may be in violation of it for actively discouraging other countries to engage in business with Iran, a practice the deal prohibited.