U.S., Israel and Saudi Arabia Want Muslims at War, Iran Says
Iranian supreme leader Ayatollah Ali Khamenei has accused the U.S., Israel and Saudi Arabia of conspiring to divide the Muslim world as further violence erupted in Syria over the weekend.
Khamenei addressed a crowd of laborers gathered Monday, a day before workers in Iran and around the world were set to gather in celebration of May Day. The leading cleric stressed the importance of supporting the local economy to counter U.S.-led sanctions, which he said were aimed at undermining Iran's revolutionary Shiite Muslim system. Khamenei said the U.S. also targeted Iran by manipulating its top regional rival, the conservative Sunni Muslim kingdom of Saudi Arabia.
"The U.S. incites the Saudis in order to create conflict in our region. Why don't they incite the Zionists? Because they want Muslims to fight against Muslims," Khamenei said, according to his official website.
"If these countries are wise, they won't get involved in a conflict against Iran; but, if they enter a war with Iran, they will certainly be struck down and defeated. The Americans want to avoid the costs of confrontation with the system created by Islamic Revolution," he added.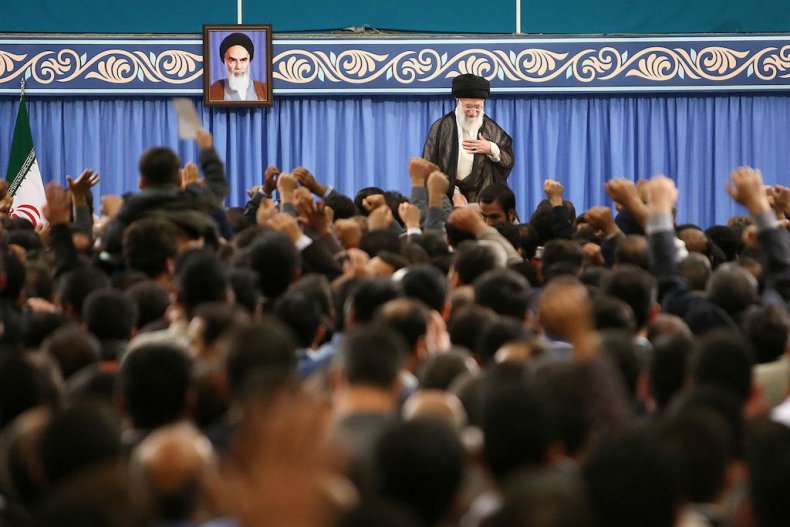 Iran has long been at odds with Israel over its annexation of land claimed by the Palestinian people, and the country's current feud with the U.S. stems back to a CIA-sponsored coup that reinstalled an absolute monarchy friendly to the West in 1953. When this monarchy fell to the 1979 Islamic Revolution, U.S. embassy workers were held hostage for over 400 days, cementing the decades-long hostility that was briefly interrupted by a 2015 nuclear deal under former President Barack Obama.
President Donald Trump has adopted a harsher stance on Iran, saying the Obama-era agreement did not go far enough and accusing Iran of exploiting the deal to further its support for militias abroad as well as its own ballistic missile development.
Related: Who's Bombing Syria? Video Shows New Strikes and Massive Explosion as World Powers Clash
As the U.S. and Iran both battled the Islamic State militant group (ISIS) across Iraq and Syria, Iran-backed forces have grown increasingly influential, a development that Israel and Saudi Arabia have said threatens their national security. The 2011 Syrian uprising sponsored by the West, Turkey and Gulf Arab states—especially Saudi Arabia and Qatar—has mostly been overcome by Syrian President Bashar al-Assad, with extensive support from his Iranian and Russian allies. With Syrian rebels and jihadis mostly defeated, Assad's international opponents have increasingly targeted his government.
The U.S., France and the U.K. launched a series of cruise missile strikes earlier this month against sites allegedly associated with Assad's chemical weapons program, which he and his partners deny is active. Israel has also repeatedly struck positions believed to be held by Iran and its allies in Syria, vowing to continue to do so to curb Iran's growing presence in the neighboring country.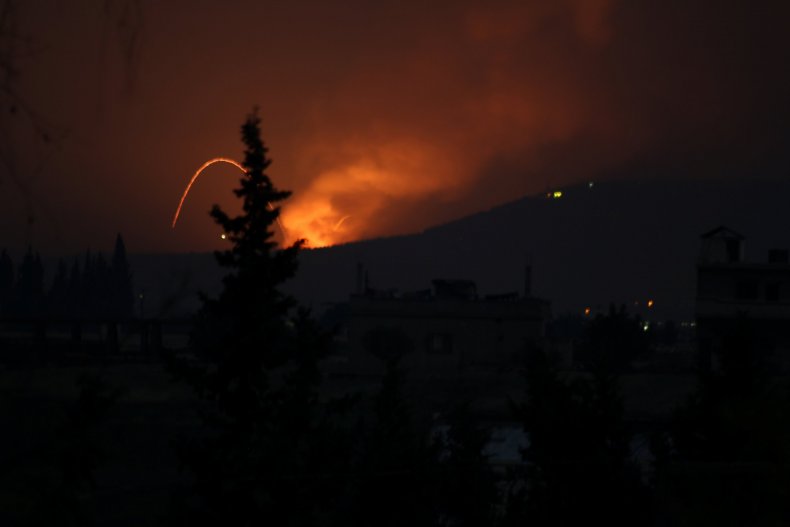 In the latest attack, a massive explosion overnight on Sunday struck Syrian military positions in southern Hama, north of Damascus. The U.K.-based, pro-oppositon Syrian Observatory for Human Rights said Israel appeared to be behind the attack, which may have killed a number of Iranians, as well as Syrians. The state-run Tishreen newspaper cited sources on the ground as saying nine missiles were fired from a joint U.S and U.K. bases in northern Jordan. Iran's semi-official Tasnim News Agency said Monday that a local source and a commander of the Shiite Muslim, all-Afghan Fatemiyoun Division, denied any Iranian or Afghan personnel were killed.
The attack coincided both with Israeli threats of further strikes and flare-ups between Iran-backed, pro-Syrian government fighters and U.S.-backed militias in eastern Syria. During his speech Monday, Khamenei warned that the U.S. had no right to intervene in the region and that Iran would retaliate against those targeting its forces and their allies.
"The one who must leave is the U.S., not the Islamic Republic. We are from this region: the Persian Gulf is our home; West Asia is our home," Khamenei said.
"I previously mentioned during the term of another U.S. president, the time of hitting and escaping is gone; now, if you hit, you will be hit back. They know that if they attack, they will receive stronger counterattacks," he added.