Secretary of State Mike Pompeo justified President Donald Trump's exit from a historic nuclear agreement with Iran and promised even more intense measures against the country in his first major policy speech Monday.
Pompeo accused Iran's revolutionary Shiite Muslim government of using the funds that were unfrozen when it agreed to curb its nuclear production in 2015 to support militant groups abroad, including U.S.-designated terrorist organizations such as the Lebanese Shiite Muslim Hezbollah, as well as Sunni Muslim jihadi groups like Al-Qaeda, the Palestinian Hamas and the Afghan Taliban.
"Is this what you want your country to be known for?" Pompeo said in a question addressed to the Iranian people as he spoke at the conservative think tank Heritage Foundation in Washington, D.C., listing some of the foreign groups the U.S. has charged Iran with supporting. "The United States believes you deserve better.
"This is just the beginning," Pompeo continued. "The sting of sanctions will be painful. These will be the strongest sanctions in history when complete."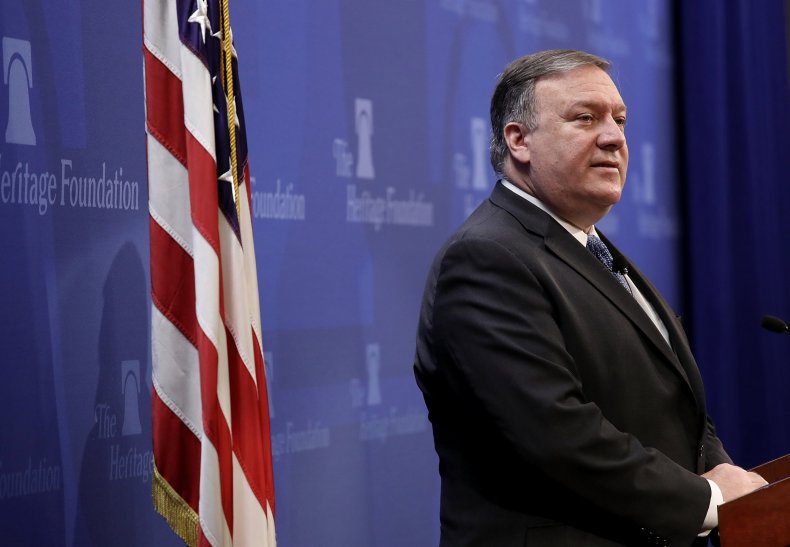 The Trump administration branded Iran "the world's largest sponsor of terror" and earlier this month officially withdrew the U.S. from the nuclear agreement negotiated under Trump's predecessor, Barack Obama. The deal, known officially as the Joint Comprehensive Plan of Action (JCPOA), was also signed by China, France, Germany, Russia and the U.K.—all of whom urged the U.S. not to leave the deal and have since taken steps to try to salvage the deal in Washington's absence.
Facing an unprecedented wave of sanctions, Iran has threatened to restart its nuclear program, which it has always maintained was for peaceful purposes only. Iranian Foreign Ministry spokesman Bahram Qasemi told reporters Monday that Tehran would continue discussions with European leaders, but talks would be limited strictly to the Iranian nuclear program and not other topics uncovered by the original deal.
Related: China Looks for New Ways to Help Russia in Syria as U.S. Backs Israel Against Iran
"We will not have any negotiations [on issues] other than the nuclear deal. The European leaders are very wise and know to discuss which topics with Iran," Qasemi said, according to Iran's semiofficial Fars News Agency. He said the Trump administration had demonstrated it was "not capable" of being negotiated with after reneging on its commitments.
Despite the International Atomic Energy Agency verifying Iran's compliance with the deal, the U.S, Israel and Saudi Arabia have grown increasingly suspicious of Tehran, especially as its foreign partners became more influential in countries such as Lebanon, Iraq and Syria. In Yemen, a group of Zaidi Shiite Muslim insurgents known as Ansar Allah, or the Houthis, are somewhat politically aligned with Iran but deny receiving any outside support in their battle against a Saudi-led coalition.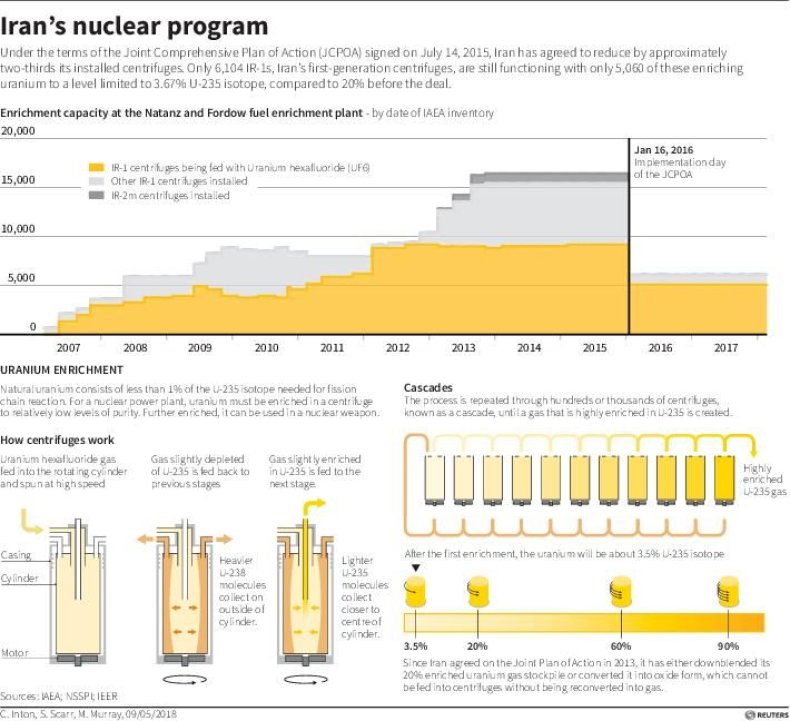 The backlash against Iran's growing foothold has escalated most seriously in Syria, where Israeli airstrikes have occasionally targeted Iranian or pro-Iran positions. Shortly after Trump left the Iran deal, Israel struck again, prompting Syrian or Iranian fighters to respond with a rocket attack against Israeli forces in the occupied Golan Heights. Israel retaliated with overwhelming force, destroying a number of Syrian and suspected Iranian military installations.
The U.S. resolutely backed Israel's actions, while countries like Russia and China appealed for calm. Iran and Russia's military support for Syrian President Bashar al-Assad in his war against rebels and jihadis have reversed the gains of a 2011 uprising initially sponsored by the West, Turkey and Gulf Arab states. Assad considers Russia and Iran to be the only legitimate foreign forces in the country and has called on the U.S. and Turkey to withdraw.