Israel secretly provided weapons and equipment to Syrian rebels fighting to overthrow President Bashar al-Assad, according to two recent reports that appeared to confirm long-standing suspicions on ties between two factions of the seven-year civil war in Syria.
Israeli officials have publicly discussed providing humanitarian assistance to Syrian insurgents near the occupied Golan Heights as part of the country's Operation Good Neighbor, but Elizabeth Tsurkov, a research fellow at Israel's Forum for Regional Thinking, revealed Thursday in Foreign Policy that the Israeli military actually armed and funded at least a dozen opposition groups as well. The support also reportedly created the expectation among the Syrian opposition that Israel would intervene if the government and its allies tried to enter.
Just as the Syrian military was waging an offensive in July, however, Israel ceased its support and closed its borders to crowds of fleeing fighters and civilians alike. Tsurkov said Israel played upon the hopes of Syrians who were willing to overcome a decades-long animosity between Arabs and Israelis only to be left behind when the Syrian military returned and reclaimed the renegade provinces.
"I think there's something deeply immoral about using proxy fighters," Tsurkov told Newsweek. "The country using proxy fighters is essentially giving its proxies, the groups it's supporting, the impression that it's a stalwart ally that is by its side."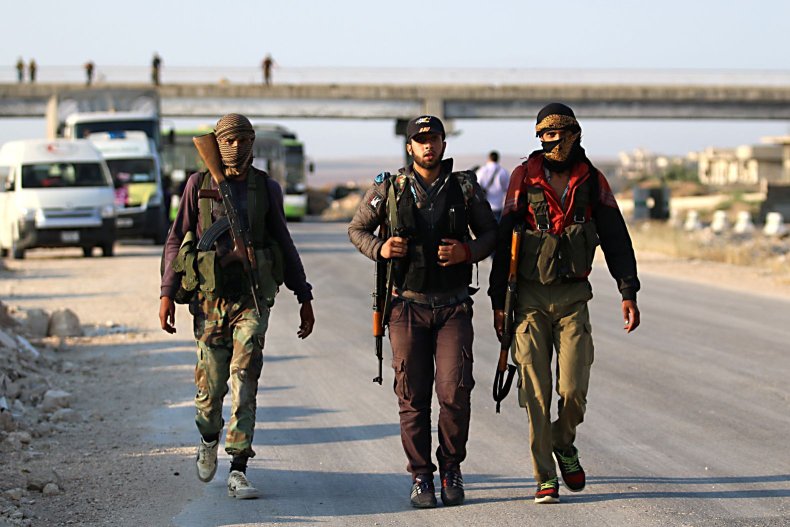 Tsurkov's article came just days after The Jerusalem Post published an article that appeared to contain the Israeli military's first confirmation that it had backed rebels in Syria. The piece was apparently taken down shortly after it went up, a move that Russia's state-run RT channel said was taken down at the request of the very armed forces that made the admission.
"We were told by the army's military censor to remove that part of the story," Jerusalem Post Managing Editor David Brinn told RT, adding that it was taken down "for security reasons evidently."
A cached version of the article still exists, however, and contains information that paints a similar picture to that of Tsurkov's piece. Based on extensive conversations with rebel groups such as Fursan al-Joulan (Knights of the Golan) and Liwaa Omar bin al-Khattab (Omar bin al-Khattab Brigades), as well as other reports, Tsurkov said that Israel had been supplying the insurgent Free Syrian Army with arms since 2013 and initially handed out Israeli equipment before switching to foreign weapons, including those seized from regional rival Iran-backed groups to mask the source.
Tsurkov said that Israeli support included assault rifles, machine guns, mortar launchers and transport vehicles. She added that fighters from groups such as Fursan al-Joulan received $75 a month from Israel, as well as additional cash to buy weapons on the local black market. Last year, The Wall Street Journal quoted Fursan al-Joulan as saying it received $5,000 a month for its 400 fighters, and The Jerusalem Post report cited the Israeli military as confirming it sent light weapons and ammunition as well as funds for additional arms.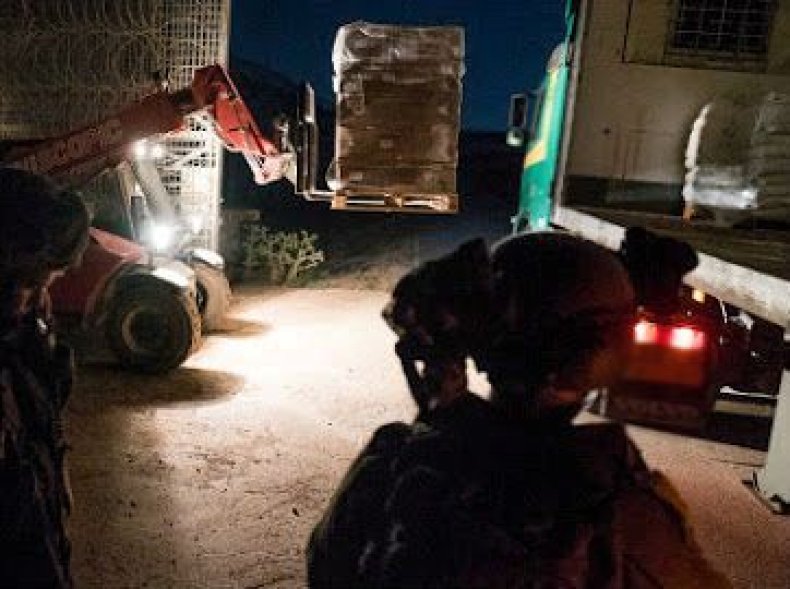 As The Jerusalem Post had reported, Assad and his allies have regularly accused longtime foe Israel of interfering in his country's crisis, sparked by a 2011 rebel and jihadi uprising backed more or less openly by the West, Turkey and the Gulf Arab states. The Free Syrian Army was a lead recipient of arms from international powers opposed to Assad and a direct participant in a covert CIA train-and-equip program that was eventually scaled down over the years as the opposition took on an increasingly Islamist nature and defeating the Islamic State militant group (ISIS) became a global priority.
Many rebel groups placed toppling Assad over resisting the jihadi takeover on their agenda, and the U.S. became increasingly frustrated with the program. Tsurkov said rebels in southwestern Syria "made absolutely no progress against ISIS" while receiving support from a CIA operations room in neighboring Jordan, and the Russia-Syria-Iran axis has often accused the U.S. of actually helping ISIS—something Washington and the Pentagon have denied. Last year, the U.S. cut its CIA sponsorship for rebels battling Assad in order to focus solely on Pentagon support for the Syrian Democratic Forces, a mostly Kurdish coalition taking on the last of ISIS and, occasionally, the very same rebels that the U.S. had supported.
Following Assad's victories over the rebel-held enclave in the eastern Ghouta suburbs outside of Damascus in April, many anticipated that the military would next target the southwestern regions credited with sparking the country's unrest in 2011, but rebels hoped the U.S. or Israel would intervene. The region is situated alongside the Golan Heights, occupied by Israel since its 1967 war with Syria, and considered a potential flashpoint between Israeli troops and Iran-backed forces operating in support of Assad. For years, Israel has targeted Iranian and pro-Iran forces in Syria in a campaign of airstrikes, the extent of which was confirmed Tuesday by the Israeli military.
President Donald Trump's administration initially warned Assad against breaking a de-escalation deal reached last year with regard to Syria's southwest. Israel asserted that it would not tolerate fighters associated with Iran anywhere in Syria, but especially along its de facto border and responded violently at any perceived attempts at infiltration. Russia then managed to cut a deal that saw Iran-backed militias stay out of the offensive in order to keep Israel out, thus avoiding a wider regional conflict. The campaign, code-named Operation Basalt, began in mid-June and, shortly after, the U.S. reportedly sent a memo to rebels, warning, "You should not base your decisions on the assumption or expectation of a military intervention by us." Israel then reportedly withdrew its support.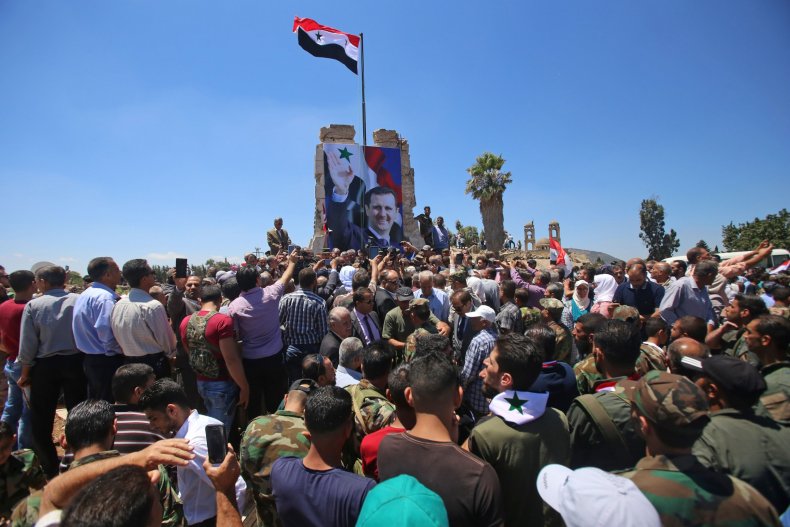 Towns and villages quickly surrendered in Russia-brokered reconciliation agreements, and the cities of Daraa and Quneitra were retaken in a matter of weeks. Israel and Jordan both rejected fleeing Syrians unwilling to return to the government. The two U.S. allies only took military action when local ISIS factions in the Yarmouk Basin were uprooted by the Syrian military and attempted to breach the Israeli and Jordanian borders and were quickly deterred. Israel and Jordan also collaborated in extracting members of the Syria Civil Defense, a Western-backed rescue group better known as the White Helmets and often accused by the Syrian government and its allies of having ties to jihadis.
With the southwest secured and Russian military police being deployed to enforce the 1974 ceasefire lines on the Golan Heights, the Syrian government has set its sights on a last bastion of opposition to Assad—the Islamist-controlled province of Idlib in the northwest, where many rebels who refused to surrender in the southwest were transferred. North of Idlib, the Turkish-backed remnant of the Free Syrian Army awaits a potential clash with the government. To the east, a separate quarter of the country spanning much of Syria's north and northeast remains in the control of a fourth international proxy, the Syrian Democratic Forces.
The Syrian Democratic Forces are supplied by a U.S.-led coalition against ISIS, but have entered into talks with the Syrian government, which only considers Russia along with Iran and its many local Shiite Muslim proxies to be legitimate partners. Assad has called on the U.S.—a Kurdish ally—and Turkey—a Kurdish foe—to exit the country immediately. With ISIS's downfall leaving the long-term commitment of the U.S. in Syria in question, the Syrian Democratic Forces have sought to establish an understanding with the government, thus avoiding the fate of rebels who also sought unsanctioned international support and whose futures remain uncertain.
"It's a desperate situation," Tsurkov told Newsweek. "It's so important to highlight the human cost of using people to advance the interest of another country."