Russia Says U.S. Did Nothing to Help Syria, Now Israel and Jordan Are Facing ISIS
Russia has criticized U.S. inaction in facing the Islamic State militant group (ISIS) and other Islamists who now threaten Washington allies Israel and Jordan after being driven out of Syria.
Russian General Staff's Main Operations Directorate Colonel-General Sergei Rudskoi addressed the U.S. and Jordan's unwillingness to intervene in Syria's southwest, despite being fellow guarantors of a ceasefire established there last year in a deal reached by Moscow, Washington and Amman. Following pivotal gains made by the Russia-backed Syrian military against rebels and jihadis elsewhere in the country, it turned its sights in June on the Islamist-led insurgency in the southwest and managed to retake the area—without any help from the U.S. and Jordan, which have been deeply critical of the Syrian government.
"The Russian Federation regularly reported information about the escalation and dire humanitarian situation in southwestern Syria to the guarantor countries of the southern de-escalation zone—the United States and Jordan. However, no measures were taken to stabilize the situation by foreign partners," Rudskoi said.
Recalling jihadi attempts to overtake Syrian military positions, Rudskoi said that "Russian military police servicemen on duty at the posts along the line of disengagement faced real danger."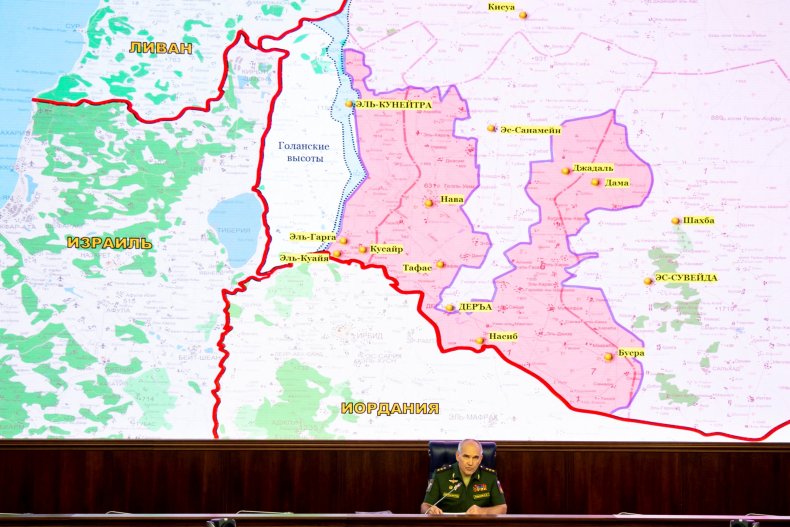 Last month, an alliance of former Syrian rebel groups that joined ISIS in 2016 under the name Jaysh Khalid ibn al-Waleed staged an attack on Syrian troops in an attempt to push back the government offensive. The militants held a small patch of territory known as the Yarmouk Basin that comprises the point where Syria borders Jordan and the Israel-occupied Golan Heights. As the militants made their presence known, they were soon targeted by Syrian and Russian warplanes looking to wipe one of the final points of ISIS control off of the country's map.
Meanwhile, the U.S.-led coalition waged its own anti-ISIS offensive hundreds of miles away in Syria's far east. The U.S., which was once a leading supporter of 2011 uprising against Syrian President Bashar al-Assad, warned Syria's southwestern rebels that it would not intervene to support them, but remained mum on ISIS's presence there. When asked last month by Newsweek what the U.S.-led coalition's position was toward Jaysh Khalid ibn al-Waleed militants, a spokesperson said that "we will not comment on their actions, but will assure you that we remain focused on our enduring mission: to defeat Daesh [Arabic-language acronym for ISIS] in designated parts of Iraq and Syria, and to set conditions for follow-on stability operations."
Syria declared victory over all militants, including ISIS, in the southwest on Tuesday, the eve of the 73rd anniversary of the Syrian army's founding. In a speech, Assad hailed the accomplishment "in confronting the machine of murder and terrorism and thwart the projects of injustice and aggression," according to the official Syrian Arab News Agency. As the Syrian military moved in, however, a number of jihadis managed to escape and found themselves facing two new adversaries.
The Israeli Defense Forces announced Thursday that they "tracked 7 armed suspects identified as terrorists most likely affiliated with ISIS. Their movements were tracked in the southern Golan Heights near the area of the triangle of Israel, Jordan, and the DMZ of Syria. An IDF aircraft struck the 7 terrorists." Israeli forces have previously but rarely clashed with Jaysh Khalid ibn al-Waleed in occupied Golan Heights' demilitarized zone, where only United Nations forces were permitted to operate as per a 1974 truce with Syria.
"We will not let anyone to change that cease-fire agreement from '74 and those seven people were inside that grey area, which is unacceptable," retired Brigadier General Nitzan Nuriel said Thursday during a press call hosted by The Israel Project, arguing that forces associated Assad's ally Iran and its local partners were a greater threat to Israel. "I believe that in the next stage ISIS will not open another front against us. They have too many problems with the Syrian [side]...I believe they will not take any actions, and I believe after that [incident] they will think twice before getting into that grey area."
On the other side of the trilateral boundary, another U.S. ally responded to a rarely attempted ISIS incursion. The Jordanian military announced Wednesday that, following clashes between the Syrian military and ISIS in the Yarmouk Basin, some of the jihadis attempted to infiltrate Jordan's northern border on Tuesday. This prompted the country's 10th Border Guard Battalion to utilize "all types of weapons" against them, resulting in "continued heavy shelling and the complete cleansing of the area by Wednesday without letting any of them cross the Jordanian border." A number of militants were reportedly killed, while others retreated back into Syria.
"The Jordanian Armed Forces confirm that they are at the highest degree of preparedness to deal with any gangs or terrorist elements by force and will not allow anyone to cross the borders of the Hashemite Kingdom of Jordan from these gangs, which are being pursued and narrowed down in various locations that they were formerly deployed in within Syrian territory," the Jordanian military said in a statement.
With the Syrian government eliminating clearing its southwestern borders of opposition, U.S. allies Israel and Jordan have both expressed a desire to return to a pre-war status quo in regards to Assad, who has criticized both for their stances throughout the conflict. Russia has said the U.S. should coordinate with Damascus, which Washington has accused of war crimes, in resettling the millions of refugees displaced by the seven-year war, or else withdraw its unsanctioned military presence in the country.
In his address Thursday, Rudskoi called on the U.S. to provide humanitarian assistance to the Rukban refugee camp, located in a U.S.-controlled zone near the Syrian-Jordanian border crossing of Al-Tanf. Rudskoi claimed "there is an increase in groups of ISIS fighters" there and demanded the U.S. "to liquidate the military base at Al-Tanf."