Syria Asks for Help Getting Its Citizens Back. Will U.S. and Russia Work Together?
Syria has asked the world for assistance in resettling refugees after seven years of a civil war that have ravaged the country.
Syrian Ambassador to the U.N. Bashar al-Jaafari told reporters at the 10th round of peace talks based in the Kazakh capital of Astana and hosted Tuesday in the Russian city of Sochi that Western governments needed to lift restrictions on cooperating with Damascus so that the country could begin rebuilding. Specifically, he criticized sanctions placed on the Syrian government by the U.S. and the EU as obstacles toward rehabilitating the war-torn country.
"We call on the international community to help Syria create necessary conditions for the return of refugees, in particular, in what concerns creating jobs for refugees in Syria," Jaafari said, according to the state-run Tass Russian News Agency.
In 2011, Western countries were joined by Turkey and Sunni Muslim monarchies in attempting to overthrow Assad following an uprising against his government. Insurgents and jihadis took over most of the country before being largely overshadowed by the Islamic State militant group (ISIS) and, in 2014, the U.S. began shifting its priorities from regime change to defeating ISIS. The following year, Russia intervened in support of Assad and Iran-backed allies, who have retaken most of the country in recent years.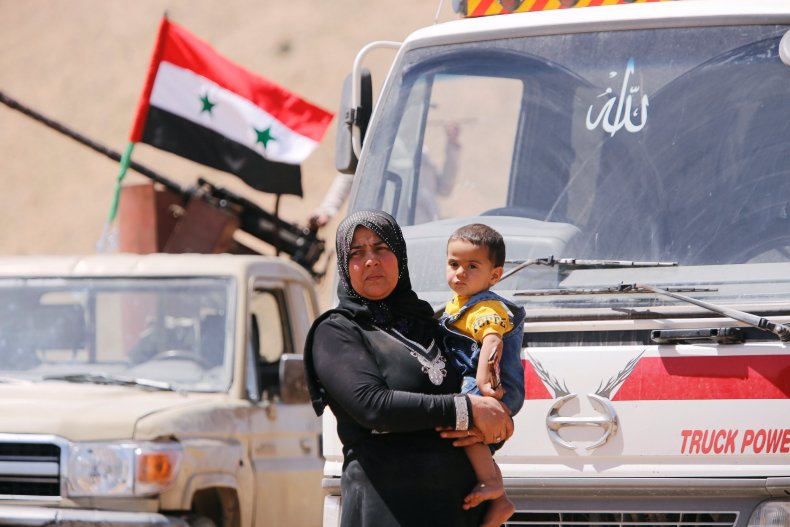 The U.S. and its allies have accused the Syrian government and its partners of committing war crimes, including the use of chemical weapons, in their campaign to reclaim the country—as a result, they have severed diplomatic and economic relations with Damascus. With Assad again in control of most of the country, however, Russian President Vladimir Putin has channeled President Donald Trump's mutual desire to improve ties between Moscow and Washington, in an attempt to get the two rival nations to work together in returning Syrian refugees displaced internally and externally.
Millions have fled Syria due to the ongoing conflict with most of them ending up in Lebanon, Jordan and Turkey. The U.N. High Commissioner for Refugees estimates that up to 5.6 million were registered in neighboring countries, while many others have fled to North Africa and Europe and up to 6.6 million have been displaced within Syria itself.
Following their first bilateral summit earlier this month in Helsinki, Trump agreed to explore direct U.S.-Russia cooperation in returning refugees, of which the U.N. agency estimated last month at least 500,000 have already gone home from in and out of Syria.
When Marine Corps General Joseph Dunford, head of Central Command, downplayed the prospects of such a relationship a week later, the Russian Defense Ministry warned that working with Moscow and Damascus was the only viable option for the U.S. to maintain a presence in Syria, where the government has continually demanded the Pentagon and its allies to cease operations.
"We are asking the United States and all its allies to leave Syrian territory because their presence is illegal," Jaafari told reporters Tuesday, according to Iran's semi-official Fars News Agency.
Defense Secretary James Mattis has, however, hinted at the possibility of restarting a mil-to-mil dialogue with Russia, while the Pentagon called the Helsinki meeting "the beginning of a process between the United States and Russia to reduce tensions and advance areas of cooperation in our mutual interest" in a statement sent Monday to Newsweek. The move came as France took the initiative in working with Russia to deliver medical assistance to residents of the Damascus suburb of eastern Ghouta, which was retaken by the Syrian government in May.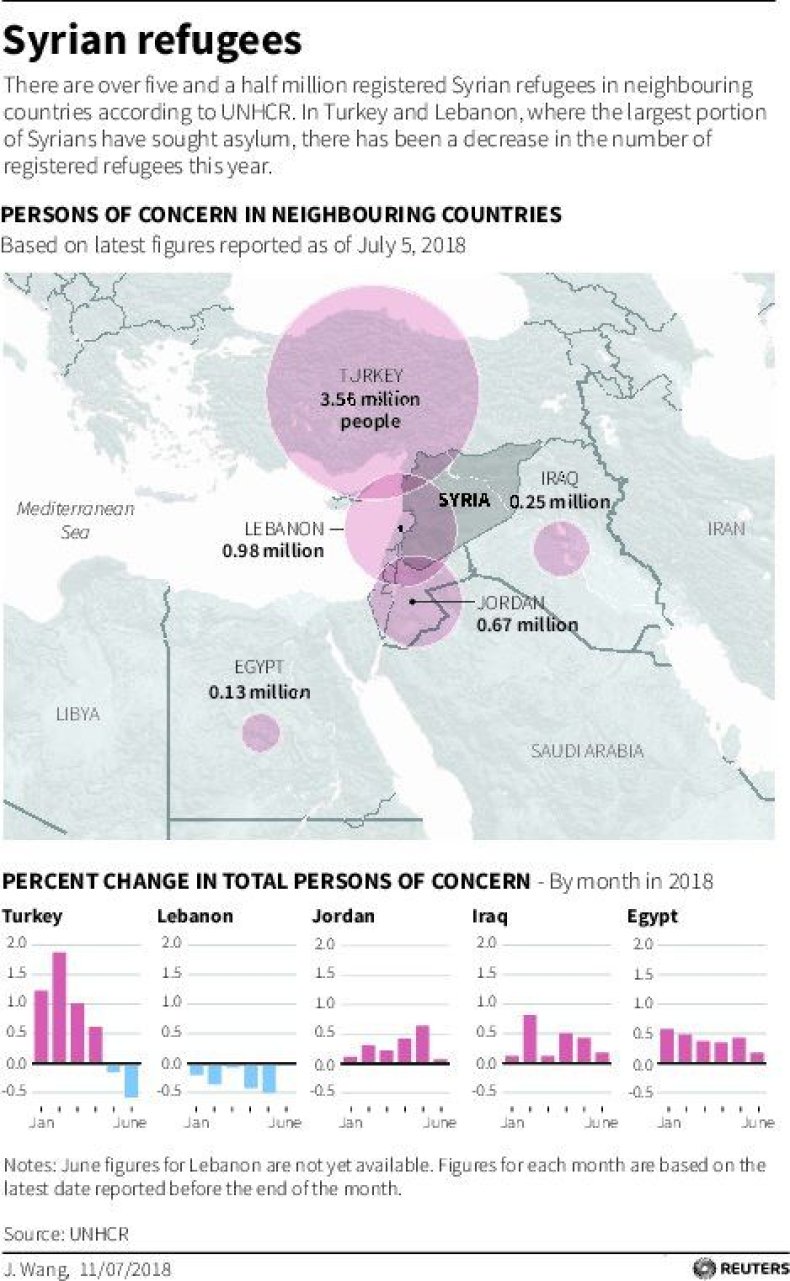 Lebanon, Jordan and Turkey have also supported resettlement plans as their own resources have become stretched in by the influx of Syrians. Russia's Centre for Refugee Reception, Distribution and Settlement reported that, since September 30, 2015, up to 233,638 Syrians from abroad and around 1,190,876 internally displaced Syrians have returned home. In all, the Russian center estimated that "1,712,234 Syrians in nine countries expressed their desire to return back to their homeland (Lebanon – 889,031, Turkey – 297,342, Germany – 174,897, Jordan – 149,268, Iraq – 101,233, Egypt – 99,834, Denmark – 412, Brazil – 149, Austria - 68)" and that "there are still 6,903,269 registered refugees seeking asylum in 45 countries worldwide."
Many fear to return due to ongoing violence, potential retribution and the government's confiscation of property. Earlier this month, however, the official Syrian Arab News Agency cited an official foreign ministry source as saying: "After the successive achievements of the army and the liberation of many areas from terrorism, the Syrian state calls on the citizens, who were forced to leave the country because of the war and terrorist attacks, to return there."
"The Syrian government again asserts that it is responsible for the safety and security of citizens and the provision of their daily needs," the source said. "The government and the people in Syria are unified now to eliminate the fallout from the terrorist war."
Alexander Lavrentyev, Putin's special envoy to Syria, said Thursday during a press conference in Beirut that "people understand that there is no threat from the government and from the governmental security apparatus and they are returning to their homes, to their territories which are now under the control of the government," who he claimed was "really willing to accept all those who want to come back to their homes," according to Reuters.