Donald Trump Now Says He Didn't Want to Kill Syria's Assad, But U.S. Will Be 'Very Angry' if Civilians Die
President Donald Trump denied expressing a desire to kill Syrian President Bashar al-Assad in response to an alleged chemical weapons attack, but he has warned the Syrian leader against harming civilians in an upcoming offensive against the country's last Islamist rebel-held province.
In a book set to be released Tuesday, journalist Bob Woodward alleged that Trump reacted to reports that the Syrian military had used toxic gas against an insurgent-controlled city in the northwestern province of Idlib last April by saying, "Let's f***ing kill him! Let's go in. Let's kill the f***ing lot of them." While the president did order naval strikes against a Syrian airfield suspected of being involved in the incident, the book said Defense Secretary James Mattis talked Trump out of orchestrating an extrajudicial assassination of a foreign leader.
Responding to the claim during a White House press conference, however, Trump said he "never even contemplated" taking out Assad, "nor would it be contemplated."
With the Syrian military set to launch a new offensive against Idlib, he did advise local troops to "be very judicious and careful" because "if it is a slaughter, the world is going to get very angry and the United States will get very angry too."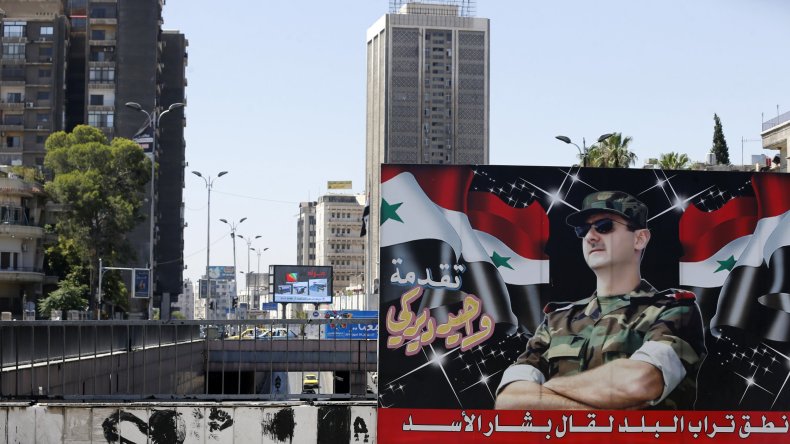 Before coming to office, Trump was deeply critical of his predecessor's policy toward Syria. Former President Barack Obama joined allies in the West and the Middle East in supporting a 2011 uprising by rebels and jihadis seeking to oust Assad, but insurgent infighting and the rise of the Islamic State militant group (ISIS) shifted U.S. interests in the country. Trump warned Obama not to overthrow Assad and framed him as the lesser of two evils when confronted with a potential jihadi takeover of Syria.
Trump considered forming an alliance with Assad's top military ally Russia, but reports that the Syrian military used chemical weapons prompted a U.S. cruise missile attack against the Al-Shayrat air base in 2017. Trump again ordered military action—this time joined by France and the U.K.—after reports of poison gas use against an insurgent enclave of rebels outside the capital Damascus.
Last month, national security adviser John Bolton indicated that Assad may be planning to employ such weapons of mass destruction as the Syrian military sent reinforcements around Idlib. Its takeover would leave only the roughly quarter of the country held by the U.S.-backed Syrian Democratic Forces—a mostly Kurdish coalition currently in talks with Damascus—outside of Assad's control.
In anticipation of what it says could be a "false flag" plot to frame Assad, Russia has warned the U.S. and Western allies not to disrupt Syria's plans to retake Idlib and has called on world powers to aid in the reconstruction of the war-ravaged country. Moscow has also ordered large-scale exercises in the nearby Mediterranean Sea, where the U.S. also maintains a military presence and has used as a platform for attacks in Syria.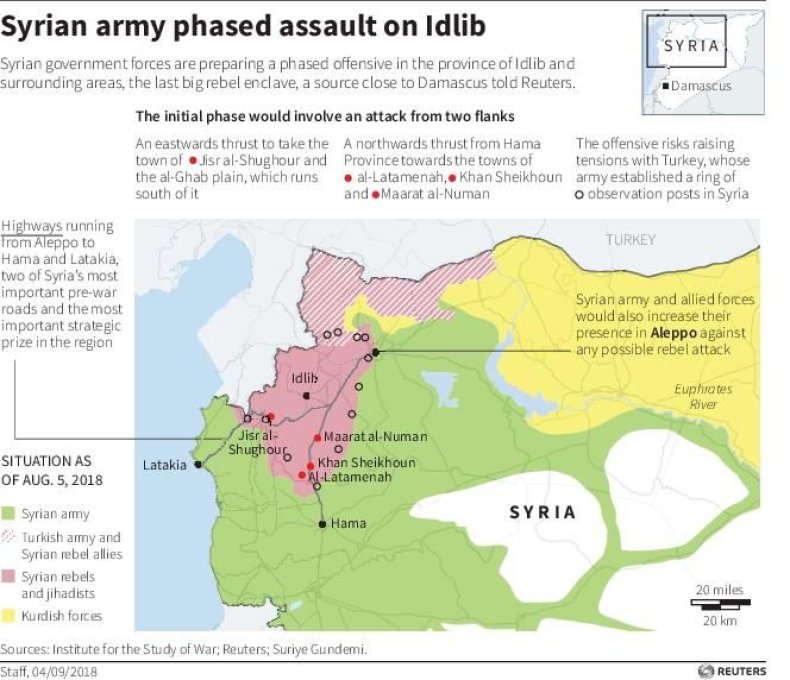 On Monday, Trump tweeted: "President Bashar al-Assad of Syria must not recklessly attack Idlib Province. The Russians and Iranians would be making a grave humanitarian mistake to take part in this potential human tragedy. Hundreds of thousands of people could be killed. Don't let that happen!"
Despite this warning, Moscow confirmed Wednesday earlier local reports that Russian warplanes conducted strikes against positions held by the jihadi coalition of Hayat Tahrir al-Sham in Idlib.