Donald Trump Tweet Warns Russia Against Striking Syria Rebels, but Moscow Begins Bombing Anyway
Just one day after President Donald Trump tweeted a warning to Russia, Iran, and Syria against "recklessly attacking" the rebel-controlled Syrian region of Idlib, Moscow began bombing the province.
"The Russians and Iranians would be making a grave humanitarian mistake to take part in this potential human tragedy. Hundreds of thousands of people could be killed. Don't let that happen!" Trump tweeted Monday evening. Nonetheless, Russian warplanes reportedly started hitting the area Tuesday morning.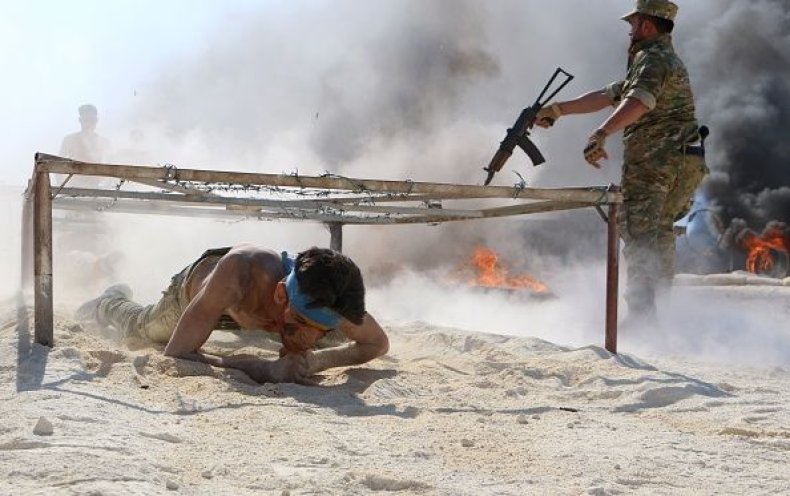 Syrian President Bashar al-Assad is allegedly preparing a key offensive against the last rebel stronghold in a country that has been torn apart by seven years of war. Kremlin spokesman Dmitry Peskov told reporters that Syria's armed forces are preparing to launch major strikes an area he dubbed a "cradle of terrorism." The Syrian regime has already moved thousands of troops and armored units closer to Idlib.
The group Tahrir al-Sham (HTS), an Al Qaeda affiliate operating in Syria, has an estimated 10,000 fighters in the province.
Many international observers have warned against attacking Idlib, saying that the fighting would lead to a renewed refugee crisis as hundreds of thousands of Syrian rebels and their families flee the country for the safety of Turkey. The United Nations has called for humanitarian passages to be established to secure the safe evacuation of civilians when the fighting resumes. There are estimated to be almost 3 million people living in Idlib, many of whom are internally displaced people who have already left their homes to flee the violence.
The United Nations Secretary-General Antonio Guterres warned that rebel groups may use chemical weapons and spark a humanitarian disaster. In a statement in late August, Guterres called on all parties involved "to take all necessary measures to safeguard civilian lives, allow freedom of movement, and protect civilian infrastructure, including medical and educational facilities, in accordance with international humanitarian law and human rights law."
Russia's decision to launch airstrikes shortly after Trump warned against it shows how sidelined the U.S. is at the moment. Leaders from Russia, Iran and Turkey will meet without the U.S. or any Western participants in the Iranian city of Tabriz on Friday to discuss Syria's future. The transcontinental country is currently suffering from major economic setbacks that might make it difficult to take in more Syrian refugees.
Currently, there are over 3 million refugees living in Turkey. Ankara has opposed the Syrian regime's planned attack on Idlib.