Russia, Iran, and Turkey Meet to Discuss Syria, Excluding the U.S.
Leaders from Turkey, Russia, and Iran will meet next week to discuss the ongoing war in Syria and how to respond to radical Islamic groups who continue to hold territory there.
The three leaders will gather in the Iranian city of Tabriz as the U.S. relationship with all three countries continues to deteriorate. Some analysts say it's likely they are hoping to determine the future of Syria without the input of Washington.
"Power abhors a vacuum, and in the absence of strong U.S. leadership on Syria, Russia and Iran have been more than happy to move in. It's a measure of just how much they've come to dominate the conflict that they'll be the only major foreign powers at the summit," Chris Meserole, a Middle East expert at the Brookings Institution, told Newsweek.
"The White House has largely washed its hands of Syria. But with Iran entrenched in Damascus, and the Islamic State biding its time in the far countryside, it's likely only a matter of time before our hands are dirtied again. When that happens we'll likely look at these negotiations as a lost opportunity," Meserole added.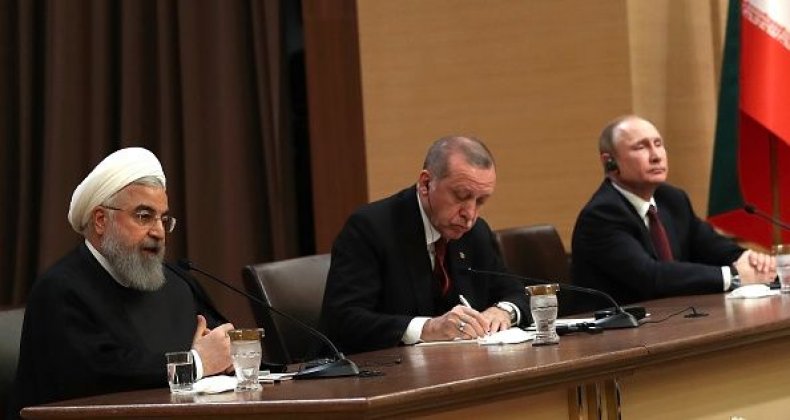 On Monday, the Russian embassy in Washington claimed that the relationship between the two countries has reached its lowest point since the Cold War. Moscow is incensed because Washington continues to levy sanctions against Russia for its interference in Ukraine, its attempts to meddle in U.S. elections, and the poisoning of a former Russian spy in the United Kingdom, among other issues. President Donald Trump has claimed that he would like to pursue better relations with Russia, but that goal is at odds with the remainder of the government and key figures in his administration.
Meanwhile, the U.S. relationship with Turkey has also hit a low point over the case of Andrew Brunson, an American evangelical preacher who has been jailed in Turkey for two years. President Trump had been pushing for Brunson to be released, but Turkey insists that he should be tried on espionage charges. Washington has also levied sanctions against key members of Turkey's government in response to the dispute. Turkey's economy, which was already struggling, has crashed amid the diplomatic fallout as the value of the Turkish lira plummeted. The diplomatic crisis has given Erdogan an opportunity to blame outside forces for the country's domestic problems. It also allowed Turkey to pursue a deeper relationship with Russia.
"As [Turkish President Recep Tayyip] Erdogan moves to tighten his control within Turkey, he is also shifting the nation's foreign policy to a more aggressive stance in order to allow Turkey to emerge as a regional leader," Harrison Akins, a Middle East security expert at the Howard Baker Center, told Newsweek.
"As the U.S. condemns Erdogan's move towards authoritarian control, further straining the U.S.-Turkey relations, Erdogan appears to be putting himself in a position to form alternative alliances that will give him a freer hand in pursuing his interests in both foreign and domestic politics," Akins added.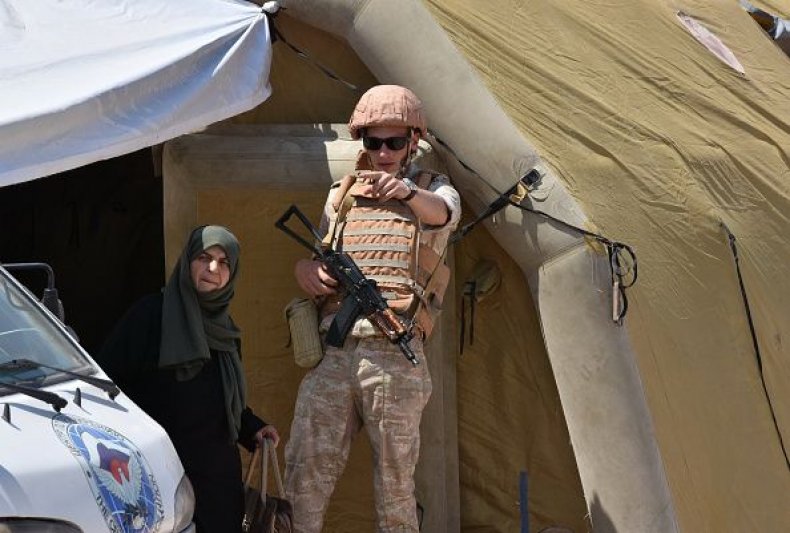 The U.S. is also issuing new sanctions against Iran and pushing its European allies to follow suit. More U.S. sanctions will be levied against Iran's oil industry in November, following the first wave of sanctions earlier this month.
Most recently, the Trump administration's national security adviser John Bolton toured the Middle East, where he described plans to put a maximum pressure campaign on Tehran and drive the country's troops out of Syria. The comments angered some top government-allied clerics in Iran, who began issuing threats against U.S. and Israeli targets in the Middle East.
During the same trip, Bolton claimed that Russian President Vladimir Putin was in favor of seeing Iranian-linked forces leave Syria. Numerous reports over recent months have claimed that Russia was willing to cooperate with the U.S. and Israel in their effort to drive Iranian-linked troops out of Syria. But next week's meeting seems to cast doubt on these claims, demonstrating that Russia still views Iran as a key player in the Middle East with whom to negotiate. Iran has long claimed that Syria's government wants Tehran to maintain a presence in the country, and on Monday they penned a deal that would keep Iranian troops in the country despite Israel's objections.
Rebels linked to the terrorist group al-Qaeda are launching attacks against Russian troops in Syria as Moscow works to prop up the regime of Syrian leader Bashar al-Assad. Iranian troops are also currently assisting Syrian government forces and Russia to beat back the rebels. Turkey, meanwhile, has a vested interest in maintaining some stability in Syria because renewed fighting near its border could send another wave of migrants into the country as Turkey suffers through a major economic crisis.
"The fact that Turkey, Iran, and Russia are meeting without the increasingly unpredictable U.S. under the Trump administration is perhaps evidence that they are working for a future arrangement in Syria with these regional powers possessing their own spheres of influence in a post-conflict Syria," Akins told Newsweek.
The three countries held a similar summit in April.