U.S.-Russia Relationship Now as Bad as the Cold War, Russian Embassy Claims
The current relationship between the U.S. and Russia is characterized by some of the worst scenarios of the Cold War, the Russian embassy in Washington claimed in a post on Facebook Monday morning.
"Washington issued another set of illegitimate one-sided sanctions against Russia. It feels like local politicians have an unhealthy craving for demolishing the fundamental basis of bilateral relations, on which rests the global security. Decisions are made with zero attempts to look into things, while ignoring our calls for dialogue, in absence of any real proof of 'Russia's guilt.' The U.S. mainstream media spreads absurd accusations against our country," the Facebook post read.
"Political elites seem to ignore the fact that every new 'seizure' of American sanctions 'fever' brings the U.S. close to the point of no return in resolving pressing international issues—joint fight against terrorism and danger of WMD falling into the hands of non-governmental entities. It is clear that the worst Cold War scenarios, the ones the world should have forsaken 30 years ago, are now taking shape. Instead, it turns out that no one is safe from brute pressure of Washington. Not everyone can withstand it. But Russia can," continued the post, which was written in English and Russian.
The post was accompanied by an infographic by the Valdai Discussion Club, a Moscow-based think tank, illustrating which international sanctions had been levied against countries all over the world. The Facebook post was quickly picked up by Russian media.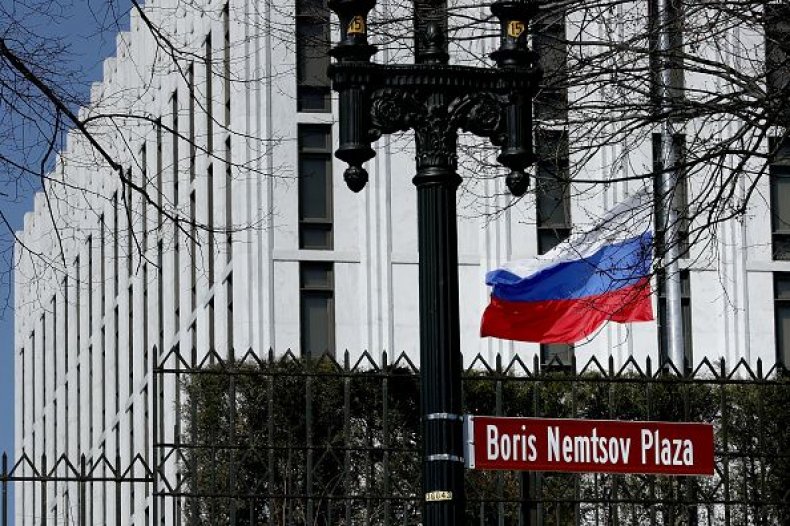 The post was written as new U.S. sanctions against Russia went into effect over the poisoning of Sergei Skripal, a former British spy, and his daughter. The pair was discovered in Great Britain after having come into contact with the Soviet-era nerve agent Novichok. The elder Skripal had worked as a double agent for the Kremlin's spy networks and the United Kingdom, and resettled in the U.K. after being exchanged in a spy swap.
In early August, the State Department threw its weight behind the U.K.'s assessment that the poisoning was an assassination attempt carried out by Russia. Moscow has denied any responsibility for the incident. Nevertheless, a 1991 law requires the U.S. to implement sanctions against a country considered responsible for the use of chemical weapons. The new sanctions are not expected to have a significant impact on the Russian economy, as they only restrict the sale of specific technologies related to national security.
Russian individuals and entities, however, are subject to numerous U.S. sanctions. In April, the Trump administration sanctioned 38 Russian oligarchs, government officials and businesses, including Putin's son-in-law and the aluminum magnate Oleg Deripaska, who previously worked with Trump's former campaign chairman Paul Manafort.