Trump Sanctions Russian Oligarchs, Including Men Linked to Russia Investigation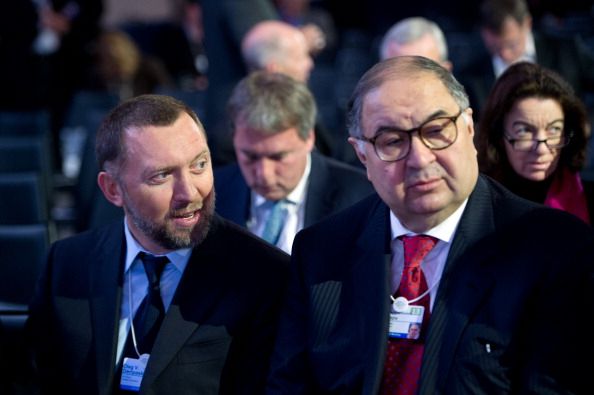 The Trump administration hit Russian officials with a new set of sanctions on Friday, in an effort to punish Moscow for its interference in the 2016 presidential election and its aggression on the international stage.
On the list are some of Russia's wealthiest and most influential figures, some of whom have been caught up in special counsel Robert Mueller's investigation into whether the Trump campaign collaborated with Russia to influence the election, and are believed to have been in contact with Trump's associates.
In all, 38 Russian oligarchs, government officials and businesses have been included on the list. The sanctions will freeze all U.S. assets of those listed and prevent Americans from doing business with them.
Here are a few of the most important names on the list:
Oleg Deripaska: Probably the best known figure is Oleg Deripaska, an aluminum magnate who sued Trump's former campaign manager Paul Manafort and his business partner Rick Gates for over $25 million in damages after he accused them of stealing from his company. Manafort and Gates have been indicted in the Mueller investigation, and Gates has pleaded guilty.
In March, Deripaska once again caught the public eye after a Belorussian escort released a video of him hobnobbing on a yacht with Russian Deputy Prime Minister Sergei Prikhodko. The escort claims she has more recordings of the men discussing the U.S. election. Reports have suggested that Manafort offered to provide Deripaska with private briefings about the election.
Alexander Torshin: The deputy governor of Russia's central bank, Torshin has been a person of interest for the Senate Judiciary Committee, which last year began investigating the National Rifle Association's role in connecting the Trump campaign with Russians. Torshin's special assistant is a woman named Maria Butina, a well-known gun rights activist who is linked to an influential Trump transition team adviser named Paul Erickson. Butina has bragged that she helped connect the Trump campaign with Russian officials. Torshin, meanwhile, met with Donald Trump Jr. on the sidelines of an NRA convention in 2016, at the height of his father's campaign for president.
Suleiman Kerimov: A wealthy financier with close ties to Russian President Vladimir Putin, Kerimov was detained in France last November and held for several days. He has been accused of bringing hundreds of millions of dollars into France illegally, sometimes carrying over $20 million with him in suitcases. French tax authorities say Kerimov is involved in laundering millions through French villas and failing to pay taxes.
Kirill Shamalov: A wealthy energy executive who is married to Putin's daughter, Shamalov is believed to have used his family ties to Putin to amass wealth. Ironically, Shamalov has been linked to current Trump's commerce secretary, Wilbur Ross. A large leak of financial documents called the Paradise Papers revealed last year that Navigator Holdings, a shipping company Ross partially owns, has a long history of lucrative business deals with a Russian gas and petrochemicals company that Shamalov co-owns.
Also on the list is Andrei Skoch, a deputy in the Russian Federation's State Duma known to have ties to organized crime.
A previous Treasury Department list of oligarchs, published in January, was criticized for being a copy-paste job of a Forbes list of the world's wealthiest people. Unlike Friday's list, however, the January list was only meant to name and shame and did not subject the individuals to sanctions.
The decision to sanction Russian oligarchs comes just days after the Kremlin announced that "there are no oligarchs in Russia," only big business representatives.