Escort Nastya Rybka, Who Claims to Have Information on Trump-Russia Ties, Is Still Looking for Work From Her Thai Jail Cell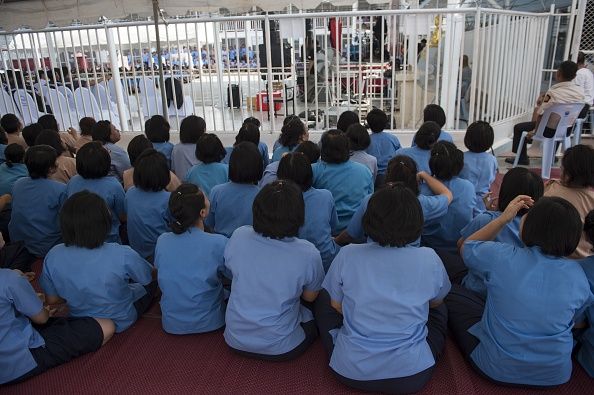 Nastya Rybka, the Belorussian escort who claims to have information about Russian interference in the 2016 presidential election, is allegedly languishing in a Thai prison awaiting extradition. But that hasn't stopped her from continuing to advertise her services as a "sex trainer."
In an Instagram post published days after her arrest in Thailand, Rybka announces that there are only 13 days left until her groundbreaking course "Life Without Panties."
"It doesn't matter who you are now: a poor student, an oligarch, a janitor, a businessman, a miner, or an FSB agent," reads the Instagram post in Russian, advertising a class on the art of seduction. "What is the point if you don't have the woman you dream about next to you, or who the whole world dreams about?"
There is a Russian telephone number people can contact through Whatsapp to sign up for the course.
Rybka—whose real name is Anastasia Vashukevich—was arrested in Pattaya, Thailand, during one of her "sex training" seminars. Thai officials said the women running the workshop didn't have valid work permits.
She is now asking the U.S. government to extradite her so she can provide special counsel Robert Mueller with information about Russian interference in the 2016 presidential election. And she is begging not to be sent back to Russia because her life there would allegedly be in danger.
There are legitimate reasons to believe that a Belorussian escort in a Thai prison could have information about Russia's involvement in the 2016 presidential campaign—and, potentially, about Russia's involvement with members of the Trump campaign.
Rybka caught the world's attention when the Russian anti-corruption activist Alexei Navalny discovered that she had recorded a trip on a yacht with a Russian oligarch and a high-level Russian official.
Navalny then made a popular YouTube video explaining the meeting, which allegedly included the Russian politician taking a bribe from the oligarch. Navalny's main purpose for publicizing the recording was to expose high-level corruption among the inner circle of Russian President Vladimir Putin.
But it also may have snared former members of the Trump campaign. That's because the oligarch on the yacht was Oleg Deripaska, the long-time business partner of Paul Manafort, Trump's former campaign manager who was indicted by the Mueller investigation for money laundering, among other charges.
Manafort had allegedly offered to secretly brief Deripaska about the U.S. elections while he was chairman of the Trump campaign.
Furthermore, the high-level Russian politician hobnobbing on the yacht with Rybka and Deripaska was Sergei Prikhodko, Russia's deputy prime minister and a staunch ally of Putin who carries important responsibilities in Russian foreign policy.
The idea that the two men, connected to both Manafort and Putin, may have discussed the U.S. election while joyriding on their yacht isn't entirely far-fetched.
Rybka already has one recording of the men discussing the U.S. relationship with Russia. She now claims she has more of the tapes, and she'll hand them over to Mueller if the U.S. helps her break free from her prison cell.
It's possible, however, that Rybka doesn't have any information that would be of use to the special counsel and his team, which is investigating whether the Trump campaign collaborated with the Russians to influence the outcome of the 2016 presidential election.
She is clearly a savvy self-promoter and has managed to garner widespread media attention from journalists who are curious about what the escort may have witnessed.
Her Instagram account, which has remained active throughout her arrest, shows pictures of her and her fellow "sex trainers" behind bars, and includes screenshots of media reports about her case. It's unclear if it is Rybka, in fact, posting to her account.