As Turkey's economy collapses and the value of its currency spirals to record lows, some observers are wondering whether the country will still be able to afford to house millions of refugees.
Over 3.5 million refugees now live in Turkey after having escaped the brutal conflict that has continued for over seven years in neighboring Syria. At the same time, there are at least half a million refugees from other parts of the Middle East and Northern Africa also living in the transcontinental country.
Many of these migrants settled in the country because of a deal Ankara struck with the European Union in 2016. The agreement stipulates that many of the refugees arriving in Greece by boat would be sent back to resettle in Turkey. For every migrant returned, one refugee who was already living in Turkey would be moved into the EU, according to the deal. Priority would be given to migrants who had never tried to enter the EU before.
The EU also agreed to give Turkey around $6.6 billion in assistance to take care of the refugees permanently resettled there.
The refugee deal aimed to relieve Athens of some of the burden of the migrant crisis and shut down the so-called Balkan route, which saw millions of refugees travel through Macedonia and Serbia to reach EU countries. Policymakers in Europe also wanted to disincentivize migrants from making the dangerous journey by boat from Turkey to Greece.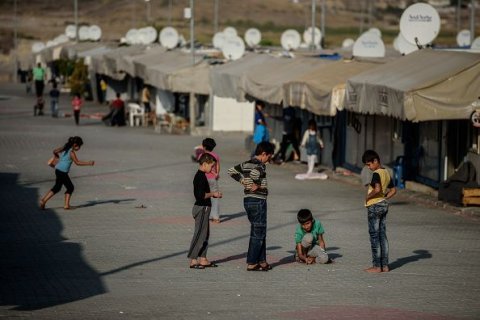 Still, the deal capped the number of migrants to be resettled in the EU at just 72,000. And with fighting continuing in Syria and Assad planning to drive tens of thousands of rebels out of Idlib in northern Syria, analysts say it is possible Turkey could see an additional 1 million refugees arrive in the coming year.
"There are 4 million refugees in Turkey. Even though they haven't integrated into Turkish society, they have benefited from a welcoming government. Erdogan says he's spent $20 billion of unbudgeted funds on these people. It's quite clear these are unbudgeted expenditures he's been willing to spend. But if you add another million on top of that, who knows," Bulent Alizira, director of the Turkey program at the Washington, D.C.–based Center for Strategic and International Studies, told Newsweek.
The Turkish economic crisis has been worsened by an ongoing diplomatic dispute between the U.S. and Turkey over the imprisonment of American pastor Andrew Brunson. President Donald Trump has lashed out at Erdogan over the pastor's imprisonment and hit Turkey with sanctions.
If Turkey is financially incapable of supporting incoming migrants, Europe could see another wave of migration, observers note. That could have major political consequences for politicians like German Chancellor Angela Merkel, who is already fighting an internal political battle with her coalition partners over how to control migration to Germany.
The conservative Bavarian Christian Social Union (CSU), Merkel's coalition partner, wants to maintain its reputation as a right-leaning political party by being especially tough on migration. The party's leader Horst Seehofer, who is also Germany's Interior Minister, threatened to resign from the government if Merkel didn't find a way to limit the number of asylum seekers in Germany. Pressure from the right has forced Merkel to seek refugee resettlement deals with other EU countries, like Spain and Italy.
Indeed, Merkel has expressed interest in Turkey's economic stability and urged the Erdogan administration to ensure the independence of Ankara's central bank. During a meeting with the Bosnian government this week, she stressed the importance of having an "economically stable neighborhood," adding that "no one...has an interest in an economic destabilization of Turkey, but of course everything must be done so that, for example, an independent central bank can work and so on."
Still, experts say it is likely Greece, not Germany, would bear the brunt of any change to Turkey's approach to migrants.
"Erdogan has been talking about sending people back to parts of Syria that Turkey controls. But many of the refugees are from the areas that [Syrian President Bashar] al-Assad controls, they aren't going to want to go to northern Syria," Alizira told Newsweek. "The so-called Balkan route has been closed down. If Turkey turns on the spigot, which is a terrible way to refer to refugees, they'll go to Greece. If boats start to leave Turkey, it'll be a problem for Greece. Beyond, I don't think it'll hurt the EU."
Erdogan has threatened to cancel the refugee deal on numerous occasions because he claims Europe hasn't lived up to its end of the bargain.
Some analysts, however, argue that the economic crisis incentivizes Turkey to maintain the refugee deal with the EU and continue to house migrants. Because Europe provides Turkey with assistance in foreign currency, that money has become much more valuable thanks to the depreciation of the lira. Essentially, Erdogan won't kill the deal because he needs the money.
And even if the crisis does curb Turkey's ability to take in more refugees, experts argue that any policy changes will be unveiled slowly.
"Clearly if Turkey's economic crisis continues, if the government has to seriously reign in public funding, funding for refugee programs would have to be on the chopping block," Ross Wilson, an expert on Turkey at the Atlantic Council in Washington D.C., told Newsweek. "But I doubt that there will be much impact in the short term."