Iran Says Missile Attack Next to U.S. Troops in Syria Was Reply to Trump Security Official's Threat
A senior Iranian official has said that a missile strike by his country's elite Revolutionary Guards targeting jihadis just a few miles away from U.S. troops in Syria was a direct response to a warning voiced by President Donald Trump's national security chief.
The U.S. and Iran are both battling the Islamic State militant group (ISIS) in Syria, but back different factions of a seven-year civil war and both have tried to undermine each other's influence in the country. Accusing Iran of conducting illicit activities and posing a threat to U.S. forces in the Middle East, national security adviser John Bolton said last week at the 2018 United Against Nuclear Iran summit that Tehran should "take me seriously when I assure them today that if you cross us, our allies or our partners, if you harm our citizens, if you continue to lie cheat and deceive, yes, there will indeed be hell to pay."
Only days prior, militants opened fire on an Iranian military parade commemorating the Iran-Iraq War in the southwestern city of Ahvaz, killing soldiers and civilians in an attack claimed both by ISIS and local Arab separatists. Iran responded Monday by firing six ballistic missiles into ISIS territory in Syria, drawing condemnation from the U.S., whose troops were only three miles away from the strike zone, but Iran's Supreme National Security Council Secretary Ali Shamkhani said Iranian forces were intending to answer his U.S. counterpart.
"John Bolton said we should take you seriously; [Amir Ali] Hajizadeh, commander of the Aerospace Forces, took you seriously and landed a rocket within three miles of you," Shamkhani said, according to the semi-official Tasnim News Agency, asking: "What are your forces and ISIS militants doing within three miles of each other?"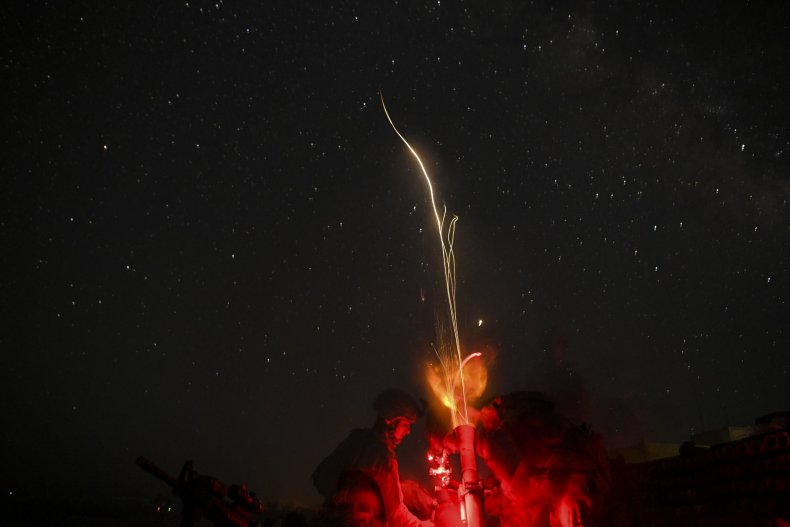 Incidents such as the deadly assault in Ahvaz are rare in the revolutionary Shiite Muslim republic. As a result, Iran has held foreign foes responsible, including the U.S. and its allies Saudi Arabia and Israel, who supported President Donald Trump's decision to leave a 2015 nuclear deal due to Tehran's support for regional groups and ballistic missile development. They have urged Iran to withdraw from Syria, where it supports Syrian President Bashar al-Assad against ISIS and insurgent groups.
The U.S, Saudi Arabia and a number of their allies were supporters of the 2011 rebel and jihadi uprising, but have since stepped back support to the opposition as it grew increasingly Islamist. The Pentagon formed a coalition in 2014 to begin bombing ISIS in Iraq and Syria, two countries in which Iran has mobilized Shiite Muslim militias to also battle the militant group. As the U.S.-backed, largely Kurdish Syrian Democratic Forces and pro-Syrian government campaign supported by Russia and Iran both reduced ISIS to little more than pockets of influence, the eastern Euphrates River valley became a point of convergence for the two parallel offensives last year.
Last month, the U.S.-led coalition announced that the Syrian Democratic Forces had begun their final push into ISIS territory on the eastern side of the Euphrates River, focusing especially on areas surrounding the small city of Al-Hajin. It was there that the Revolutionary Guards reportedly struck targets with six ballistic missiles and seven armed drones Monday, while they accused the U.S. of supporting the militants, a theory also supported by Russia and Syria in the face of routine denials by Pentagon and Washington.
U.S.-led coalition spokesperson Army Colonel Sean Ryan criticized the attack, telling reporters Tuesday that the lack of coordination meant there was a possible risk to aircraft in the area and that they could "potentially jeopardize the forces on the ground that are actually fighting ISIS and puts them in danger." He said that countermeasures were "something that we're going to look into militarily-wise" and that "anytime that our forces are put in danger, then we'll definitely take a look at that and make sure we take all the precautions necessary to do that."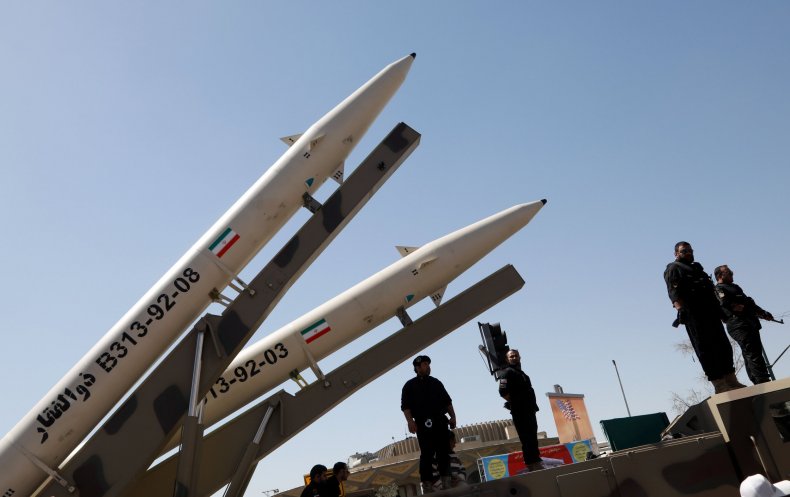 While the U.S.-led coalition and Russia have coordinated between their rival campaigns to avoid such incidents, a recent international incident involving off Syria's western coast has complicated this dynamic. The U.S. has struck pro-Syrian government targets on several occasions—potentially associated with Iran—but Israel said last month it has struck more than 200 suspected Iranian positions in Syria. When Syrian anti-aircraft defenses attempted to thwart such an attack on an alleged weapons depot in Latakia two weeks ago, they accidentally shot down an allied Russian Il-20 surveillance plane in a series of events that both countries have blamed on Israel.
Consequently, the Russian military has upgraded Syria's defenses with S-300 surface-to-air missile systems that have since arrived in the country. Iran and Syria have warned Israel against pursuing further attacks, but Israeli Prime Minister Benjamin Netanyahu vowed he would continue to conduct strikes. Israeli Defense Minister Avigdor Lieberman echoed this sentiment in an interview with the state-run Kan News channel.
"I cannot say that we are happy about the presence of the S-300, but at the same time this is a situation where we have no way out, where we have no opportunity to make decisions," Lieberman said, as reported by Russia's own state-run Tass Russian News Agency. "In any case, we are not looking for adventures. We merely protect our vital interests. Regrettably, we are in a situation where we cannot afford any compromises concerning our security interests."