Can Iran Stop Israel in Syria? New Warnings as Russia Prepares Missile Defense
Iran and Syria have exchanged warnings with Israel at a time of heightened tensions as Russia prepared to deploy new air and missile defenses to prevent its allies in a protracted civil war from being targeted by their longtime foe.
Rear Admiral Ali Shamkhani, secretary of Iran's security council, met Thursday with his Russian counterpart Nikolai Patrushev in Tehran to discuss the delicate situation in Syria, where both of their countries back the government against a seven-year rebel and jihadi uprising. Israel has accused Iran of quietly setting up bases in the conflict-ravaged country and has targeted military positions there, triggering Syrian air defenses that accidentally brought down a Russian military plane last week in an incident that Damascus and Moscow have both blamed on an Israeli raid.
"The Zionist regime has sought to prolong the crisis in Syria and has taken measures to directly support the terrorist groups and target the Syrian army and counterterrorism forces," Shamkhani said, according to the semiofficial Tasnim News Agency.
"It will face regrettable reactions if it continues to do so," he added.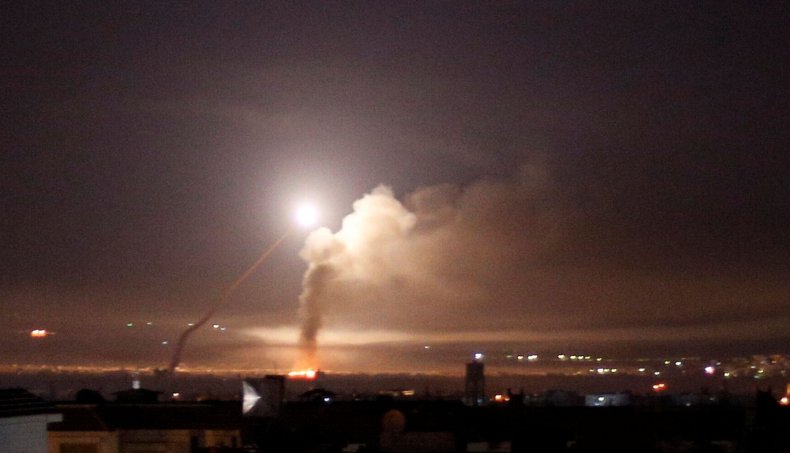 Like the U.S., Saudi Arabia and their allies, Israel armed and funded insurgents attempting to overthrow Syrian President Bashar al-Assad in the wake of a 2011 rebellion, but Russian and Iranian support has bolstered Syria's armed forces, allowing them to regain most of the country. As a U.S.-led coalition focused on defeating the Islamic State militant group (ISIS), Syrian military victories against both militant and opposition groups brought a growing presence of Iran-backed militias hostile to neighboring Israel, which has targeted sites said to be associated with Iran more than 200 times in the past two years.
Russia, with main strategic ties to both Iran and Israel, has criticized intervention not approved by the Syrian government, but has mostly looked the other way in terms of Israeli attacks. After one of its Il-20 surveillance planes was shot down by an outdated Russia-built Syrian anti-aircraft gun responding to an Israeli attack on the west coast province of Latakia last week, however, Moscow announced it would take active measures by providing Syria with modernized defense systems.
The S-300, capable of taking out aircraft and missiles, was set to be delivered within two weeks and Syrian officials have lauded the move. Syrian Assistant Foreign and Expatriates Minister said Wednesday that the addition to the country's defenses meant "that the enemy will carefully consider before embarking on any adventure that will surely be lost," according to the pro-government Al-Watan newspaper, which reported on the arrival of Russian Buk-M2E, Tor-M2, Pantsir-S1 and Pechora M2 defense systems to Syria ahead of the S-300 delivery. Russia already has an even more advanced S-400 deployed at its two military installations in Hmeymim and Tartous.
Israeli Prime Minister Benjamin Netanyahu warned Tuesday that his forces would continue to target Iran and said Russia's move "will increase the dangers in the region" because it is "transferring advanced weapons systems into irresponsible hands." Israel has denied Russian accusations that its jets used Russia's Il-20 for cover during the fateful attack on a storehouse allegedly set to provide weapons to Iran-backed forces.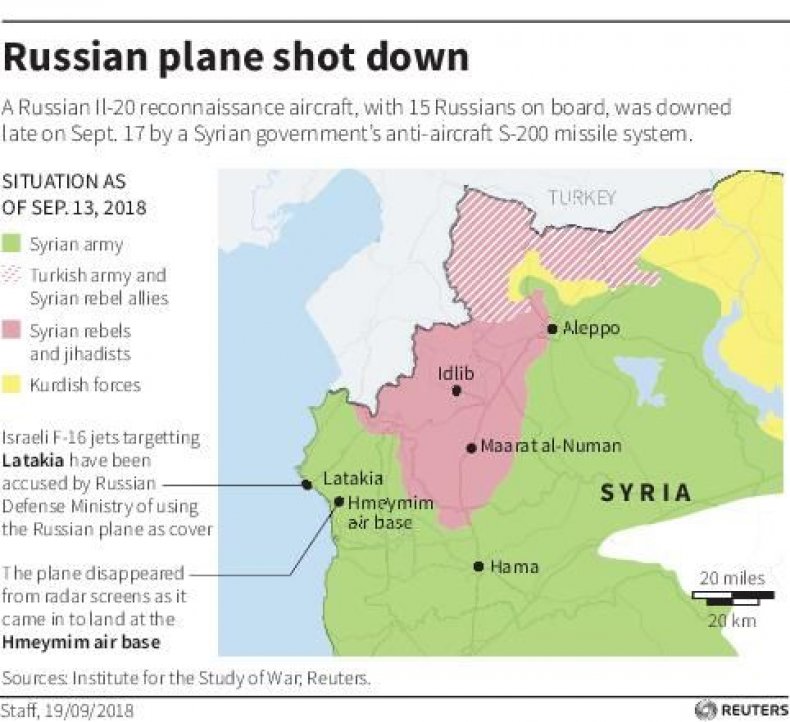 The U.S. has also made countering Iranian influence a priority of its mission in Syria, despite the defeat of ISIS being the Pentagon's only official goal. A U.S.-led coalition official told Newsweek on Monday that the introduction of additional weapons to Syria "is a concern," while a U.S. Central Command spokesperson said it "risks an exacerbation of the conflict and an escalation of the humanitarian situation" there.
Western powers have been carefully observing the tense climate surrounding the northwestern province of Idlib, the last to be held by an Islamist-led insurgency, and have threatened to use force to prevent a Syrian military operation to retake it. Hours prior to the Israeli raid on Latakia, Turkey—which supports some rebel factions in northern Aleppo and Idlib—announced a deal with Russia to prevent an all-out Syrian attack on the renegade territory by establishing a de-militarized zone and pledging to remove heavy weapons and jihadi groups by mid-October.