President Donald Trump told reporters Thursday that he would decide "fairly soon" his response to an alleged chemical weapons attack that some Western governments and their allies have blamed on the Syrian government. Such a move could potentially lead to a direct conflict with Russia and Iran, which fight rebels and jihadis on behalf of Syrian President Bashar al-Assad.
The Russian military has reportedly taken seriously Trump's taunt Wednesday that "missiles are coming" to Syria and has put air defenses on high alert. Longtime foes the U.S. and Russia have not fought one another directly since the U.S. attempted to snuff out Bolshevik forces in the wake of World War I about a century ago. Now both countries have bigger, stronger and smarter weapons capable of inflicting devastating blows and, as Trump tweeted, "our relationship with Russia is worse now than it has ever been, and that includes the Cold War."
Related: U.S. Military Killed 'A Couple Hundred' Russians In Syria Airstrikes, Pompeo Says As Trump Considers New Attack
As Trump met with the joint chiefs of staff and other top officials Thursday, Center for Strategic and International Studies associate fellow and associate director Ian Williams told Newsweek that a U.S. missile strike on Syria may still be likely, but a Russian response less so. Still, Williams wouldn't rule it out entirely, and he laid out some of the powerful tools both sides have already brought to the battlefield.
The most likely choice for a U.S. attack in Syria would be the Tomahawk cruise missile, a weapon Williams said the Pentagon has used "countless times for limited, surgical strikes" and the choice last April when U.S. guided missile destroyers USS Ross and USS Porter fired 59 Tomahawk missiles at Syria's Al-Shayrat air base. Trump ordered the strike hours after reports emerged of another suspected chemical attack, this time the alleged use of sarin gas by the Syrian military in the rebel-held province of Idlib.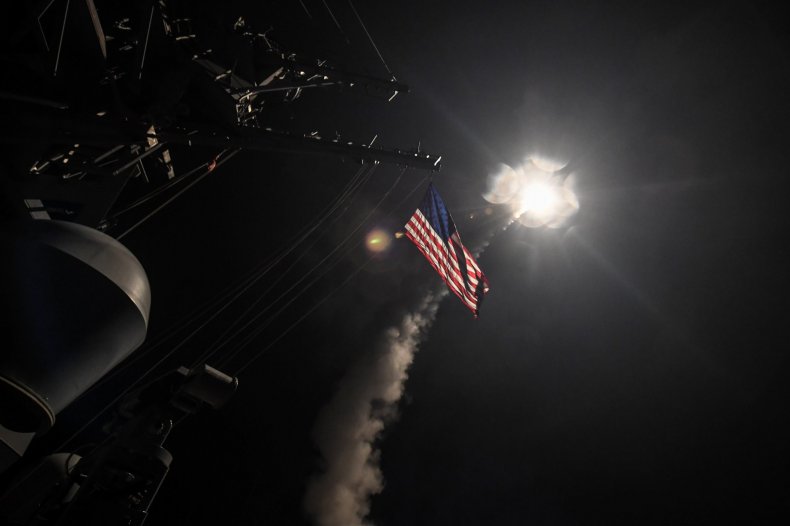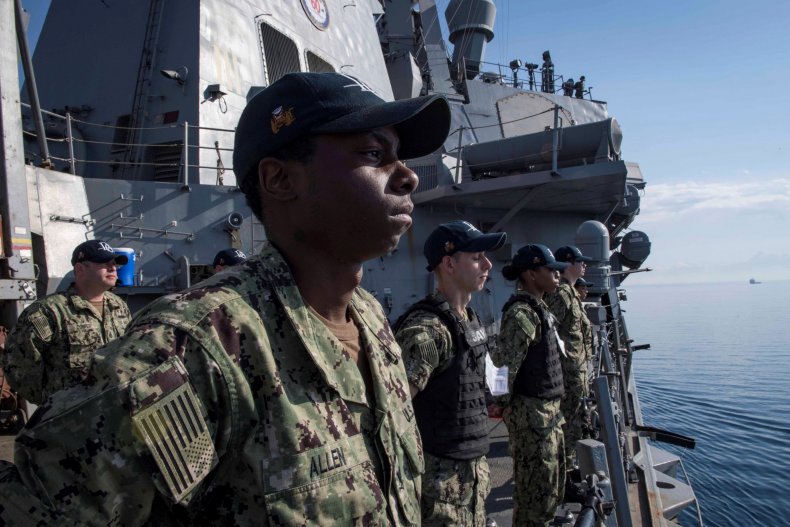 Within a day or so of the U.S. strike, however, Al-Shayrat was back in action, so Trump may opt for a more comprehensive operation. Williams said the U.S. could also use air-launched standoff missiles such as the new and improved ER variant of the AGM-158B JASSM, but this would put U.S. pilots at risk. The Tomahawk cruise missile could be fired from the safety of the Mediterranean Sea, where at least two U.S. destroyers were already poised to attack and the USS Harry S. Truman carrier strike group may join.
The U.S. has also updated its Tomahawk to the Block IV variant, which may be the "smart" missiles Trump referred to in his Wednesday tweet that told Russia to "get ready." Williams said these sophisticated missiles could be reprogrammed mid-flight, maintain communication throughout the operation, loiter around targets and even coordinate with fellow Tomahawks to conduct swarm attacks.
"These things are hard to hit, they're hard to see, they're small, and by design, they're stealthy as well," he said. "These kinds of missiles are easy to intercept if you see them coming, it's seeing them coming that's the challenge."
For its part, Russia has its own state-of-the-art firepower, complemented by naval radar systems and A-50 early warning aircraft. The S-400 Triumf anti-aircraft system, dubbed "SA-21 Growler" by Western military alliance NATO, is coveted even by regional U.S. allies Iraq, Saudi Arabia, Qatar and Turkey. Douglas Barrie, military aerospace analyst at the U.K.-based International Institute for Strategic Studies, previously told Newsweek on Wednesday that "Russia's Aerospace Forces and, before that, the Soviet Air Force, have long practiced attempting to locate and shoot down cruise missiles, but it is not an easy task."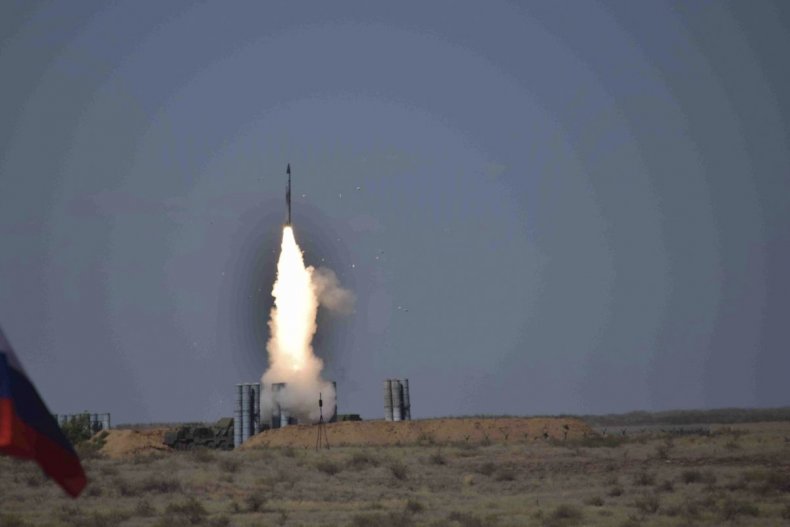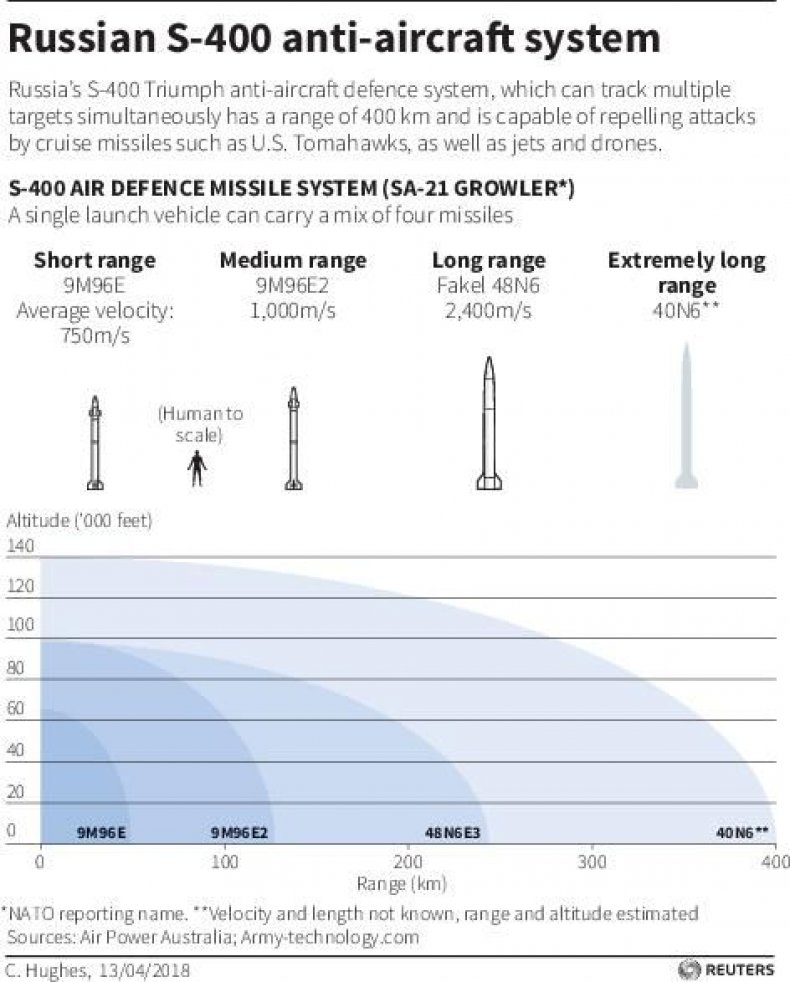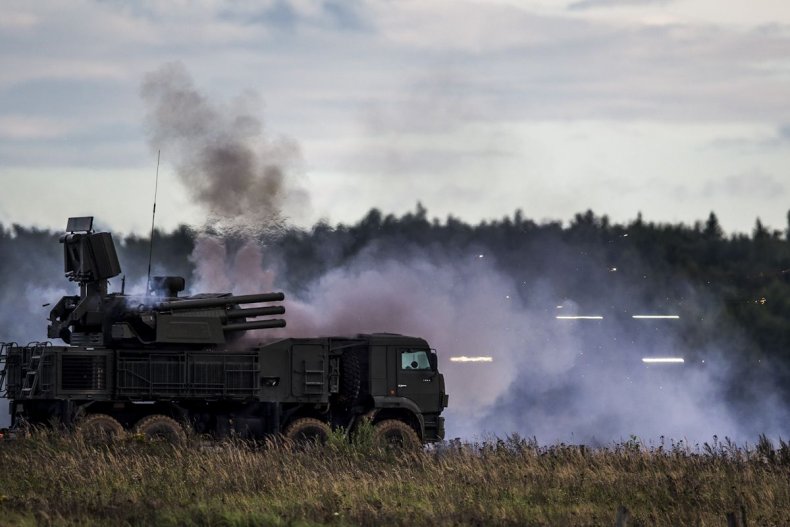 Barrie explained that the S-400, the S-300 that came before it and the short-range Pantsir-S1 point air defense system all have anti-cruise missile capabilities. All were active in Syria, but the latest model S-400s was clustered on the west coast. Russia has two heavily-fortified military installations in Syria, a naval base in Tartous and an air base in Hmeymim. Reports have indicated that the Syrian military has already begun moving vital assets to these sites as they were considered unlikely targets for a direct U.S. attack.
Instead, observers have focused elsewhere on Syrian air bases and suspected chemical weapons production sites, targets more difficult for the coastal S-400 and K-300P Bastion-P (called "SS-C-5 Stooge" by NATO) systems to protect. Russia has also bolstered Syria's native defenses, potentially upgrading the Russian S-200s, Pantsir S-1s and medium-range Buk missile systems. Syria's armed forces reportedly intercepted a number of air-to-surface missiles fired Sunday at the T-4 air base in an attack blamed by Russia on Israel. They also shot down an Israeli jet in February.
However, the strategic value of hitting airfields and suspected chemical sites has likely diminished, as time drags on and potential targets were evacuated. Trump announced Monday he would decide how to respond "forcefully" within "the next 24 to 48 hours" to the chemical weapons charges against Assad, but on Thursday tweeted that a reaction "could be very soon or not so soon at all!" Williams said that this could present a new, dangerous element to Trump's plans, one that the expert said became a more likely scenario with former ambassador and persistent Iraq War supporter John Bolton set to enter the administration as national security adviser.
"There is a possibility that the targets could be more political, going after individuals, people in the upper echelons of the Syrian government and military," Williams told Newsweek, saying Trump may even go after Assad himself.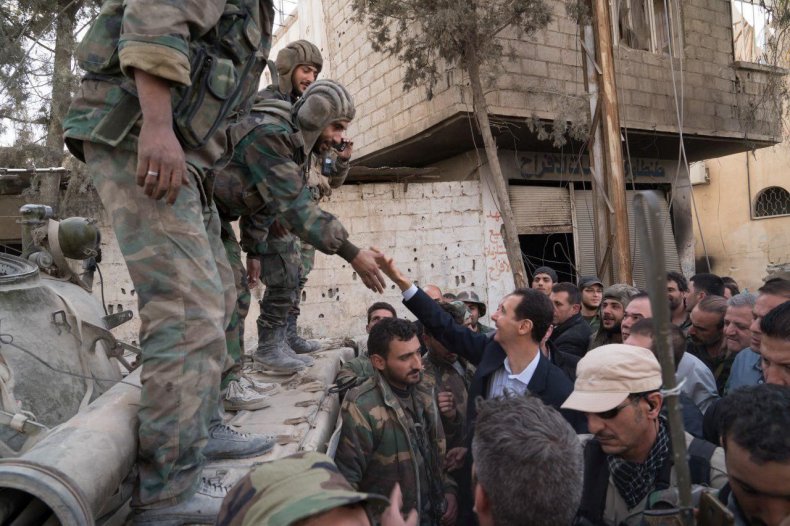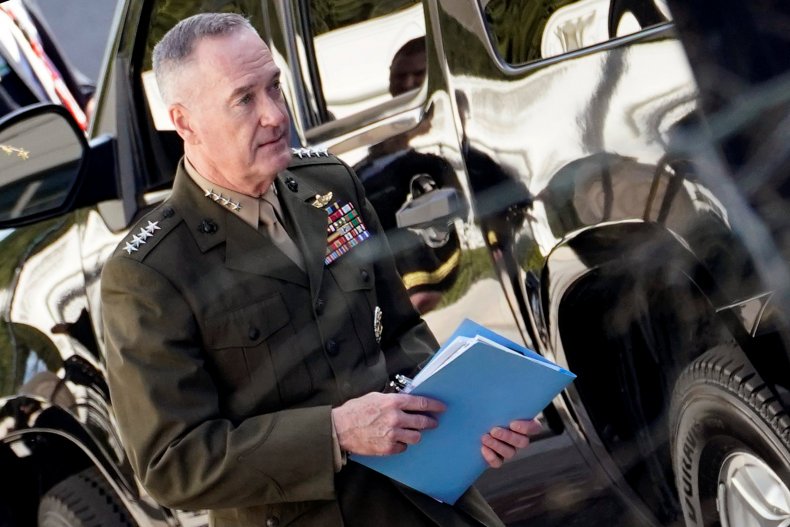 Williams said such a plan, even if it failed, may "send a stronger message" to the Syrian leader, but it would significantly enhance the likelihood of civilian and Russian military casualties. If Russian top General Valery Gerasimov makes good on last month's promise that "in the event of a threat to our military servicemen's lives, Russia's armed forces will take retaliatory measures to target both the missiles and their delivery vehicles," the chance of a direct conflict between the U.S. and Russia increases significantly.
"I don't think the Russians will go there. I would hope they wouldn't," Williams said. "But, then again, I also didn't think they would invade Crimea."
In this case, both powers have warplanes, warships and submarines in the Mediterranean, as well as multi-layered defense systems with long to short-range capabilities and electronic interference. The U.S. has maintained a distinct technological advantage over its Russian foe, but neither have tested their firepower against a near-peer competitor in decades. In an even more unlikely scenario, both countries could unleash the world's largest nuclear arsenals on one another.
Trump and Russian President Vladimir Putin, however, have long attempted to reconcile their rival countries. Trump was a vocal critic of former President Barack Obama's hardline posture toward Russia as well as his Syria policy. Trump criticized his predecessor for both not attacking Assad after reports of a 2013 chemical attack and for backing anti-Assad insurgents.
Many of these opposition fighters were consumed by the Islamic State militant group (ISIS) or other jihadis and later lost U.S. backing. Defeating ISIS became a mutual goal of the U.S. and Russia, but as separate Pentagon-backed Syrian Democratic Forces and Moscow-backed Syrian military campaigns defeated the militants, local and international tensions have resumed and some proponents of de-escalation have emerged in some unlikely places.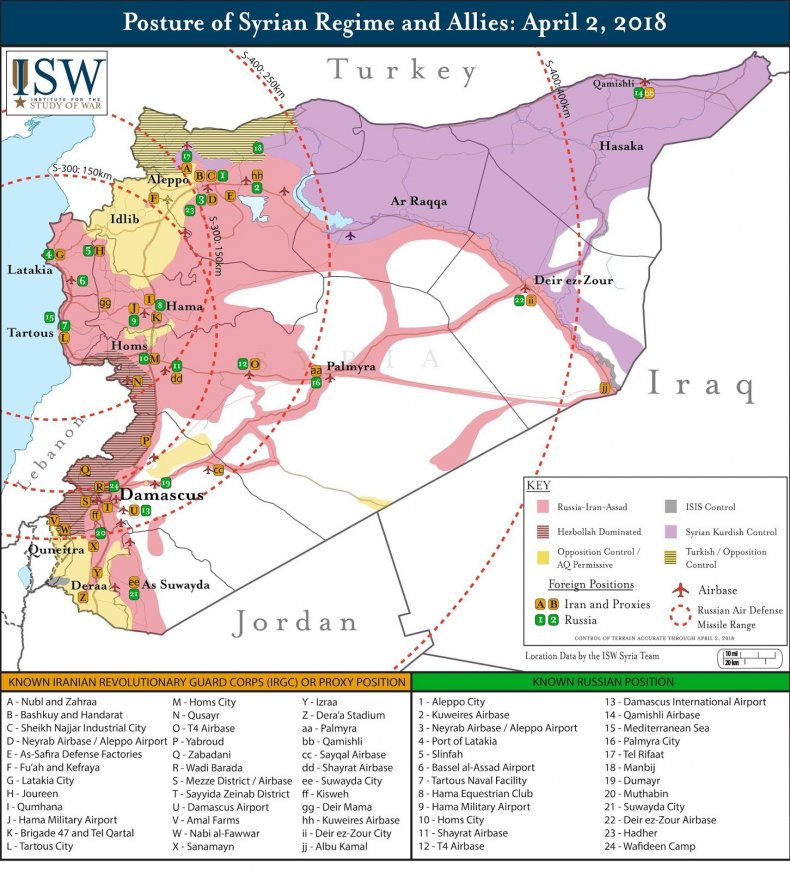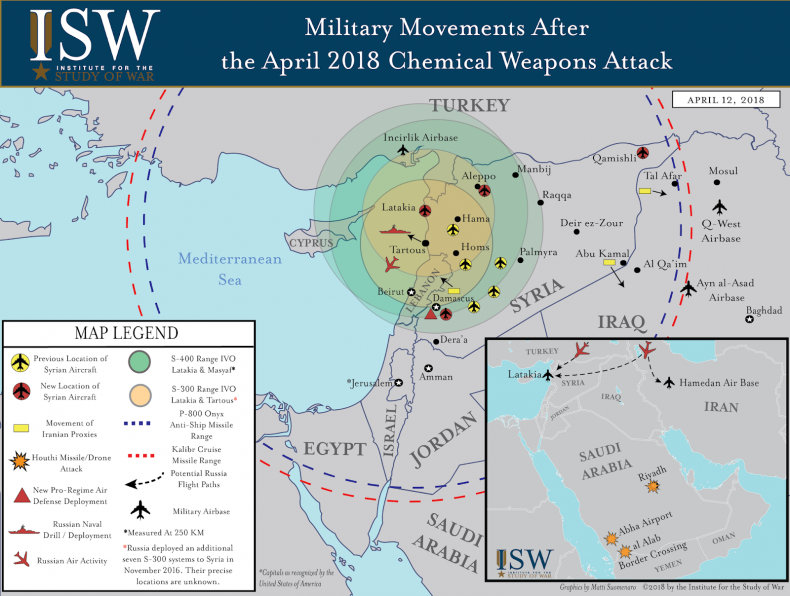 Defense Secretary James Mattis cautioned Thursday that an imminent U.S. airstrike in Syria could escalate "out of control" into a wider conflict during his testimony before the House Armed Services Committee. Mattis, seen as a hawkish Cabinet pick upon his nomination back in 2016, has since become one of the more moderate voices of Trump's inner circle, which was set to soon include Bolton and CIA Director Mike Pompeo.
Secretary of State hopeful Pompeo testified Thursday that the historic bad blood between Washington and Moscow was "caused by Russian bad behavior" and claimed "the Russians met their match" after "a couple hundred Russians were killed" in U.S. airstrikes against pro-Syrian government forces in February. These Russians were believed to be volunteers for a private military company, not regular servicemen that Moscow has promised to avenge with force, but the attack drew attention to a potential new front in an already extended civil war that has pitted international actors against one another.
"Vladimir Putin has not yet received the message sufficiently," Pompeo told lawmakers, "and we need to continue to work at that."
Russian Ambassador to the U.N. Vasily Nebenzya said Thursday that "the immediate priority is to evade the risk of war," but warned that "we cannot exclude any possibilities, unfortunately."