Can Russia Defeat U.S. Missiles In Syria? Yes, But It Will Not Be Easy
Russia vowed Wednesday to shoot down any missiles President Donald Trump may launch against Syria. A defense expert said that Moscow was, in fact, able to block a U.S. attack—but it could prove difficult.
Moscow's military prowess may soon to be put to the test as Trump promised to respond "forcefully" to allegations that Syrian President Bashar al-Assad, a Russian ally, used chemical weapons in an attack on a rebel-held Damascus suburb of Douma over the weekend.
Related: U.S., Saudi Arabia and France Talk Military Action in Syria as Russia, China and Iran Warn Against It
Douglas Barrie, a senior fellow for military aerospace analyst at the U.K.-based International Institute for Strategic Studies, told Newsweek that "Russia's Aerospace Forces and, before that, the Soviet Air Force, have long practiced attempting to locate and shoot down cruise missiles, but it is not an easy task."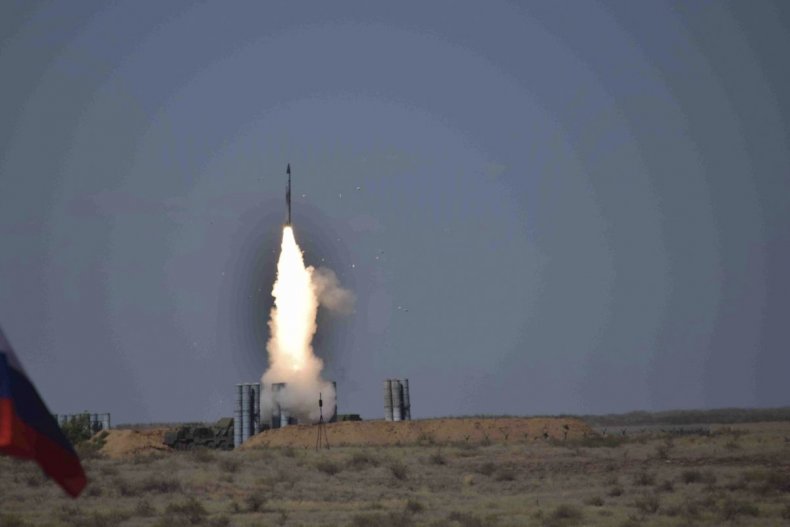 "It was one of the main design drivers for the MiG-31 Foxhound interceptor aircraft. Similarly, a range of surface-to-air missile systems, such as the long-range S-400 (SA-21 Growler) and point defense Pantsir (SA-22 Greyhound) also have the capability to be used against cruise missiles," Barrie continued.
"The last two systems, the SA-21 and SA-22, have been deployed to Syria as part of the Russian presence. To engage cruise missiles, however, you first have to locate them in flight and then have missile systems within range to engage or to located close to the intended targets. Given the comparatively limited Russian presence in Syria this presents a challenge," he added.
Russia began deploying troops in Syria in 2015, responding to a request from Assad to help his own armed forces against a 2011 uprising backed by the West, Turkey and Gulf Arab states, as well as a number of jihadi groups. By 2014, the Islamic State militant group (ISIS) had spread from the post-2003 U.S. invasion chaos in Iraq into neighboring Syria and had taken half of both countries, prompting an intervention from a U.S.-led coalition.
ISIS has been largely defeated by the U.S.-led campaign, which was spearheaded by the mostly Kurdish Syrian Democratic Forces, as well as the Syrian military, which has been supported by Russia and various pro-government and Iran-backed militias. With the militants' demise, however, international forces including the U.S. and Russia have again focused on one counter one another.
The U.S., whose presence Assad has declared illegal, has struggled to maintain its stake in the conflict as two allies, Turkey and the Kurds, fought a separate battle against one another. Meanwhile, the Syria's armed forces and their allies have continued to gain ground against rebels, forcing them to either surrender and reconcile or be evacuated to other shrinking remnants of rebellion against the government. The Syrian military's latest assault on Douma, however, threatened to spark a new, catastrophic conflict based on dueling accusations of wrongdoing.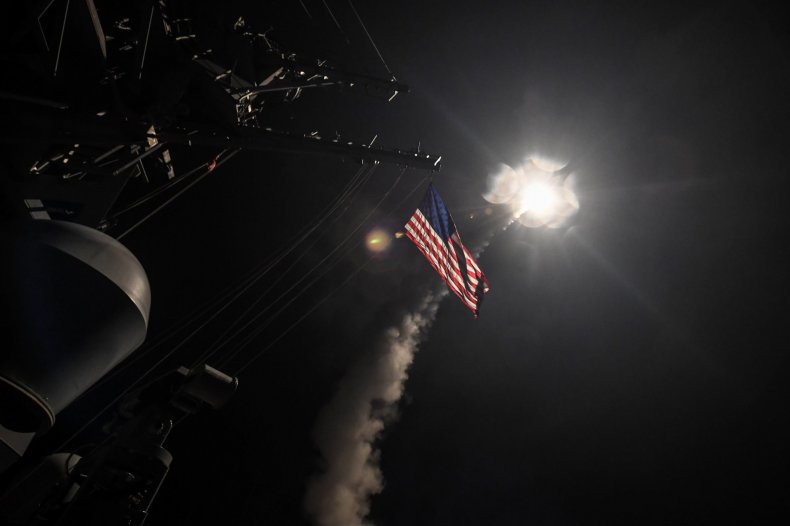 After reports of the chemical attack emerged, airstrikes hit Syria's T-4 airbase in the central Homs province Monday, killing several Iranians in an attack that Lebanon, Iran, Russia and Syria have blamed on Israel. That same day, Trump said Syria, Russia and Iran would pay a "big price" within "the next 24 or 48 hours," a timeframe that has since passed, leaving Russian and Syrian defenses on high alert.
Last April, Trump ordered the launch of a Tomahawk cruise missile barrage against the Al-Shayrat air base, also in Homs. The move was unilateral, but this time, the U.S. has been in contact with nations such as France, Qatar, Saudi Arabia and the U.K., who have expressed a willingness to participate in an attack, which Russia has said it would shoot down and potentially retaliate against.
Trump responded on social media, tweeting "Get ready Russia, because they will be coming, nice and new and 'smart!'" and Russian ambassador to Lebanon Alexander Zasypkin renewed Moscow's threat, saying Russia would destroy U.S. launch sites as top Russian General Valery Gerasimov stated last month. Russian Foreign Ministry spokeswoman Maria Zakharova wrote on Facebook Wednesday that "smart missiles should fly towards terrorists, not a legitimate government that has been fighting international terrorism in its territory for several years."
Defense Secretary James Mattis told reporters Wednesday: "We stand ready to provide military options if they're appropriate as the president determined," according to The New York Times.
Since the Cold War, Russia has been developing means to intercept U.S. cruise missiles and other advanced weapons. This drive has recently been renewed and accelerated by Russian President Vladimir Putin, who has sought to modernize his military forces.