Russia Says Syrian War Getting 'Too Dangerous' as Trump Decides if He Will Attack
Russia's top diplomat has warned that the situation in Syria was spiraling out of control after an unclaimed missile strike hit an air force base overnight in the central Homs province. Despite Moscow's warnings, President Donald Trump vowed to decide as early as Monday evening on whether to launch his own attack.
Not long after declaring his intention to soon withdraw troops from Syria, Trump said Monday he was considering a major escalation in response to reports that the Syrian government used chemical weapons on one of the final rebel-held pockets outside of the Syrian capital of Damascus. The president condemned the alleged use of toxic gas and confirmed that "nothing was off the table" in terms of retaliation.
Related: Russia says it will attack U.S. military if Trump strikes Syria again
"If it's Russia, if it's Syria, if it's Iran, if it's all of them together, we'll figure it out and we'll know the answers quite soon. So we're looking at that very, very strongly and very seriously," Trump said at a Cabinet meeting. Asked later about Russian President Vladimir Putin's potential role, Trump said that "everybody's going to pay a price—he will, everybody will."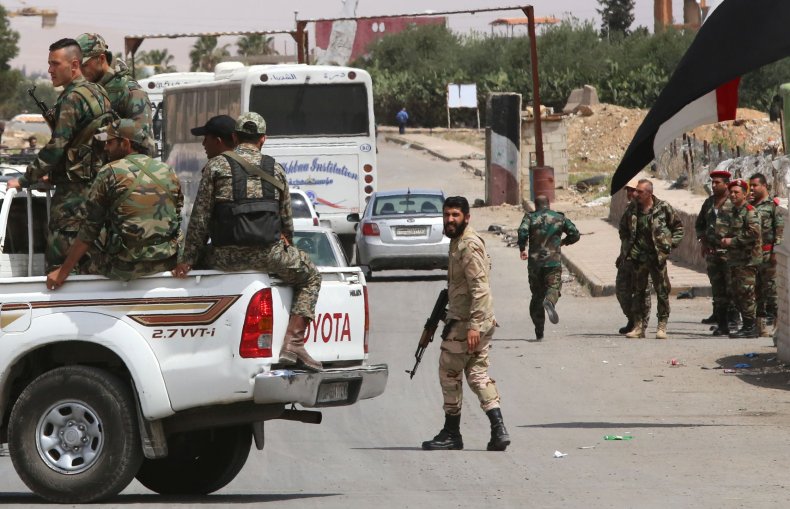 Trump said he would "be making some major decisions over the next 24 to 48 hours" or even "later today." Meanwhile, his Russian counterpart dismissed Western "provocations and speculations" that the Syrian military was behind a chemical attack, in a phone call with German Chancellor Angela Merkel, according to a Kremlin statement. Top Russian political and military officials have previously warned that they may take retaliatory military action if the U.S. attacked Syria's armed forces, especially if it endangered Russian personnel.
In a press conference Monday, Russian Foreign Minister Sergey Lavrov questioned Trump's intention to take his troops out of Syria and accused the U.S. of trying to prolong its stay in a country that has rejected the Pentagon's military presence. He also warned of the consequences of Sunday night's airstrikes, which Moscow has officially blamed on Israel.
"The U.S. is taking steps...to establish a foothold there for a very long time—experts agree on this," Lavrov said during the press conference, not yet confirming the Kremlin's suspicion that Israel was behind the attack on Syria's T-4 airbase, also known as Tiyas or Tayfour.
"Washington denied that these strikes were delivered by members of the coalition," Lavrov noted. "This once again shows that it is becoming too dangerous in Syria. Players emerged there whom no one had invited and who invited there themselves."
The strikes came shortly after Trump promised there would be a "big price...to pay" for the alleged chemical weapons attack in the besieged suburb of Douma, where Moscow has attempted to broker negotiations between the Syrian government and Islamist rebel group Jaysh al-Islam. Many local reports initially suggested that the missiles fired at T-4 air base came from U.S. warships in the Mediterranean, as they did in response to another alleged Syrian chemical weapons attack one year ago. The U.S. denied this.
Official sources, including those in Russia, Iran, Syria and Lebanon, have said Israeli jets shot the missiles after breaching Lebanese airspace.
Israel has yet to comment on the accusations but has occasionally struck suspected Hezbollah positions in neighboring Syria throughout the country's seven-year civil war. (Hezbollah is a Lebanese Shiite movement backed by Iran.) Iranian officials were reportedly present at the T-4 airfield, and Iran confirmed Monday that four of its military advisers were killed, according to the semiofficial Fars News Agency.​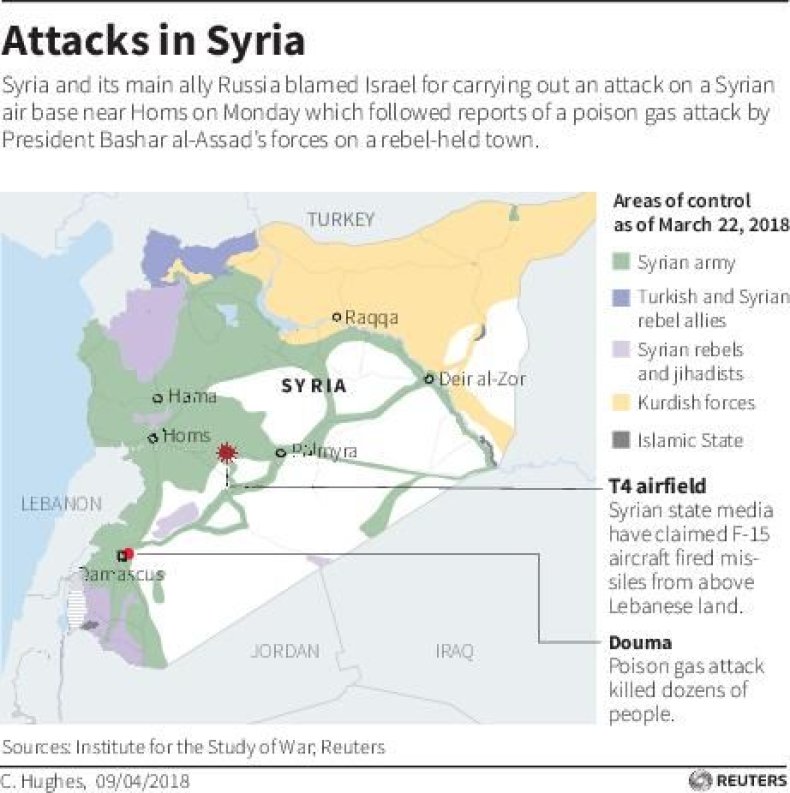 Despite Russia's alliance with Iran, it has maintained a working relationship with Israel, but Moscow was quick to reveal that it believed Israel was behind the latest attack. Russia has also shored up Syria's air defenses, which reportedly intercepted a number of the incoming missiles on Monday and shot down an attacking Israeli jet in February.
The U.S. has attempted to overthrow Syrian President Bashar al-Assad since offering covert support to the supporters of a 2011 uprising against the Baathist leader, but the Pentagon has since concentrated on battling the Islamic State militant group (ISIS) as jihadi groups split and absorbed much of the Syrian opposition. In 2015, Russia intervened on Assad's behalf, and the U.S. pursued anti-ISIS efforts by establishing a mostly Kurdish militia now partially aligned with Assad in a separate battle against Turkey and its formerly CIA-backed allies.
Defense Secretary James Mattis said Monday that he "wouldn't rule anything out" when discussing the possibility of U.S. military action in Syria, according to the Associated Press.