Syria Air Base Missile Strike: What We Know About Attack on Homs Airfield
Syrian state media reported a missile attack at the Tiyas air base in central Syria on Monday, hours after aid groups said dozens of civilians died in a suspected chemical attack on one of the remaining rebel-held areas.
State media said the military shot down eight missiles but did not mention the number of casualties, although it said the attack "left a number of martyrs and injured." The U.K.-based monitoring group Syrian Observatory for Human Rights told the Associated Press that at least 14 people were killed in the attack, including Iranians or members of Iran-backed groups.
Syrian state television initially pointed the finger at the U.S., while a Lebanese, Hezbollah-linked TV station blamed Israel for the attack. The Russian Defense Ministry also blamed Israel, claiming in a statement reported by state-run news agency Tass that two Israeli F-15 aircraft launched the attack from Lebanon, without entering Syrian airspace.
The Pentagon denied the accusations in a statement reported by Reuters. "At this time, the Department of Defense is not conducting airstrikes in Syria," the statement read.
A spokesperson for the Israeli army refused to comment on the attack, Haaretz reported. Israeli missiles previously struck the base, also known as T4 and located halfway between the cities of Homs and Palmyra, in February in retaliation for an Iranian drone that flew into Israeli air space after departing from the base.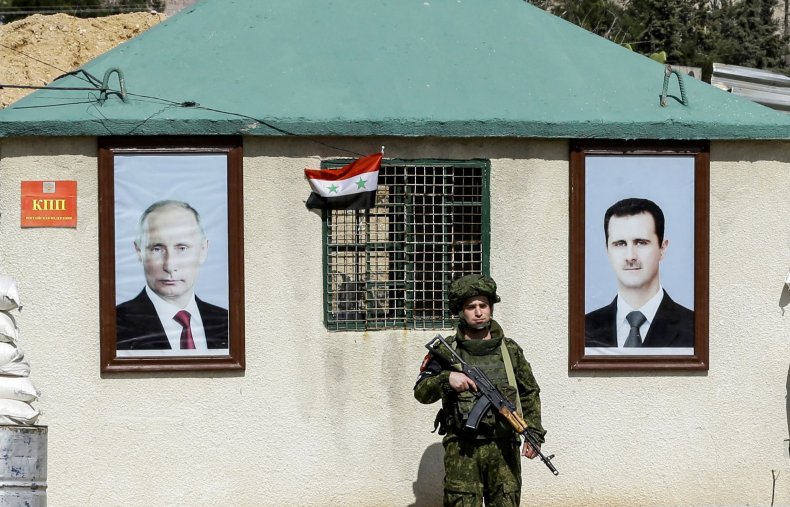 President Donald Trump warned Syrian leader Bashar al-Assad on Sunday there would be a "big price to pay" as a consequence of the suspected poison gas attack against the civilian population in Douma, the largest city of the Eastern Ghouta region on the outskirts of Damascus. Several children were among those who died in the suspected attack.
Eastern Ghouta, the last major opposition-held enclave near the Syrian capital, has been under siege since 2013. It has been targeted by a relentless offensive in the past seven weeks, which has killed more than 1,500 people, according to the Syrian Observatory for Human Rights and aid groups. Thousands of rebels and their families have left the territory as part of Russian-brokered withdrawals in recent weeks, with the latest wave of evacuations beginning on Sunday.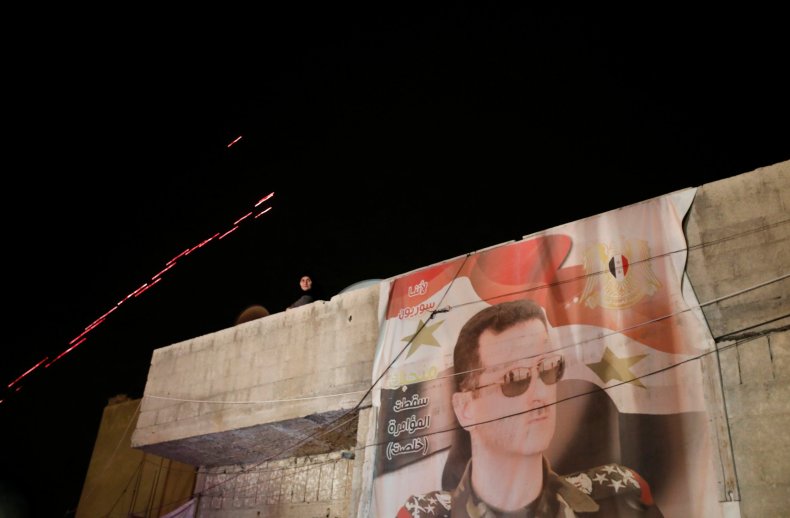 The Syrian regime and its allies Russia and Iran have denied reports of the attack. Trump has condemned these countries, explicitly blaming Russian President Vladimir Putin. "President Putin, Russia and Iran are responsible for backing Animal Assad," Trump said in a series of tweets.
Trump's warning came almost exactly a year since he ordered a missile strike on the Al-Shayrat military air base using 59 Tomahawk Land Attack Missiles, following reports of a chemical attack in the Idlib province.