U.S. Military Killed 'A Couple Hundred' Russians In Syria Airstrikes, Pompeo Says As Trump Considers New Attack
Mike Pompeo, the CIA director nominated to be secretary of state, told lawmakers Thursday that the U.S. killed up to 200 Russians in airstrikes conducted against forces loyal to Syrian President Bashar al-Assad in February.
U.S. officials have so far remained silent about the number of casualties inflicted by a coalition assault on pro-Syrian government fighters that the Pentagon claimed opened fire on Syrian Democratic Forces in the eastern province of Deir Ezzor. Both a U.S.-led coalition and the Russia-backed forces supportive of Assad are battling the Islamic State militant group (ISIS) in the region, but recent tensions have produced fears of a conflict erupting between Washington and Moscow.
Related: U.S. military 'ready' to show Trump plans to attack Syria, Russia says it will fight back
"In Syria, now, a handful of weeks ago, the Russians met their match. A couple hundred Russians were killed," Pompeo said during his confirmation hearing in Washington.
Pompeo was named as Trump's choice to replace former Secretary of State Rex Tillerson, who reportedly found out in February he was out of the job from the president's tweet. The shake-up was followed by another high-profile switch, when Trump announced he wanted former U.S. Ambassador to the U.N. John Bolton to replace national security adviser H.R. McMaster.
Bolton and Pompeo, two hawkish, hard-line conservatives, have discussed taking a tougher stance against Russia, which the U.S. has accused of interfering in the foreign affairs of other countries. A year after the U.S. and its allies intervened against ISIS in 2014, Moscow began its own war against the jihadis and rebels threatening Assad's rule since a 2011 uprising backed by the West, Turkey and Gulf Arab states.
The dual offensives have decimated ISIS's once-widespread, self-proclaimed caliphate, but tensions between competing local and international forces on the ground have since surged. A Turkish invasion in January drew a number of U.S.-backed Kurds out of the fight against ISIS, and the remaining, majority-Arab faction of the Syrian Democratic Forces has had a volatile relationship with pro-Syrian government fighters, which included Iran-backed Shiite militias as well as Russian volunteers.
Sometime between February 7 and 8, the Syrian Democratic Forces claimed to have come under fire by pro-Syrian government forces and called for coalition backup. The U.S. responded with heavy air power, killing an unknown but reportedly large number of targets. Russia, which acknowledged that some of its citizens were involved, and Syria argued that the Syrian Democratic Forces initiated the attack to consolidate control of nearby, formerly ISIS-held oil fields.
Days later, the U.S.-led coalition bombed a Soviet-built T-72 tank operated by pro-Syrian government forces in a second incident. Defense Secretary James Mattis said last month that a third encounter was avoided when the U.S. joint chiefs of staff contacted its Russian counterpart, resulting in pro-Syrian government forces retreating. However, Mattis said he had no reason to think that Moscow was in direct control of these Russians, believed to be part of private military companies.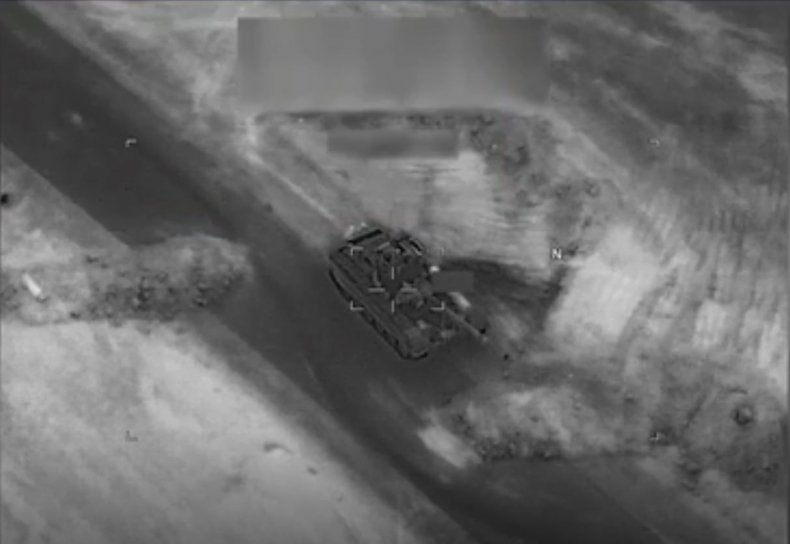 Since then, the U.S. and Russia have engaged in a new escalation over conflicting claims about a chemical weapons attack in the formerly insurgent-held Damascus suburb of Douma. While Mattis said Wednesday he was "still assessing" responsibility over the suspected toxic gas attack, the U.S. has vowed to take military action, and allies France, Saudi Arabia and the U.K. have announced their potential support.
Russia has denied these claims, and Moscow's ambassador to Lebanon, Alexander Zasypkin, said Wednesday that Russia was threatening to down both U.S. missiles and their launch sites, echoing a previous warning by a top Russian general. Trump, meanwhile, taunted his Russian rivals on social media, promising that missiles would hit Syria, but on Thursday he tweeted that he "never said when an attack on Syria would take place. Could be very soon or not so soon at all!"
In addition to a possible confrontation with Russia, Pompeo's and Bolton's hearings were set to come ahead of two major administration deadlines. Trump has demanded a renegotiation of the 2015 Iran nuclear deal by mid-May, but its other signatories have so far defended the agreement. The new Cabinet would also inherit the nuclear crisis with North Korea, although Trump has agreed to hold a historic meeting with leader Kim Jong Un by May.