U.S. Military Bombs Russian Tank in Video From Syria Attack on Assad Supporters
The U.S. military destroyed a Russia-built tank, following a recent attack on forces supportive of Syrian President Bashar al-Assad that also claimed the lives of Russian fighters.
The U.S.-led coalition tasked with defeating the Islamic State militant group said Wednesday its partnered Syrian Democratic Forces (SDF) were targeted in an "unprovoked attack" by a pro-Assad axis also battling ISIS in the eastern Syrian province of Deir Ezzor. Russia and Syria argued they were struck first, but both sides have reported scores of dead among the forces fighting for the Syrian government, as well as a second, smaller clash over the weekend near the eastern town of Al-Tabiyeh.
Related: U.S. Coalition Kills Russians In Airstrikes Against Assad Supporters in Syria, Reports Say
In a video released Tuesday by the Pentagon, a U.S. MQ-9 Reaper drone, also called Predator B, can be seen blasting a Soviet-made T-72 tank, reportedly killing at least two or three operators in response to what Defense Secretary James Mattis said he did not "want to dignify" as "a big attack" on Saturday, according to Reuters.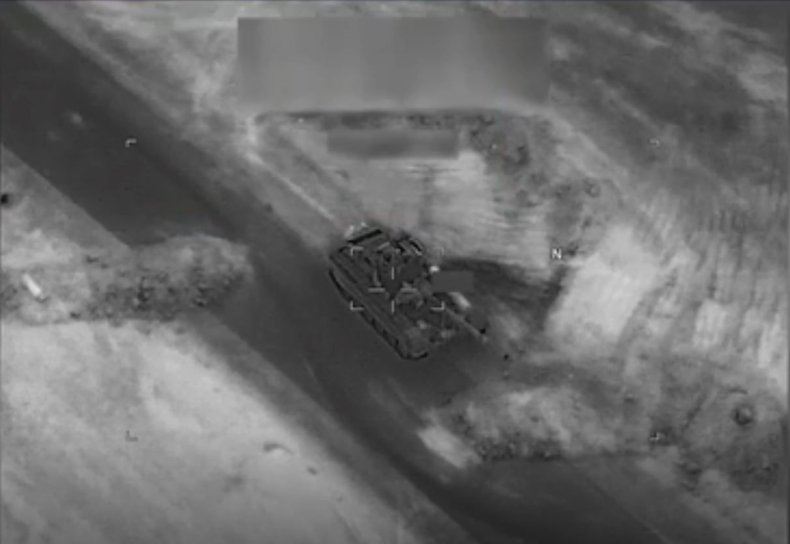 Speaking via video chat from the al-Udeid Air Base in Qatar, Air Force Lieutenant General Jeffrey Harrigian told reporters Tuesday that such decisions were made by ground forces and especially a ground commander. While admitting that U.S. forces and their allies were working in "a very complicated and complex environment," he said the U.S. operated from a "defensive position" during otherwise routine operations in the latest attack on Saturday.
"We detected and saw a tank that took a shot at us, it continued to move so we again executed self-defense rules of engagement to protect ourselves and I believe that was something that, again, we always have the right to do and we'll make sure where in the position to do that," Harrigian said.
"What happened in that particular scenario is the tank that fired was within an effective range to target our SDF and advisers on the ground, which clearly provides [the ground commander] the ability to defend himself and he made that decision appropriately so and that was the result," he later elaborated, saying he was "unaware" whether any other tanks had escaped.
The news came as reports surfaced of Russian casualties in clashes between the U.S.-led coalition and pro-Syrian government forces in the past week. The Russian Defense Ministry has denied the presence of any Russian troops in the area and some of the Russians involved may have been part of the Wagner Group, a private military company known to operate in support of other pro-Assad forces in Syria as well as alongside separatist rebels in eastern Ukraine.
Other reports suggested most of the dead came from the so-called "ISIS Hunters," a name given to the Syrian army's Fifth Assault Corps that has been specially trained by Russia. Harrigian said he could not speculate as to the composition of the forces the U.S.-led coalition bombed.
While Harrigian and other U.S. coalition officials have maintained that U.S. personnel were in constant contact with their Russian counterparts before—during and after recent clashes—the Russian Defense Ministry has disputed this. The ministry accused the U.S. of shielding ISIS and attempting to divide up Syria with its support of the mostly Kurdish SDF. The U.S. has routinely rejected such allegations, but it has acknowledged that clashes between the SDF and pro-Syrian government forces are a distraction from the fight against ISIS.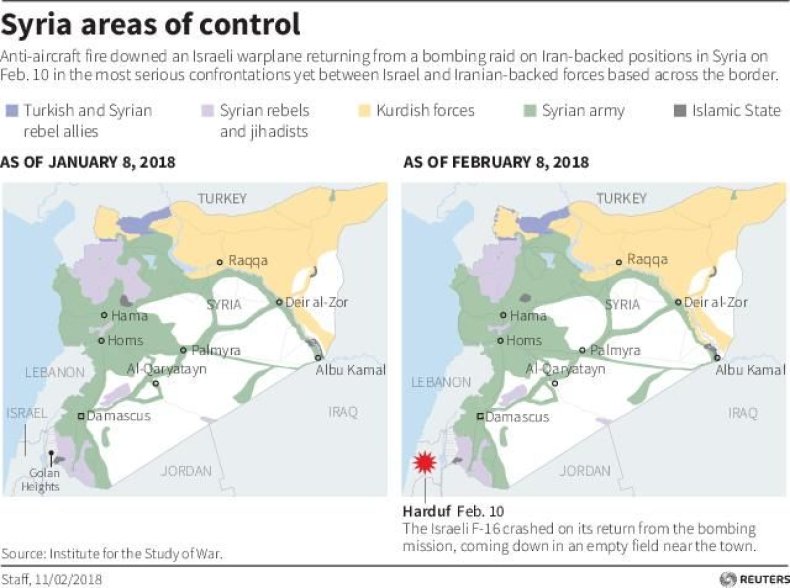 Other developments in Syria also threatened to offer ISIS a chance to regroup. Coinciding with the U.S. bombing of the Russia-built tank, Israel launched a series of air raids on Syria in response to what Israel said was an Iranian drone crossing into its airspace. Syrian anti-aircraft fire managed to shoot down one of the attacking F-16 jets—which crashed into northern Israel—prompting additional Israeli attacks near Damascus, where Israel has accused its foe Iran of setting up permanent bases with the assistance of its Lebanese Shiite Muslim ally, Hezbollah.
In the northwestern district of Afrin, yet another front has opened up. A Turkish invasion, supported by the insurgent Free Syrian Army, has attempted to dislodge Kurdish People's Protection Units (YPG) operating under the SDF. Turkey has criticized the U.S. for supporting Kurdish forces and has accused the YPG of harboring links to the militant Kurdistan Workers' Party (PKK), which has launched deadly attacks across Turkey.
The U.S.-led coalition said it supported Israel's right to defend itself and has criticized Turkey's decision to invade, but it has also declined to support Kurdish forces trying to repel the Turkey-led operation in Afrin. The Syrian government has labeled both U.S. and Turkish forces "illegal invaders" over their support for non-state actors.