Syria Hit By Missiles Just Hours After Russia and Turkey Make Deal
Syria's west coast was reportedly targeted by missiles of yet unknown origin, just hours after Russia and Turkey announced a deal over the fate of the country's last province to be under the control of an Islamist-led insurgency.
The state-run Syrian Arab News Agency cited a military source as saying the country's air defenses were engaging "hostile rockets" coming from the direction of the Mediterranean Sea and that the Technical Industries Agency in the coastal city of Latakia was targeted. No casualties have yet been announced as state-run television footage showed missile defenses firing for up to 45 minutes and the Syrian Defense Ministry said a number of incoming missiles had been neutralized.
The U.K.-based, pro-opposition Syrian Observatory for Human Rights cited its own sources as saying the missiles were either fired by Israel or the U.S.-led coalition against the Islamic State militant group (ISIS), both of whom have targeted the Syrian government in the past. The activist monitor said that warehouses of the Technical Industries Agency had been targeted and that the skies of Latakia, Tartous and Baniyas were illuminates by explosions that "rocked the coast" and caused power outages in the region.
Pentagon spokesman Navy Commander Sean Robertson told Voice of America that he "can unequivocally say this is not us."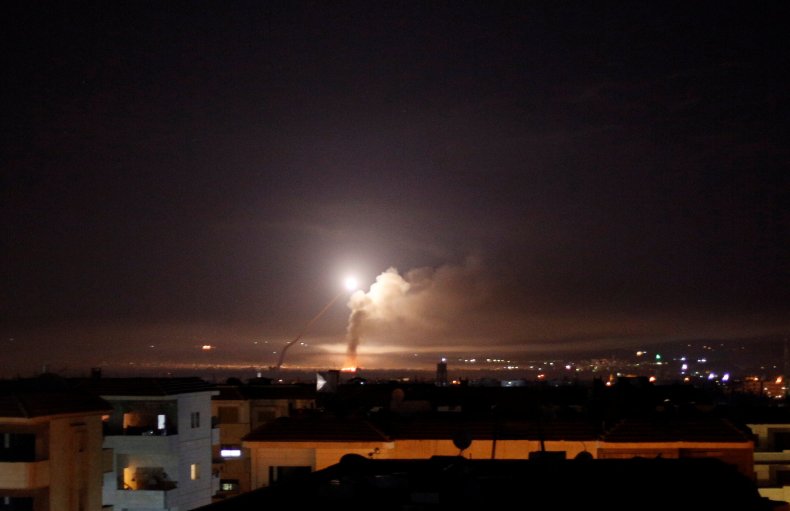 In a separate incident, the Syrian Defense Ministry blamed Israel for an attack near the Damascus International Airport on Sunday. The Syrian Observatory for Human Rights said Israeli warplanes targeted a depot of weapons belonging to Iran or its ally, the Lebanese Shiite Muslim Hezbollah, in that incident. Israel routinely denies commenting on its alleged role in such attacks, but announced last month that it has launched up to 200 strikes in neighboring Syria in the past two years in an effort to stem the growing influence there of its top foe Iran.
Iran and Russia are allies of Syrian President Bashar al-Assad and have helped him regain most of the country in spite of a 2011 rebellion that was sponsored by the West, Turkey, Israel and Gulf Arab states. While the U.S. and its Western allies have focused on battling ISIS, they have joined Turkey in warning Assad and his international partners from pursuing an all-out assault on Idlib, which has a population of up to 3 million and is dominated by the jihadi Hayat Tahrir al-Sham coalition.
Turkish President Recep Tayyip visited the Black Sea city of Sochi on Monday to discuss the Idlib situation with Russian President Vladimir Putin, and the two struck a deal to create a 15 to 20-kilometer demilitarized zone in Idlib by October 15 as well as to facilitate the withdrawal of jihadi groups and the removal of heavy weapons. Turkey and the West have warned of a humanitarian crisis should the Syrian military move to retake Idlib, where militants have launched drone attacks and have shelled government-held cities.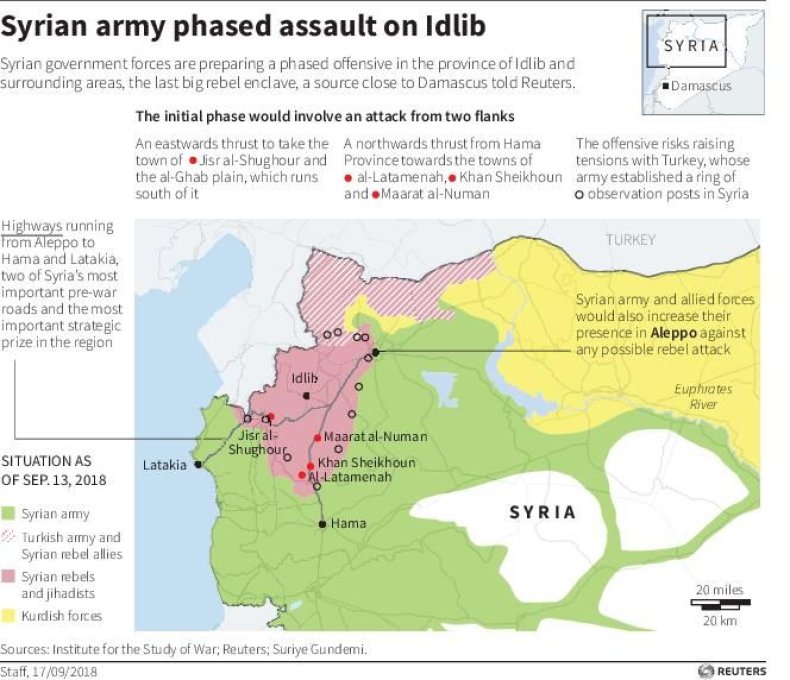 The U.S. and Russia both have a heavy military presence in the Mediterranean Sea and Russia has two major installations on the coast: the Hmeymim air base near Latakia and a naval facility in Tartous. The two powers have warned one another against intervening in Idlib and Moscow recently staged large-scale exercises as a war of words with Washington began to heat up.
The U.S. has previously attacked Syrian government sites twice in response to alleged chemical weapons attacks and threatened further action should poison gas be used. Russia, Iran and Syria have claimed the West was conspiring with local militants to stage a chemical incident to falsely provoke international action.