U.S. Could Be Set for Another Iraq War in Syria, Despite Donald Trump Complaining About 'Endless Wars' in Middle East
The U.S. may be headed down a similar path in Syria as it was in the lead-up to the Iraq War in 2003, a conflict that vastly changed the dynamics of the region and entrenched the Pentagon in the country to this day.
In a press briefing following a meeting of the so-called United Nations "small group" on Syria—the U.S., Egypt, France, Germany, Jordan, Saudi Arabia, and the United Kingdom— U.S. special envoy James Jeffrey outlined what many had criticized as a vague approach to Washington's true goals in the conflict. Since 2015, the U.S. has led a coalition tasked with bombing the Islamic State militant group (ISIS), but officials have said they did not plan on removing the military until forces allegedly under Iranian control were withdrawn and Syrian President Bashar al-Assad was ousted.
"The United States forces are in Syria for one mission, which is the enduring defeat of ISIS/Daesh, that is a military mission that flows from congressional authorization in 2001 against terror post-9/11. That's the military mission of our military there," Jeffrey told reporters.
"When we say we're going to be present, not forever, in Syria, but present until our conditions—enduring defeat of ISIS ... the withdrawal of Iranian-commanded forces from the entirety of Syria and an irreversible political process—we're saying the United States as a whole," he added. "The president, as the commander-in-chief and the leader of our foreign policy has various options that involve the military, that involve our forces, remember we were present not in northern Iraq, but over northern Iraq in Operation Northern Watch for 13 years."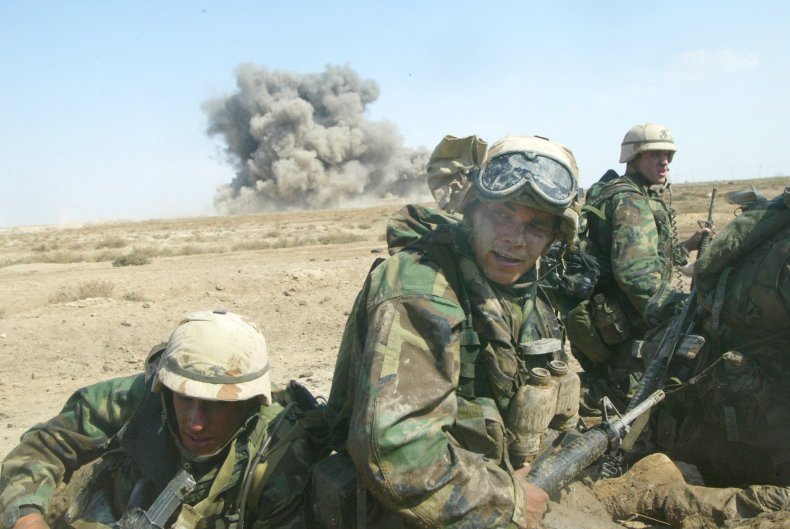 Though Operation Northern Watch officially began in 1997, U.S. and allied forces had been actively enforcing no-fly zones over Iraq since the Gulf War of 1991, when the U.S. repelled Iraqi President Saddam Hussein's invasion of Kuwait and began to enforce strict economic and military measures against his government. Low-level skirmishes between U.S. and Iraqi air defenses persisted until days before the U.S. invaded in March 2003, holding Hussein responsible for weapons of mass destructions allegations that later proved to be false.
President Donald Trump has provided conflicting opinions on the decision to invade Iraq, but he has often characterized himself as an opponent. During the height of the 2016 presidential election, the Republican candidate railed in an October rally against "the people who have given us decades of endless wars producing only death and bloodshed, but no victory." Days before his own election, he again complained to supporters about "these endless foreign wars that have made us much less safe."
A year later, he tweeted ahead of a meeting with Turkish President Recep Tayyip Erdogan last November about "the mess that [he] inherited in the Middle East," dreading "what a mistake, in lives and dollars (6 trillion), to be there in the first place!" A study published last month by Brown University's Watson Institute for International and Public Affairs backs up that number, and details at least 500,000 lives lost in its most conservative estimate of U.S. conflicts waged as part of the so-called "War on Terror" after 9/11.
After becoming the main target of this 17-year campaign, ISIS has been heavily beaten since growing out of the Al-Qaeda-led Sunni Muslim insurgency in destabilized post-invasion Iraq, prompting Trump to be eager to pull out of Syria early this year. Nevertheless, his administration has since taken steps in the exact opposite direction, and the president himself has set his sights on enforcing regime change in Syria and pushing back Iran, which—along with Russia—has helped Assad remain in power.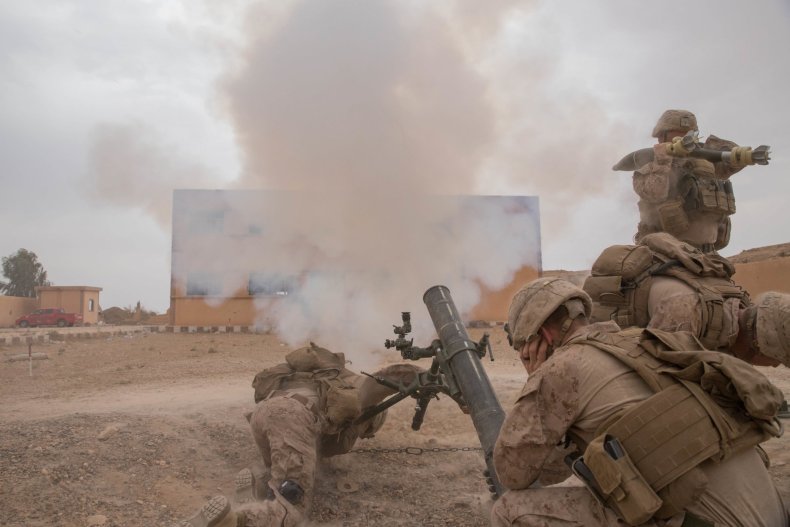 Moscow launched its intervention on Assad's behalf in 2015, introducing its armed forces to the conflict. Tehran, on the other hand, had been sending military advisers to Syria for years and mostly contributed via the mobilization of regional Shiite Muslim militias. These forces found common ground in Iraq with the U.S. intervention they once battled as they shared an ally in the Iraqi government against a mutual foe, ISIS. In Syria, however, the U.S. has openly warned that Assad and forces purported to be under Iranian command would have to leave, despite neither showing any sign of doing just that.
Trump, who criticized and largely ended his predecessor's backing for the 2011 rebel and jihadi uprising against Assad, has twice ordered missile strikes against the Syrian government, both times in response to specific alleged chemical weapons attacks. The U.S.-led coalition has also engaged pro-Syrian government fighters—potentially Iran-backed militias—on several occasions that were described as self-defense measures. Despite the limited nature of these encounters, State Department special representative on Iran Brian Hook said Thursday during a showcase of alleged Iranian weapons recovered from non-state actors across the region that the U.S. has "been very clear with the Iranian regime that we will not hesitate to use military force when our interests are threatened."
As was the case in Iraq, the U.S. has also been accused by Russia of playing a "dangerous game" in Syria by allegedly attempting to divide the country through its backing of Kurdish groups, some of which hold separatist aspirations and have struggled to negotiate with Damascus. During Monday's briefing, Jeffrey denied this and stated that the U.S. was committed to "the territorial integrity of Syria under its present borders." He also outlined other non-military options for advancing Washington's interests there, including diplomatic initiatives with partner states and enforcing further economic sanctions, both of which were strategies implemented against Iraq as well.
He maintained, however, that "we will stay in Syria until we get these goals."