President Donald Trump announced that Defense Secretary James Mattis was retiring, one day after the commander in chief suddenly declared the withdrawal of U.S. troops from Syria.
As he does with many of his Cabinet shuffle announcements, the president announced the change on Twitter.
"General Jim Mattis will be retiring, with distinction, at the end of February, after having served my Administration as Secretary of Defense for the past two years. During Jim's tenure, tremendous progress has been made, especially with respect to the purchase of new fighting equipment," Trump tweeted. "General Mattis was a great help to me in getting allies and other countries to pay their share of military obligations. A new Secretary of Defense will be named shortly. I greatly thank Jim for his service!"
Mattis responded Thursday to Trump's announcement of his retirement with a letter in which he clarified that he was resigning, not retiring. "Because you have the right to a Secretary of Defense whose views are better aligned with yours on these and other subjects, I believe it is right for me to step down from this position."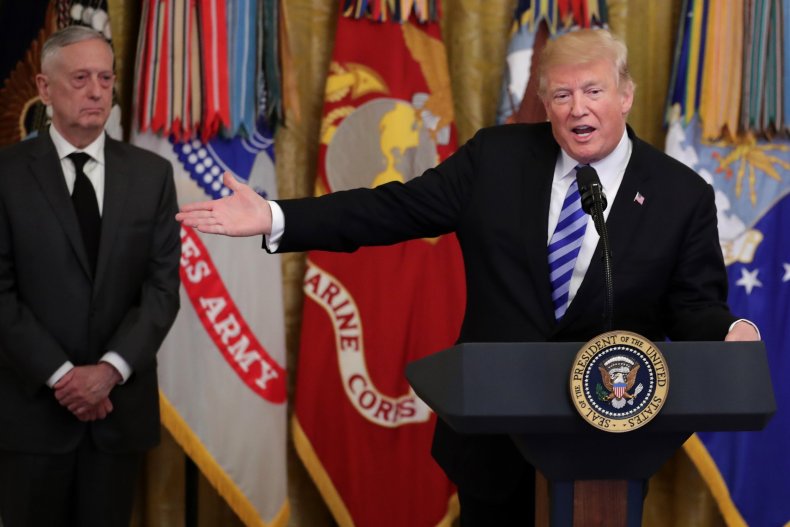 The two often appeared at odds regarding approaches to overlapping wars in the Middle East in which the U.S. was involved, as well as Trump's attempts to seek detente with Russia. After appearing to publicly contradict Trump on whether diplomacy was possible with North Korea last August, Mattis told reporters at the Pentagon he had "an obligation to serve" and "that's all there is to it."
Mattis also said at the time that he disagreed with Trump on certain issues upon their first meeting, the first being Trump's dismissal of the U.S.-led NATO Western military alliance as "obsolete" as well as the president's assurances that "you bet your ass" he would use waterboarding, a torture technique Mattis had condemned. In the president's defense, Mattis said that Trump was "not a man who is immune to being persuaded if he thinks you've got an argument."
The chaotic months since then may have proved the former U.S. Marine Corps general wrong. Their relationship appeared to reach a breaking point by October, when Trump told CBS's 60 Minutes that he thought Mattis was "sort of a Democrat" and "it could be that he is" leaving.
Though Mattis was known for his anti-Iran stances before he joined the Trump administration, he was often considered a moderate within the president's inner circle. Mattis, however, became increasingly shut out from high-level discussions held by the U.S. leader.
Mattis's departure, a day after Trump reportedly surprised the Pentagon with his decision to withdraw U.S. troops from Syria, has prompted speculation over whether this was the final straw.
During a news conference on Thursday, Republican Senator Lindsey Graham said that Mattis "thought that the time was not right to leave." He also said that Secretary of State Mike Pompeo and White House National Security Adviser John Bolton opposed the Syria withdrawal.
Trump hit back, tweeting: "So hard to believe that Lindsey Graham would be against saving soldier lives & billions of $$$. Why are we fighting for our enemy, Syria, by staying & killing ISIS for them Russia, Iran & other locals?"
Defense officials told CNN and The Wall Street Journal that Trump would likely next announce a withdrawal of U.S. forces from the conflict in Afghanistan, ending what would be the longest war in U.S. history.