Donald Trump's Syria Withdrawal Isn't Supported by Mattis, Pompeo or the Troops, Lindsey Graham Says
Republican Senator Lindsey Graham of South Carolina, typically a fierce supporter of the president, continued on Thursday to lash out at Donald Trump's sudden announcement that the U.S. military would be withdrawing troops from Syria.
Democrats and Republicans alike have offered severe criticism of Trump since he made the dramatic foreign policy reversal on Twitter, saying such a withdrawal of U.S. support to Kurdish and Arab militias will destabilize the region and only strengthen the Islamic State militant group. Lawmakers from both parties have said they support the withdrawal of troops, but that now was neither the safe nor appropriate time to do so.
Graham revealed during a press conference on Thursday with Democratic Senators Jack Reed of Rhode Island and Bob Menendez of New Jersey that neither Secretary of Defense James Mattis nor Secretary of State Mike Pompeo supported such a withdrawal of troops, according to conversations that Graham had with the two officials about the matter.
"[Mattis] thought that the time was not right to leave," Graham said. Pompeo believed that conditions on the ground in Syria are "not right yet for us to leave," the GOP senator added.
Mattis later resigned Thursday evening, saying because Trump has "the right to a Secretary of Defense whose views are better aligned with yours" on a number of foreign policy issues, "I believe it is right for me to step down from this position."
"I am confident–I talked to [national security adviser John] Bolton yesterday– that this decision did not come based on advice from his national security team," said Graham, who returned from a trip to Afghanistan on Wednesday. "It came from the president himself."
The president has a "great team" of national security advisers around him, Graham said, adding that "he just needs to listen" to them.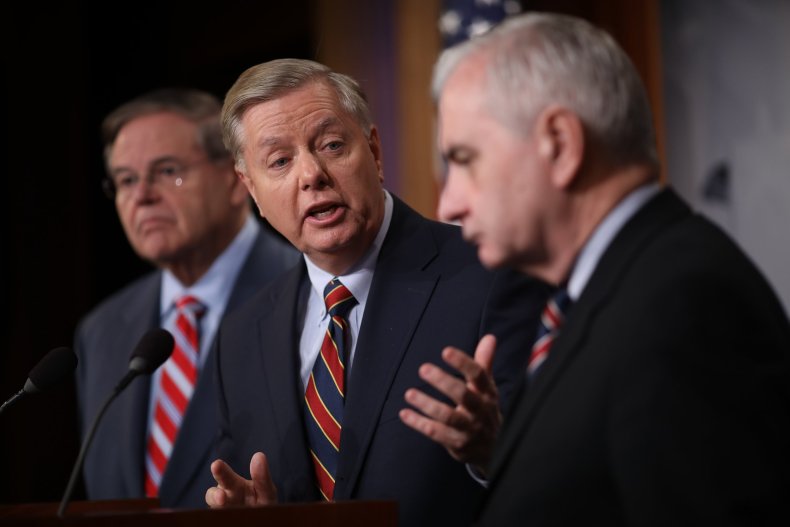 Trump tweeted Thursday morning that "Russia, Iran, Syria & many others are not happy about the U.S. leaving, despite what the Fake News says, because now they will have to fight ISIS and others, who they hate, without us."
Graham disagreed, saying those three countries were "ecstatic. The only reason they're not dancing in the aisles in Tehran and ISIS camp is that they don't believe in dancing," he added.
Russian President Vladimir Putin praised Trump's decision on Thursday, saying he had "done the right thing."
The president's decision came a week earlier, after a call with Turkish President Recep Tayyip Erdogan concerning a weapons deal and a plausible attack in the region against U.S. allies. Although known to Trump's military officials, there was apparent confusion by many within the Pentagon and the White House after the president's sudden announcement on Twitter.
A Defense Department official told Newsweek the Pentagon will bring home the 2,000 U.S. troops in phases as they're removed from Syria over the next 30 days, but that some of the plans are still unknown. U.S.-led airstrikes in the region against ISIS would continue, according to a second Pentagon source who told Newsweek.
Trump directed a tweet at Graham shortly after the legislator's press conference, saying it was "so hard to believe that Lindsey Graham would be against saving soldier lives & billions of $$$."
"I don't want to hear any more about how much we love our troops," Graham said. "We all love our troops… They don't want to leave until the job's done."
In a series of tweets on Wednesday, the president claimed, "We have defeated ISIS in Syria," much to the disagreement of military experts and officials.
"Anyone who thinks ISIS has been defeated in Syria doesn't know ISIS or Syria, much less the broader context," Chris Meserole, a Middle East expert at the Washington D.C.-based Brookings Institution, told Newsweek. "Just because the caliphate came to an end doesn't mean the group itself did. On the contrary, it's still operational and active—witness all the activity in western Iraq."
Graham, like many of his Democrat and Republican colleagues in the Senate, remained visibly frustrated with the president, urging and pleading him to revert his decision to withdraw troops from the war-torn country.
"I have tried to help President Trump where I can and will continue to do so," Graham said. "I want him to be successful, but I find myself in the situation where the best way I can help the president is to tell the truth as I see it."
Update: This story has been updated to include that Secretary of Defense James Mattis has resigned.