Government Shutdown 2018 Update: As Negotiations Stall, How Long Will It Last?
There is no end in sight as the third government shutdown of the year entered its third day Monday, the day before Christmas.
Congress will not conduct regular business until days after Christmas, negotiations between the White House and Capitol Hill lawmakers appear to be at a standstill and congressional Republicans remain unsure exactly what President Donald Trump will accept for border wall funding after he abruptly moved the goal posts last week.
One of three senior administration officials acting as intermediaries for talks between Trump and lawmakers, incoming acting Chief of Staff Mick Mulvaney, confirmed a grim reality on Sunday morning talk shows—one that hundreds of thousands of federal employees likely feared.
"It's very possible that this shutdown will go beyond the 28th and into the new Congress," Mulvaney told Fox News' Chris Wallace.
Trump doubled down Monday morning, tweeting that his border wall was, "Desperately needed!" He added that, "Virtually every Democrat... strongly supported a Border Wall or Fence. It was only when I made it an important part of my campaign, because people and drugs were pouring into our Country unchecked, that they turned against it."
Democrats have, in the past, supported border fencing and continue to support other border security measures. They did not, however, support the type of tall, concrete wall Trump has suggested. The president recently unveiled a new design featuring "steel slats."
Just hours before Friday's partial shutdown commenced, Trump warned it could "last a very long time." Previously, he told the presumptive incoming House Speaker Nancy Pelosi and Senate Minority Leader Chuck Schumer he'd be "proud" to shut down the government over his long-desired border wall.
That same day, GOP Senator John Kennedy of Louisiana told Newsweek he's prepared to fight over a shutdown "all weekend, through Christmas, whatever it takes until we reach a fair resolution on how to secure our country's border."
On Monday, Schumer and Pelosi said in a joint statement that, "different people from the same White House are saying different things about what the president would accept or not accept to end his Trump Shutdown, making it impossible to know where they stand at any given moment."
The new Congress will not gavel into session until January 3, 2019, meaning the current partial government shutdown may last for weeks before coming to an end and restoring pay for roughly 800,000 federal employees. Only essential personnel from unfunded agencies continue to work, without pay, which include the departments of State, Justice, Interior, Homeland Security and Housing and Urban Development.
Mulvaney added Sunday that negotiations will not, "move very quickly" after he made a "counteroffer" to Schumer on Saturday, below Trump's previous demand for $5 billion in border wall funding. The offer was somewhere between $1.6 billion and $5 billion, Mulvaney said on ABC News, and reports suggest the figure was around $2.6 billion.
Mulvaney added he was, "waiting to hear back" from Democrats and that, "the ball is in their court."
"I think [Pelosi] is now in that unfortunate position of being beholden to her left wing to where she cannot be seen as agreeing with the president on anything until after she's speaker," he said. "If that's the case, again, I think there's a chance we go into the next Congress."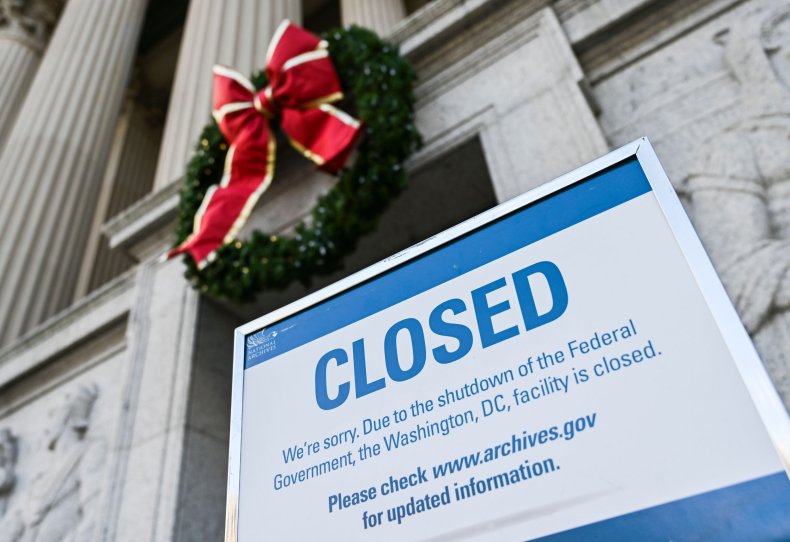 The House and Senate are scheduled to reconvene for regular business Thursday at 4 p.m. and resume the process of hashing out a deal on border wall funding. But Democrats have been adamant and crystal clear on their position: They will provide funding for, "border security," but will provide zero such funding for a wall.
"It will never pass the Senate. Not today. Not next week. Not next year," Schumer said on the Senate floor last week after a procedural motion to advance the House's short-term spending bill with $5 billion in wall funds passed but failed to garner even 50 votes. "So, President Trump, if you want to open the government, you must abandon the wall, plain and simple."
Trump will need at least some Democratic support in the Senate to overcome the chamber's required 60-vote threshold from a filibuster. The so-called "nuclear option" is out of the question, since it would also require 60 votes due to Senate rules regarding budget bills.
Congressional Republicans, specifically House Freedom Caucus members, pressured the president last week to abandon his previous stance that he would accept a clean spending bill without border wall funding. The move threw a wrench in Congress's plans to pass a short-term spending bill that would fund the government through February 8 and provide no wall funding, which already passed the Senate.
In their joint statement on Monday, Pelosi and Schumer said Trump, "seems not to know how to get himself out of" the shutdown, adding that, "as long as the president is guided by the House Freedom Caucus, it's hard to see how he can come up with a solution that can pass."
Republicans were even surprised by Trump's move to suddenly reignite his demands for $5 billion and became uncertain about what exactly the president would accept.
"It would have been great if they had told us they wanted this fight, because we would have started working on it on Wednesday," Republican Senator Marco Rubio told Newsweek on Friday, just hours before the government shutdown.
He wished the Trump administration had alerted GOP leaders about the required wall funding before the Senate passed the clean short-term spending bill just two days prior.
"At that point, the president and White House had indicated they were open to it," Rubio said.
An amended version for more than $5.7 billion in wall funding passed the House, but stalled in the Senate and resulted in the government shutting down.
Outgoing GOP senator and a regular Trump critic, Bob Corker, told CNN Sunday that Trump's fight over wall funding was a "spectacle" and "juvenile."
"This is a made-up fight, so the president can look like he's fighting, but even if he wins, our borders are going to be insecure," he said. "This is like falling off a table. The Democrats easily would support more border funding…in exchange for dealing with the DREAMers."
This story has been updated to include a joint statement from Nancy Pelosi and Chuck Schumer.
Correction 1/8, 2:40 p.m.: This story originally referred to Pelosi as House Majority Leader; she is Speaker.