Mick Mulvaney: It's 'Very Possible' Government Shutdown Will Last 'Into the New Congress'
Mick Mulvaney, Trump's incoming acting chief of staff and one of three senior administration officials who spent Friday and Saturday on Capitol Hill trying to broker a deal between Democrats, Republicans and the president over border wall funding, revealed Sunday that the partial government shutdown will likely last "into the new Congress."
Mulvaney, speaking with Fox News' Chris Wallace, said he gave Senate Minority Leader Chuck Schumer, Democrat from New York, a "counter-offer" on Saturday below Trump's $5 billion demand for border wall funding and is "waiting to hear back." Multiple reports have suggested the figure was somewhere around $2.5 billion.
"It's very possible that this shutdown will go beyond the 28th and into the new Congress," Mulvaney said, who indicated that negotiations will not "move very quickly." Mulvaney made similar comments on ABC News Sunday morning.
"The ball is in their court," he added, referring to Democrats.
The new Congress will convene on January 3, 2019. The House and Senate adjourned on Saturday until Thursday at 4 p.m., meaning the current shutdown will last at least until December 27.
Mulvaney's public remarks further show that the president is prepared to have a shutdown that lasts through the holidays. Trump told reporters Friday that the shutdown will likely "last a very long time." Such a move would force hundreds of thousands of federal employees to temporarily forgo paychecks as a result of a battle over border wall funding.
Some of Trump's most conservative Republican allies on Capitol Hill are ready to back Trump and support a fight over border wall funding, despite the shutdown. GOP Senator John Kennedy of Louisiana told Newsweek on Friday that he's prepared to have a shutdown "through Christmas" or "whatever it takes until we reach a fair resolution on how to secure our country's border."
The president has demanded that a spending bill must include at least $5 billion for the wall, or else he'll veto it. Last week, the Senate passed a temporary spending bill to fund the government through February 8 with no funding for the wall. The House amended the bill to include more than $5.7 billion in wall funding and passed it. The Senate could not garner enough support on Friday to pass the amended spending bill, resulting in a shutdown.
Acting Incoming Chief of Staff Mulvaney, who is also currently the director of the Office of Management and Budget, was accompanied by Vice President Mike Pence and Trump's son-in-law Jared Kushner during his Capitol Hill negotiations.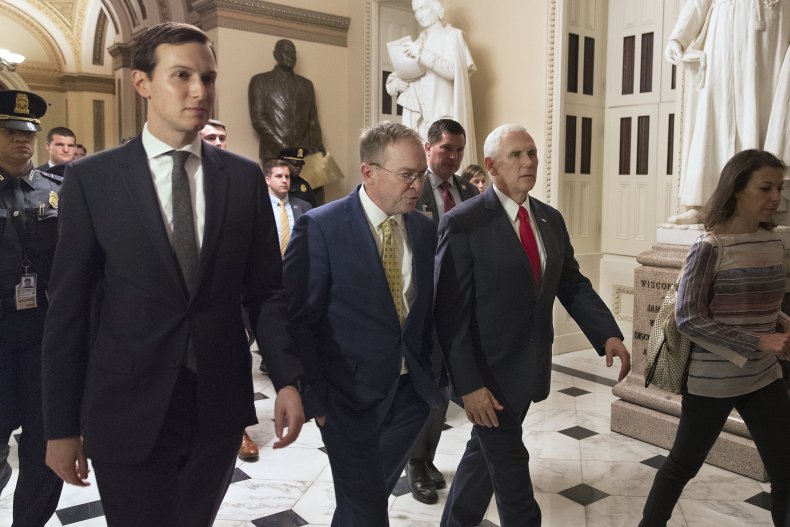 Democrats have remained steadfast on their mission to oppose any spending bill that includes money for the wall, but have said they would support additional funding for other "border security" measures. House Minority Leader Nancy Pelosi has been especially adament about rejecting any border wall funding. She, like Schumer, has said congressional Democrats would support different types of border security.
"I think [Pelosi] is now in that unfortunate position of being beholden to her left wing to where she cannot be seen as agreeing with the president on anything until after she's speaker," Mulvaney said. "If that's the case, again, I think there's a chance we go into the next Congress."
Also speaking with ABC News Sunday morning, he added that the administration was in a "good place in terms of getting the wall built and getting Mexico to participate in our border security."
When pressed on Trump's campaign pledge that "Mexico would pay for the wall," Mulvaney told ABC's Jon Karl that "technically, you and I both know that it cannot work exactly like that."
"I can't spend any money at the Office of Management and Budget," he said. "The Department of Homeland Security can't actually spend money from Mexico, we have to get it from the Treasury [Department]."
In the past, Mulvaney classified Trump's pledge to erect a southern border wall as a solution to illegal immigration as "absurd and almost childish," as reported by CNN's K-File on Friday. The remarks were made in a 2015 interview with a South Carolina radio station.
Mulvaney said that for then-candidate Trump to "just say build the darn fence and have that be the end of an immigration discussion is absurd and almost childish for someone running for president to take that simplistic of [a] view."
"The bottom line is, the fence doesn't stop anybody who really wants to get across… You go under, you go around, you go through it," said Mulvaney, who was a congressman from South Carolina at the time. "It's easy to tell people what they want to hear, 'build the darn fence, vote for me.'"