Government Shutdown 2018: Live Updates as Trump and Congress Face Showdown Before Money Runs Out
This story is no longer being updated.
UPDATE: 12:00 a.m. ET, Saturday, December 22 — Roughly 25 percent of the federal government has begun the process of shutting down.
UPDATE: 7:30 p.m. ET — The government is now certain to have a partial shutdown at midnight Friday after House lawmakers adjourned without reaching an agreement with the Senate to fund key federal agencies. The House and Senate are due to reconvene on Saturday at noon.
UPDATE: 5:50 p.m. ET — After more than five hours since voting first began, the Senate passed a motion to advance the short-term House spending bill by a vote of 48 to 47, with GOP Senator Bob Corker voting yes, GOP Senator Jeff Flake changing his vote from no to yes, and Vice President Mike Pence breaking the tie by voting yes.
However, there will likely be no final vote to pass the bill, which includes more than $5.7 billion in funding for the wall, because Republicans do not have the votes to surpass the 60-vote threshold from a Democratic filibuster.
A partial government shutdown will commence in roughly six hours, assuming no further action is taken.
Flake and Corker had previously suggested moving the bill forward so that it could be defeated and another deal could be worked out.
Flake reiterated on the Senate floor that there is "no path forward for the House bill" in the Senate. Corker said there won't be another vote until congressional Republicans, Democrats, and Trump can reach a deal. Senate Majority Leader Mitch McConnell said they chose to advance with the procedural vote "in order to preserve maximum flexibility for productive conversations to continue between the White House and our Democratic colleagues."
Senate Minority Leader Chuck Schumer spent much of the late-afternoon with Pence, Trump son-in-law and senior adviser Jared Kushner, and Trump's incoming acting chief of staff Mick Mulvaney in hopes to hash out a deal. The four men then talked with Flake, Corker and McConnell.
No deal was reached. The White House and Senate GOP leadership did not back down from the $5 billion for the wall and Senate Democrats would not support such funding.
The lawmakers said they will continue ongoing discussions.
UPDATE: 5:20 p.m. ET — Majority Leader Mitch McConnell and his Democratic counterpart Chuck Schumer are due on the Senate floor imminently to discuss the latest negotiations following a meeting with Vice President Mike Pence, incoming acting chief of staff Mick Mulvaney and White House senior adviser Jared Kushner.
UPDATE: 3:30 p.m. ET— The procedural vote to advance the spending bill is still ongoing in the Senate, roughly three hours after it began. Republicans need more votes to pass it and are waiting for additional senators to arrive back to Washington and vote. It's unclear whether the measure will pass—Jeff Flake voted against it and Bob Corker is unsure—causing Republican Senator Lamar Alexander to suggest voting on a spending bill that includes $1.6 billion in wall funding.
The figure was previously supported by congressional Republicans, but Senate Democrats said it could only be for "border security" and not for a wall. Trump previously sought $1.6 billion for fiscal year 2019, a point that Alexander highlighted.
UPDATE: 2 p.m. ET— Outgoing GOP Senator Jeff Flake, another key swing-voter and only Republican so far to vote against advancing the spending bill, tells Newsweek the "biggest problem is we just don't know what the president will sign."
UPDATE: 1:15 p.m. ET— As the procedural vote to advance the short-term spending bill with $5.7 billion allocated for wall funding is underway in the Senate, GOP Senator Bob Corker, a key swing-voter, told Newsweek he hasn't decided what he will yet do. The outgoing Republican senator suggested he might vote to advance the bill in order to kill it.
"You can't kill it if you [don't advance it]," he said, suggesting the Senate should ammend the bill to exclude the billions of dollars in wall funds. "It's not mathematically possible to pass."
The procedural vote could take hours, as the Senate waits for some lawmakers to fly back to Washington from the Midwest after they'd returned to their home districts on Thursday.
Republican Senator Marco Rubio reiterated that he supported the wall but wished the Trump administration had alerted GOP leaders about the required wall funding before the Senate passed a short-term stopgap spending bill on Wednesday.
"At that point, the president and White House had indicated they were open to it," Rubio said. "It would have been great if they had told us they wanted this fight, because we would have started working on it on Wednesday."
UPDATE: 12:30 p.m. ET— Shortly after a meeting between the president and GOP Senate leaders at the White House, Trump told reporters the chances of a partial shutdown were "very good."
At the same time, Senate Majority Leader Mitch McConnell said on the Senate floor that he would be "proud to vote for" the House's short-term spending bill that included more than $5.7 billion in wall funding. The Senate will likely pass a procedural measure to advance the bill, but it will almost certainly not garner enough support to pass the chamber's 60-vote threshold to overcome a filibuster.
UPDATE: 12:10 p.m. ET— Republican Senator John Kennedy of Louisiana told Newsweek he's prepared to fight over a shutdown "all weekend, through Christmas, whatever it takes until we reach a fair resolution on how to secure our country's border." He added that he had been invited to the White House this morning—along with other GOP senators—to meet with Trump, but that he could not attend because he was on a flight back to D.C.
"If everybody will take their meds and be cool," Kennedy said, "we'll get this worked out."
Original story: When the clock strikes midnight on Friday, a partial government shutdown will commence if the House and Senate can't come up with a spending bill that President Donald Trump will sign.
With a little more than 12 hours left, Trump has threatened a shutdown that will "last a very long time" and called on Senate Majority Leader Mitch McConnell to "use the nuclear option and get it done!" The "nuclear opion" allows the Senate to override the 60-vote rule and pass legislation with a simple majority.
Due to spending bills operating under the Budget Act, a point of order is required, which would still take 60 votes to overcome. As a result, McConnell would not be able to use the nuclear option to override the 60-vote threshold imposted by a filibuster. In a statement, McConnell's office also said it did not support invoking the nuclear option, even if rules permitted it.
Both the House and Senate passed short-term spending bills that would fund the government through February 8, but they differ on wall funding.
On Thursday night, the House passed a short-term spending bill that included more than $5.7 billion for the president's long-promised wall along the U.S.-Mexico border. But the bill would likely be dead on arrival in the Senate, as Republicans need Democratic support to surpass the chamber's 60-vote threshold. Senate Republicans arrived at the White House Friday morning to discuss the bill with the president.
"Shutdown today if Democrats do not vote for Border Security!" Trump said in a long series of tweets Friday morning. "If the Dems vote no, there will be a shutdown that will last for a very long time… Mitch, use the Nuclear Option and get it done!"
The Senate passed a clean continuing resolution on Wednesday, a spending bill that provided a level of funding previously agreed upon by lawmakers but did not allocate any additional money for border security, or specifically, the wall.
As House and Senate Democrats stood firm on their promise to oppose any spending bill that included money to build a wall, the White House and Capitol Hill Republicans seemed to back down from demanding $5 billion for the wall, and Trump's previous pledge that he would proudly shut down the government. White House press secretary Sarah Huckabee Sanders told reporters the president would seek "other ways" to get the funding and avert a shutdown, suggesting the administration would attempt to reallocate money from other agency departments.
The redistribution of money from one government agency or department to another would require congressional approval and could not be done unilaterally by the president.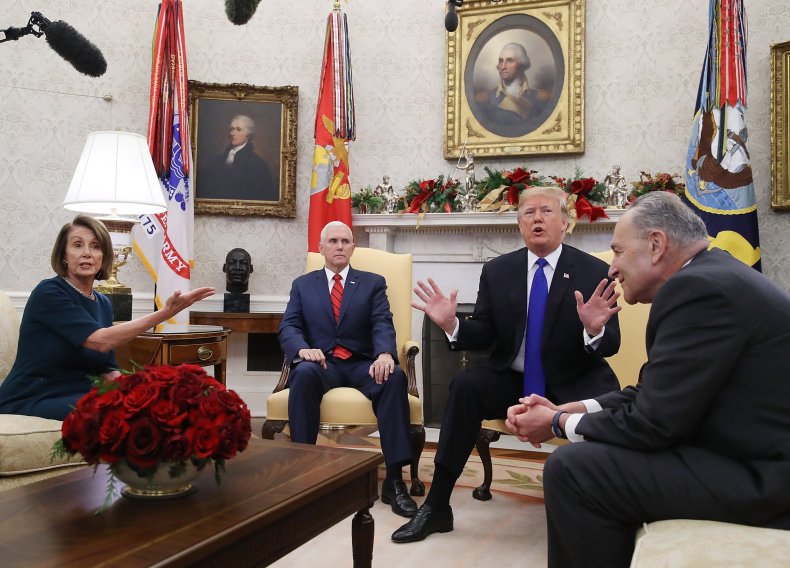 But that all unraveled Thursday morning as House Freedom Caucus members, who represent the most conservative faction in the House, put the pressure on both House Speaker Paul Ryan and Trump, urging Trump to stand firm and veto any final spending bill that did not include border wall funding. Following a phone call with Ryan, Trump tweeted that when he "begrudgingly signed the Omnibus Bill [in March], I was promised the Wall and Border Security by leadership."
Moments later, a press conference Ryan had pre-scheduled with reporters, was canceled. House Republicans headed to the White House to hash out a deal with the president, which resulted in the House amending the Senate's short-term spending bill to include more than $5.7 billion for Trump's wall.
The bill passed with a vote of 217 to 185 Thursday night, with eight Republicans voting against it and zero Democrats voting for it.