Syrian President Bashar al-Assad has underscored his recent military victories by rekindling diplomatic relations with a number of foreign powers, some of which had withdrawn envoys or even actively sponsored efforts to overthrow the leader as his country descended into civil war.
Assad accepted the credentials of newly appointed ambassadors Tigran Gevorgyan of Armenia and José Gregorio Biomorgi Muzattiz of Venezuela, the official Syrian Arab News Agency reported Tuesday. The two nations have been sympathetic to the Syrian government, keeping up a diplomatic presence even as it was accused of war crimes by the West and its allies in the wake of a 2011 uprising backed by the United States and regional partners such as Qatar, Saudi Arabia and Israel. Nevertheless, Damascus may soon see even more envoys coming to the capital.
Ammar al-Assad, vice president of the Syrian Foreign Relations Committee, told Russia's state-run Sputnik News on Sunday that "there are a lot of countries, including Italy and Greece, who have brought back some of their staff and are renovating," but could not confirm any official decisions. The official, alongside an unnamed Syrian parliamentarian, was cited as saying the United Arab Emirates may return as well.
These statements came after reports emerged last month in Russian newspaper Nezavisimaya Gazeta and the pro-Syrian government outlet Al Masdar News suggesting that Abu Dhabi and Damascus were in talks for the U.A.E. to reopen its embassy after six years of closure. The claims would only be the latest to signal a normalization between Syria and the Arab World.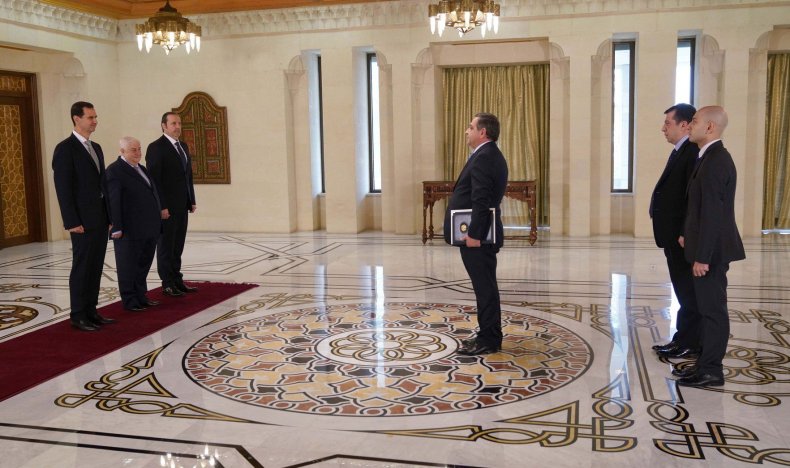 Prior to the crisis that began in 2011 with anti-government demonstrations and a crackdown by security forces, Syria had a history of having a prominent position in the region. Shortly after gaining independence from France, the Levantine nation played a leading role in all three Arab wars against Israel and came to be a major supporter of pan-Arabism, an ideology that opposed the region's conservative monarchies and Western influence. Hafez al-Assad came to power in 1971 in the last of a series of political coups and was succeeded after his death by his son in 2000.
Bashar al-Assad was once seen as a possible reformer by the West due to his European education and comparatively modern lifestyle, though this image was transformed by his continued embrace of countries such as North Korea and Iran, as well as the Lebanese Shiite Muslim Hezbollah movement. Like his father, Assad was an opponent of fellow Baathist Iraqi President Saddam Hussein and, after his downfall at the hands of a U.S. invasion in 2003, expanded relations with the neighboring state.
The U.S. would eventually target the Syrian leader himself as the regional protests collectively known as the Arab Spring swept the region in 2010 and 2011. The CIA began to offer tacit support for armed rebels battling the government, and as the opposition came to be dominated by Islamists that themselves lost out to the even more conservative Islamic State militant group (ISIS), the U.S. formed a coalition to begin bombing the jihadis in 2014. Along with others, the U.S. then began to cut support for the Syrian opposition.
In 2015, Cold War-era ally Russia staged a direct intervention on Assad's behalf, helping his armed forces and a number of militias—some directly sponsored by Iran—overcome insurgents and militants across the country. The Syrian government now controls the majority of the country, leaving a quarter under the administration of a mostly Kurdish, U.S.-backed factions known as the Syrian Democratic Forces, and just one province in the hands of rebels and jihadis.
The U.S. has continued to demand that Assad be removed from power, but has only targeted his government and its allies in response to alleged chemical weapons attacks or skirmishes between local forces. Despite these calls, Arab countries appeared poised to recognize Assad as the clear victor in his country's conflict.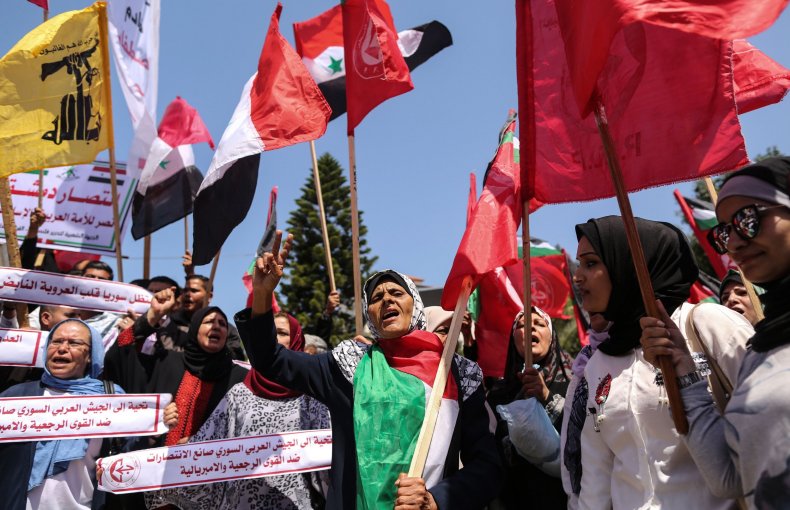 During his first interview with a newspaper based in the Arabian Peninsula since 2011, Assad told Kuwait's Al-Shahed in October that he had reached a "major understanding" with a number of Arab states and that "Western and Arab delegations have already begun to come to Syria to arrange their return, whether diplomatic, economic or industrial."
About a week prior to Assad making these remarks, Bahraini Foreign Minister Khalid bin Ahmad al-Khalifa surprised observers by embracing and kissing Syrian Foreign Minister Walid al-Muallem on the sidelines of a United Nations General Assembly meeting. Khalifa went on to say that "it is not right to see regional and international countries work in Syria amid Arab absence" and that "the Syrian government is the ruler in Syria and we work with countries even if we disagree with them."
The comments came as a shock from a diplomat who had proclaimed Israel's right to defend itself against alleged Iranian positions in Syria. Bahrain, a majority-Shiite Muslim nation ruled by a Sunni Muslim monarchy, has long accused Syrian allies Iran and Hezbollah of stirring up unrest in the island nation. Assad himself also praised fellow Gulf state Oman—which received Israeli President Benjamin Netanyahu in October—in an interview with local newspaper Oman Daily, saying the sultanate had a "deeper understanding of what is happening in Syria and the dimensions of the international war that has been waged against it."
As for neighboring states, Israel itself has also appeared to soften its stance against longtime foe Syria. There were no signs that Israel was planning on ceasing attacks in Syria or ceding back control of the Golan Heights back, but it has reopened the point of entry there at Quneitra under Russian military supervision. To the south, U.S. ally Jordan reopened the Nassib border crossing with Syria in October. In the east, talks continue over doing the same at the crossing between Al-Bukamal and Al-Qaim in Iraq—which supports both the U.S.-led coalition as well as Syria, Russia and Iran—though ISIS remains a top security issue in the area.
Turkey remains the last major supporter of the Syrian opposition, which it has helped through military intervention to retain a piece of the country's north near the border. Though Turkey has maintained a trilateral dialogue with Assad allies Russia and Iran and hinted at the prospects of direct talks with the Syrian government, Ankara and Damascus have been so far been unable to overcome their differences. Complicating regional dynamics, Ankara was also opposed to the Pentagon's support for Kurdish militias, who have been pushed closer to Damascus due to their shared enmity for the Turkish presence in the country and have entered peace talks.
Among the Arab states in North Africa, Algeria and Egypt have expressed support for Assad, while Tunisia voted last year against restoring diplomatic relations with Syria and Libya—the latter remained gripped by a conflict that also began with a 2011 rebellion backed by the West. Outside of the region, major powers China and India have expressed interest in investing in Syria's reconstruction, while North Korea has kept up close ties as well.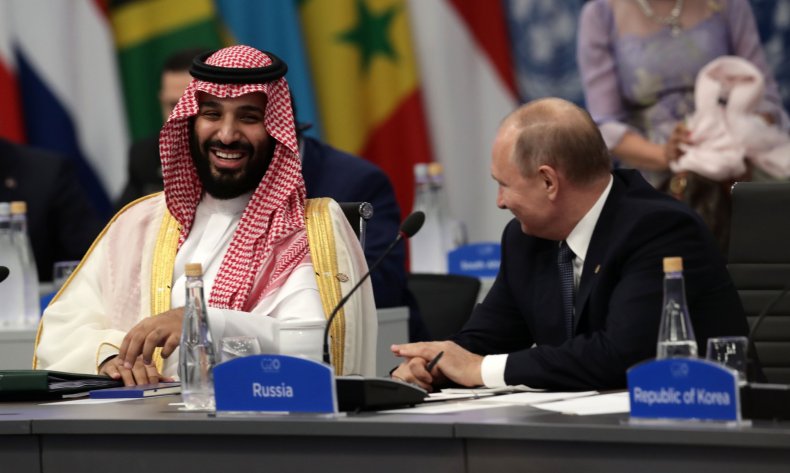 One big question that persisted was how Saudi Arabia, once an eager backer of efforts to overthrow Assad, would proceed as the geopolitical climate of the region shifted. Saudi Crown Prince Mohammed bin Salman told TIME in April that "Bashar, for the time being, is not leaving," but protested Iranian influence in Syria. The kingdom has been locked with Iran in a battle of influence across the Middle East, one in which Saudi Arabia lost in Syria.
Shortly after reporting on the U.A.E.'s potential embassy reopening in Syria, Al-Masdar News cited a source in Damascus as saying Riyadh may follow suit. Writing in the Middle East Eye late last month, Royal United Services Institute visiting fellow Kamal Alam noted a series of signs that Saudi Arabia was speaking with Syria—including an op-ed by veteran Indian diplomat M.K. Bhadrakumar in the Asia Times highlighting Prince Mohammed's public shift on Assad—all while the world was fixated on a separate international incident involving Saudi Arabia.
The scandal surrounding the killing of Saudi journalist Jamal Khashoggi by the kingdom's agents in Istanbul, as well as mounting reports of war crimes in the Saudi-led war against the Houthi or Ansar Allah Zaidi Shiite Muslim rebel group in Yemen have thrown the otherwise stalwart U.S. support for Saudi Arabia into question. Like Israel, however, Saudi Arabia has managed to put aside its qualms over Russia's strategic relationship with Iran in Syria in order to maintain good relations with Moscow.
This became apparent at the recent G20 summit in Argentina early this month, where Russian President Vladimir Putin and Saudi Crown Prince Mohammed exchanged a particularly warm greeting upon seeing one another. About a day after they met, Al Jazeera cited further regional reporting claiming that the U.A.E. had opened a secret channel to host talks aimed at restoring relations between Syria and Saudi Arabia, which may be looking to salvage a stake in the country to counter the influence of Iran, along with Riyadh's fellow regional rivals Qatar and Turkey.