ISIS Gone? Trump Claims Group Is Defeated But One Year After Losing Iraq, It's Hanging On in Syria
One year after the Islamic State militant group (ISIS) was declared defeated by Iraq, the jihadis remain entrenched across the border in an eastern pocket of neighboring Syria.
The Iraqi government declared Monday a national holiday in recognition of its one-year anniversary of victory over ISIS, which once claimed half of both Iraq and Syria at its height of power in 2014. The group was largely defeated in Iraq by a mix of local military forces, Kurdish militias, Iran-backed Shiite Muslim militias and a U.S.-led international coalition.
"Today, the world, the whole world witnesses that, in Iraq, terrorism and extremism were defeated," Iraqi Prime Minister Adel Abdul al-Mahdi said, addressing a gathering at the Ministry of Defense in Baghdad one year after his recent predecessor, Haider al-Abadi, announced that the country had come out on top. "And that we recorded the first and greatest victory against the might of terrorism and ISIS evil, and that we waged the fiercest and most difficult battle with it and that we won with honor."
ISIS has lost control over all of its major cities in both Iraq and Syria and no longer controls any significant stretches of land in Iraq, leading even President Donald Trump to declare the group "defeated" in October. In Syria, however, a final jihadi outpost in eastern Syria has put up a deadly resistance against two rival campaigns waged by the Syrian government, a majority-Kurdish group of fighters and their respective international allies.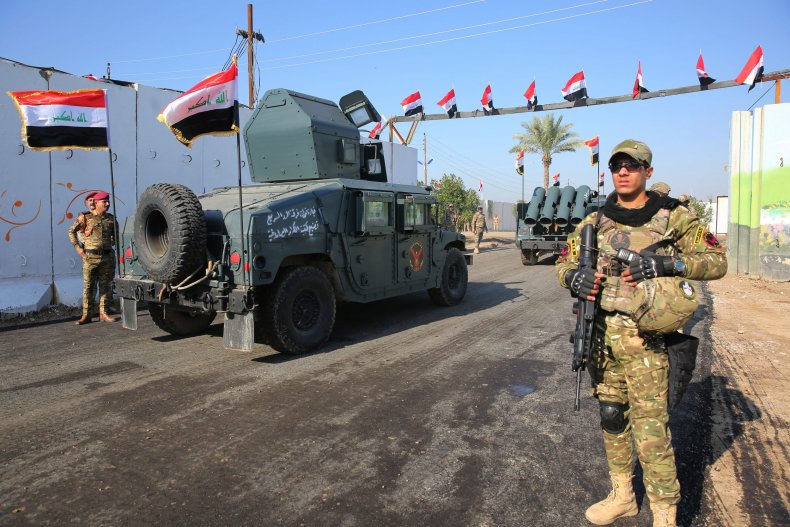 ISIS emerged out of a Sunni Muslim insurgency led by Al-Qaeda in the wake of the 2003 U.S. invasion of Iraq, with the jihadis adopting the new name as they took advantage of an ongoing civil war in Syria to spread there in 2013. The group rapidly expanded, bolstered by weapons recovered from Iraqi and Syria military positions, as well as the various rebel and jihadi groups battling Syrian President Bashar al-Assad as part of a 2011 uprising supported by the U.S. and regional allies.
Iran began to mobilize Shiite Muslim militias, including the powerful Lebanese Hezbollah, to combat the jihadis in Iraq and Syria and, in 2014, a number of these Iraqi groups joined together to form the Popular Mobilization Forces. That same year, the U.S. established a coalition and began bombing ISIS in both countries. In 2015, Russia entered the fight on behalf of Assad and his allies in Syria and the U.S.-led coalition officially sided with a mostly Kurdish group known as the Syrian Democratic Forces, having grown wary of the insurgents it previously backed.
ISIS's control then began to wane and, in 2016 and 2017, it faced major U.S.-led offensives against its largest city of Mosul in Iraq and its de facto capital of Raqqa in Syria. These two cities witnessed some of the most intense, deadliest urban warfare of the 21st century. ISIS would fall first in Mosul in July, followed by Raqqa in October of last year. Meanwhile, the Syrian armed forces—assisted by Russia and pro-government militias—staged a successful cross-country offensive to retake Deir Ezzor, winning the besieged, eastern city in November.
Syria would declare victory over ISIS that same month and Iraq followed suit last December. While Iraq continues to face sporadic attacks launched by ISIS cells, a full-fledged battleground remains active in eastern Syria, where the Syrian Democratic Forces have recently suffered heavy casualties in an attempt to wipe out the last major ISIS bastion in the world.
International rivalries and regional tensions have often hindered efforts to wipe out ISIS in Syria. The U.S-led campaign has at least twice been suspended during critical points this year as Kurdish fighters left their frontlines against ISIS to face a separate offensive launched by Turkey and Syrian rebel allies. Since launching a final push in September, about 512 Syrian Democratic Forces fighters have been killed, while ISIS has lost about 854, the Syrian Observatory for Human Rights—a U.K.-based monitor supportive of the Syrian opposition—reported Monday.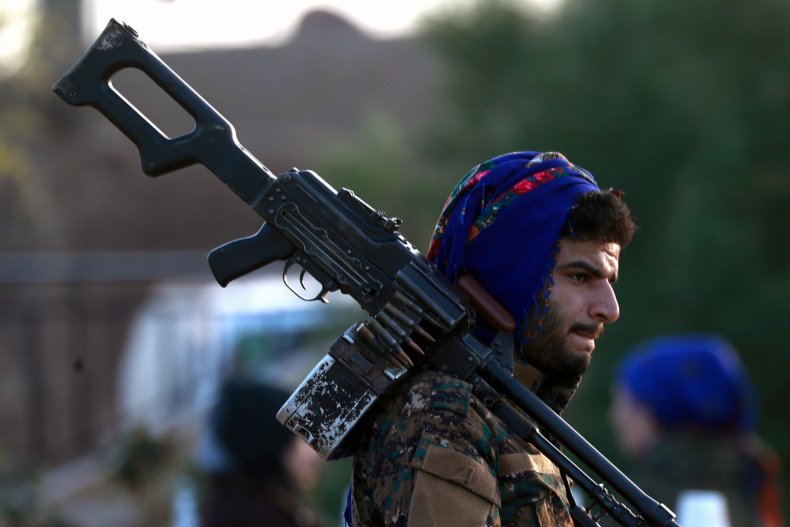 Pressed for answers as to why the battle was taking so long as it did, the U.S.-led coalition has maintained that ISIS was employing increasingly aggressive tactics the closer incoming forces got to the Syrian cities of Hajin, Al-Shafaa, Al-Soussa and the few others remaining under jihadi control. In a statement Tuesday, Army Major General Patrick B. Roberson said: "As we degrade their capabilities and push them into an ever smaller box, ISIS continues to employ more and more desperate measures. These tactics won't succeed."
The U.S. has also grown increasingly focused on countering another perceived threat in Syria, the growing influence of Iran and its local partners. The Pentagon's official mission in Syria—where the government considers U.S. military presence illegal—remained limited to defeating ISIS, but a number of Washington officials have said troops would not leave until all forces said to be under Iranian command were first withdrawn and an irreversible political process to oust Assad were to begin.
Assad was also countering ISIS in Syria's east, where Syrian soldiers and allied militias were deployed to the west of the Euphrates river, the dividing line between their offensive and that of the U.S.-led coalition. The Syrian military recently succeeded in taking out a pocket of ISIS control that emerged deep within government territory in the volcanic fields of Tulul al-Safa in the south, but has devoted much of its resources toward the northwest province of Idlib, the last area under the control of the Islamist-led insurgency against the government and protected only by a fragile ceasefire between Russia and Turkey.