The foreign ministers of Bahrain and Syria shared a rare moment of intimacy on the sidelines of the United Nations, where Arab nations gathered in an attempt to settle their differences over the Syrian conflict.
Bahrain joined its Arabian Peninsula allies, the West and Turkey in supporting the rebel and jihadi uprising that first challenged Syrian President Bashar al-Assad's rule in 2011, prompting a civil war between insurgents, jihadis, the government and other local and foreign factions that have emerged throughout the strife. As the Syrian armed forces regained most of the country with Russian and Iranian backing, some nations moved toward normalizing relations with Damascus.
On Sunday, Bahraini Foreign Minister Khalid bin Ahmad al-Khalifa surprised onlookers by embracing and kissing Syrian Foreign Minister Walid al-Muallem on the cheeks. He later told Saudi Arabia's Al Arabiya outlet that the encounter was "not arranged in advance, and not the first meeting between us." He also appeared to announce a shift in his country's position in relation to the crisis.
"Syria is an Arab country and it is not right to see regional and international countries work in Syria amid Arab absence," Khalifa said, according to Turkey's official Anadolu Agency. "The Syrian government is the ruler in Syria and we work with countries even if we disagree with them."
Shortly after mass demonstrations broke out across Syria in March 2011, the government's crackdown prompted the Arab League to expel Syria, recognizing the opposition in its place. As jihadi forces such as Al-Qaeda and the Islamic State militant group (ISIS) grew within rebel ranks, however, the Arab League declined to offer the self-proclaimed Syrian National Council a seat in 2014. That same year, the U.S. formed a coalition to begin bombing ISIS, and Russia entered the conflict to help Assad's armed forces and various Shiite Muslim militias mobilized with Iranian assistance to support him.
Facing a decline in foreign backing and gains from the now-Russia-backed Syrian military, insurgents and militants have lost most of the country in the years since. Turkey has continued to sponsor a surviving faction of the once-CIA-trained Free Syrian Army and other groups in the northwest but has entered into talks with Russia and Iran. Ankara and Moscow have also made a deal to ensure the most populous area of the last remaining Islamist-led insurgent stronghold in Idlib was spared an all-out Syrian assault, on the condition that it was able to remove jihadis such as Hayat Tahrir al-Sham and heavy weaponry by the middle of this month.
Other Assad foes, such as Jordan and Israel, have also somewhat softened their stance against the Syrian leader. Jordan and Syria reopened the Nasib border crossing last month following its retaking by the Syrian government in July. Israel, though still technically at a state of war with Syria, has moved to reopen a disputed crossing point in the occupied Golan Heights, which forms the de facto border between the two countries. Israel said it does not dispute the return of Syrian troops on the other side, as long as Iranian or Iran-backed forces were not present.
While many other Western governments have abandoned calling for Assad's downfall, the U.S. has remained ambiguous about the extent of its involvement in Syria, where many have accused Washington of pursuing a mission creep. President Donald Trump has abandoned the explicit regime-change position of his predecessor, but other officials appear to have maintained this condition. Trump also expressed a desire for a speedy exit from the conflict as soon as ISIS was defeated, something he said was nearing.
Following a number of statements from senior officials suggesting that U.S. forces were in it for the long run, however, Defense Secretary James Mattis said last week his troops would also need to stay to ensure stability post-ISIS. Syria has rejected the presence of all foreign troops not working with government and has previously condemned plans by Saudi Arabia to deploy troops there alongside other Gulf Cooperation Council members, including Bahrain and the United Arab Emirates.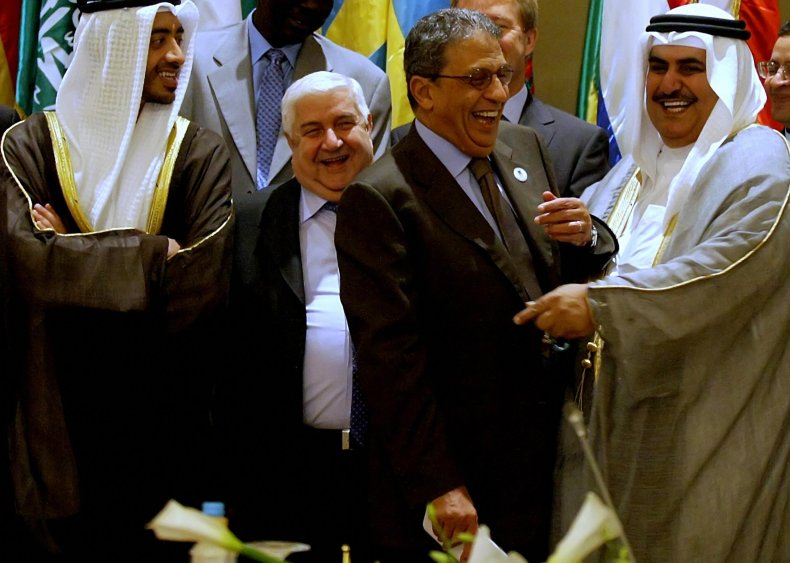 Khalifa and Muallem's warm greeting Sunday also appeared noteworthy as the former country's feud with Syrian ally Iran was close and personal. Bahrain, a Shiite Muslim-majority country under the rule of a Sunni Muslim monarchy, has accused Iran of supporting movements aiming to overthrow the government. Bahrain's enmity toward Iran ran so deep that in May, Khalifa even offered public support for Israel's bombing of Syrian military sites in retaliation to a suspected Iranian rocket attack from southwest Syria, which itself came shortly after Israeli strikes against alleged Iranian positions in the neighboring country.
At the 2018 United Against Nuclear Iran summit in New York last week, Bahraini envoy to the U.S. Sheikh Abdullah bin Rashed bin Abdullah al-Khalifa affirmed the words of his country's top diplomat, saying "some of you might recall our foreign minister tweeted a few months ago and said that every country has the right to defend itself, including Israel."