Russia Says U.S. and Allies Lied When They Attacked Libya, Now It's Ready to Get Involved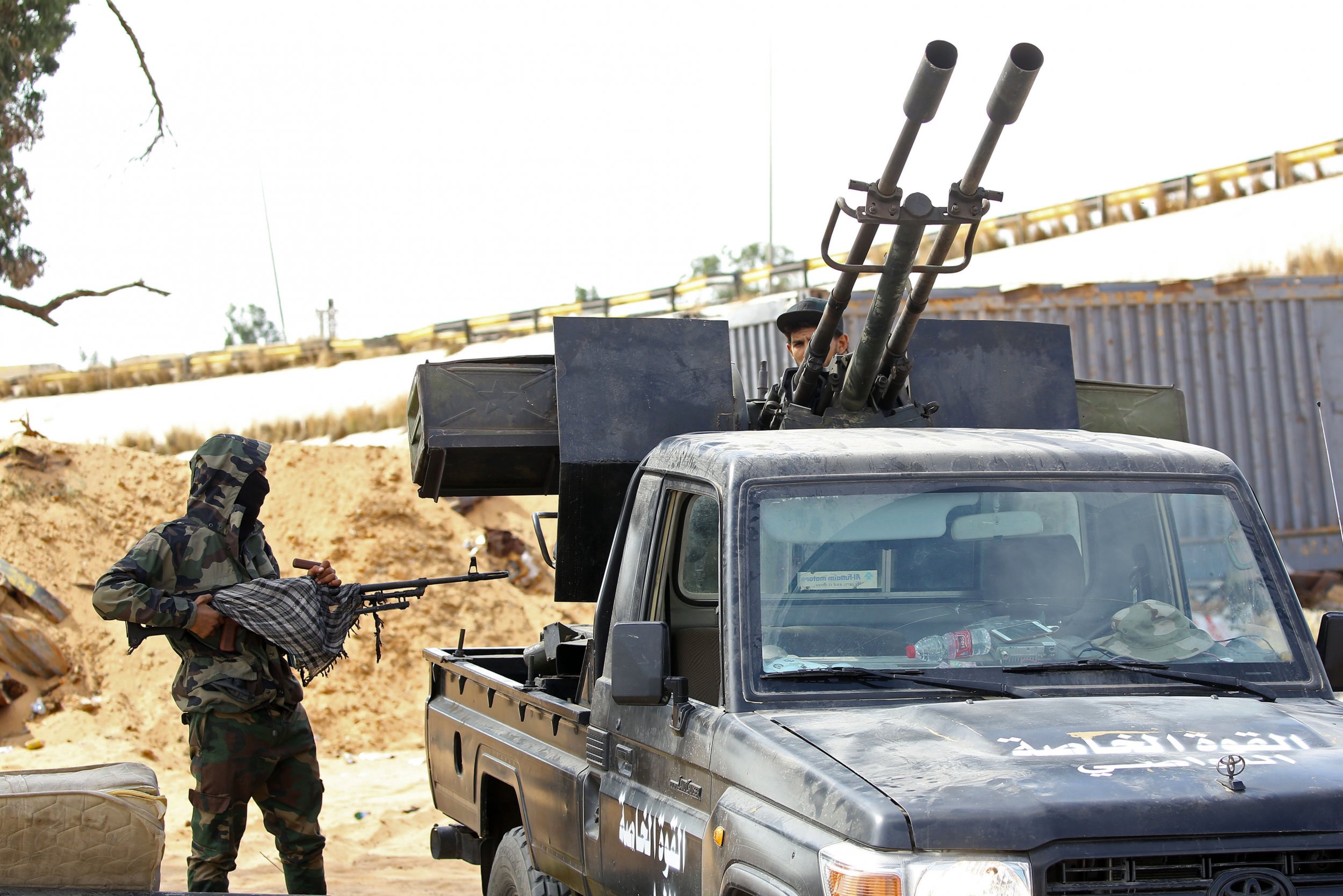 Russia has accused the U.S.-led NATO Western military alliance of deceiving the international community ahead of its 2011 intervention in Libya and said Moscow was ready to offer support to the war-torn North African state.
Russian Prime Minister Dmitry Medvedev joined other leaders and senior officials in attending a meeting Tuesday between the two factions competing for control of Libya in the Sicilian capital of Palermo, Italy, hoping to establish common ground and enhance Russia's role in mediating a diplomatic solution to the crisis. The country devolved into civil war after a NATO-backed rebellion overthrew longtime leader Muammar el-Qaddafi, a development that has long inspired Moscow to take a more assertive role in the region.
"The situation is not easy," Medvedev told a press conference after the meeting. "Unfortunately, it is linked to those dramatic events, which occurred in 2011 and had been directly inspired at the time by our partners in the European Union, the United States of America and some other countries."
"These processes are related to grave violations of the U.N. resolutions, which were devoted to the events in Libya. The result is that the state does not exist anymore in its full form, it is split into parts and there are several leaders, who have gathered here," he added.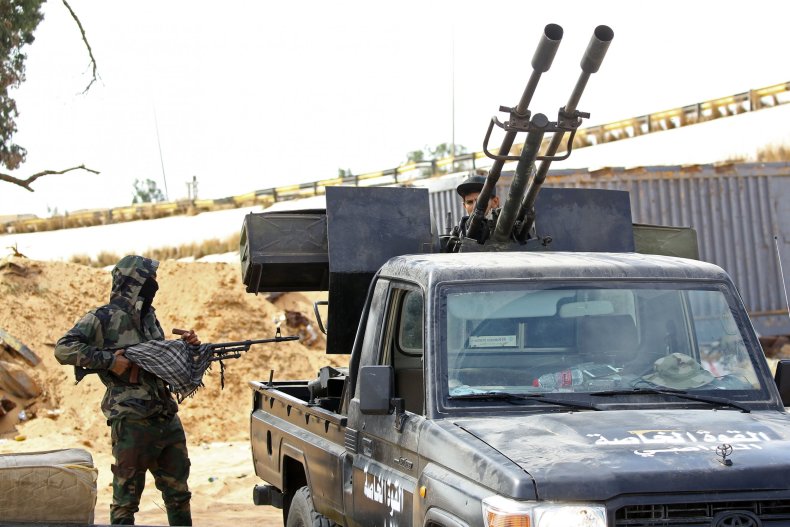 Qaddafi, who had improved his standing with Western leaders after a 2003 deal to abandon his nuclear program, faced widespread demonstrations against his government during the period of regional unrest known as the Arab Spring in 2011. He was accused by NATO powers, especially France and the U.S., of committing human rights abuses in attempting to contain growing instability and soon faced a no-fly zone established by the United Nations Security Council.
NATO airstrikes targeted the Libyan government and eventually struck Qaddafi's fleeing convoy, leading to his capture and execution at the hands of rebels in October 2011. A transition government attempted to reassert control, but ultimately fell to competing opposition factions—now comprised of the Tripoli-based Government of National Accord backed by the U.N. and the Tobruk-based House of Representatives represented by Libyan military leader Khalifa Haftar—as well as tribal militias and Islamist militant groups such the Islamic State (ISIS) and Al-Qaeda.
In a 2016 interview, President Barack Obama conceded that his decision to intervene in Libya was the "worst mistake" of his presidency. Following Tuesday's meeting, whose attendees included Egyptian President Abdel Fattah el-Sissi, European Council President Donald Tusk, French Foreign Minister Jean-Yves Le Drian, Italian Prime Minister Giuseppe Conte and Tunisian President Beji Caid Essebsi, Medvedev echoed this view and further criticized what he felt to be dishonesty on the part of NATO powers in seeking approval from the U.N. Security Council to intervene.
"How would we regard it now? Not only as a serious mistake but, first and foremost, as a cynical deception on the part of those who claim to be the world's moral and political leaders," Medvedev said, according to the state-run Tass Russian News Agency. "The cynical deception occurred at the United Nations Security Council's roundtable. Its decisions were distorted and violated, while the so-called temporary military coalition usurped the powers of the United Nations."
Noting that Moscow abstained from the 2011 vote, he added: "It's not about the harm to the reputation that our country suffered, because it is Libya that had to face a horrible tragedy, the consequences of which we will continue to tackle in the decades to come."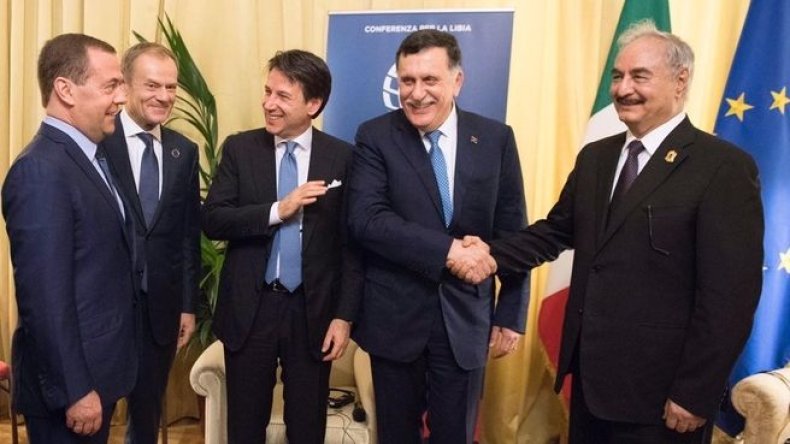 Russia quickly came to condemn the direction in which NATO's strategy took during the intervention. Just weeks before Qaddafi's death, Russia was joined by China in vetoing a U.N. Security Council resolution condemning Syrian President Bashar al-Assad, a longtime Moscow ally who was also facing a 2011 rebel and jihadi uprising backed by the West and its regional allies.
Since then, Russia has consistently blocked U.S.-led efforts to seek international support for NATO action against Assad, and helped the Syrian leader regain much of the country lost in the earlier stages of the war. Medvedev said international cooperation, such as that which led to a ceasefire in Syria, could work for Libya, as "this format proves to be effective even in difficult situations," Tass reported.
"Nevertheless, everything depends 90 percent on the citizens of Libya, on the political forces that were represented here today," Medvedev told reporters. "If they agree, there will be a single state, there will be economic development. We are ready to cooperate with them, ready to develop economic projects. The country is rich, the country has traditions, and we had very advanced contacts. If they do not agree, then such conferences will continue. But you still need to find a way out."
Photographs from Tuesday's meetings showed a handshake between Haftar and Government of National Accord Prime Minister Fayez al-Serraj. Haftar has threatened to unseat Serraj by force if he did not concede power, but the Italian premier's spokesperson told Al Jazeera that the military leader offered his rival a tacit promise to not take action before elections, expected to be held sometime next year.