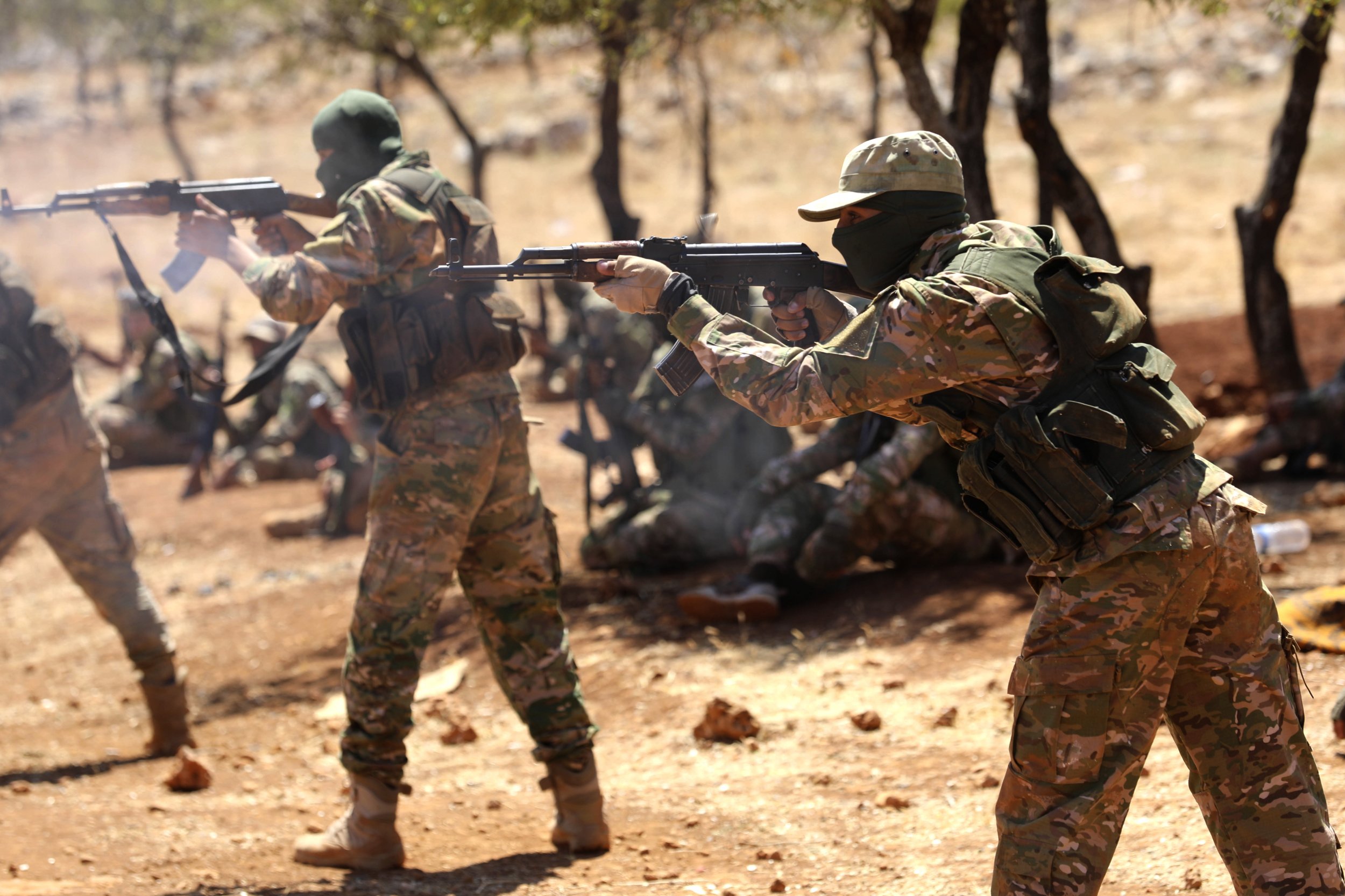 Allies Russia and Syria appear to be at odds over whether Turkey is abiding by an agreement regarding the removal of Islamist militant fighters from a rebel-held province, just as Turkish strikes prompted Syrian Kurds to appeal to both Washington and Damascus for support.
Turkish Foreign Minister Mevlut Cavusoglu said Tuesday that a deal reached last month by Russian President Vladimir Putin and Turkish President Recep Tayyip Erdogan in Russia's Black Sea city of Sochi "was being fulfilled," according to Turkish newspaper Habertürk. Putin spokesperson Dmitry Peskov told reporters the Kremlin shared this view, arguing that the arrangement was not at risk of unraveling, the state-run Tass Russian News Agency reported.
The deal stipulated that Turkey would facilitate the removal of heavy weapons and jihadi organizations from a de-confliction zone in Idlib, the last stretch of Syria under the control of an Islamist-led insurgency against the Syrian government, an ally of Russia and Iran. In a press conference alongside Erdogan, French President Emmanuel Macron and German Chancellor Angela Merkel, Putin said Saturday that Turkish officials "are fulfilling their obligations, although not everything has been done in full."
While both sides had previously affirmed the withdrawal of heavy weaponry by the October 15 deadline, Syrian Foreign Minister Walid al-Muallem said late Monday that "terrorists are still present with heavy weapons in this region and this indicates that Turkey does not want to implement its obligations and thus the city of Idlib remains under the control of terrorism supported by Turkey and the West."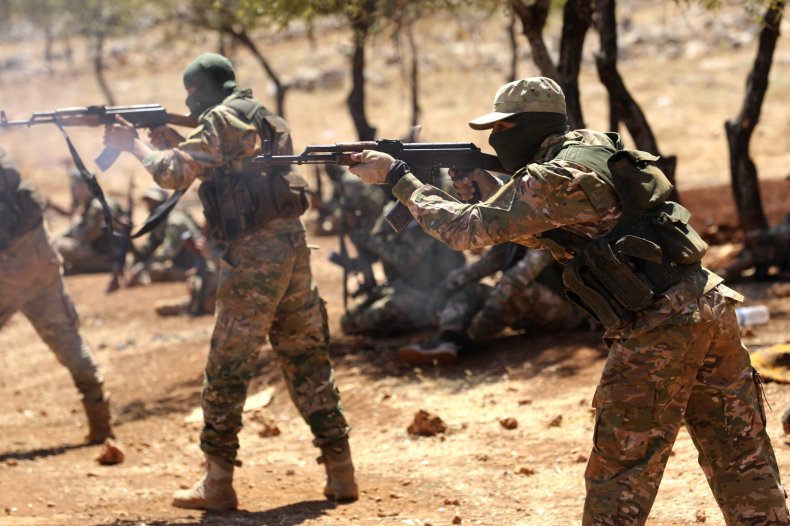 Muallem made the remarks while addressing visiting delegations of the Executive Committee of the World Peace Council and the World Youth Democratic Union in Damascus. He told the audience "that Syria is in full coordination with our Russian friends in regards to Idlib, whether through war or reconciliation," according to his ministry.
Russia intervened in 2015 to support Syrian President Bashar al-Assad against a rebel and jihadi uprising launched four years earlier with the backing of the United States and its regional allies—including Israel, Qatar, Saudi Arabia and Turkey. By the time Russia entered the fray, the U.S. had grown more focused on defeating the Islamic State militant group (ISIS) that emerged during the multi-sided civil war, but Washington remained adamant on Assad's removal, accusing him of war crimes.
In the years since, however, the Syrian armed forces—backed by Russian military power and various pro-government militias, many of which received funding from Iran—have regained control of much of the country, leaving Idlib as the last major bastion of insurgent influence. As Syria amassed reinforcements around Idlib province and surrounding areas, the U.S. warned it may intervene should civilians be placed at risk. Turkey grew concerned about an influx of refugees and the potential of violence reaching its military personnel in the region.
While Turkey supports Syria's embattled opposition, it has worked with Russia and Iran in an effort to find peace to the country's seven-year conflict. Following Putin and Erdogan's deal, fears that the arrangement would be destabilized grew after Syrian anti-aircraft fire responding to an Israeli air raid hours later accidentally downed an allied Russian surveillance plane and the apparent refusal of Al-Qaeda-linked groups to leave the 9- to 12-mile demilitarized zone established in Idlib.
Restricted groups in Idlib include the dominant Hayat Tahrir al-Sham coalition—the latest incarnation of Nusra Front—along with Turkistan Islamic Party, Haras al-Din (Guardians of Religion) and Ansar al-Din (Supporters of Religion). Russia has continued to accuse Western powers of attempting to work with these groups in order to stage a chemical attack as a pretext for military intervention.
In a report published Monday, the U.K.-based, pro-opposition Syrian Observatory for Human Rights said that it had witnessed ongoing violations of the Russia-Turkey ceasefire and observed that "the jihadi factions and groups maintain their positions and points within the demilitarized zone stretching from the northeastern Latakia mountains through Hama and Idlib to the northwestern outskirts of Aleppo city, amid ongoing failed Turkish attempts to persuade these factions to withdraw from the demilitarized zone."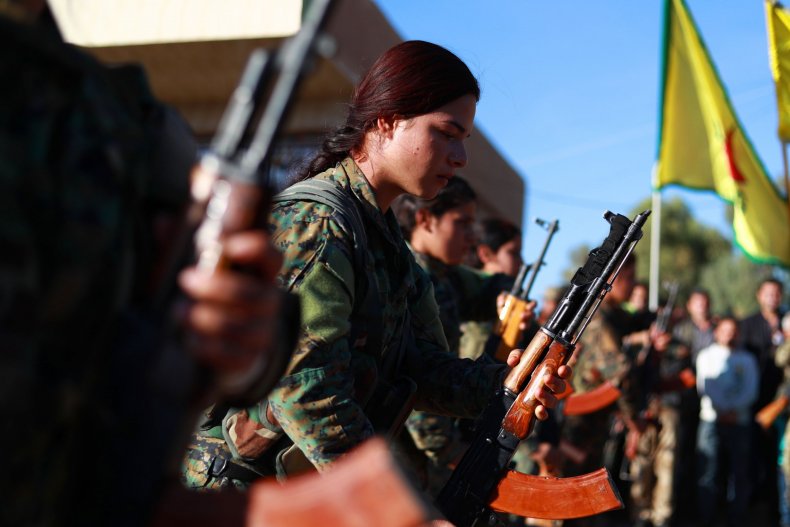 Across northern and eastern Syria, the U.S. has maintained its own lines of control via a mostly Kurdish faction known as the Syrian Democratic Forces. Despite receiving direct support from the Pentagon, this alliance of Syrian minority groups and Arabs has entered into oft-stalled talks with the Syrian government. It has even called on the Syrian military to react to Turkish actions against Syrian Kurdish groups considered terrorist organizations by Ankara, but backed by the U.S.
While Russia has viewed Turkey as a strategic partner, Syria has branded it an occupying force due to its defense posts near the northern border. As Turkish forces launched Saturday what Erdogan has said would be the beginning of a wider offensive against Kurds in northeastern Syria, the political wing of the Syrian Democratic Forces issued a statement calling on both the U.S.-led coalition and Syrian government to take action in response to strikes against villages west of the city of Kobani.
"We call upon the United Nations and the international coalition against ISIS to intervene and assume their responsibilities towards the Turkish provocation against the Syrian Democratic Forces. We affirm that such behavior would hinder the war on ISIS and give it another chance to expand in Syria," the Syrian Democratic Council said Monday in a statement.
"We also call on the Syrian government in Damascus not to stay on the sidelines, and begin to take legal action at the international level to end the Turkish violations and ambitions in Syria," it added.