Syria War: U.S., Russia Deals With Turkey, Key to Preventing Conflict, Could Now be in Major Trouble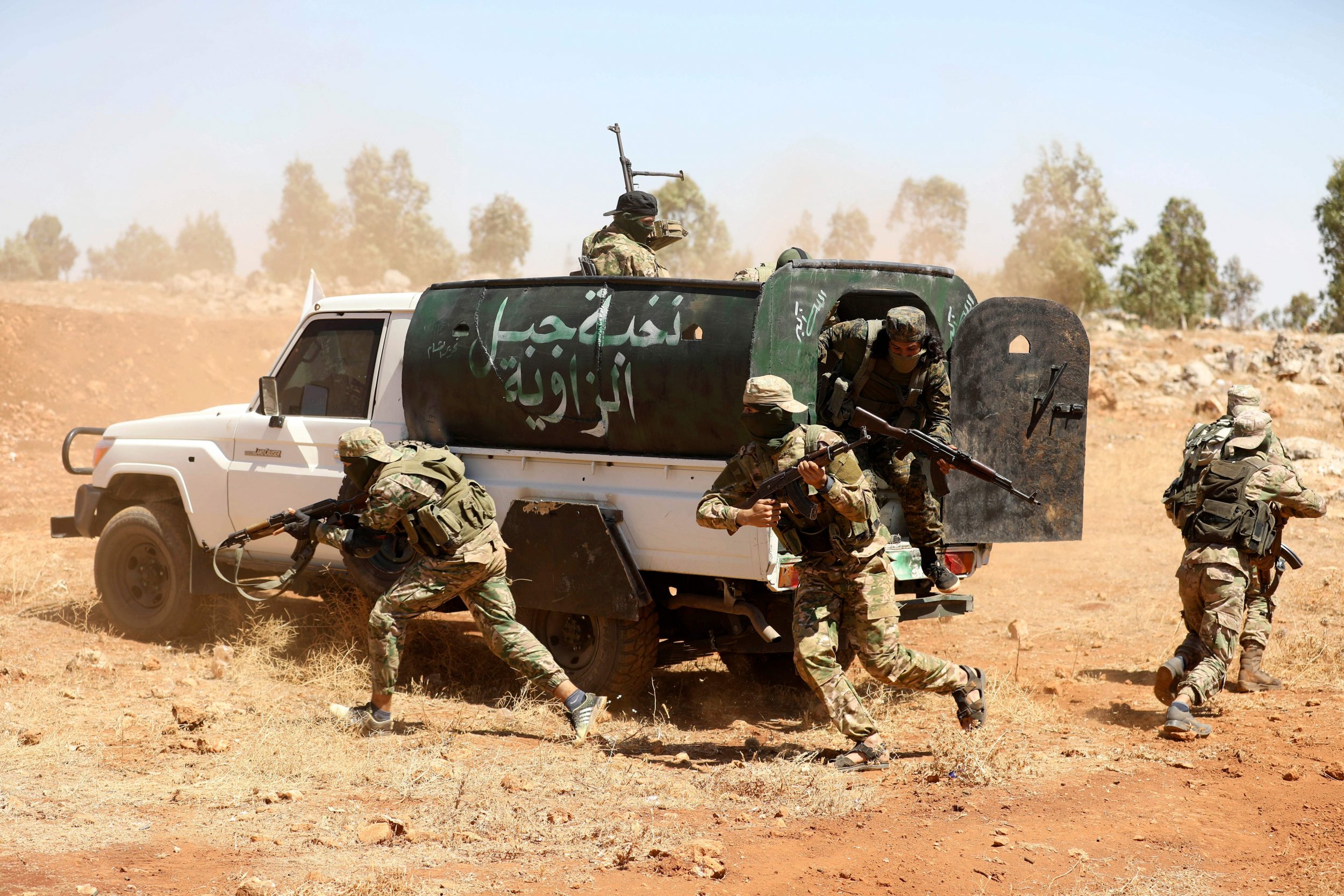 Turkey's deals with Russia and the U.S. in Syria may be in jeopardy after local challenges emerged to two precarious international arrangements designed to avoid new violence in a seven-year war.
Turkey and Russia agreed last month to establish a de-escalation zone in Idlib, the last province under the control of an Islamist-led insurgency, in a move aimed toward preventing an all-out Syrian military assault on rebels and jihadis there. Under the terms of the agreement, local forces would have to withdraw heavy weapons from the designated area by October 10 and evacuate jihadi groups by October 15.
While local reports indicated the successful transfer of heavy weapons a day ahead of schedule, convincing hardcore Sunni Islamist groups such as the dominant Hayat Tahrir al-Sham coalition to leave by Monday's deadline has reportedly proven more difficult. The U.K.-based, pro-opposition Syrian Observatory for Human Rights said Friday that "there has been no withdrawal of any elements of the 'jihadi groups' from the demilitarized zone."
In a text message seen by Agence France-Presse, the Syrian military warned locals, "Oh children of Idlib and its surroundings...avoid the militants, their fate is set and near." Another promised that "the areas that force the militants to leave will be safe," a third read: "Our dear people, the residents of the area whose militants are supposed to leave, don't allow the terrorists to take you as a human shield."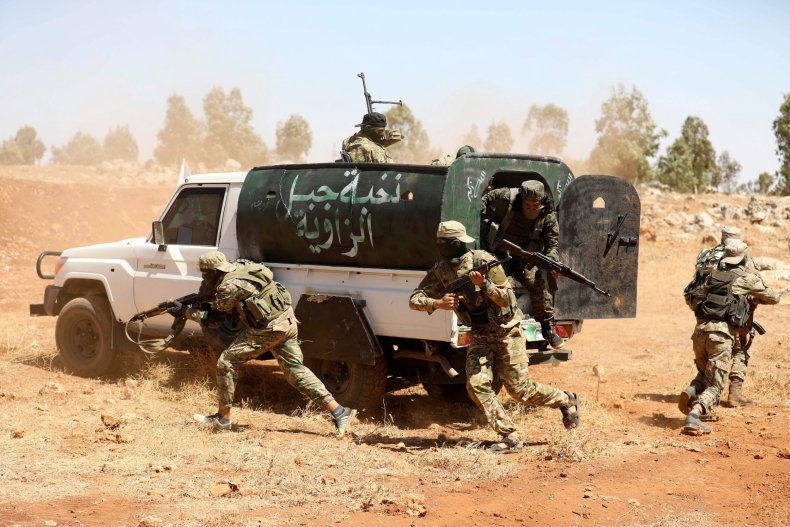 Militant groups compelled to leave the area include Hayat Tahrir al-Sham (Levant Liberation Committee)—which includes the most recent incarnation of Nusra Front—as well as other Al-Qaeda allies such as the Turkistan Islamic Party, Haras al-Din (Guardians of Religion) and Ansar al-Din (Supporters of Religion). International aid groups have warned of a likely humanitarian crisis should these groups fail to leave and military operations begin.
"Idlib residents, and aid workers hold their breath as the deadline for a political deal looms. While the terms of the agreement are known, we don't know what the plan is if parties on the ground fail to implement it. Will it be all out war? Over and over again, similar deals have simply ended in a bloodbath. Civilians caught in this stand-off must be spared at all costs," Wouter Schaap, Syria country director for CARE International, said Friday in a statement.
Turkey joined the West and its regional allies in 2011 to support an uprising against Syrian President Bashar al-Assad, who they accused of war crimes in cracking down on anti-government protests. The resulting unrest empowered jihadi forces, including Al-Qaeda and the Islamic State militant group (ISIS), which became the target of a U.S.-led intervention in 2014.
Russia also joined the fight the following year to support the Syrian armed forces and its allies, including Shiite Muslim militias supported by Iran, against various groups trying to overthrow Assad. Pro-Syrian government forces now control most of the country, leaving Idlib as the final major bastion of rebel and jihadi influence, as well as a refuge for up to 3 million people unwilling to reconcile with the government. The West and Turkey have urged Russia and Iran not to allow the Syrian military to go through with a looming offensive due to the risk of civilian casualties.
While the U.S. warned it may conduct military action to prevent such an operation especially in the event that the use of chemical weapons was suspected, Turkey has sought to use its position as a partner of both sides to stall an escalation of violence in Idlib. Last year, Turkey joined a trilateral peace process with Russia and Iran to bargain for the embattled opposition as ties with the U.S. began to fray over a mostly Kurdish faction known as the Syrian Democratic Forces.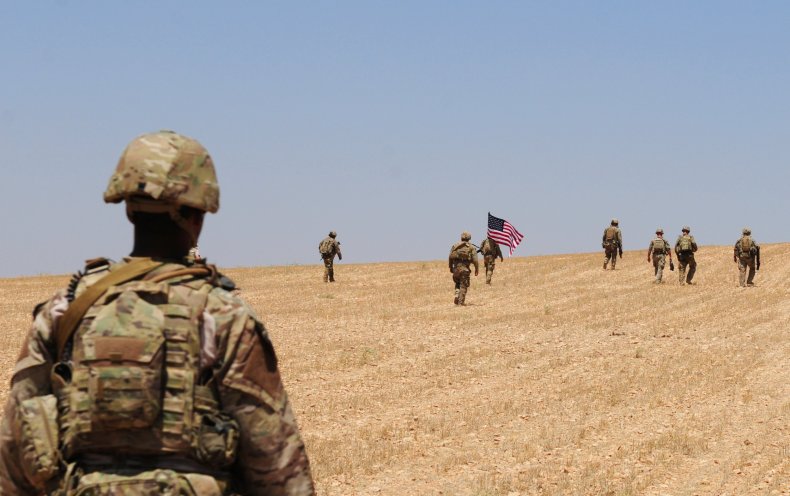 Since 2015, the U.S. has partnered with the Syrian Democratic Forces in the battle against ISIS. The group has proved a formidable force against ISIS and has shown a willingness to negotiate with Damascus, but Ankara views it as an extension of a Kurdish insurgency at home and has targeted it. This has resulted in deadly clashes between Turkey-backed Syrian rebels once supported by the CIA and the now-Pentagon-backed Syrian Democratic Forces, which control about a quarter of the country.
Violence between two of Washington's allies spurred a rare understanding between the U.S. and Russia last year, whose troops both conducted patrols in the northern city of Manbij in the mutual interest of blocking any Turkish advance. Amid threats of a new Turkish incursion earlier this year, the U.S. and Turkey agreed to conduct "independent, coordinated patrols" of their own in Manbij and that the People's Protection Units (YPG)—a powerful Kurdish militia and part of the Syrian Democratic Forces—would eventually leave.
While a separate U.S.-Turkish dispute over the fate of a Christian pastor detained by Ankara may have been resolved on Friday, the two countries' arrangement in Syria remains at high risk. Turkish President Recep Tayyip Erdogan warned that Kurdish fighters had not left. Threatening to reignite a standoff that saw the U.S. military vow it would not back down in response to similar Turkish warnings in January, Erdogan vowed he would "do whatever is necessary" in regards to Manbij.
"Now, they are digging trenches in Manbij," Erdogan said Friday at a rally in central Isparta province, according to the official Anadolu Agency. "What does that mean? 'We dug our graves, come and bury us.' We will also get in there."