Leaders of influential armed movements in Libya and Yemen have appealed for Russian intervention to solve the crises that have ravaged their respective countries in the wake of a regional uprising years ago.
The spokesperson for the self-proclaimed Libyan National Army, which is led by General Khalifa Haftar and represents one of two rival factions attempting to claim control of the country, said Wednesday that Russian support was needed to better equip his forces and help establish a unified national government. Under longtime leader Muammar al-Qaddafi, Libya and Russia enjoyed a strong military relationship, but this fell out after a West-backed 2011 insurgency and a subsequent international ban on selling arms to the Libyan armed forces.
In a statement sent to Russia's state-run Sputnik News, Libyan National Army spokesperson Brigadier General Ahmed al-Mesmari said that "the Russian-Libyan military relationship goes back a long time," adding that "the Libyan National Army is currently completely armed with Russian weapons and its military doctrine is Eastern, therefore Libya's need for Russia is increasing more and more as the war on terror continues."
The 2011 Arab Spring movement inspired international protests that helped unseat several leaders in the Middle East and North Africa, but brought with it a wave of unrest and foreign military intervention that have left some nations still reeling from its effects. It also marked a watershed moment for Russia, one that led Moscow to pursue a more ambitious approach to the Middle East in a challenge to U.S. and Western dominance there.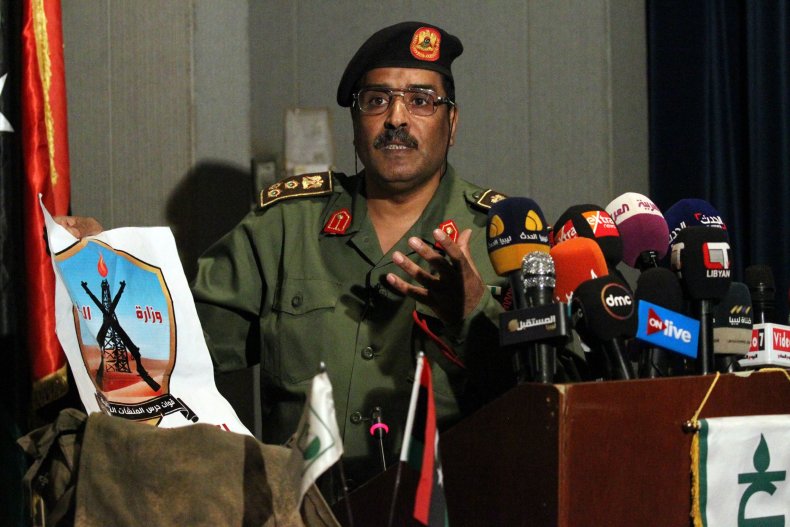 In Libya, Qaddafi's ouster and death came with the help of the U.S.-led NATO Western military alliance and was named by former President Barack Obama as the "worst mistake" of his presidency. The ensuing scramble for power has divided the country between two major factions and inspired a new insurgency waged by Islamists such as the Islamic State militant group (ISIS) and tribal factions. Haftar's Libyan National Army represents the Tobruk-based Libyan National Congress in the country's east, and the ex-Qaddafi military leader has gained popularity for his victories over jihadis.
The U.N., however, has endorsed the Tripoli-based Government of National Accord in the west. International powers have attempted to reconcile the two governments and Russia has vowed to play a leading role in the resolution. Seeing how Russia helped Syrian President Bashar al-Assad and his armed forces overcome another 2011 West-backed uprising while defeating various rebel and jihadi groups, Mesmari said Moscow's support would be useful for the Libyan National Army.
"We know that Russia is one of the very active states in the war on terror, for example, what is happening in Syria...we have good relations, nearly all of the officers in the Libyan army have received training in Russia, and all of the former officers," Mesmari said, noting the need to end the U.N. ban on providing weapons to Libya.
He later added: "The Libyan problem also needs engagement from Russia and President Putin himself, the removal of external actors, for example, Turkey, Qatar, specifically Italy, from the Libyan arena. Russian diplomacy should play an important role in this issue."
With the Syrian military's victory giving Russia a powerful forward base in the Mediterranean—which acts as NATO's southern flank—Moscow may be looking to enhance its presence in the strategic region. Russia has maintained contacts with both the Tobruk and Tripoli governments but has especially courted Haftar in recent years in an attempt to push back against the West-favored option in Tripoli.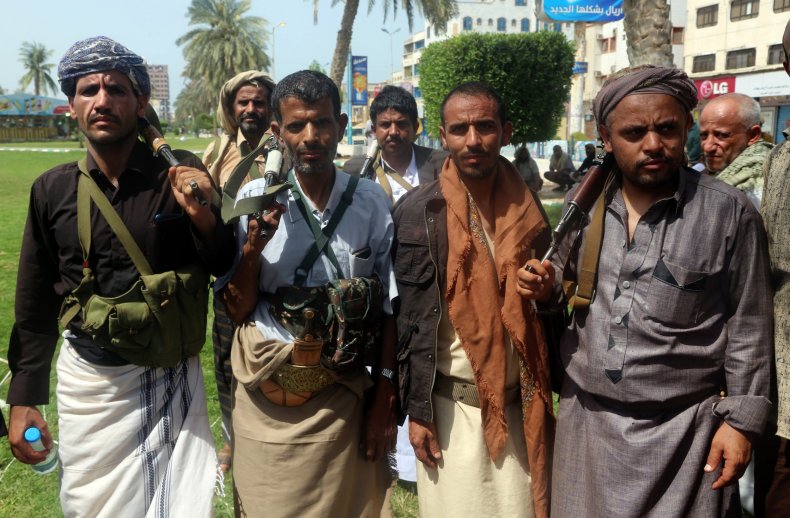 Over 2,000 miles away, rebels in Yemen destabilized by the 2011 Arab Spring movement have appealed for Russian help. Mass demonstrations that year pushed Yemeni President Ali Abdullah Saleh to step down in 2012. He was replaced by President Abed Rabbo Mansour Hadi, whose administration was rocked by ongoing discontent and rival insurgencies waged by the Zaidi Shiite Muslim Houthi movement, also called Ansar Allah, and Sunni Muslim militant group Al-Qaeda. The Houthis managed to fully overtake the capital in 2015, and Saudi Arabia began bombing the rebels with the help of a U.S.-supported regional coalition in order to reinstate Hadi.
Last month, pro-Houthi Supreme Political Council leader Mahdi al-Mashat wrote a letter to Putin himself, according to both the pro-Hadi and pro-Houthi factions of Yemen's official Saba News Agency, as well as Saudi newspaper Asharq Al Awsat. In it, Mashat expressed his desire to strengthen ties between the two governments and expressing hope that Moscow would play a leading role in blocking Saudi-led coalition attacks and ending what the U.N. has called the world's worst humanitarian crisis. The letter was sent on the backdrop of an ongoing battle over the western port city of Al-Hodeidah.
While Russia has not intervened in Yemen and has even defended Saudi Arabia's human rights record within the kingdom itself, the Russian Foreign Ministry warned in June that "the Hodeida offensive will bring catastrophic consequences to the entire Yemen," according to the state-run Tass Russian News Agency. Russia has also blocked U.N. initiatives aimed at punishing mutual Syria ally Iran for allegedly arming the Houthis, a charge that the rebels, Iran and Russia deny.