Russia Claims Victory in Syria War, Now Moscow Has Its Eyes on Libya Crisis
Moscow's top diplomat said Tuesday that his country sought a role in ending the ongoing conflict in Libya just days after Russian President Vladimir Putin announced the beginning of the withdrawal of Russian troops from Syria, where the leader recently declared victory over ISIS.
During a meeting in Moscow, Russian Foreign Minister Sergei Lavrov told Libyan Government of National Accord Foreign Minister Mohamed Taha Siala that the Russian government was prepared to work with all parties in Libya, which has been ravaged by war since a rebel and jihadi uprising, supported by Western military alliance NATO, overthrew and killed longtime leader Muammar el-Qaddafi in 2011. Russia has been critical of the U.S. and its allies' efforts in the North African state and has also held talks with Libyan military leader Khalifa Haftar, a rival to the U.N.-backed government.
Related: U.S. made secret deal with ISIS to let thousands of fighters flee Raqqa to battle Assad in Syria, former ally says
"The Russian Federation is ready to provide all-around support towards achieving a final arrangement. We established contacts with absolutely all political groups and tribes at the very beginning of the Libyan crisis," Lavrov said.
Lavrov later added, "We still maintain close interaction with all the parties involved. We hope that we will be able to increase bilateral cooperation with a united, sovereign and free Libya when the situation stabilizes and all the threats to Libyan statehood and security are removed."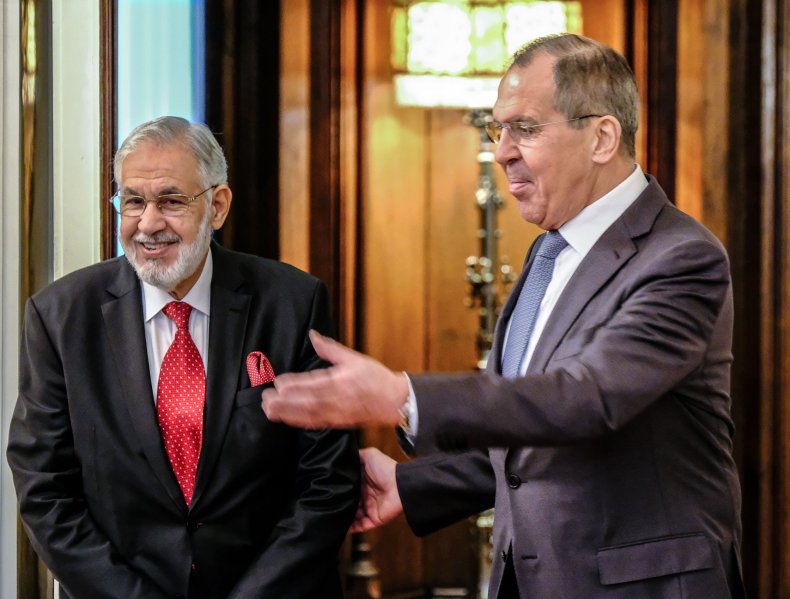 After the death of Qaddafi, who critics at home and in the West accused of human rights abuses and political oppression, Libya's internal factions quickly turned on one another, opening the door for Islamist insurgency, much of which has been linked to Al-Qaeda and ISIS. The ongoing violence and instability led former President Barack Obama to call U.S. intervention in Libya his "worst mistake." Years before his own presidency, Donald Trump warned in 2011 that "As bad as Qaddafi was—what comes next in Libya will be worse—just watch," although he at times also appeared to support U.S. intervention.
As the ongoing conflict was largely overshadowed by bloodshed in Iraq and Syria, Libya was once again sprung into international headlines when a CNN investigation last month produced graphic images of a slave trade that has flourished amid lack of a unified national authority. The U.S. has been a staunch supporter of the Tripoli-based Government of National Accord, but Russia has pursued a more multifaceted approach, courting both the U.N.'s ally as well as the Tobruk-based House of Representatives led by Haftar, whose armed forces helped defeat jihadis attempting to establish their own, ultraconservative rule over the country.
In October, the U.N. Security Council agreed to revise and reinforce a previous 2015 agreement that would see a unified, inclusive government. Lavrov emphasized Russia's support for this initiative on Tuesday and told Siala that he looked forward to his "views on the Libyan settlement process, especially ahead of the next UN-mediated intra-Libyan meeting between Tripoli and Tobruk representatives next week."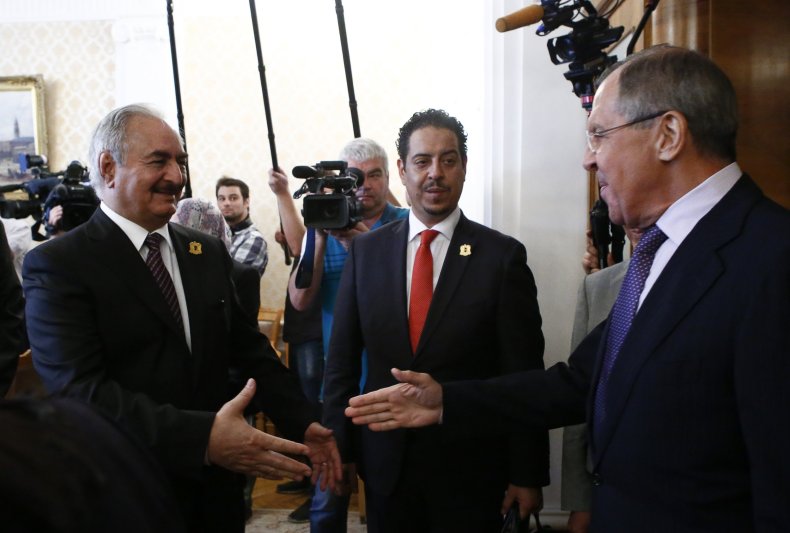 While the U.S. has also thrown its weight behind the same peace process, Washington and its allies have viewed Moscow's role in Libya and the Mediterranean in general with deep suspicion. A year after the U.S. began bombing ISIS targets in Syria in 2014, Russia joined in at the request of Syrian President Bashar al-Assad, who, like Qaddafi, was considered an illegitimate leader by the West, Turkey and Gulf Arab states, as they sponsored a 2011 insurgency against the Syrian leader. Russia's backing has since helped the Syrian government regain control of most of the country, where a coalition of Syria, Russia and Iran declared victory last month.
Putin recently announced the beginning of a withdrawal of his troops from Syria but said that Moscow's Mediterranean bases near the eastern cities of Latakia and Tartus would remain. This move, along with Russia's role in Libya and further evidenced by last week's agreement allowing the Russian military to use Egyptian airspace, reported by United Press International, has compelled some observers to draw a link between Russia's strategy in North Africa and the Middle East and its greater effort to counter NATO in Europe.