Who Does U.S. Support in Syria? Some Former Allies Are Helping Iran, Others are Attacking with Turkey's Backing
Former Syrian rebels who once received support from the United States have split into new camps, with some accepting salaries from Iran's Lebanese ally Hezbollah and others supporting Turkey as it attacks the Pentagon's new local partner.
As the Syrian armed forces—backed by Russia and Iran-sponsored Shiite Muslim militias—swept through former Islamist-led insurgent strongholds earlier this year, the government gave residents a choice: reconcile or relocate. In the southern province of Daraa, which was retaken in a lightning summer offensive, ex-rebels who chose to stay are not only joining the military, but also Hezbollah and other Iranian partners that are barred from holding positions too close to the southern borders with Israel and Jordan, according to The Wall Street Journal.
The article cited an unnamed former Syrian rebel commander, who said that "Russia pushing Iran out is an illusion," referring to a Moscow-brokered deal that saw Iran-backed forces withdraw about 50 miles from the occupied Golan Heights in order to avoid tensions with Israel. Also quoted was U.S. Syria Envoy Joel Rayburn, who called the move "a highly destabilizing prospect," which "would increase the chance for conflict."
Rayburn made the remarks during a conference Friday in Bahrain. Also present was Defense Secretary James Mattis who, on Monday, told the U.S. Insitute for Peace in Washington that the point of the U.S.-led Geneva process for Syria was to tell Iran: "You have no business in Syria. You've not been helpful there. Your militia that is destabilizing in Lebanon against the government, the Lebanese Hezbollah and their fighters inside Syria, and ones like that, need to get out of Syria if we're going to have peace."
Unlike the U.S., however, the Syrian government has welcomed Iranian and Russia intervention in the country and accused Washington of prolonging the conflict through its support for non-state actors fighting for regime change.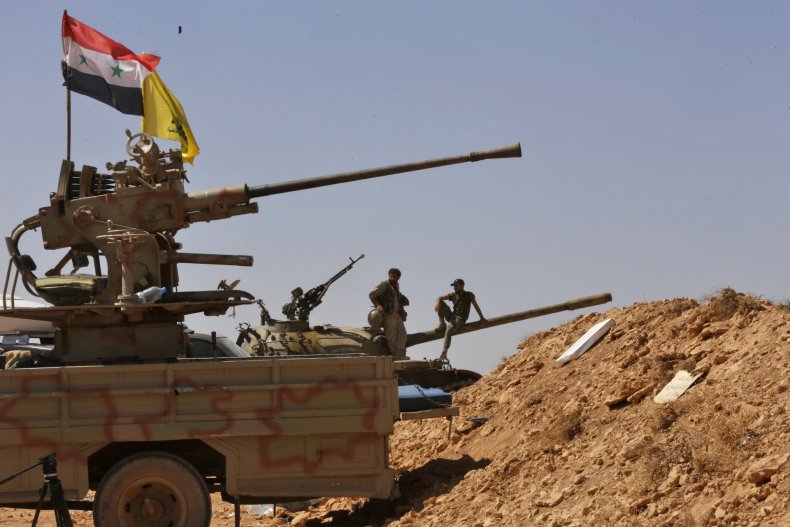 The U.S. and regional allies—including Israel, Qatar, Saudi Arabia and Turkey—helped to sponsor the 2011 uprising against Syrian President Bashar al-Assad, who they accused of war crimes. Western support dried up, however, as jihadi organizations such as Al-Qaeda and the Islamic State militant group (ISIS) began to dominate. The U.S., for its part, formed a coalition to bomb the latter force, which had taken up to half of Iraq and Syria in 2014.
Russia intervened the following year, targeting various insurgent and militant groups in Syria as the Pentagon established the mostly Kurdish Syrian Democratic Forces as its main partner on the ground. With ISIS as a common enemy, the Syrian military and the Syrian Democratic Forces pursued separate nationwide offensives and, as jihadis lost ground, the U.S. and Israel became increasingly concerned about Iran's growing influence in Syria.
In the past year and a half alone, Israel has struck alleged Iranian and pro-Iran positions in Syria more than 200 times, including a massive air operation in May that came in response to rocket fire in the Golan Heights that Israeli forces claimed came from Iran's elite Revolutionary Guards. As the Syrian government prepared to retake the southwestern provinces of Daraa and Quneitra, Israel warned that it would not tolerate the presence of Iran-linked groups so close to the border.
The Russian agreement appeared to keep these fighters away, allowing the Syrian armed forces to reclaim the region with limited Israeli intervention, though a Syrian warplane was shot down after Israel claimed it crossed too deep into the Golan Heights it seized in 1967 and annexed years later without international recognition. Around this same time, the U.S. told rebels that it would not offer assistance as the Syrian military closed in and Israel abandoned support for the opposition as well.
By August, the opposition had capitulated and the Syrian military was focusing on defeating an ISIS pocket in the Yarmouk Basin that borders Syria, Jordan and the Israel-controlled Golan Heights. Both pro-government outlet Al Masdar outlet and pro-opposition site Enab Baladi, as well as foreign media such as The Times and The Jerusalem Post reported that hundreds of former rebels had been recruited to the Syrian armed forces, with Enab Baladi claiming that many had also joined Hezbollah and Iran-backed allies, which allegedly offer double the salary of the Syrian military's 4th Armored Division and 5th Attack Troop Corps.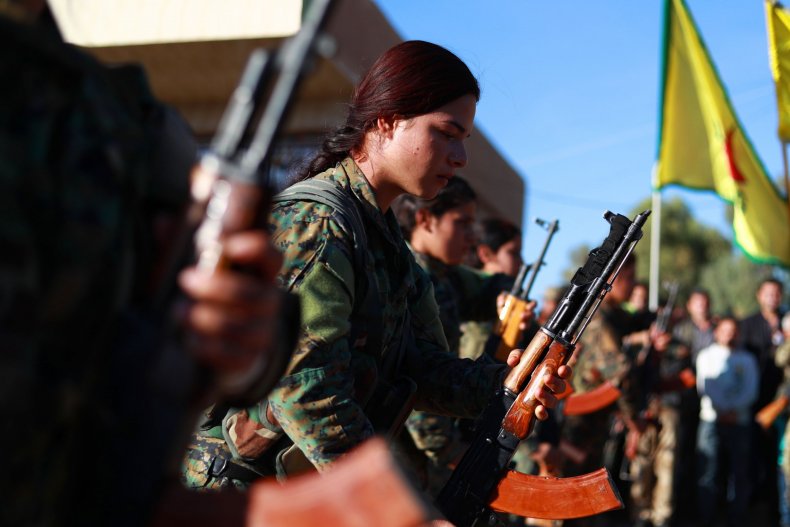 "When the surrender arrangements are completed, former rebel combatants between the age of 18 and 42 who have not fulfilled their military service obligations as determined by law are required to join the army. They are typically given a temporary formal break for six months to settle their affairs (a process is commonly known as taswiyat al-wad') and register with the local military recruitment branch (Sha'bet Tajneed) in their respective area to be enlisted," Haid Haid, a research fellow for the U.K.-based Chatham House, wrote in July.
"In addition, formal opposition fighters are lured to join pro-regime auxiliary forces such as the Iranian-backed National Defence Forces (NDF) or the Russian-led 5th Brigade. This is typically facilitated by local influential figures who act as intermediaries, such as former opposition commanders, local notables, prominent businessmen or even regime officials," he added.
In parts of Syria still outside of the government's control, remnants of the beleaguered opposition have embraced Turkish backing, presenting another headache for Washington's policy. These once CIA-backed rebels have continually targeted the Pentagon-backed Syrian Democratic Forces and even the U.S. troops assisting them. In response to new attacks from fellow U.S. ally Turkey, the Syrian Democratic Forces have temporarily ceased operations against ISIS in eastern Syria.
U.S.-led coalition spokesperson Colonel Sean Ryan said Thursday on Twitter that the coalition was "in communication w/both Turkey and the SDF to de-escalate the situation" and announced the start of joint U.S.-Turkish patrols in the northern city of Manbij. On Wednesday, State Department deputy spokesperson Robert Palladino told reporters that "unilateral military strikes into northwest Syria by any party, particularly as American personnel may be present or in the vicinity, are of great concern to us."
"Coordination and consultation between the United States and Turkey on issues of security concern is a better approach," Palladino said. "We have been in touch with Turkey and the Syria defense forces to emphasize the need to de-escalate the situation. Turkey is a NATO ally and a key partner in the Global Coalition to Defeat ISIS, and we are fully committed to our ally's border security."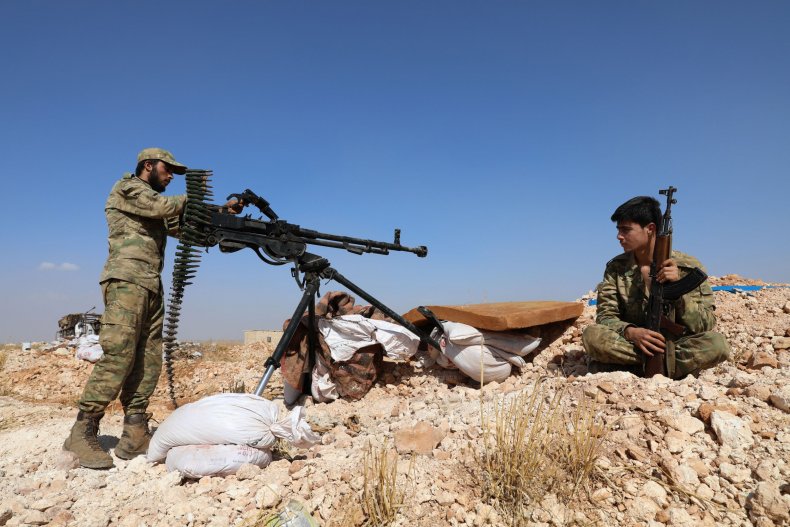 While Mattis said Monday that the Pentagon's "authority to be in Syria right now is clearly on the Defeat ISIS Campaign," Washington officials have increasingly designated countering Iran as an additional interest of U.S. military presence there. Tehran has said it would continue its military mission in Syria as long as it was welcome by Damascus, which has called on the U.S. and Turkey to withdraw immediately.
Meanwhile, Russia, Iran and Turkey continue to work together as part of trilateral peace process that the U.S. has refused to fully embrace. Moscow and Ankara reached a deal last month promising a ceasefire in the final Islamist-held province of Idlib in northern Syria in exchange for the withdrawal of heavy weapons and jihadi groups such as Hayat Tahrir al-Sham.
This agreement is under major pressure, however, as Turkey struggles to expel banned militant groups from the area. Should the Syrian military stage an all-out assault, the U.S. has threatened to intervene.