Video: Vladimir Putin, MBS Dap as Russia, Saudi Leaders Greet Like Old Friends at G20 Summit
Russian President Vladimir Putin gave daps to Saudi Crown Prince Mohammed bin Salman, who has been widely suspected of being behind the killing of a Saudi journalist outside the kingdom.
The two leaders were in Buenos Aires, Argentina, on Friday for the G20 summit and were seen smiling as they approached each other on the meeting's first day. The two men went for an enthusiastic high five, which turned into a hearty handshake. The Saudi royal followed up by patting the back of the Russian leader's hand.
The display suggested that Moscow was unconcerned about the growing international outcry against the monarch, who was recently investigated by the CIA for his potential role in the killing of Jamal Khashoggi, a Saudi journalist who fled the kingdom last year and was slain by agents from his home country at its Istanbul consulate.
The CIA's findings were classified but were widely reported to have blamed the Saudi leader, who has denied any wrongdoing. Saudi Arabia has pressed charges against those allegedly behind the operation but has argued that the order did not come from the crown prince.
Trump has been one of Salman's most staunch supporters. The president has admitted that the young prince "could very well have had knowledge" of the slaying. Echoing Trump, Secretary of State Mike Pompeo has said that "there is no direct reporting connecting the crown prince to order the murder of Jamal Khashoggi."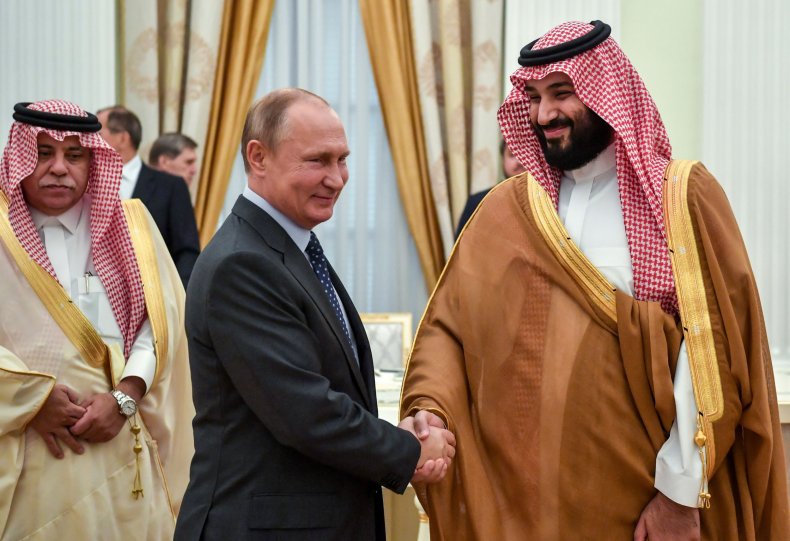 Lawmakers, already critical of Saudi Arabia's controversial war against the Houthis in Yemen, have protested the White House's response to the affair. On Wednesday, a bipartisan Senate voted to advance a measure that would cut U.S. military support for Saudi Arabia and the United Arab Emirates, which have been accused of war crimes in the Yemen conflict.
In Russia, Putin has expressed even less skepticism toward the official Saudi account of Khashoggi's death. Though Salman and Putin were set to discuss the matter at the G20, Kremlin spokesperson Dmitry Peskov told reporters last month that "no one should have any grounds not to believe" the Saudi royal family's statements on the matter, according to the state-run Tass news agency.
Putin's close relations with Saudi Arabia and Israel have complicated the dynamics of Russia's strategic alliance with Iran in Syria. Iran, Syria and various Shiite militias they support in the region have styled themselves as an "axis of resistance" against Israel, the West and ultraconservative Sunni organizations like the Islamic State militant group (ISIS) and Al-Qaeda.