John Bolton Is Reportedly Pushing for Military Conflict in Venezuela. Will Donald Trump Hold Him Back?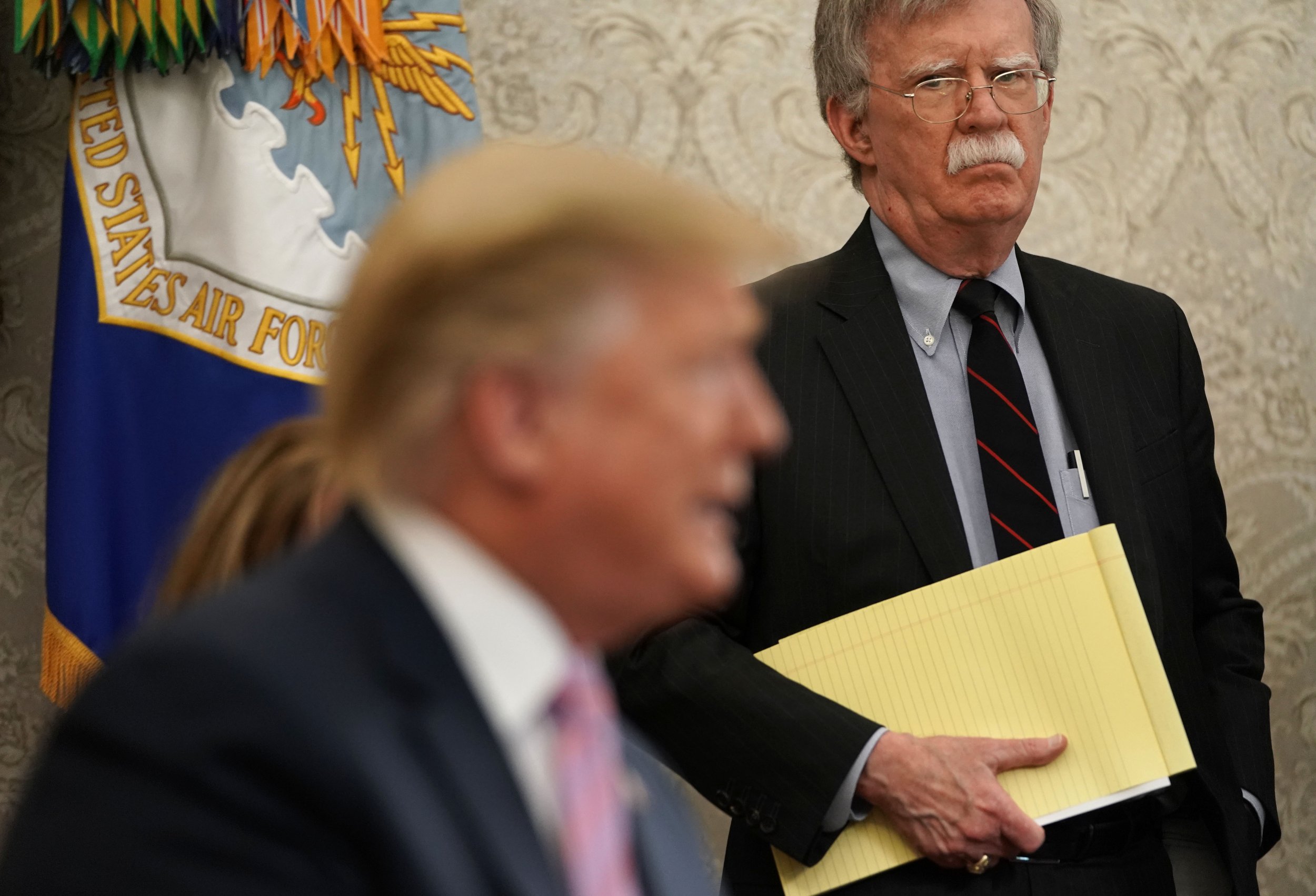 White House National Security Adviser John Bolton has reportedly been pushing for conflict in Venezuela as President Donald Trump weighs the next steps of his strategyin the Latin American country.
On Tuesday, U.S.-endorsed opposition leader Juan Guaidó called for the Venezuelan military to turn against President Nicolás Maduro, leading to mass, rival demonstrations and clashes between opposing factions. Two days later, The Washington Post detailed an aborted uprising planned by the opposition and backed by the Trump administration.
Fearing Maduro had realized the conspiracy against him, Guaidó allegedly acted early, with less support than anticipated, and things did not go as planned.
One U.S. official told the Post that the opposition had "produced a pretty full plan," but as it began to fall apart, efforts to realize a cohesive approach also began to fail in Washington. Publicly, officials blamed Cuba and Russia for backing Maduro, but internally the administration may be increasingly divided.
Trump has repeatedly affirmed "all options are open" in overthrowing Maduro, whom the U.S. has accused of mismanaging the economy and profiting off of corruption. But as has been the case with many foreign policy issues, his men have been the public face of his administration's charge on Venezuela. Secretary of State Mike Pompeo warned Wednesday that U.S. "military action is possible," and Bolton, long known for his hawkish views, appeared even more eager for a fight.
Bolton told reporters Tuesday at the White House that the U.S. was providing support "in a variety of respects," including humanitarian assistance and "a lot of other things, some of which I'm not going to talk about." He said the administration "wants to see a peaceful transfer of power from Maduro to Guaidó," but he noted, "This possibility still exists if enough figures depart from the regime and support the opposition"—something yet to be seen as Bolton has sought to extend his legacy of confrontation over diplomacy.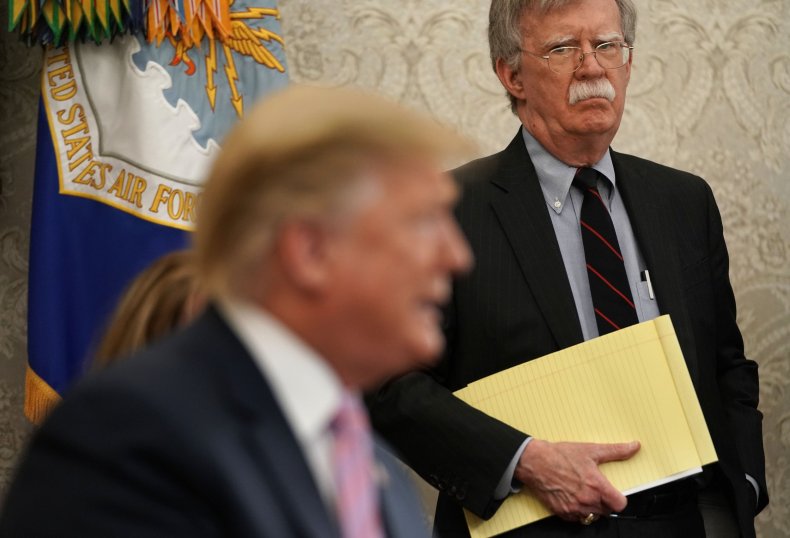 Bolton's appointment just over one year ago has had a profound effect on the administration's foreign policy outlook. Trump already shared Bolton's disdain for international agreements, such as the Iran nuclear deal and various arms control treaties, but the latter's frequent calls for military action against adversaries potentially clashed with a president who campaigned on stopping costly, "endless wars" being waged by the U.S.
Throughout his decades in Washington, where he served under the last three conservative administrations, Bolton championed interventions in Afghanistan, Iraq and Libya and appealed for attacks on Iran and North Korea. He also pushed back against congressional investigations into the 1980s Iran-Contra affairby which former President Ronald Reagan's administration illicitly defied an arms embargo on selling weapons to Tehran, an arrangement that funded anti-communist militias attempting to oust the socialist government in Nicaragua."
This scandal, one of many U.S. efforts to combat the rise of leftist forces across Latin America, provided crucial context to the Trump administration's response to the current crisis in Venezuela. Days after Guaidó proclaimed himself acting president, Trump named Elliott Abrams, who was among the men indicted for their role in the Iran-Contra affair, as his special representative to Venezuela.
Abrams has kept reporters up to date on the latest U.S. efforts to expel Maduro, but it was Bolton who appeared to be behind a campaign to escalate. As the premature uprising unfolded on Tuesday in Caracas, Bolton aides, such as his Western Hemisphere point person Mauricio Claver-Carone, interrupted a briefing by Air Force General Paul Selva, the vice chairman of the Joint Chiefs of Staff, and called for military options, the Post reported. Another Bolton aide, Charles Kupperman, reportedly ended the session early.
The following day, Bolton spoke on radio on The Hugh Hewitt Show and praised "a great line" from another defense official, U.S. Southern Command chief Navy Admiral Craig Faller, who said last month the military was "on the balls of our feet" and—as Bolton added—"ready to go" in support of Guaidó. Faller himself told the House Armed Services Committee on Wednesday that his leadership called for "a democratic transition of power" and "diplomacy" in Venezuela.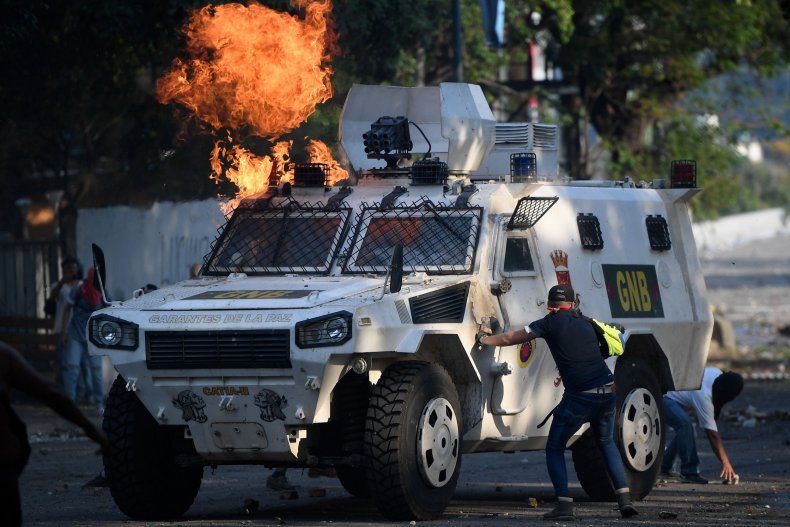 Back in Caracas, the fate of Guaidó's political challenge also appeared uncertain. Bolton alleged Wednesday that three of Maduro's most senior men—Defense Minister Vladimir Padrino, Supreme Court Chief Justice Maikel Moreno and Presidential Guard Commander Hernandez Dala—had agreed to switch sides, but the trio appeared to remain loyal to their president. Pompeo claimed that Maduro "had an airplane on the tarmac, he was ready to leave" to Cuba, but "the Russians indicated he should stay."
Havana and Moscow—co-belligerents in the 1962Cuban Missile Crisis—have countered Washington's narrative on Venezuela. They were joined by the likes of China and Iran in offering support to Maduro, whois still recognized by a number of other countries, as well as the United Nations.
Meanwhile, the U.S. has rallied much of Latin America and Europe in support of Guaidó, who admitted Wednesday that there was "not enough" support Tuesday to back his bid for the presidency. He again called for the armed forces to defect, but it remained uncertain whether or not Washington was prepared to commit the Pentagon's resources to an endeavor Maduro likened to "a Vietnam worse than they can imagine."