'Disgusting,' 'Dangerous': Here's What Every 2020 Democratic Candidate Has Said About Alabama's Abortion Bill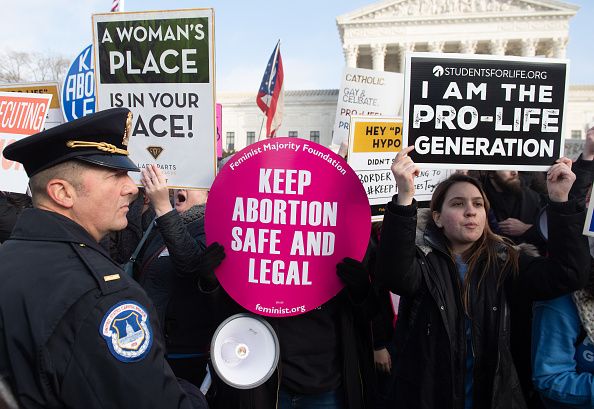 After Alabama lawmakers approved a bill outlawing nearly all abortions in the state, 2020 Democratic candidates have been outspoken in their condemnation of the measure as an unconstitutional "war on women."
The bill, which passed in the state Senate in a 25-6 vote Tuesday evening, will make it a felony for a doctor to perform an abortion in the state, punishable by up to 99 years or life in prison.
The only exception to the measure would be if a woman's health is seriously at risk. Unlike other restrictive anti-abortion measures, there are no exceptions for cases of rape or incest.
The legislation now sits on Governor Kay Ivey's desk. Ivey has not signaled whether she will sign the bill, though she's said in the past that she is "strongly pro-life" and told reporters on Wednesday that "all human life is precious."
So far, nearly every one of the 22 Democrats running for president have spoken against the measure. Their response echoes reaction to last week's passage of the Georgia "heartbeat bill," which banned all abortions after a fetal heartbeat is detected.
Here's what 2020 Democrats have said about the Alabama bill:
Michael Bennet: The 54-year-old senator from Colorado slammed the measure as a "blatant and unconstitutional attack on women" in a Twitter post on Wednesday. The post linked to a news article about the abortion ban.
Joe Biden: The former vice president wrote on Twitter: "Republicans in AL, FL, GA, and OH are ushering in laws that clearly violate Roe v. Wade and they should be declared unconstitutional. Roe v. Wade is settled law and should not be overturned. This choice should remain between a woman and her doctor."
Cory Booker: The New Jersey senator wrote on Twitter that Alabama lawmakers "just stripped women of health care rights by voting to make abortion procedures a felony. I will fight in solidarity with women to make sure rights guaranteed by Roe v. Wade will not be threatened by those who have no business making laws about their bodies."
Steve Bullock: The governor of Montana called the bill "irresponsible, dangerous" in a Twitter post on Wednesday. "As governor, I've stopped every attack on a woman's right to make her own healthcare decisions, and that's exactly what I'll do as president," he added.
Pete Buttigieg: The mayor of South Bend, Indiana, slammed the Alabama Legislature for "ignoring science, criminalizing abortion and punishing women." He added that the government should "make sure all women have access to comprehensive affordable care, and that includes safe and legal abortion."
Julian Castro: The Texas Democrat slammed the abortion bill as "appalling" in a Twitter post. He added that it's "time to stand up and speak out. We must defeat this unconstitutional and shameless attempt to strip women of their right to make health care choices."
John Delaney: The former Maryland congressman tweeted several times about the abortion bill, calling it an "all-out attack on women and their freedom." He added that the bill is "unconstitutional" and infringes on a woman's right to privacy.
Tulsi Gabbard: The 37-year-old congresswoman from Hawaii has not yet publicly commented on the Alabama bill.
Kirsten Gillibrand: A champion of the #MeToo movement, she immediately slammed the anti-abortion bill as a "war on women" in a Twitter post.
Kamala Harris: The California senator tweeted that the Alabama bill was "outrageous" and would "effectively ban abortions in the state and criminalize doctors for doing their jobs—providing health care to women."
John Hickenlooper: The Colorado governor tweeted that the bill will "cost Alabama women their lives, and threatens the reproductive rights of women across the country. We must fight back, and our next president must act to enshrine Roe v. Wade into law."
Jay Inslee: The Washington governor wrote on Twitter that the bill is "an abomination" and that "the choices a woman makes about her body should be between her and her doctor and no one else." He added that the country "cannot go back to the dark ages of reproductive rights."
Amy Klobuchar: The senator from Minnesota slammed the bill as "wrong" and "unconstitutional" in a Twitter post.
Wayne Messam: The Miramar, Florida, mayor tweeted on Wednesday that "a woman's right to reproductive choice is settled law. This is an incredibly difficult decision for a woman and her family. If a medical professional believes a procedure like this is necessary, then the government should not intervene."
Seth Moulton: The 40-year-old Marine Corps veteran told CNN on Wednesday that the bill is "absolutely disgusting" and that "we should not even be having this debate about women's right to their own health care."
Beto O'Rourke: The Texas Democrat wrote on Twitter that the bill "is not only unconstitutional—it's a radical attack on women across Alabama and America. We won't back down when it comes to fully protecting Roe v. Wade, fighting dangerous efforts to roll back reproductive health care and defending a woman's right to access an abortion."
Tim Ryan: The Ohio congressman called the bill an "absolutely appalling move from lawmakers in Alabama." He added that the "government has NO place in this conversation" about reproductive rights.
Bernie Sanders: On Twitter, the Vermont senator accused Alabama of doing something "blatantly unconstitutional" that "disrespects the fundamental right a woman has to make decisions about her own body." In the post, he also called for Ivey to "veto this cruel bill."
Eric Swalwell: The California congressman tweeted that "lawless" President Donald Trump has "inspired lawless legislatures." He added that the "laws are crystal clear the government cannot come between a woman & her doctor early in a pregnancy."
Elizabeth Warren: The Massachusetts senator described the bill as "dangerous and exceptionally cruel" in a Twitter post. She also accused the bill's authors of wanting to overturn Roe v. Wade. "I've lived in that America and let me tell you: We are not going back—not now, not ever. We will fight this. And we will win."
Marianne Williamson: Hours before the Alabama bill was passed, the self-help author bashed on Twitter the "spate of state abortion bills appearing around the country are intended to overturn Roe v. Wade and intimidate women. Note to courts: American women cannot and will not be intimidated. We will make our own moral choices and our own biological decisions."
Andrew Yang: The technology executive tweeted on Wednesday that the "Alabama law banning and criminalizing abortion even in cases of rape or incest is a dramatic step in the wrong direction. Government should not be making decisions on behalf of women. I would protect women's right to choose."