In late April, as COVID-19 panicked the nation and all but paralyzed his campaign, Joseph Robinette Biden Jr. huddled—virtually, of course—with his team of economic advisers. Being stuck running for the presidency from the basement of his home in Wilmington, Delaware, had given the former vice president a lot of time to think, he told them, and he wanted bigger ideas.
Go forth, he urged his financial brain trust, and bring back the boldest, most ambitious proposals they'd ever dreamed of to reshape the U.S. economy, with an eye toward making it more fair for all Americans and less easily unhinged by a future crisis like the coronavirus pandemic. Should he unseat Donald Trump in the November election, the challenge before him would be at least on par with what Franklin Delano Roosevelt contended with when he came to power in 1933. Biden wanted FDR-sized solutions.
At least a few of the participants on that call hung up in shock and awe. "Did that really happen?" one texted another in messages shown to Newsweek. "Yep. Sleepy Joe is awake," the other replied, invoking a mocking nickname used by Trump—one that feels so absurd to those who know the workaholic Biden that it's become a standing joke among campaign insiders.
Even accounting for the magnitude of the pandemic-fueled economic meltdown, their surprise was understandable. Biden had just spent more than a year arguing successfully to Democratic primary voters that he was the sensible candidate, the one offering familiarity and experience rather than radicalism. He was the advocate for incremental not sweeping change and the one willing to ask his more populist, big-thinking rivals the critical question: How are you going to pay for all that?
Getting to Yes, Yes, Yes
But as the pandemic gripped the country this spring, sickening or killing nearly two million Americans and putting tens of millions out of work, Biden began issuing a raft of new proposals that move his positions closer to the progressive wing of the Democratic Party, with a promise to unveil an even more transformative economic plan this summer. Now it's a yes from Joe to student debt cancellation for large numbers of borrowers and yes to free public college for lower-income and middle-class families. It's a yes to adding $200 a month to Social Security benefits and lowering the qualifying age for Medicare from 65 to 60. Yes to trillions in new spending, yes to new regulations on banks and industry, yes to devil-may-care deficits.
As recently as late February, after his definitive South Carolina primary victory thwarted Vermont Senator Bernie Sanders' takeover of the Democratic Party, Biden exulted that "talk about revolution isn't changing anyone's life." By mid-May, though, he took to his Here's the Deal podcast to declare—in a discussion with former rival and universal basic income champion Andrew Yang, no less—"We need some revolutionary institutional changes."
Biden's historical reference point these days when he talks about the policy shifts needed to repair what's broken in the economy is not the Great Recession but rather the Great Depression. That's true even though his role in the financial-crisis recovery, particularly when it came to overseeing the auto-industry bailout and stimulus spending, has been Biden's signature economic achievement to date in a career more focused on foreign policy and criminal justice reform. And the leader he most often invokes—in interviews, in public addresses, on his podcast—is no longer Barack Obama but Franklin Delano Roosevelt.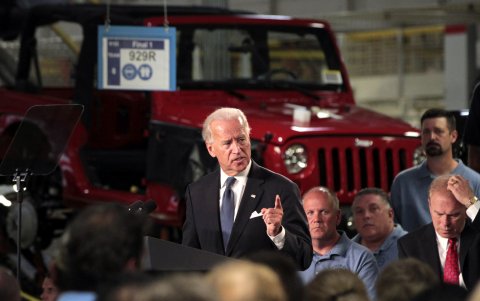 "He is looking at similarities between the upheaval of the Great Depression and thinking about the policy agenda that surrounded that moment," says informal Biden adviser Jared Bernstein, a senior fellow at the Center on Budget and Policy Priorities who served as the former vice president's chief economist from 2009 to 2011. "You don't necessarily want to look back there and say, OK, we have to replicate what they did. But you can look at that era for what is possible at a moment like this."
Biden's expansive new economic vision is still coming into focus. What seems clear is that the candidate is recognizing the moment, one in which bold action, not change around the edges, is required, along with the kind of empathetic, uplifting leadership tone associated with Roosevelt during the 1930s. What is still an open question: Can Biden convince voters and the progressive wing of his own party that he will deliver?
A key challenge for Biden is that it may be easier to craft policies than to communicate them. Saying that Biden doesn't rank with FDR as a communicator doesn't begin to convey the problem. His fumbling, stumbling debate appearances were painful for supporters, and it's not merely that Biden has no quote as memorable as "We have nothing to fear but fear itself": It's his gaffes that linger in the memory. "If you have a problem figuring out whether you're for me or Trump, you ain't black" was only his latest cringe-making statement. The pandemic lockdown has been helpful to him in that respect. As the campaign opens up—or his presidency begins—he'll have to either step up his game or hope the public is willing to take him on faith.
An Emerging Economic Plan
The most recent data on the economy certainly paints a bleak picture of current conditions. According to the Bureau of Economic Analysis, GDP dropped by an annualized rate of five percent in the first quarter of the year and the Congressional Budget Office estimates it will contract at an annual rate of 40 percent in the second quarter before rebounding in the second half of the year.
Meanwhile, from mid-March to late May, more than 40 million Americans filed for unemployment benefits—10 weeks straight of record-shattering jobless claims. The most recent unemployment rate for April stood at 14.7 percent, the highest since the Depression, but the Bureau of Labor Statistics says that many workers who lost jobs were missing from the count. A more accurate measure would have put the rate near 20 percent and if those not actively looking for a job (say, because they're now caring for children at home) or who are working part-time but want to work full-time were included, it would have been 22.8 percent. That's perilously close to the all-time high of 24.9 percent hit in 1933, when FDR took office. Although the rate is also expected to improve in the second half of 2020, it's still likely to be in double digits by Election Day, White House senior economic adviser Kevin Hassett told CNN in late May.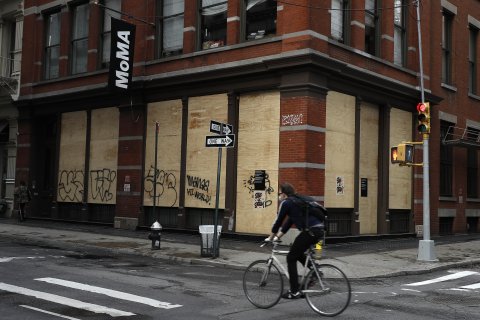 It was against this backdrop that Biden in mid-May assembled a new economic task force—one of six teams put together in key policy areas. In a bid to involve and assuage the party's progressive die-hards, each of the groups includes five advisers chosen by Biden and three by Sanders. By Memorial Day, the economics group, which includes Bernstein, had met only once for a getting-to-know-you Zoom meeting and it isn't expected to report back to the campaign until July, in line with Biden's public promises to unveil a detailed economic plan later this summer.
The broad strokes are already there, though. In an economic address in early May, Biden (who did not respond to several requests from Newsweek for an interview) talked about remaking the country's unemployment insurance system, providing paid sick leave and child care support, guaranteeing access to higher education and high-quality health care and putting more protections in place to ensure fair wages among other measures. It's a veritable laundry list of progressive agenda items, New Deal-like in its intent to strengthen the social safety net and revive prosperity. And it's likely to lead to what many observers are describing as the most liberal platform in the history of the Democratic Party.
The new economic agenda represents a swift, sharp turn for the typically moderate Biden, who during the primary debates scoffed at the impracticality of many of the policy positions he's now adopting. But a pandemic that has sickened or killed hundreds of thousands of Americans and put 40 million out of work has a way of changing one's views. So does the need to win over Sanders supporters.
Advocating for small adjustments won't cut it. "The vice president is asking, 'How do you use this kind of pause in the economy as an opportunity to transform it," says Democratic Representative Tim Ryan of Ohio, a failed 2020 presidential contender turned Biden surrogate.
Transformation is fast becoming a campaign byword and the notion that the financial fallout from the pandemic has revealed deep cracks in the system that must be fixed is a major campaign theme. As Biden said in his May address, "From this moment, from this crisis, we have an opportunity not just to rebuild the economy but to transform it, to make our economy more resilient no matter what comes along in the future."
Indeed, Biden has already made a series of significant leftward policy shifts since effectively sewing up the nomination in March. His original campaign pitch was to make community college free and provide some student debt refinancing. Now he's pushing free four-year public college tuition for families making less than $125,000, student loan cancellation for low- and middle-income borrowers who attended a public college or private historically black university and forgiveness of at least $10,000 in federal student loan debt for everyone. He now supports Massachusetts Senator Elizabeth Warren's call to repeal parts of the federal code that make it harder for people to get out of credit card debt when they file for bankruptcy, a major capitulation because Biden himself helped write that law in 2005.
Building on one of the signature programs created by the New Deal, Biden also has proposed a national "employment insurance" program in which the federal government would pay wages and health premiums for workers furloughed or whose hours are cut due to an emergency or crisis like COVID-19. Another addition to a Depression-era initiative: Biden's plan to enhance Social Security benefits (the system was created in 1935), along with his proposal to expand Medicare (a Great Society program enacted in 1965), to help protect older Americans.
These steps now sit alongside previously announced Biden plans that include doubling the federal minimum wage to $15 an hour; tripling federal support for schools in low-income neighborhoods; and making low-income housing assistance available to all who qualify.
"Whether you're talking to the chairman of the Fed, [or] economic experts almost across the board, conservative to liberal, there's an overwhelming consensus that it's critical to, as Nancy Pelosi calls it, go big," says former Senate Majority Leader Tom Daschle, a Biden campaign surrogate. "Joe is responding to that appropriately because this is probably one of the most complicated and challenging [periods] we've had in all of American history."
Yet Biden is in a tricky spot. The same COVID-19 crisis that appears to have unleashed his inner FDR makes it impossible to predict what will be needed next year. Will the economy bounce back sharply in the second half of the year as some suggest or will a second wave of infections extend the economic pain for months or years to come? Either way, many key decisions about the economy and government spending must be made now as the country attempts to reopen without a vaccine or effective treatments.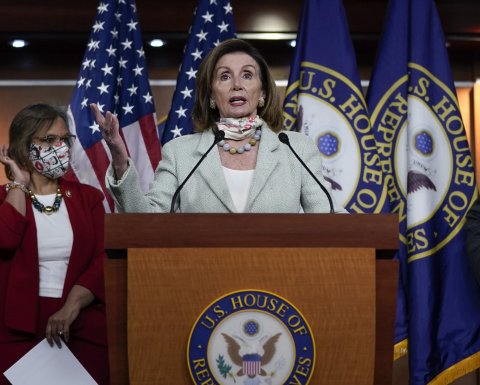 Biden speaks regularly to House Speaker Pelosi and supports many of the ideas in the House's stalled-in-the-Senate $3 trillion HEROES Act, such as $1 trillion in aid for states and local governments and $25 billion to bail out the U.S. Postal Service. But without an official role, and despite all the new policy proposals announced this spring, the presumptive Democratic nominee often appears to be hanging out on the sidelines.
Growing Appetite for Change
Biden has yet to convince voters that he is the better choice to fix the economy.
A Quinnipiac University survey of registered voters in late May found the Democrat statistically tied with Trump on whom respondents trust more to manage the economy. That's a stark contrast to Biden's 20-point lead when respondents were asked who they thought would do a better job of handling the coronavirus response.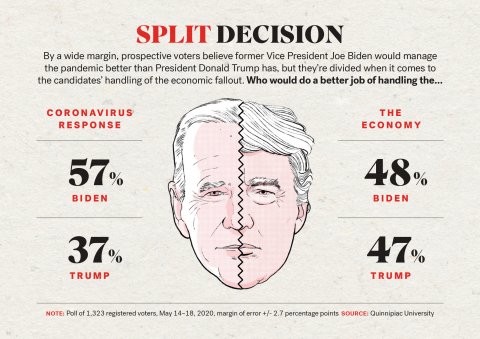 On the one hand, it was a surprisingly dismal showing for Trump given that economic stewardship is one of the few areas where he has enjoyed approval from a majority of voters throughout his tenure. On the other hand, it didn't bode well for the former vice president either that he didn't have a stronger showing amid soaring unemployment and with the economy at a near standstill, although he did gain four points from the previous month's survey. (Trump slipped just two points, well within the poll's margin of error.)
What also seems clear—and Biden supporters hope will ultimately weigh in their candidate's favor—is that the public, for now at least, seems receptive to dramatic New Deal-like ideas about what's needed to restore the country to economic health and open to Congress spending trillions of dollars to get the job done. "It's fair to say that virtually every American politician has now voted for additional funds to support the American economy, so we've shattered the notion that the federal budget deficit is some sort of obstacle to additional federal spending," says Duke University economist Sandy Darity, referring to the $3 trillion already spent by Congress in pandemic relief this spring.
Recent polls back up a striking receptivity to big economic thinking, and not only among Democrats. In late April, the left-leaning Groundwork Collective reported that 71 percent of respondents agreed with the statement that the federal government "should take major, sweeping action to address the economic impact of the pandemic," including 68 percent of independents and 63 percent of Republicans. And in late May, Navigator Research found that 67 percent of Americans supported Pelosi's $3 trillion HEROES Act, including 80 percent of independents and 56 percent of Fox News viewers.
Of course, there are the typical partisan interpretations. Bernstein, the Biden adviser, asserts Americans are re-evaluating Trump's economic leadership because the pandemic has shown that the previously booming economy "was clearly built on sand." The economist says Trump's controversial and odd remarks, such as his suggestion that household disinfectant might be used inside the body to cure COVID-19, don't sit well with the public in these times. "When the unemployment rate is 3.5 percent and the president tells you to drink bleach, you laugh it off," says Bernstein. "When it's 20 percent and he's tweeting awful medical advice, that gets in a lot more people's craws."
Some Republicans, though, cackle in delight over Biden's big-spending laundry list. "It plays well on the conservative side because this is going to make us more dependent on government," says Vance Ginn, chief economist at the conservative think tank Texas Public Policy Foundation and, until recently, Trump's associate director for economic policy of the Office of Management and Budget. "It is going to keep us from growing as fast as we could."
Yet such traditional conservative economic thinking may not be what Americans want to hear when there's so much financial hardship, says former Trump ally and White House spokesman Anthony Scaramucci, a lifelong Republican who owns the hedge fund Skybridge Capital. Scaramucci pointed to Federal Reserve Chairman Jerome Powell's comments in May that 40 percent of households earning less than $40,000 had lost jobs in the pandemic and Powell's recommendation that "additional fiscal support could be costly but worth it if it helps avoid long-term economic damage and leaves us with a stronger recovery."
Scaramucci is baffled by Trump supporters like Ginn who are singing from the fiscal responsibility hymnal right now—and believes that whoever wins in November will have to make dramatic moves to get the economy going again.
"At the end of the day, Jerome Powell, Donald Trump, Steve Mnuchin, the secretary of treasury designee for the Biden administration, Joe Biden, [the] vice president of [a] Biden administration—they are all going to run ridiculous levels of deficit spending similar to World War II," he says. "There is absolutely no alternative. Whoever wins the presidency, they're going to adapt the same policies. Just the fringes are going to change—more state support from Biden, potentially more infrastructure from Biden, a possible tax increase after the midterm elections from Biden. No tax increases from Trump, run the deficit to the moon. The government is going to pay people for a while. They're going to have to helicopter the money in order to prevent riots."
Winning Over Progressives
To come out on top in November, though, Biden still must persuade the wing of the party he vanquished with naysaying during the primaries that he's a convert to the virtues of government expansion and spending. "There's a need and desire [for Biden] to get even bolder," says Faiz Shakir, Sanders' 2020 campaign manager and now a member of the former vice president's health care policy task force. "You've heard him say the words of FDR to suggest he'd like to be a very progressive president. That's great to hear. Obviously details will help fill that in and build credibility for him."
Biden's reputation as a centrist was built over his 36 years in the Senate (1973–2009), where, according to the website FiveThirtyEight, he cast votes that were more liberal than at least 44 percent of his Democratic colleagues but less liberal than at least 43 percent of them. So it makes sense that there are questions about such a seemingly profound transformation in less than three months. Will he really be the type of president to advocate for bold, unprecedented initiatives, as Roosevelt did in creating safety-net programs like Social Security and unemployment insurance from scratch? Or is he more likely to tinker with existing programs, as he's currently suggesting with Social Security and unemployment?
Also giving progressives pause: Biden has long been known as a fiscally responsible Senate dealmaker skilled at finding common ground with Republicans. That reputation can be traced all the way back to his 1987 announcement to launch his first presidential campaign when he railed against deficits and debt. The 1988 election, the then-44-year-old Delaware senator told that crowd at the Wilmington train station from which he commuted to Washington via Amtrak, was a choice between "the easy path in which we consolidate our current comforts in a quick and false prosperity by consuming our children's future and another more difficult task that builds a more genuine prosperity for ourselves while guaranteeing our children their birthright."
If the candidate says he's open to costly ideas he didn't embrace before, says Shakir, he deserves the chance to prove it: "Because of the manner in which Joe Biden won this nomination—he didn't win it on the backs of a robust policy platform—he's got a lot of room to run in terms of fleshing out the ideas that contrast him with Trump and the idea upon which he would govern. Hopefully, that space there allows us to suggest things that he might entertain and adopt into his campaign. Can you excite me about an agenda or can you offer a vision?"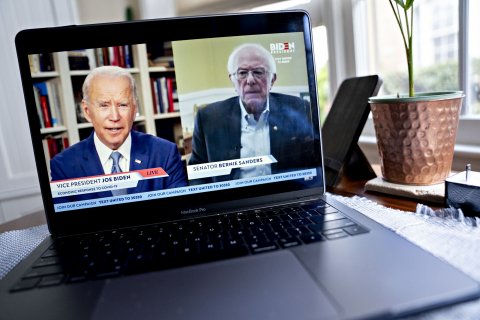 Darity, the Duke economist, is skeptical. FDR proposed a slew of government work programs, restored faith in banking by federally insuring deposits and, of course, created Social Security. So far, Biden's pitches are "somewhat tepid" and amount to some increased spending and heightened enforcement of labor and banking regulations, but nothing as groundbreaking as, say, Medicare For All or a federal jobs guarantee, Darity notes.
Darity is a leading proponent of the federal jobs guarantee, which would have the government promise to find work for anyone who can't find a private-sector job. "That is one of the policies that people view as radical that has a significant amount of support across the American public," he says, pointing to a Civis Analytics poll earlier this year showing 52 percent backing for the concept.
Darity is also looking for details on the initiatives Biden has already gotten behind, like an income support program. Asks Darity: "How much is it going to be per month? Is it going to be sufficient to offset the lost income that many, many people are experiencing? If it's something that we continue to keep in place beyond the [current] situation, would it actually have the effect of allowing employers to reduce wages because the private sector would know that everybody's getting a certain amount from the government?"
Many progressives believe Biden could prove his big-think bona fides by capitulating on Medicare For All. But he's continued to express his opposition to it, preferring to add a public option to buy health insurance via the Affordable Care Act's exchanges. "To the extent that there was one policy position that came to define him during the primaries, it was his opposition to Medicare For All," Shakir says. "But it cannot be the case that simply because he doesn't support Medicare For All, we just throw up our hands and walk away. If that were the case, we would just never be making progress in this country for millions of people who need it."
Biden supporters say there are other ideas that will show the candidate is serious about far-reaching, fundamental change. Ryan says he's expecting "an ambitious agenda item" involving ways to train millions of out-of-work or under-employed Americans for a rapidly automating economy where many jobs lost in the pandemic crash may never return. Such efforts would play particularly well in swing states with high unemployment rates like Michigan (22.7 percent), Pennsylvania (15.1 percent), Wisconsin (14.1 percent) and North Carolina (12.2 percent), Ryan says.
What It Means to Be FDR Today
Perhaps even more than any specific programs Biden might embrace, living up to the legacy of FDR in the current environment, observers say, means becoming the kind of inspirational leader in an extreme crisis that Roosevelt was.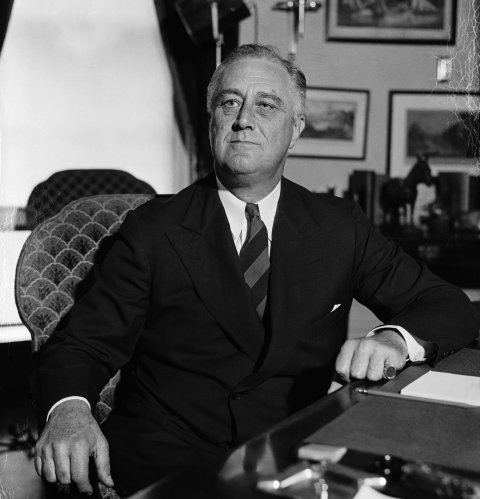 Bernstein, for one, believes that Biden has had the potential inside him all along. The Roosevelt analogy is meant as a template, a signal of how broad and grave the circumstances are, Bernstein says. Biden's embrace of initiatives far left of his usual centrist stance, proposals that adopt key tenets of the New Deal—what historians refer to as the three R's: relief, recovery, reform—shows that he recognizes the moment and is rising to the occasion.
"He's looking over his shoulder at FDR coming out of a similar economic cataclysm and thinking about lessons about transforming an economy to be more resilient," Bernstein says."
Progressive activist Heather McGhee, who originally backed Elizabeth Warren, is also looking for Biden to help Americans deal with the emotional toll of the pandemic and the physical and financial hardship that's resulted. Roosevelt, she points out, revolutionized a president's ability to communicate directly to the public in his 1930s radio addresses, comforting the nation with his fireside chats. Biden, McGhee says, should be offering daily commentaries online.
Lately, the candidate has been more prone to verbal gaffes than inspirational messages. But once upon a time, he won praise for his eloquent oratory (see sidebar on page 00) and McGhee is looking for that guy to make a reappearance.
"It is extremely important that Joe Biden offer the vision of a president-in-waiting who is present and is telling the stories that Trump refuses to tell, is helping us mourn in a way that Donald Trump is refusing to do and that is explaining exactly what he would do differently at every point," she says. "To date, Joe Biden has not yet become the reassuring daily presence that will help ensure that as Americans turn away from Trump, they turn toward him."
Like many hopeful progressives, though, McGhee seems willing to believe something fundamental has shifted in Biden and that he will rise to the occasion as a leader. After all, she points out, "FDR didn't talk like FDR until the moment made him."
Steve Friess is a Newsweek contributor based in Ann Arbor, Michigan. Follow him on Twitter at @SteveFriess.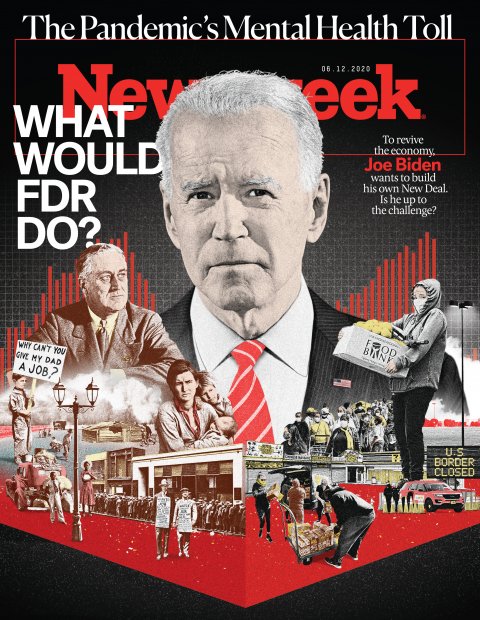 Correction, 6/8, 10:40 a.m.: The graphic has been updated to reflect that President Donald Trump's approval rating on his handling of the economy is 47 percent, not 77 percent, as a previous version of the image showed.