In early February, just one day after the House banished Georgia Representative Marjorie Taylor Greene from congressional committees for incendiary behavior and two days after GOP lawmakers decided by secret ballot to allow Wyoming Representative Liz Cheney to retain her leadership position despite her vote to impeach Donald Trump, a third drama involving Republican women was unfolding in upstate New York. In a case over disputed ballots in the state's 22nd congressional district, a judge ruled in favor of Republican Claudia Tenney, handing her victory over Democrat Anthony Brandisi by a mere 109 votes—thereby settling the last undecided race of the 2020 election. That decision makes Tenney the 38th Republican woman to serve in Congress this year, smashing the previous record of 30 set in 2006 and more than doubling the number of female GOP representatives in 2018.
The rise of Republican women has been the one bright spot in the 2020 election for an otherwise battered GOP, which lost not just the presidency but also effective control of the Senate with the surprising win of two Democratic first-timers in Georgia's runoff races in January. But anyone expecting these female lawmakers to act as a tempering force within the party—Republican women as a group historically have been more moderate than their male counterparts and more open to negotiating with colleagues across the aisle—is likely in for a big surprise. This class of GOP congresswomen looks to be the most conservative in history, with a larger-than-usual number whose views are sharply to the right and who are apparently in no mood for bipartisanship.
"This cycle, we've elected some Republican women who are quite strident in their positions—more strident than we've ever seen before," says former New Jersey Governor Christine Todd Whitman, a Republican and former Cabinet official in the George W. Bush administration. "They didn't come to Washington to compromise."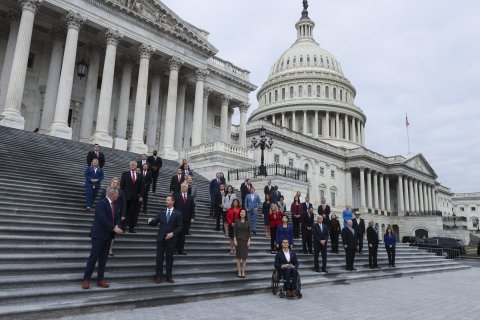 To be sure, not every newly-elected Republican woman is a violence-espousing conspiracy theorist like Greene, whose actions have included heckling a Parkland school shooting survivor and seeming to endorse the execution of House Speaker Nancy Pelosi. Nor are they all pistol-toting gun-rights activists like Colorado Representative Lauren Boebert, recently granted a conceal carry permit to make good on her Twitter vow to bring her Glock to work, or an outspoken firebrand like Illinois Representative Mary Miller, who took flack for saying at the pro-Trump rally before the Capitol riot, "Hitler was right about one thing." A few of the new GOP congresswomen have even expressed willingness to work with Democrats, especially representatives like Tenney who narrowly flipped seats from blue to red. For them, seeking common ground is political common sense.
Most of the record 19 first-term GOP women in the House won big, though, often by selling themselves as unbending, Trump-style conservatives heading to Washington to mix it up. And early signs suggest it's not just the hard-liners among them who will toe the party line. Only one of the 19 newbies, Representative Young Kim of California, has joined the Problem Solvers Caucus, a group of 54 Republicans and Democrats focused on writing and supporting bipartisan legislation. (Three first-term Republican men are members.) By contrast, 11 voted against certifying President Joe Biden's Electoral College victory, all of them voted against a second impeachment of former President Donald Trump and just three voted to strip Greene of her committee assignments.
What's more, only seven of the new women signed on to an Inauguration Day letter from 17 freshmen Republicans to Biden calling for a fresh start. All seven signatories won their elections by fewer than five percentage points; Representative Mariannette Miller-Meeks of Iowa won by a scant six votes. "After two impeachments, lengthy inter-branch investigations, and, most recently, the horrific attack on our nation's capital, it is clear that the partisan divide between Democrats and Republicans does not serve a single American," the letter said. "We firmly believe that what unites us as Americans is far greater than anything that may ever divide us."
It's too soon to draw conclusions, particularly given what a tumultuous first month the congressional newcomers have faced, says former Ambassador to Austria Swanee Hunt, founder of the Women and Public Policy Program at Harvard's Kennedy School of Government. "There could hardly be a worse time to forge cohesion, but the new women in Congress are talking among themselves, and that's where it all starts," says Hunt. "There will be dramatic twists and bumps in the road. But as bad as this moment is, with more GOP women in Congress I do think we'll see more women bonding across the aisle."
An early test of the potential for compromise is coming soon as Biden's $1.9 trillion COVID relief package begins to wend its way through Congress. Initial signs are that the GOP women won't break the party mold: As of mid-February, no Republican woman in Congress had indicated support. Given that everyone seems to agree, at least in theory, that more needs to be done to stabilize the pandemic-battered economy, this does not bode well for other areas of policy and hopes of a new bipartisanship.
From the Ashes of Defeat
The seeds of the 2020 surge in GOP women in Congress were planted in the weeks after the 2018 mid-term election, which saw Democratic women balloon their numbers in the House from 62 to a record 89. At the same time, the ranks of Republican women shriveled from 23 to 13.
Democrats took back control of the House on the strength of an especially motivated crop of female candidates offended by the first two years of the Trump White House and shocked that Hillary Clinton had failed in 2016 to become the first woman elected president. Well-funded and well-organized Democratic women booted Republicans out of seats in such unlikely places as South Carolina and Oklahoma as well as in more conservative corners of California, New Mexico and New York.
The showing by GOP women was deeply disappointing, says Julie Conway, executive director of the Value in Electing Women Political Action Committee, or VIEW PAC, formed in 1997 to help elect Republican women to Congress. There was also a tinge of admiration for how outside Democratic groups had zeroed in on rising female politicians with prior office-holding experience and nurtured them with early money that helped establish them as contenders. VIEW PAC subsequently forked out $640,000 to female Republican candidates in 2020 and raised another $1.2 million for their campaigns.
Representative Elise Stefanik of New York, who in the 2018 cycle headed up candidate recruitment for the National Republican Congressional Committee, was particularly frustrated that just one of more than 100 female candidates she persuaded to run in 2018 won. Her solution—that NRCC needed to support more women in their primaries—was met with resistance from male Republican leaders who dismissed it as a form of "identity politics." After a public spat with then-NRCC Chair Tom Emmer, Stefanik vacated her NRCC post to relaunch her Elevate PAC with a narrowed focus of financially supporting and personally mentoring female candidates at the earliest stages of their races. E-PAC doled out $415,000 to 2020 Congressional campaigns, up from $118,000 in 2018.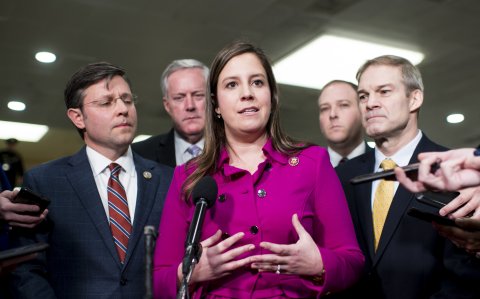 The parallel efforts by E-PAC and VIEW PAC bore impressive fruit last November. Eleven of the 14 Republicans who won back seats that had flipped to Democrats two years earlier were women, and a record seven women won GOP primaries in open seats in heavily Republican districts.
That "just never happens," Conway says, because usually there's a long line of male politicians who have impatiently waited for an incumbent to retire. Two of those winners, Representatives Diane Harshbarger of Tennessee and Lisa McClain of Michigan, each plunged more than $1 million of their own money into their campaigns in order to best a crowded field of men; Conway says candidates spending big out of their own pockets for House races was historically largely the province of men.
Conway worried during the campaign about some of the more extreme candidates; neither she nor Stefanik's PAC supported the QAnon-promoting Greene, who triumphed anyway as the lone woman in a crowded primary field to replace retiring Representative Tom Graves in a ruby-red northern Georgia district.
"We supported and worked with every single one of the Republican women who won with the exception of Marjorie Taylor Greene and Lauren Boebert," Conway says.
In the case of Greene, Conway adds, "not only did we not endorse her, I actively worked against her. It was the first time I'd worked against Republican women because I knew what's happening now was going to happen. The Democrats were going to make them our AOCs," referring to Alexandria Ocasio-Cortez, the outspoken New York progressive.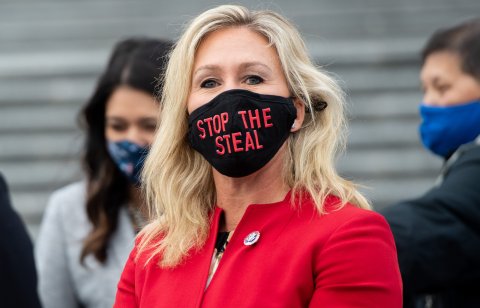 Driving in the Right Lane
Greene and Boebert are outliers in their stridency and tendency toward harsh rhetoric as well as in some of their more far-right views. But overall, the slate of new Republican women in the House is a mostly conservative bloc that appears, thus far, to be in near lockstep with male leaders who push adherence to the party line and, for that matter, with most of the GOP women already in Congress.
Only two Republican women in the House supported the second Trump impeachment: Wyoming's Liz Cheney, the No. 3-ranked Republican House leader and the highest-ranking GOP woman in Congress, who offered a withering condemnation of the ex-president's culpability in inciting the Capitol riot, and Representative Jaime Herrera Beutler of Washington. Among the first-timers, only Young Kim, and Representatives Maria Salazar of Florida and Nicole Malliotakis of New York voted to remove Greene from committees.
"This [behavior] should not be tolerated by either party," says Kim, explaining her vote. "Representative Greene's comments and actions, from spreading anti-Semitic conspiracy theories to questioning 9/11 and school shootings, are wrong in any context. I cannot in good conscience support this rhetoric."
Comparing the 30 GOP women now in the House to the 25 Republican women serving in the 109th Congress of 2005-07, the previous record, shows how much more conservative the group has become.
Most of the GOP female representatives of the 109th were, predictably, anti-abortion, opposed to LGBTQ rights and affirmative action and took little interest in protecting the environment. But about half of them received praise from the Federation for American Immigration Reform for votes opposing restrictions on immigration and most voted at least some of the time in ways that the National Association for the Advancement of Colored People approved of. Six of them supported some forms of abortion rights and gun control, for which they received grades lower than an "A" from the National Rifle Association. One, then-Representative Nancy Johnson of Connecticut, received a 100 percent rating from the pro-choice advocacy group NARAL, a 53 percent rating from the pro-LGBTQ Human Rights Campaign and a 70 percent rating from the League of Conservation Voters. (Johnson's fate was a harbinger of what moderate GOP women would face; she lost her seat to a Democrat in 2006.)
By contrast, not one of the Republican women currently serving in the House supports abortion rights and every one of them boasts an "A" rating from the NRA. On immigration, 25 of them supported the hard-line anti-immigration policies of the Trump administration, including reductions on asylum and the building of a border wall. (Three of the women from the 109th Congress are still in the House, and two of them—Marsha Blackburn of Tennessee and Shelley Moore Capito of West Virginia—are now senators.)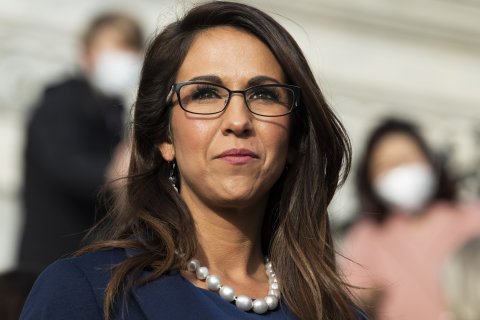 The more conservative bent of many of the Republican newcomers partly reflects Stefanik's political sensibilities, given her hands-on efforts in recruiting them. The New Yorker provided a template for gaining traction and attention.
Stefanik was elected in 2014 at 30 as the youngest-ever Republican woman; she had a moderate reputation, espousing a desire to work in a bipartisan fashion and opposing Trump on his coziness with Russia, his border wall efforts and the ban on travel from several Muslim-majority nations. Then, in 2019, her national profile soared as one of the most vocal defenders of Trump as the House moved to impeach him for his efforts to strong arm Ukraine's president into digging up dirt on the family of Joe Biden, his likely opponent in the 2020 election. The president rewarded Stefanik for her advocacy by hopping on Fox News to lavish praise: "This young woman from upstate New York, she has become a star."
All of this was instructive to ambitious 2020 candidates, says Liz Mair, a longtime Republican strategist who worked with Stefanik on Minnesota Governor Tim Pawlenty's short-lived bid for the 2012 GOP presidential nomination.
"She really, really, really, really wants to be Speaker, and the reality of the Republican Party now is you've got her and Liz Cheney playing two very different hands," says Mair. Cheney clearly takes a view that you don't get to be speaker unless you do a good job and stick to your principles and don't waver and are consistent and tough. Stefanik has decided she can't be speaker without being super Trumpy so she's just going to be super Trumpy."
Yet Cheney too, despite her impeachment vote, is more typically a rock-ribbed, lock-step conservative. She has voted with House Minority Leader Kevin McCarthy 92 percent of the time—and, in fact, in agreement with Trump's positions about 93 percent of the time, according to a FiveThirtyEight tracker. (Stefanik, according to this measure, voted in accordance with Trump's position about 78 percent of the time. Yet she has the ex-president's favor for her willingness to support his baseless election fraud claims and champion him personally.)
Cheney, daughter of former Vice President Dick Cheney, is so conservative that she continues to oppose legalized same-sex marriage a good six years after the U.S. Supreme Court settled the matter and nearly a decade after her own sister married her wife. It is solely that she accepted the presidential election results and blamed Trump for inciting the January 6 riots that turned her, temporarily, into the conservative respected by Democrats.
"I think it's notable that someone like Liz Cheney is becoming the voice of reason," says political scientist Melissa Deckman, an expert in gender and politics and author of Tea Party Women: Mamma Grizzlies, Grassroots Leaders and the Changing Face of the American Right. "That doesn't bode well for compromise on policy."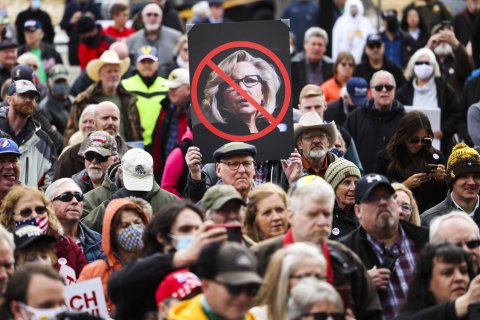 Also discouraging for potential cross-aisle bipartisanship: In recent weeks, the state GOPs in Arizona, Wyoming, Nebraska and Illinois have censured prominent Republicans, male and female alike, who voted for the second impeachment or publicly refuted Trump's election-fraud claims. That telegraphs a clear message to the new GOP women in Congress that it behooves them not to cross party lines—or Trump, even out of office. Says Deckman, "All of these women, regardless of their personal views, recognize how much hold Trump still has on the party."
Whitman, who voted for Democrats over Trump in both 2016 and 2020, but remains a registered Republican "for now," agrees: "There's no longer a cohesive Republican Party. To say 'Republican,' you're talking about Trump. It's my way or the highway. That's the message that's been given to so many."
Conway, the VIEW PAC executive director, dismisses such claims, insisting several of the newly elected women—she pointed to Kim, Malliotakis, Salazar, Tenney and Representative Ashley Hinson of Iowa, among others—promised on the campaign trail they'd be bipartisan and independent. The vote to retain Cheney in a House leadership post was 145-61, an overwhelming statement in support of a woman who had gone head-to-head with Trump, she notes.
"Had she lost, I probably would've packed it in because that would mean that there are more lunatic congressmen than not and to stand up for what you believe in will you get punished," Conway says. "That's not what happened, though."
Yet that vote did have one important distinction: It was taken by secret ballot. It's unclear how the new members voted—or if that vote might have been different in a public tally. But none disagreed when, the day after she lost her committee assignments, Greene declared defiantly about Trump: "The party is his. It doesn't belong to anybody else."
How the Right Was Won
One reason Conway remains cautiously optimistic that the expanded ranks of Republican women in Congress will be a force for compromise and cross-party collaboration, even with their more conservative leanings, is because, until the past decade, that was generally true.
"When we were up to 25 Republican women in the House [in 2006], they met regularly with the Democratic women to see what they could work on together," Conway recalls. "Women work better with women."
A flood of studies back the notion that women lead more collaboratively and less confrontationally than men. Women in Congress sponsor and co-sponsor more bills than men, according to a study in the American Journal of Political Science. They also co-sponsor more bills with members of the opposite party as well as with members of their own gender, according to an analysis by Quorum.us, a public affairs analysis firm. They take more bipartisan fact-finding trips than men, attend hearings more frequently and, according to one 2011 analysis by researchers at Stanford and the University of Chicago, they bring an average of $49 million more back to their districts than men.
Yet past performance does not predict future results, and the 30 GOP women in the House bear little resemblance in ideology or public demeanor to the prior cohorts. Nor, for that matter, do most of the eight Republican women in the Senate (Maine's Susan Collins and Alaska's Lisa Murkowski are notable exceptions). Even Justice Amy Coney Barrett, now the sole female Supreme Court appointee by a GOP president, was selected, in part, for her unwavering arch-conservative take on Constitutional law—a far cry from the first woman appointed by a Republican president, Sandra Day O'Connor, who became the epitome of centrism in rulings regarding abortion, affirmative action and LGBTQ rights.
The shift, scholars say, is the logical result of an evolution in women's roles in the GOP that began with John McCain's surprise pick of then-Alaska Governor Sarah Palin as his vice presidential running mate in 2008.
"It's fair to say Palin disrupted expectations of what it meant to be a Republican woman running for office," says Kelly Dittmar, director of research at the Center for American Women and Politics at Rutgers University. "She was interestingly trying to balance her femininity and feminine expectations—'I'm a mother, I'm feminine in how I portray myself'—while, at the same time saying, 'I'm tough as nails, I'm a pit bull with lipstick, I'm a hockey mom. I'm strong, don't mess with me.'"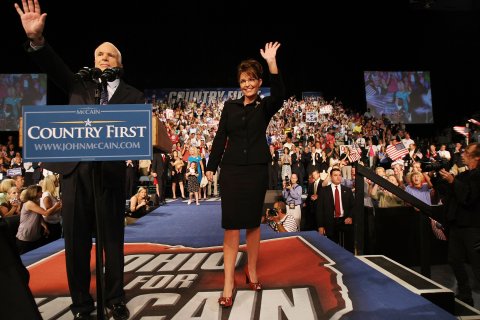 Palin gained additional fame and influence as the anti-Obama Tea Party movement took off in 2010, an intra-party insurgency that saw conservatives mount primary challenges against and otherwise impede advancement of GOP elected officials seen as too bipartisan. The result was that, in order to succeed in Republican politics, especially at the federal level, a candidate had to be an unwavering conservative with little tolerance for compromise. By 2018, with the ascension of Trump, a mass exodus of white college-educated women from the GOP further reduced the variety of opinion within the party.
Barbara Bollier, a lifelong Republican elected to the Kansas Legislature four times, switched parties in 2018 and ran unsuccessfully as the Democratic nominee for U.S. Senate in 2020. Part of a wave of GOP women leaders who switched sides in Kansas in recent years that also included the now-Democratic Governor Laura Kelly, Bollier says they saw the right-wing orthodoxy tighten its grip on the party and isolate women who didn't toe the anti-abortion line.
"The entire time I ran as a Republican, the Republican Party did not support me," she says. "My run for U.S. Senate as a Democrat was my first experience having a party stand behind me even though I had been a Republican my whole life. I thought it was best to try to change things from within, so I worked to do that and failed. At some point, you have to recognize when what you're doing isn't working."
Whitman agrees: "Why would you be a woman in the Republican Party if you were a moderate given the way we've been behaving as far as women's rights and the way we treat women and the way we support a president who's clearly a misogynist? We've been losing those centrist women because the party hasn't shown overall that it's very interested in them."
By 2020, then, the women who could be successful in GOP primaries, particularly in red districts, were likely to be conservative Trump acolytes, Deckman says. "The idea that electing more women means more compromise, more civility, more attempts to reach across the aisle is rooted in the 1990s," the political scientist says. "You had a lot more moderate Republican women reaching across the aisle, including a lot of women who were pro-choice. That clearly is not the case for Republican women now by and large in Congress."
Deckman adds, "Like everything else, Republican women who run for office, like Republican men, are more polarized. One impact of the Tea Party and then Trump has been to make the party more centered toward the right. You end up with more conservative women coming to Congress."
Or, as Susan Estrich, who in 1988 became the first woman to run a major-party presidential campaign for Democratic nominee Michael Dukakis, puts it: "You can't win a Republican primary if you are a moderate—except maybe in Massachusetts."
Glimmers of Hope
In early February, the dispute over Greene's committee assignments unleashed a marathon of recriminatory floor speeches complete with threats of future partisan retribution. By the time the House voted to strip Greene of her committee assignments on a near-party line vote, it was hard to imagine how a group of adults so bitterly angry with one another could ever find common ground.
Yet at the same time as that spectacle played out in their midst, Beutler, a Republican from rural southwestern Washington who was elected on the Tea Party wave in 2010, and Representative Pramila Jayapal, a Democrat from Seattle who co-chairs the Congressional Progressive Caucus, were texting each other. Both worried that the current system requiring sign-ups for COVID-19 vaccinations via the Internet was leaving out key groups: Beutler's older constituents and Jayapal's poor and racially diverse electorate. So they were teaming up—even as their parties were tearing each other apart—to get a telephone hotline set up in their state.
"One of the things women bring here to Congress is that we are problem solvers," Beutler says. "It's, 'let's figure out how to make things work.' I don't know if it comes from being a mom and you just gotta get it done regardless of how you feel or that you wish circumstances were different."
It's examples like that that encourage Kim, the first-termer from California who joined the Problem Solvers Caucus and voted against Greene. Despite their challenging first month of the 117th Congress, she says, the new members have nonetheless tried to connect.
"It's a very close, tight-knit freshman class," Kim says. "We regularly talk to each other, have our own conversations in our own private chat rooms—individually or as a group. We make an effort to get to know one another. And I personally try to reach across the aisle and get to know my Democratic colleagues too. It's very important to me because I came here to get things done in a bipartisan way."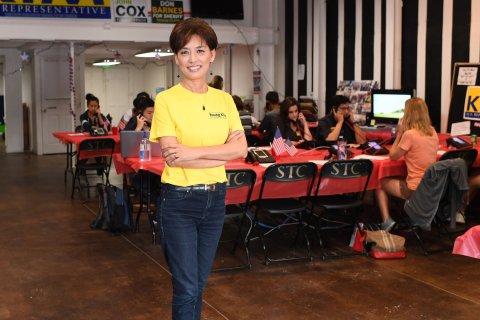 Kim says she's working with fellow California Representative Katie Porter, a Democrat, on a bill to provide money for mental health services for youth impacted by the COVID-19 lockdowns and has had good introductory conversations with Virginia Representative Abigail Spanberger, also a Democrat, about working together on the Foreign Affairs Committee.
Yet Kim may be an exception owing to the fact that she won her seat over incumbent Representative Gil Cisneros by about 4,100 votes in one of the year's closest House races. And Conway admits that for many of the new House members, compromising with Democrats may carry risks for 2022.
"The No. 1 target for the Democrats are going to be our 11 Republican women who just flipped seats because the best time to get that seat back is the first time they're running for re-election," Conway says. "All of these women are conservative, but they're not as conservative as some people who are going to be running against them in primaries. When a right-winger runs against one of these women and they get a lot of Trump money behind them, not only do they beat the woman, they lose the seat."
What's more, for every Young Kim wanting to keep her head down and get to know her cross-aisle colleagues, there's a representative like Republican Nancy Mace of South Carolina realizing the power of confrontation.
Mace ignited a feud with Ocasio-Cortez when she accused AOC of embellishing the danger she faced during the Capitol riot for political gain. Mace discussed the incident several times on Fox News and sent out fund-raising emails to capitalize on the drama. Ocasio-Cortez replied that such an effort shows Mace "is cut from the same Trump cloth of dishonesty and opportunism. Sad to see a colleague intentionally hurt other women and survivors to make a buck." Uncowed, Mace mocked the Democrat on Fox News the next day, saying that she'd been "living rent-free I guess in her Twitter account all weekend."
Such moments bode poorly for collaboration, but they don't necessarily reflect what's going on behind the scenes, says Patricia Russo, executive director of The Campaign School at Yale University, a non-partisan training program for female candidates. Folks like Mace "are being very forthright in their opinions and they're getting covered disproportionately to many other women who are quietly doing their work and are effective in a different way. It's the personalities of these women."
Deckman also doubts that an era of comity is in the offing: "I'm not expecting this big influx of GOP women in Congress to really change much. If anything, members of the minority party often feel they have to stick together to have any leverage, so there's even less incentive especially on the House side for people to want to work together."
Still, Beutler believes that as the drama of the riots and impeachment give way to a more normal legislative year, opportunities abound for the new women to find common ground. She views herself as a template—ProPublica shows she voted with Democratic Speaker Nancy Pelosi a surprising 46 percent of the time during the last Congress and still won re-election by a landslide—and points to topics like COVID-19 relief, sexual assault in the military and parental leave as areas ripe for compromise.
"One thing I like about working with some of these women is that in general, they don't lead with their egos," she says. "They're workhorses. When you're well-prepared and you're not shooting from the hip and you tend to have a bit more of a circumspect approach, I love that."
Dittmar agrees that it's too soon to know whether the uptick of GOP women will alter the tempo and temperature of the House. It depends, she says, on "whether some of the women who were elected in swing districts try to appeal to the ideological center or will they feel like doubling down on the base because they're electorally at risk if they don't. If so, you're going to see less willingness to work across party lines. We don't have the answer to that yet."
Steve Friess is a Newsweek contributor based in Ann Arbor, Michigan. Follow him on Twitter @SteveFriess.