I want us to have a hard conversation—about race, about injustice and about the possibility that America could seize the unprecedented moment we are in right now, the aftermath of prosecutors and a jury finally holding a violent police officer accountable for killing an unarmed Black man, to finally address the systemic problems that brought us to this point. But first I'd like to talk not about racism and murder, but about peanut butter. Yeah, peanut butter.
Imagine with me for a moment that the FDA has issued an emergency nationwide recall on peanut butter. All of it. Creamy and crunchy. The organic expensive stuff and the super processed store brands. Even products that have peanut butter in them, from Uncrustables to Captain Crunch, they've all gotta go. I don't know if other countries use peanut butter like we do, but in the United States it's everywhere—breakfast, lunch, snacks, desserts—you can't get away from it. About 94 percent of American homes have at least one jar of it in their cupboard and that doesn't even count the other myriad other products with peanut butter as an ingredient. It's ubiquitous. But in my dystopian America we've tragically learned that this treasured food staple is killing several people a day, day in and day out, including kids, all over the country.
Now picture the local and national news covering one family sadly going through their home and carefully identifying all of their tasty peanut butter treats and tossing them in the garbage. It was a painful process, but they got it done. And it was on film for the whole world to see. Except they accidentally forgot the box of peanut butter granola bars and one pint of ice cream that has a peanut butter swirl in it. Hopefully, they'll catch those things later, and toss them, but who knows?
Are you able to see this scenario with me? As a lifelong peanut butter aficionado, it's my worst nightmare, but believe it or not, it's about the best metaphor I can provide for where we are right now as a country when it comes to the intersection of civil rights, human rights, police brutality and mass incarceration. Convicting Minneapolis Police Officer Derek Chauvin for his central role in the murder of George Floyd was a good thing. Hell, even evangelical conservative Pat Robertson thought Chauvin should be "thrown under the jail." And in a few months, I suspect he'll likely receive the harshest sentence available.
But to me, as a social-justice activist who has been fighting for civil and human rights now for 25 years, I see the conviction of Chauvin, and the wall to wall coverage of the trial and verdict, as something akin to admitting that peanut butter is killing thousands of people, that the whole peanut butter industry is rotten and crooked and dangerous, and then thinking that one family throwing out some of their peanut butter products somehow scratches the surface of solving the real problem. It doesn't. It doesn't even fully solve it for that family.
The United States has a complex, systemic, nationwide crisis of police violence and mass incarceration. This nation arrests nearly 10 million people per year. On any given day nearly 2.5 million Americans are in jail and prison. That's not only the largest number for any country in the world, that's the largest number of people jailed for any single country in the history of the world. Nearly 5 million more people in this country are on probation or parole—also a world record.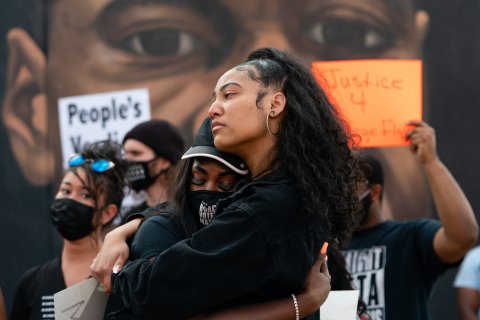 We live in the incarceration nation. Prisons cost this country a staggering $80 billion a year. Policing costs at least $115 billion more, but experts think that estimate is low. Last year, the NYPD alone spent over $10 billion. Billions more are spent covering the continuous costs of gross misconduct. It's simultaneously an addiction and an industry—and it's outrageous.
What we just achieved with the conviction of Derek Chauvin, in comparison to the size and depth and complexity of the problem we're up against, is absolutely better than nothing, but I need you to understand that it's closer to being nothing than it is to being the deep systemic change this nation needs right now. It's a major breakthrough for the family of George Floyd, and for all of us who fought for this accountability, to be sure. But whether or not the impact ripples out to the nation is yet to be seen.
This country has averaged about three people killed per day by police for years now. Sometimes the number climbs much higher, but it's rare for police in this country to go a single day without killing someone. Last year police in the entire United Kingdom killed five people in all of 2020. I took a quick look at the Killings by Police database for 2020, starting from December 31st and working my way backwards through the year to see if I could find any days where American police killed five people in a single day. It didn't take long to find one. On December 10, 2020, American police killed five people in five different states—one each in Delaware, Indiana, Texas, Virginia and West Virginia. I scrolled back a little bit more and they killed five more people in five different states again on December 4—Arizona, New York, Ohio, West Virginia again and Washington. And so it went.
Do you understand what I'm saying? Police in the U.S. kill more people in a day than police in most developed nations kill in a year. Police in some countries go an entire year without killing a single person.
Daily, people from all over the world write to ask me to try to explain to them how it is possible that so many men, women and children are killed by police here. They aren't rubbing it in or being facetious—they are stumped. They genuinely can't even imagine it. When people around the world saw what police actually did to George Floyd, as he told the officers holding him that he couldn't breathe 27 times, then died under the pressure and weight of the police, only for them to remain on top of him for four more minutes, it caused so much outrage and anger that protests broke out in more than 100 countries.
And last week, when an incredibly diverse jury of seven women and five men quickly convicted the disgraced Minneapolis Police Officer Derek Chauvin on all charges for his brutal murder of George Floyd, it was an undoubtedly important moment. It was a crossroads moment. Had the jury decided to go the other way, I truly believe our nation would have broken out in anger and a depth of despair not seen since the assassination of Dr. Martin Luther King in 1968, when riots broke out in over 100 American cities.
But in this case, the jury did their job. They didn't have even a single question for the judge. The prosecution, assembled not from the local prosecutors that all but refused to file charges, but put together by Minnesota Attorney General Keith Ellison, who was the first Muslim in Congress, and is now the first African American and Muslim Attorney General in the state, did their job. It was the single most masterful and meticulous prosecution of an American police officer in the history of this country. And as a singular moment, it's historic. It matters.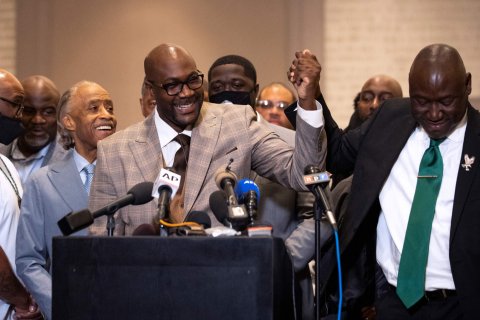 But let's back to the peanut butter.
The conviction of Derek Chauvin is something akin to the FDA calling for a nationwide recall of peanut butter and that one single family cleaning most, but not all, of the products containing peanut butter out of their house. That doesn't even solve the whole problem for that one family. It damn sure doesn't solve the peanut butter problem for their block or their neighborhood, or their city, or county, or state, or region. What happens for one isolated family does next to nothing for the nation.
Every officer involved in the murder of George Floyd hasn't even been tried and convicted yet. That accountability is still elusive for the family of George Floyd. And it's fully elusive for nearly 99 percent of families whose loved ones are killed by police. Police in the same county where George Floyd was murdered were just charged with shooting and killing a young Black father named Daunte Wright during the Derek Chauvin trial. And countless officers all over the state who've done tremendous harm have never been held accountable. That's still the norm right now.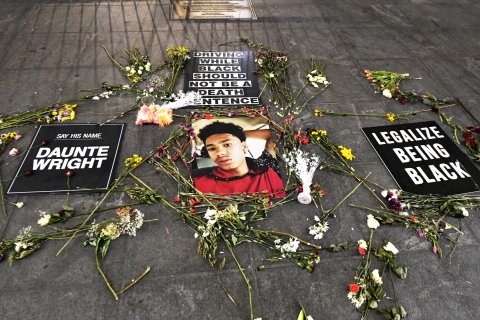 I know the family of George Floyd. I am close friends with all of the attorneys that represent them. It touched my heart, minutes after the verdict, to see President Joe Biden and Vice President Kamala Harris call them and congratulate them on the outcome of the trial. I am a harsh critic of Joe Biden's ugly history when it comes to criminal justice. I truly see him as the father of modern-day mass incarceration. His signature legislative achievement during the generations he spent in the Senate was what he used to proudly call the "Biden Crime Bill," which institutionalized, funded and grew mass incarceration at an explosive pace. That law, passed in 1994, caused more harm to Black communities than any single piece of legislation of the past 40 years.
But in the moments after Chauvin was convicted, President Biden called on what I think is his greatest superpower. Face to face with a person in pain, he is the most empathetic president in the modern history of this country. Having lost his wife and young daughter in a horrible car accident, and his son Beau to the tragic turn of brain cancer, he is as well-acquainted with loss as any elected official we know.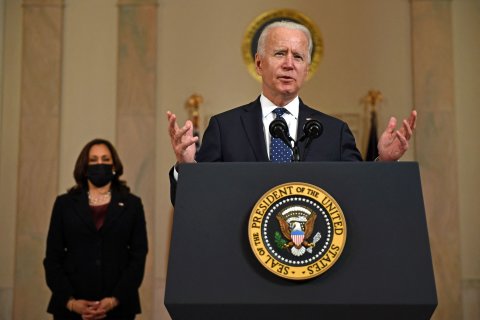 The persistent challenge for Biden is the same as the challenge for America: Can he take the sincere empathy and attention that he has shown the family of George Floyd, this one family that has suffered what thousands of families have suffered across the years, and point it toward the deep systemic problems of injustice, police brutality and mass incarceration that actually caused his murder? That's the big question.
When Joe Biden offered sweet words to Gigi, the young daughter of George Floyd, and said he wanted to fly her to the White House, I think it came from the best place in his heart. What I want to know is whether Joe Biden is willing to tilt the empathy he has for individuals harmed by police violence and mass incarceration toward the unjust systems that he actually imagined and constructed himself. In a weird way, I've always thought that Joe Biden, having crafted the blueprint for the most punitive and carceral federal legislation in modern American history, should be uniquely skilled and qualified to tear it back down. Because without addressing the deep systemic civil rights crisis facing this nation, and the bloody stream of victims it produces, his person-by-person friendliness rings somewhat hollow.
A Prescription for Progress
I've been descriptive of our problems, and the dilemma our nation finds itself in right now, but please allow me to be prescriptive, and even hopeful, for the remainder of our time together. Because I have good news: Joe Biden can make a whole lot of things better.
Biden doesn't even need Congress for so many important policies that he can advance. Congress can and should also seize this moment to address civil rights and human rights in a way not seen since the first years of Lyndon Johnson's presidency. Your governor, your attorney general, your state legislature, your local mayor, your district attorney, your local city council, and even your school board can all address the problems we're facing head on. If they say they can't, or don't have the power to do anything, they're lying. They all built these unjust systems together and it's going to take every person in power to dismantle them.
But the President of the United States has the chance to set the tone for the entire country moving forward on racial and criminal justice. He must. And if he doesn't, it will give so many other leaders across the country permission to shrink in this moment.
The author, social-justice activist, Shaun King, co-founder and executive director of the Grassroots Law Project.
Karen Ducey/Getty Images
I lead an organization called the Grassroots Law Project. Our staff of nearly 30 organizers, policy writers and civil rights attorneys has authored and passed legislation, helped elect dozens of change agents across the country and provided essential support to nearly 100 families impacted by racism, police violence and mass incarceration, including the families of Ahmaud Arbery, Breonna Taylor, and George Floyd. Nearly a year ago our staff began crafting the single most robust plan of action on these issues ever created for a presumptive presidential nominee. For months, we met with the Biden-Harris transition team to strategize about more than 60 policy positions on racial and criminal justice that we hoped they would adopt and make their own. Delays in filling key positions to lead the charge—just this past week, nearly 100 days into the administration, the Senate narrowly confirmed civil rights attorney Vanita Gupta as the No. 3 official in the Department of Justice; Kristen Clarke, slated to lead the Civil Rights Division of the DOJ, has yet to be confirmed—has no doubt stalled some of Biden's work on these issues. But he must press forward.
The Biden administration must immediately file federal charges against the worst officers in this country who've caused deep harm. Many of these cases, like those against the officers who killed Eric Garner and Tamir Rice, were opened during the Obama administration, which tragically allowed them to pass on to the Trump DOJ, which in turn tanked each and every one of them. Officials in the Obama DOJ told me personally that they believed with such confidence that Hillary Clinton would win in 2016 that they never imagined those cases being handed over to men like Trump's former Attorney Generals, Jeff Sessions and Bill Barr.
Neither here nor there now. Current Attorney General Merrick Garland must prosecute those old cases, and many more like them, including those of the officers who murdered Philando Castile, Breonna Taylor and more. These most grievous wounds must be addressed. The United States doesn't simply need more conversation on race and racism; we need justice, accountability, change and restoration.
The Biden administration must increase the DOJ's pattern and practice investigations into every form of police and prosecutor misconduct—that is, trying to establish if there is evidence of a pattern of discriminatory behavior vs. isolated incidents—and push for extremely robust consent decrees, which are binding agreements to change policies and outcomes on the local level. The DOJ just announced that such an investigation is now underway into the Minneapolis Police Department. I could name 100 more departments that need this same treatment immediately, including the Chicago Police Department, the NYPD, the LAPD, the Houston Police Department and many more.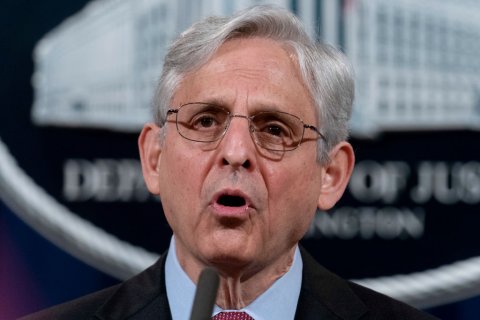 The Biden administration must widen these pattern and practice investigations and consent decrees beyond police departments to include the offices of local prosecutors. Every single person who has been wrongly charged and convicted in this nation was the victim of gross misconduct by prosecutor offices that are almost never held accountable in any meaningful way. That has to end immediately.
The Biden Administration must also seriously increase the funding and staffing of the DOJ Criminal Division's unit, which prosecutes police and prison guard misconduct and hate crimes. It is woefully underfunded and understaffed—and as a result it is often ineffective.
Within that unit, create a database of police misconduct that is publicly available and includes state reporting, much like police departments report data now to the FBI's Uniform Crime Report. This reporting must be mandatory and include every single form of police misconduct. Failure from police departments to fully participate should result in the revocation of any federal funding they receive.
Furthermore, the Biden administration must significantly expand DOJ investigations into law enforcement abuse inside immigration detention centers. It's been widely documented by journalists, but the administration doesn't appear to be taking it seriously.
When the time ran out on the Obama administration, they had over 10,000 applications for pardons and commutations that they never responded to. Again, I was told that they always assumed that the incoming Clinton administration would simply pick up where they left off. In the final days that the Obama DOJ had left, they rushed and powered through as many of those applications as they could, but left thousands of families heartbroken by lack of action. The Biden administration does not need to wait years to do this. The President has the power to commute and pardon individuals held in federal prison. The Biden administration should use that power to pardon those who do not pose a risk to the community, especially the elderly or those who were convicted under unjust laws.
To accomplish this, the Biden administration must start by expanding the office of pardons and commutations, and staff it with current and former public defenders. A primary reason this system failed in the waning weeks of the Obama administration was not just because it was understaffed and underfunded, but also because it didn't have the diversity of staff who truly knew their way around those cases and applications.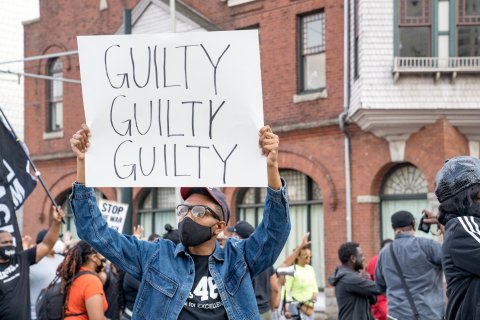 Additionally, Joe Biden must commute all existing death sentences to no more than life in prison. Failing to do so, again as they did in the Obama administration, simply meant that the people previous administrations chose not to execute were then brutally executed by the Trump administration. Biden has to commute their sentences or cases may again be punted to the next conservative president.
President Biden should also grant immediate pardons to all people in federal prison incarcerated on non-violent drug charges—many of them having already served decades of prison time for selling drugs that are functionally legal across the country. Again, many of them are incarcerated under laws that he wrote. Painful or poetic, he now has the power to undo this harm. Biden must also immediately release incarcerated people who are at particularly high risk for COVID-19 and can safely return to society.
Joe Biden has repeatedly said something that has stumped most of us fighting for justice and change. He keeps saying that police departments need more funding and support. They don't. They are the most heavily funded police in the world and the percentage of local budgets their funding takes up has ballooned to over 50 percent in some cities. I repeat: American police do not need more funding.
But Joe Biden could indeed smartly fund other pathways to public safety that a vast majority of Americans are calling for. Congress passes a budget, but the President presents it. The Biden-Harris administration should include several criminal justice priorities for public safety in their budget presentation. They should provide grants to local jurisdictions and states to invest in alternatives to policing including highly skilled, well-trained unarmed first responders for all mental health calls, substance use calls, homelessness calls and all other non-violent calls. The Biden administration should fund a complete overhaul of local 911 response centers so that they can properly route calls to more exact and skilled mental health and substance use teams. Right now, when any families call 911 for help, an armed and often angry police officer shows up.
The Biden administration could also fund treatment facilities for substance use and mental health crisis centers. They should provide grants to local jurisdictions and states to invest in alternatives to incarceration, including restorative justice, drug and mental health treatment, educational opportunities, job training programs and housing assistance.They should fully fund grants to local jurisdictions and states to invest in systems to track, and make public, all criminal justice data, including data on police contacts with citizens, police stops, arrests, convictions and sentencing. And lastly, they should fully fund the federal departments, staffs and programs that will be tasked throughout the government with conviction integrity review as well as police and prosecutor accountability.
All of this must be done without recklessly dumping more money into police departments.
Everything I've just described is within the presidential powers of Joe Biden to act on post haste. However, before Congress right now are two very important bills that will likely need to be merged in smart ways before they are passed—the George Floyd Justice in Policing Act, which aims to combat police misconduct, excessive force and racial bias in policing, and the BREATHE Act, which seeks to divert federal resources from jails and police and invest them instead in other methods of community safety. The George Floyd Act passed the House of Representatives along a near party line vote last month but has not advanced in the Senate; the BREATHE Act has not yet come up for a vote.
Joe Biden needs to make it clear to Congress that he wants this legislation passed in 2021. Now is the time. If he fails to pressure his allies on this now, the momentum to get such things done next year may be gone and he may not even have a congressional majority to work with in two years.
Lastly, nearly 150 different very credible reforms have already passed across the country on qualified immunity, the decriminalization and legalization of cannabis and other drugs, an overhaul of 911 systems to take a significant percentage of calls away from police, the expungement of criminal records impacted by the war on drugs and so much more. But ending qualified immunity, which protects police from lawsuits and more, has still not passed in 48 states. The possession of pretty much any drugs other than cannabis is still illegal in 49 states. And those are just two policies among hundreds that need to be addressed. This shows you the sheer scale of what's left to be done.
It can be done. All of it. Piece by piece. Policy by policy.
If it isn't? America will continue the vicious cycle that we're in right now—one where racial injustice and police violence repeatedly bring this country to its knees. I sense that a growing majority of Americans are exhausted with this predictable and traumatic cycle, but will we actually break it? We can. I see the path forward, but seeing it, and doing it, are two very different realities.