Guthrie, Oklahoma—Ronald Reagan and Jane Wyman have just entered Hollywood's Cocoanut Grove circa 1940. The director is shouting "action" and the extras at the famous nightclub begin to chat amongst themselves and sip their cocktails. Too tame, so the director shouts again. "Action!" Not good enough. "Action!" Each time the directive comes with more urgency, suggesting that the scene lacks the requisite enthusiasm.
No, this isn't a decades-old movie starring the famous actors, it is the set of the September 2020 shooting of a movie titled Reagan, and it stars Dennis Quaid as the title character and Mena Suvari as his first wife. Subbing for the Cocoanut Grove is a Masonic temple that sits on 10 acres in Guthrie, Oklahoma, a site that also doubles for the Oval Office and the Brandenburg Gate in Berlin where Reagan pleaded, "Mr. Gorbachev, tear down this wall!"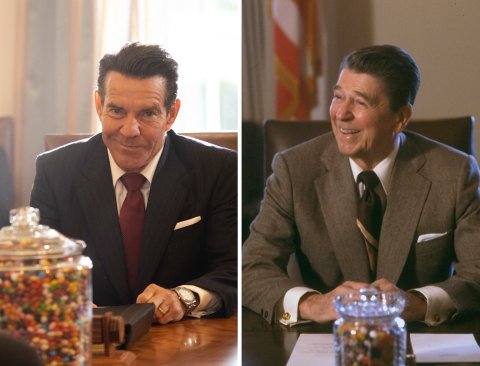 The movie is one of the signs of conservative resilience in notoriously liberal Hollywood: a biopic of a man whose loyalty to the Christian right and hard line against communism earned him a landslide reelection in 1984, winning 49 of 50 states. Reagan's campaign cry four years earlier might sound familiar even to those who weren't alive at the time: "Let's Make America Great Again." The script touches only briefly on perceived Reagan flaws such as his slowness in addressing the AIDS crisis, but the filmmakers say the work is no hagiography.
"The greatest challenge is not to be a super-fan," says producer Mark Joseph. "There's a lot of us who respect Reagan, but we had to get over that to tell his story. Nobody cares about Superman without Clark Kent." The $25 million film, which was made and financed independently, finished with principal photography on July 19. The filmmakers are aiming for a wide release in 2022.
A C-SPAN poll of presidential historians this year ranked Reagan 9th among all U.S. presidents, while in a 2018 Quinnipiac University poll, 28 percent of Americans surveyed rated Reagan the best president since World War II—putting him at the top of the list. Those folks are the low-hanging fruit, but filmmakers hope that even moviegoers antagonistic to the 40th president will put aside partisanship to check out the movie. "In our movie, Democrats aren't Reagan's enemies, the totalitarian Soviet Empire was," says Joseph. He cites a scene where Reagan prays with Tip O'Neill, the Democratic Speaker of the House at the time, as an example of the film's bipartisan spirit.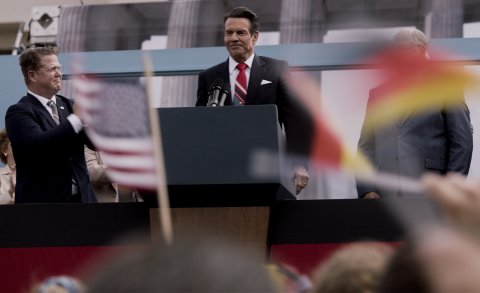 Quaid, a lifelong registered independent, doesn't hide his love for Reagan. "He was my favorite president," he says while holding his broken surgical mask onto his face on set in the midst of the coronavirus emergency. "One thing audiences may not remember is that Reagan started off as a Democrat, and he was against the Vietnam War," says Quaid. "They'll also find out he wasn't a rich man. His famous Reagan Ranch is smaller than my ranch in Montana."
Another of the film's stars, Jon Voight, is a self-described former leftist who draws plenty of media attention now that he has assumed the late Charlton Heston's role as the most outspoken conservative in Hollywood.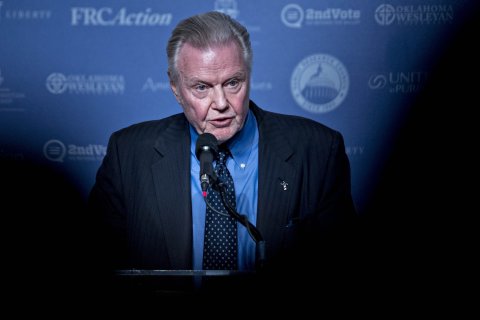 "The things Reagan faced have taken hold. He said we have to be vigilant or our great freedoms will be in danger," Voight told Newsweek. "The indoctrination of children and everything else perpetrated by the left, he understood that danger. We're fighting an important war against leftist forces and we must prevail. That's the story to me."
Penelope Ann Miller, who plays Nancy Reagan (and carried My Turn, the former first lady's autobiography in her handbag while on the set, calling it her Bible), has a different view. "I don't do politics," says Miller. "We're making a biopic, telling how Reagan went from football, to radio, to acting, to president of the Screen Actors Guild, to marrying Jane and then Nancy. We're not pushing an agenda."
When Miller first read the script, written by Howard Klausner and Jonas McCord, she felt it failed to show Nancy's impact on her husband. To strengthen the portrayal, she ad-libbed tidbits from My Turn here and there, for example when she says, "Let Ronnie be Ronnie," while he's being prepped for a debate.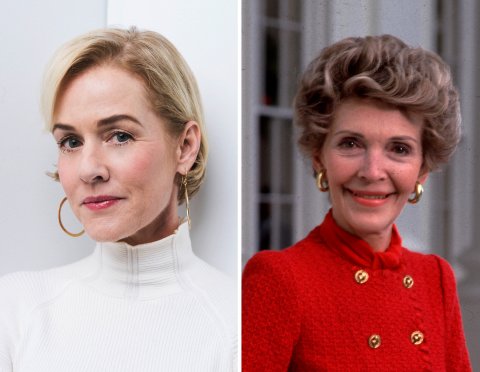 "People who see this movie will say, 'I didn't know his dad was an alcoholic; I didn't know he met Nancy like that.' There's a lot behind the scenes that people will be fascinated about," Miller says. "It's like Rocky: it's not about a fighter, it's a love story between him and Adrian. That's what we're capturing. Ronnie loved Nancy so much that it was difficult for them to be apart."
The comparison to Rocky is apt, given that its director, John Avildsen, had signed on to direct Reagan just prior to his death in 2017. The job fell to Sean McNamara, whose production credits include Soul Surfer and who directed several Christmas movies and lots of Disney Channel live-action shows. Not to mention that as a young man in 1981 he handled sound at Reagan's first inauguration.
Like Quaid, McNamara identifies as an independent. "I grew up in a time where political foes could fight like hell all day but have a beer in the evening," he tells Newsweek. "They started with a respect for one another. I go to the set every day, politically neutral."
While Quaid won't shy from a good political debate, he rarely uses his fame to amplify his views. "Who cares what an actor thinks?" he asks. "I'll leave politics to the people who have a month of cushion before things go wrong. I lead a privileged life, so I shouldn't be speaking for them. Actors think, 'Oh boy, I'm famous. People want to talk to me. I must know a lot of stuff.' So they get vocal. But they know so much that isn't true."
Nevertheless, Quaid found himself in a political controversy last September when published reports suggested he was part of a secret plan to help re-elect Trump, a rumor that generated a good amount of online hate. That incident reinforced Quaid's focus on the First Amendment—an issue on which, he says, his colleagues in the entertainment community are too often on the wrong side.
"There used to be free speech in this country, and Hollywood is helping to take that away," Quaid says. "What is Hollywood afraid of? It used to be rebellious. Now they're always toeing the line of political correctness."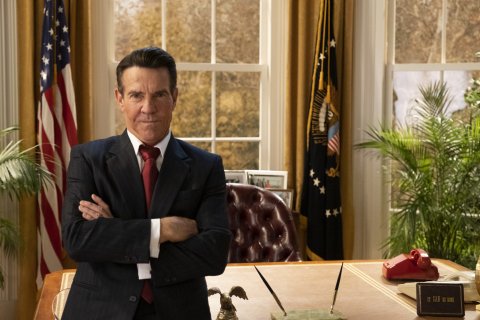 Joseph said he reached out to several actors to play Reagan—Christian Bale, Nicholas Cage, Kyle Chandler—but that Quaid was always his top choice because "he's all American." The producer credits fate for the idea of making a film that tells Reagan's life story beginning at the age of 11: on a road trip with his family, Joseph was ticketed for speeding and forced to spend the night near the former president's hometown of Dixon, Illinois.
"We had to appear in court the next day so my wife took video of me driving the speed limit, and the people passing me were flipping me off," Joseph recalls. "Then we figured we'd check out Reagan's home and other haunts, and I realized that America's greatness comes from small towns, and that no one has made a movie about Reagan growing up. The judge refused to watch my video and gave me a $500 fine, but I got a movie out of it."
Teenage Reagan is played by David Henrie, best known for his role as the older brother on the Nickelodeon show The Wizards of Waverly Place. Henrie's portrayal of Reagan includes some of his six years as a lifeguard at Dixon's Rock River, where he is credited with 77 rescues (the movie includes a rescue—along with another of a female swimmer faking distress to meet the handsome, young guard), which Voight views as important foreshadowing. "He sees this dangerous current in the river, and knew he had to protect people from it. It's a metaphor for how he tried to keep our country safe as president," says Voight.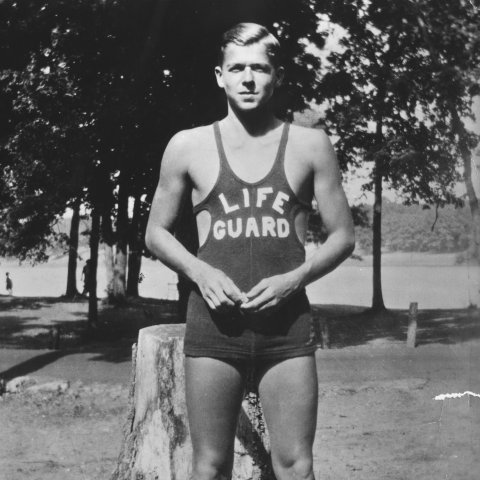 While the movie is based on actual events, it does introduce a couple of fictional characters that Joseph rather sheepishly acknowledges came to him in a dream: one is a curmudgeonly, retired KGB officer (played by Voight) who kept tabs on Reagan's anti-communist activities for three decades; the other is a young, rising Russian politician who asks the elderly ex-spy for the inside story on how the Soviet Union collapsed. After that, the movie is largely a flashback to Reagan's upbringing and rise to fame as an actor and to international power as president of the free world.
The young Russian is played by Alex Sparrow, a popular actor in that country before moving to the U.S. and landing a recurring role in Netflix's Space Force comedy. On the set in Oklahoma and accompanied by his dog, Mozart, Sparrow says it has been surreal to work with an Oscar winner—Voight earned Best Actor for "Coming Home" in 1979—on a high-profile movie with consequential political overtones, given the Russian collusion narrative around Trump.
"No one believed it in Russia, because everything bad there is always blamed on America and everything bad in America is always blamed on Russia," he quips, before Voight sings the praises of his young co-star. "You see his energy. I went to his apartment and there were musical instruments in every room. He plays them all. So I start reading a scene and he's on his electric piano, really rocking it, and I start dancing," recalls Voight.
"Can you imagine?" asks Sparrow. "One minute I'm a new actor from Russia trying to make it in Hollywood; the next minute Jon Voight is dancing in my living room!"
Joseph has been making "Reagan" for more than a decade. He stumbled into controversy early on, when he told this reporter in 2010 that he intended to hire a lead actor who actually respected Reagan, rather than someone like James Brolin, star of The Reagans, who "loathed" him. Brolin then scurried to correct the record, saying the 2003 TV movie he starred in was not a "hit job" on Reagan and announcing publicly he had even voted for him—once. "He represented America quite well," Brolin told this reporter. "There were some clandestine things going down, but for the most part I think he was a good president." Then Brolin made a prediction: Joseph's movie "will never get made."
He was almost right. Financing was a struggle, as is often the case with an independent film. "I was flown out to Nashville and paraded in front of a group at a $20 million mansion and they promised me $60 million, so we took ourselves off the market," recalls Joseph. "The money never came. Then I had a woman in Monaco who signed a contract but, again, the money never came." In the end, Joseph raised $25 million from a variety of largely non-partisan individual film investors he won't name, with the largest source chipping in $5 million.
Joseph also earned funding for the movie via product placement, which seems fitting: Reagan himself was a pitchman for GE, a cigarette maker and other brands. The most significant of these deals for the movie came from the Jelly Belly Candy Company, maker of the snacks that Reagan kept in a jar on his desk in the Oval Office.
The production saved money by shooting in Oklahoma, where its Film Rebate Program kicks back up to 37 percent of qualified expenditures. In the middle of a pandemic and lockdowns in some states, Governor Kevin Stitt declared the motion picture industry an essential business in order "to message certainty to the production companies," he told Newsweek. Stitt said Reagan spent 24 days filming in his state plus three months of pre- and post-production work, employing 155 locals, not counting a few hundred extras in scenes such as a union strike in the 1940s and the night Reagan won the California governorship in 1966.
Joseph, who helped market a variety of films including Mel Gibson's "The Passion of the Christ," also arranged for Quaid to guest star in an episode of Pawn Stars, where he's seen purchasing some authentic Reagan memorabilia for several thousands of dollars.
One hiccup occurred when Dawn Ferry, the film's supervising art director, reached out to the New York Historical Society, hoping for the name of an artist she presumed recreated six paintings that hung in Reagan's Oval Office, since the Society had recreated an Oval office evoking the decor of Reagan's second term. Ferry was told the Society deemed three of Reagan's actual Oval Office paintings insufficiently "universal" or "appropriate" so it had substituted others. Ferry scrambled to find vendors who could recreate the historically accurate six.
It's worth noting that one of the works that the Society declined to include is a portrait of President Andrew Jackson by Thomas Sully; another is called "Preaching to the Troops," by Sanford Gifford; and the third is "Passing the Outpost" by A. Wordsworth Thompson.
"I just thought it odd that they'd deem something important enough to replicate, but then they didn't actually replicate it," Ferry tells Newsweek.
"I know people like to change history, but I thought certain bastions—like something called a 'historical society'—would be above that." (The Society says it was a simple matter of wanting to use original paintings it already had and that its Oval Office was "inspired" by Reagan but not meant as a "replica." Still, the incident might symbolize how polarizing Reagan has become over the years.)
Funding mishaps, the death of a director and alleged political correctness weren't the only difficulties: next came COVID-19. Shooting had to be suspended for several weeks last fall while 30 cast and crew members recovered from the virus, which they'd contracted despite adhering to masks and social-distancing protocols. "They quarantined and followed our health guidelines," Stitt says.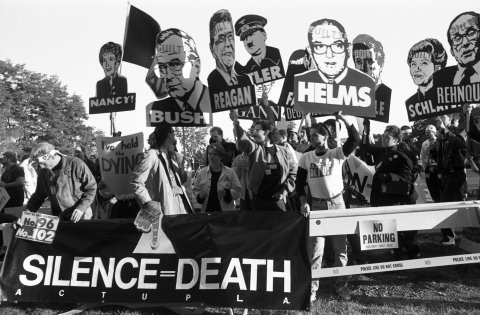 In Reagan's day, it was the spread of a different, deadly ailment that was grabbing headlines: AIDS. It's addressed briefly in the film in the form of protests demanding government help, and Quaid acknowledges it's an area where his favorite president stum- bled. "It was one of his failures, and it hurt a lot of my gay friends. It made them feel like outsiders," says Quaid. "Reagan came from an era where you hid that you were gay; I'm sure he would have evolved by now."
As for Voight, his goal with the film is to explain Reagan's popularity and why his message of American exceptionalism ought to still resonate today—even among L.A. liberals. "Hollywood and the Democratic party has been taken over by the left. There's no room for other interpretations, so a person like me is looked at as being out of line," says Voight. "I was on the left; I know the shallowness of that attitude. People on the left have to avoid the truth to sustain themselves. They only know caricatures of conservatives. We've been moving left since the 1960s, and our only break was with Reagan."
"The adventure of making this movie has made everyone who worked on it try to think out of the box," says McNamara, "and to find the core attributes that made Reagan such an interesting historical figure."
It's a theory that filmmakers hope Democrats and Republicans alike will embrace on the big screen. "We can still yell at each other, but we should work together," says Quaid. "Reagan was a B-movie actor. When he got into politics, no one played the role better."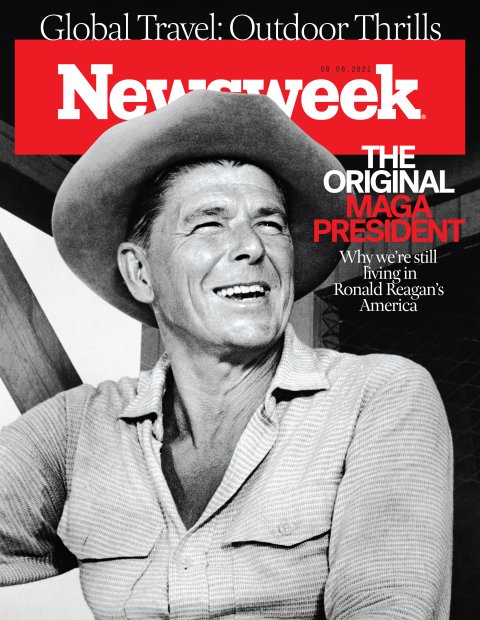 Update 7/28; 10:30 a.m.: The headline on this story has been changed to better reflect the story. Additional commentary from the New-York Historical Society has been added.