2022 Hyundai Ioniq 5 Review: It's Expensive and Has Major Tech Challenges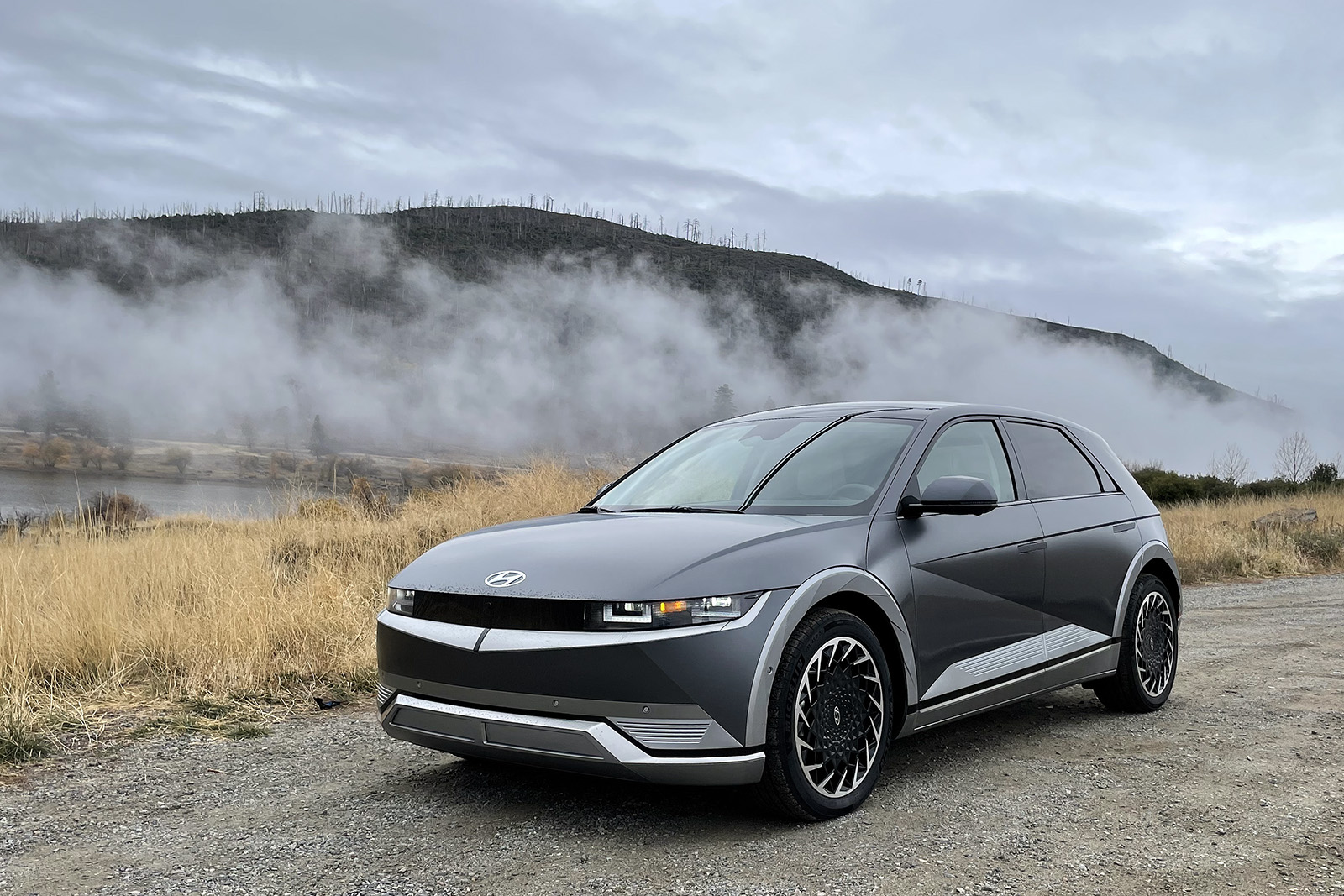 Hyundai's new all-electric vehicle, the 2022 Hyundai Ioniq 5, has arrived. The first model from the Ioniq sub-brand is the beginning of a multi-year, multi-vehicle push forward in the world of new powertrains and fresh design for the Korean automaker.
Built on the same platform as the Kia EV6, the Ioniq 5 is a high-riding hatchback that could probably get away with being called a crossover in the same fashion the Ford Mustang Mach-E does, but that doesn't have any traditional SUV characteristics despite Hyundai's marketing team's best efforts.
Its exterior is fresh, with paint colors that appear to be inspired by Polestar's offerings, sharp body panel creases on the sides rather than the hood, flush door handles and futuristic pixel LED taillight design. The Ioniq 5 looks great from some angles and goofy from others, and is far better looking in some of its six exterior paint colors than others. There's no doubting that it's instantly recognizable.
At the moment, Hyundai offers the Ioniq 5 in SE, SEL and Limited trim levels. All come standard with rear-wheel drive (RWD) and are available with all-wheel drive (AWD). Nineteen-inch wheels are standard across the lineup and 20-inchers are an option.
Of the models coming to the U.S. upon launch, power is allocated depending on drivetrain. RWD models get 225 horsepower and 258 pound-feet of torque at the ready. Opting for AWD bumps that figure up to 320 horsepower and 446 pound-feet of torque.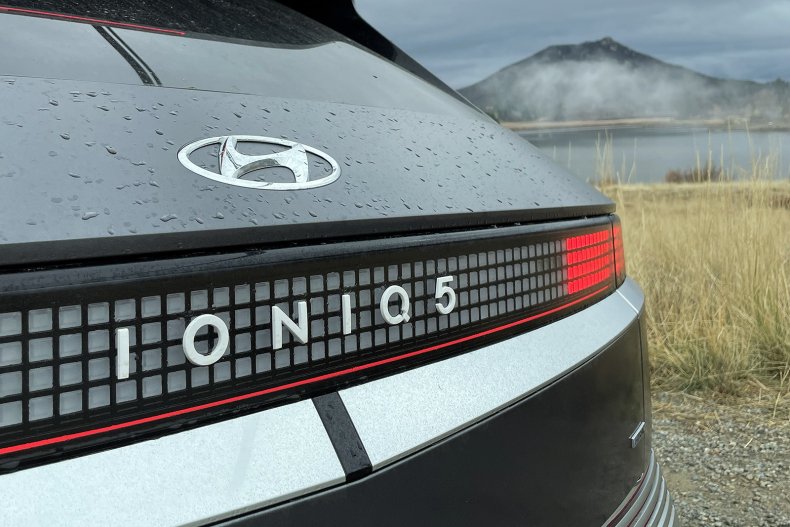 RWD models can go 303 miles on a single charge. Ioniq 5 AWD versions have a 256-mile range.
The outlier in this set is the Ioniq 5 SE Standard Range model. All others are considered Long Range variants. The RWD-only base variant will go just 220 miles on a single charge. It has late availability.
All versions of the Hyundai Ioniq 5 are battery electric vehicles (BEVs). They do not have an engine and require a change via an electrical outlet to provide power to the 77.4-kilowatt-hour battery. When the car is in motion, battery power flows to an electric motor that move the car's wheels. If the car has all-wheel drive, there are two motors instead of one.
The Ioniq 5 has one of the fastest charge times of electric vehicles (EVs) available in the U.S. On a 350-kilowatt charger, the model an obtain a charge from 10 to 80 percent full in just 18 minutes. Owners who plug in for five minutes (about the length of a traditional gas station fill up) can get 68 miles of all-electric range. That is, if drivers are able to find a charger with this capacity and flow that is operational in the area in which they travel.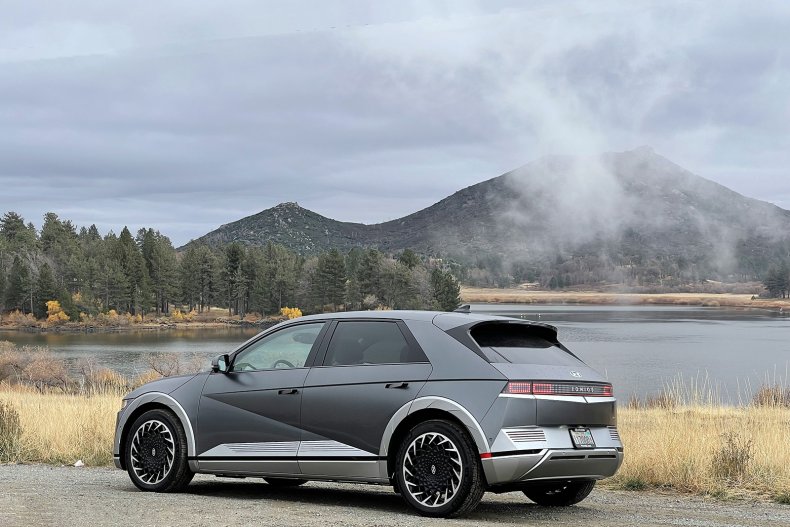 When plugged into a 240-volt outlet like the kind that a household appliance uses, otherwise known as a Level 2 outlet, the car can complete a full charge in 6 hours 43 minutes.
The powertrain in the Ioniq 5 Limited AWD as tested was perfectly suitable. It's not going to knock anyone's socks off like the Ford Mustang Mach-E GT Performance Edition, doesn't ride as smoothly, and is quicker to break loose in the corners when pushed. Acceleration is measured and strong.
Once calibrations for one-pedal driving are sorted, that feature has as much redeeming quality in it as the systems in the Nissan Leaf and Volvo C40.
Hyundai equips each Ioniq 5 with four drive modes: Eco, Comfort, Sport and Snow.
The interior of the Ioniq 5 is quite spacious, thanks in large part to the placement of the wheels, which are able to be pushed out to the corners, and lack of transmission and exhaust systems leaving a flat floor and allowing for innovative cabin design.
This is perfectly translated into the center console, which moves forward and aft rather than just having its armrest slide forward. Its modular design, with heavy emphasis on functionality in everyday life, simply works.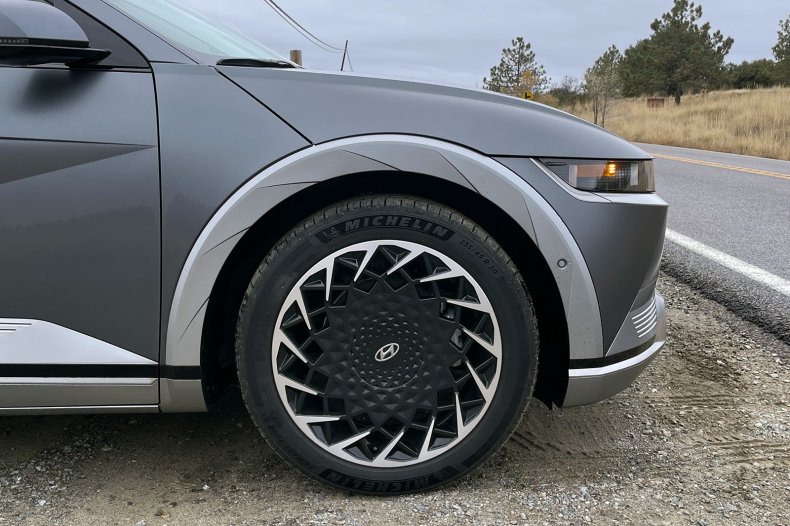 The five-seater Ioniq 5 has seats that are more comfortable than those in the Chevrolet Bolt EV and Mustang Mach-E, but not nearly as plush as the ones in the Volvo C40. That's about where each company's internal combustion engine vehicles fall in the seating comfort hierarchy as well.
There's a fair amount of small item storage in the Ioniq 5. Like most other hot hatches, there's a perfectly suitable amount of cargo space.
Each Ioniq 5 comes standard with a long roster of features and equipment, as is typical in a Hyundai. Buyers will find twin 12.3-inch screens featuring a fully-digital gauge cluster and infotainment options, respectively, under one housing that rises from the dashboard.
Dual-zone automatic climate control, a leather-wrapped steering wheel, heated front seats, eight-way power-adjustable driver's seat, keyless entry, Android Auto, Apple CarPlay, Bluetooth, BlueLink connected car app linkage, five USB ports and two 12-volt power outlets are among the most sought-after items on the standard equipment list.
The infotainment screen is responsive but the way the lack of physical buttons works out, some features are not as easy to find/use while on-the-go as they are in more traditionally designed vehicles.
This is best summed up in the activation/deactivation of the heated seats, which takes a minimum of two touches of the screen to turn on, and requires the yes to navigate a crowded home screen. If you have Apple CarPlay active it's four and if you're not on the right section of the Hyundai home screen, there's a swipe involved.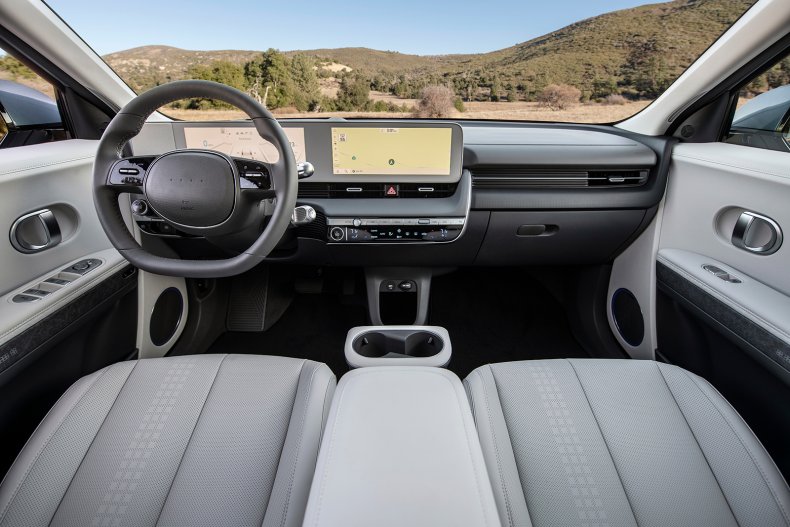 Fancy new tech like a head-up display with augmented reality (similar to what is in the latest Mercedes-Benz E-Class) makes the Hyundai feel more cutting edge than some other EVs.
Hyundai's safety systems perform as expected. Its Highway Drive Assist 2 tech, a new, next-generation driver assist feature, allows for more ping-ponging within the lane than what is optimal. It also attempts to translate curves in the highway and slow to what the system deems is an appropriate speed.
Dangerously, the system can rapidly slow down the car by 10, 20, or more miles per hour on the interstate when it thinks that the curve ahead, as mapped by the navigation system and translated into real time data, is too sharp for the current speed.
One such example of this happened on Interstate 5 North, heading from San Ysidro, California to San Diego. Near Palm City, the Ioniq 5 slowed as if the driver had put on a substantial braking operation though the vehicles around it were driving well in excess of the speed limit and the grade, curve, and conditions of the road did not warrant a slow down.
When this happens, it becomes up to the driver to intervene (Hyundai does not advertise this as a hands-off drive assist feature) and stomp on the gas pedal.
Though the system is next-generation in the Ioniq 5, it has similar issues in the Hyundai Sonata.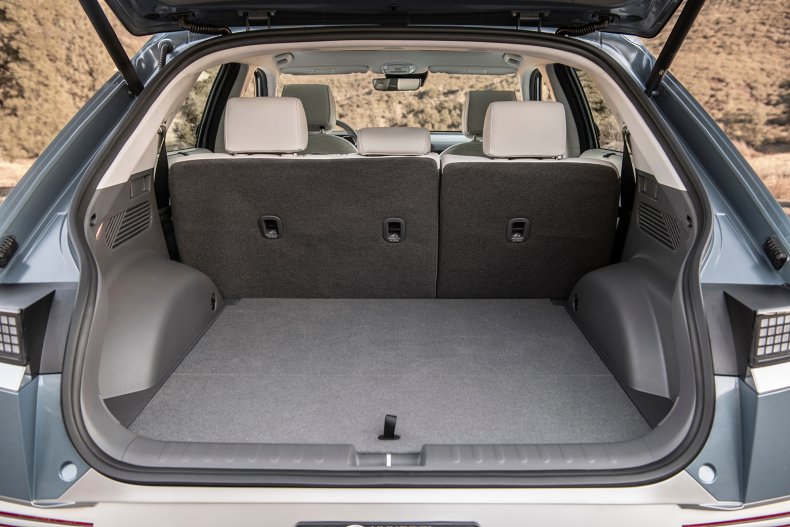 It's important to judge the Hyundai Ioniq 5 not as an electric vehicle, but as a vehicle, comparing it to everything else on the market. While it's not perfect, it is very good.
Its price point, power, and battery life put it squarely in the crosshairs of the Tesla Model 3, Mustang Mach-E and Volkswagen ID.4. However, it is pricey. The base model starts at $39,700 and the full-loaded version tops out around $55,000.
For those prices, one can get a luxe hybrid or plug-in hybrid SUV that has more range and finer appointments. Hyundai's own Santa Fe Plug-In Hybrid is cheaper than the Ioniq 5 to start. In fact, the only vehicle in the Hyundai lineup that is more expensive than the Ioniq 5 is the Nexo, the company's two-row hydrogen fuel-cell vehicle (starting MSRP: $58,735).