2022 Polestar 2 Review: Capitalizes on Volvo's Experience to Create an Appealing EV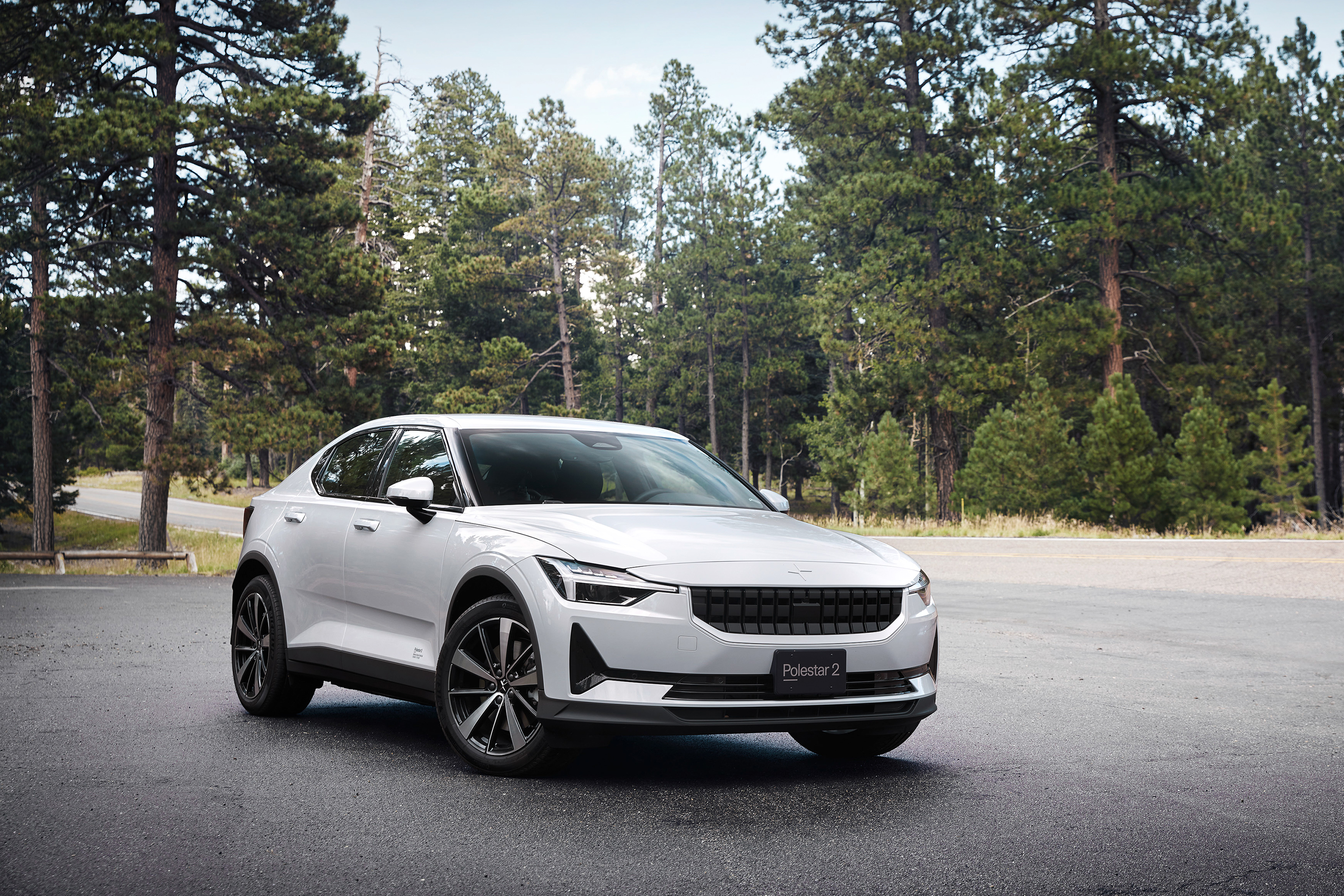 As far as vehicle structure, drive dynamics, pricing and design goes, the 2022 Polestar 2 is an appealing prospect. However, getting behind the wheel is a telling tale showcasing what can go extremely well and exceptionally bad with an electric car.
Its exterior design is linked to Volvo in small ways (they share common Geely ownership) but Polestar 2 holds its own with a unique body style for today's market that relies on much of what made the Honda Crosstour so appealing to a small number of buyers. That's not to say that it's unattractive. There's something to be said for the fact that you can pass the car on the highway at speed and not notice that it's an all-electric model.
Designers have opted to not give the Polestar 2 a wide-ranging color palette, with its most daring hue being a muted green-blue-gray tone. All-LED exterior lighting and exterior styling cues give the car a premium appearance. Nineteen-inch wheels are standard and 20s are available.
For the 2022 model year, Polestar is offering its 2 in either a front-wheel drive (FWD) or all-wheel drive (AWD) configuration, with either a single or dual motor, respectively. Both models are considered the company's Long Range variants with the dual motor AWD getting up to an EPA-estimated 249 miles of all-electric range and the single motor can go a Polestar-estimated 265 miles between charges.
Testing for both took the car through the long, winding highways of New Mexico and on the tight mountainous roads around Los Alamos National Laboratory and Ski Santa Fe. In all scenarios, the single motor version of the Polestar 2 proved to be plenty and even Polestar's team admits on the down low that there's likely no reason to buy the all-wheel drive version unless you live in an ice- or snow-prone area as the extra weight of the motor makes up for much of the added power.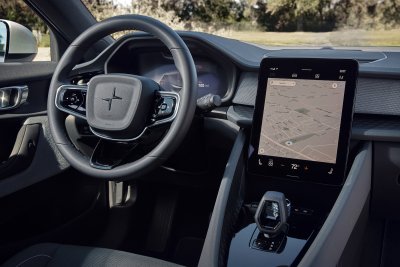 The FWD variant provides access to 231 horsepower and 243 pound-feet of torque. Moving to the dual-motor Polestar 2 equipped with AWD yields 408 horsepower and 487 pound-feet of torque.
The Polestar 2 dual motor takes 4.45 seconds to go from zero to 60 mph and has a top speed of 127 mph. The single motor version tops out at 100 mph and takes 7.0 seconds to hit the same mark.
Both cars have a 78-kilowatt-hour lithium-ion battery pack under the floor, of which 75 kilowatt-hours are usable for driving. Polestar says that the car can charge from 10 to 80 percent via a DC fast charger in just 33 minutes.
The automaker has equipped the car with a McPherson strut up front and a rear multi-link suspension, which do a good job keeping the model stable on corners and over bumps.
Steering is appropriate for the vehicle, meaning that the non-sports car doesn't engage quite like a Miata, nor should it.
As good as the power is, the drivability of the car is hindered by its regenerative braking. One-pedal driving is one of the key benefits of all-electric powertrains and the immediacy with which the car brakes, even under its lowest setting, while utilizing the function, makes it practically unusable. Turn up the intensity and driver and passengers are in for a lurching ride.
The model, which has nearly equal weight distribution, is rated to tow a maximum of 2,000 pounds when equipped with the $1,200 semi-electric folding trailer hitch.
The model's interior is straight from the playbook of its Scandavian roots with minimalism in focus. Fit and finish is exceptional, just as it is in Volvo products.
Polestar prides itself on having a fully vegan interior for its model lineup and there's no compromises with quality, even when fully equipped. Nappa leather seats are available upon request.
Polestar's 12.3-inch driver's information screen presents the requisite information in an easy-to-read fashion. The same goes for the icons on the car's steering wheel, which, it's important to note, feature the full set of icons and buttons no matter if the vehicle is actually equipped with a functionality like adaptive cruise control or not.
The seats in the Polestar 2 aren't exceptionally comfortable but there's also nothing inherently bad about them either.
Polestar 2's infotainment system, on the other hand, was problematic. The centrally located screen takes the place of most of the car's buttons, including climate and radio controls. Though the 11.15-inch touch screen was quick to respond to inputs, the menu layers and layouts made operation confusing at best and, during a familiarization drive, often required asking the person in the passenger seat to adjust functions because it required more time for eyes to be off the road than would be ideal.
Android Automotive OS is the backing operating system for in-car tech, which allows owners to log in to their Google account and customize their user experience including Google Maps, Google Play and Google Assistant functionalities. This means that users can access voice commands to control the infotainment system. Apple CarPlay and iPhone compatibility are standard.
There's not much rear cargo space in the Polestar 2, something that lends itself to more legroom for second-row passengers, and is a product of the fastback body style of the car. Rear storage is comparable to a subcompact SUV, with the second-row seats down. The power lift gate can be controlled via key fob or foot sweep motion.
The Polestar 2 has a starting MSRP of $45,900 before the $1,300 destination charge is factored in. That gets buyers the single motor version of the car. Opting for the long range dual motor model will set buyers back at least $49,900. Adding the Plus Pack ($4,000 for premium features and equipment), Pilot Pack ($3,200 for advanced safety and driver assist features) or Performance Pack ($5,000) gives buyers access to more features and a car with sportier dynamics, depending on the options boxes checked.
Polestar has priced its model appropriately for the market. With the tax incentives still available, the model becomes even more attractive. Plus, it has better fit and finish than the average Tesla.