2022 Jeep Wagoneer Review: Premium 3-Row SUV Offers Undeniable Capability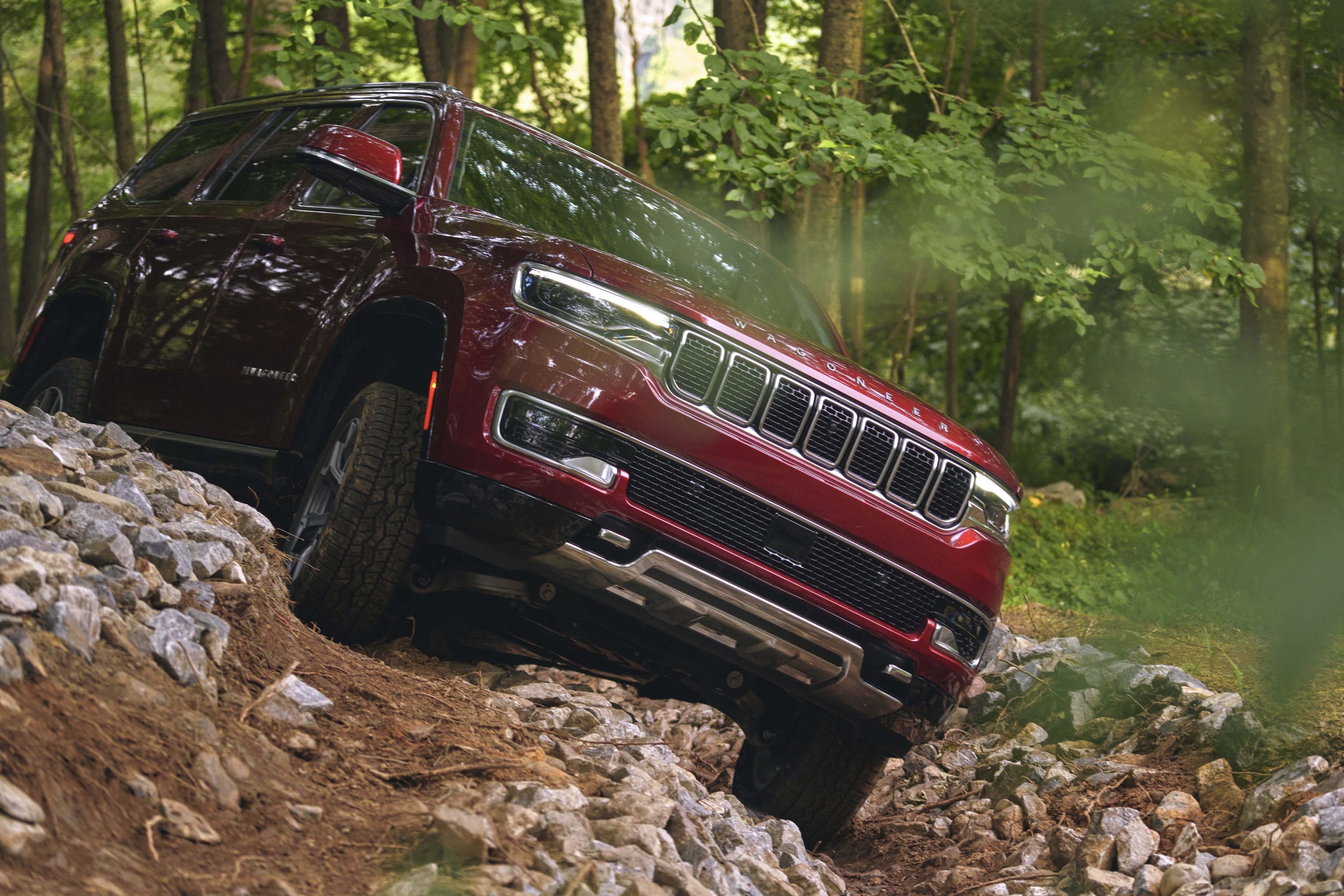 Its mainstream appointments and comparatively small 5.7-liter V8 make the 2022 Jeep Wagoneer a more budget-friendly three-row family hauler than its luxury level Grand Wagoneer brethren. Despite that, there's little about the Wagoneer that makes it look or feel downmarket.
Both Wagoner family members ostensibly wear the same clothes, though their jewels are different. The Wagoneer doesn't have as much bright work or two-tone roof options, but it does sport less of a parking lot princess look than the Grand version. It essentially looks like a grownup Grand Cherokee L with some vintage design nods to the classic Wagoneer.
No Jeep labels are to be found on the vehicle. The company's seven-slot grille sits up front set off by Wagoneer badging and American flag emblems. It's all a careful part of a slight recrafting of Jeep's image and allowing the Wagoneer brand to grow on its own.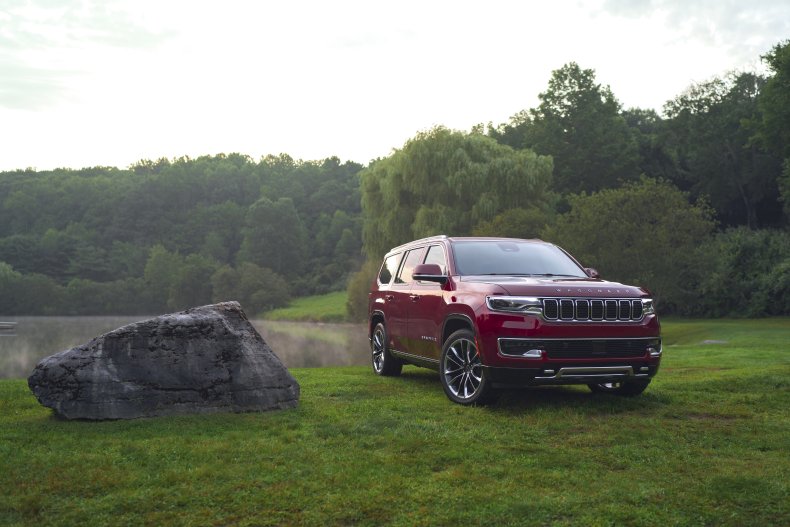 The Wagoneer and Grand Wagoneer play in the same space as the Chevrolet Suburban and Tahoe, Cadillac Escalade and GMC Yukon. Unlike those, which all ride on the same platform, the Jeeps don't look like awkward bricks on wheels when sitting in traffic. And, as controversial as the rear quarter styling of the Jeep models is, once you're inside it's easy to forget its faults.
Powering every trim level of the Wagoneer is the company's tried and true 5.7-liter mild-hybrid V8 engine (you can find the same power plant under the hood of the Ram 1500). It's rated at 392 horsepower and 404 pound-feet of torque. Like in the Ram 1500, the V8 is perfectly capable of getting up to speed in a jiffy, either from a standstill or when passing at speed. There's no hard idle while sitting in traffic and engine noise barely permeates the well-insulated cabin.
The Wagoneer and Grand Wagoneer win the segment when it comes to maneuverability. Sure, at low speed the Suburban and Yukon are just fine, but their body styling and weight distribution prevent them from achieving their full potential. The Wagoneer family of vehicles, on the other hand, turn on a dime, are easy to park, and have a frame still enough to handle over 35 degrees of articulation without missing a beat or making you hang on for dear life.
Its ride is smooth and there's a distinct lack of wind noise coming into the cabin, as the steering is anything but numb compared to most other SUVs. The car's brakes provide confidence and there's no as much body lean as you'll find in a typical modern full-size truck or more-top-heavy SUV.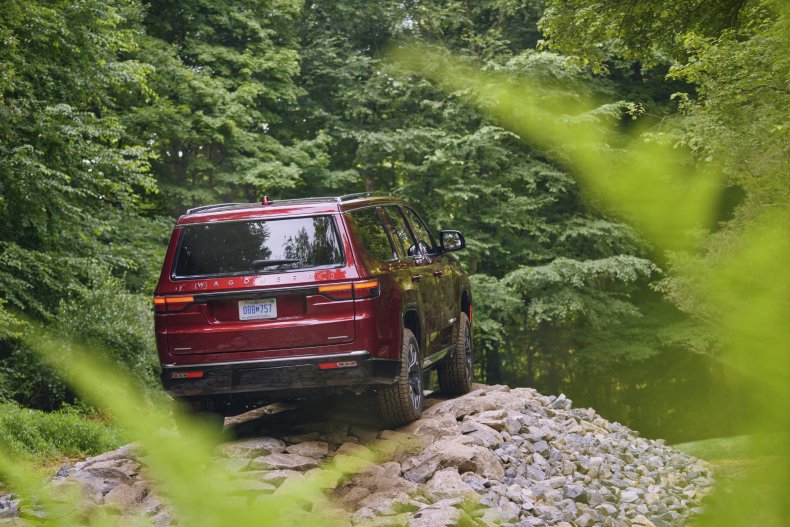 Like the Grand Wagoner, the Wagoneer is extremely capable off road. When equipped with the higher-end 4WD packages, the model conquers rocks and ruts in a fashion that would make the Cherokee and Grand Cherokee proud.
There is a marked difference in the interior appointments of the Wagoneer and Grand Wagoneer that isn't as apparent on a spec sheet as it is in person. Think of it as the difference between a Chevrolet Silverado and GMC Sierra. The cabin is plenty nice and serviceable but won't blow any buyers away with refinement like the Grand Wagoneer will.
Two-wheel drive is standard on the Wagoneer and four-wheel drive is available. Jeep offers the Wagoneer with either full-time 4WD (Series II) or 4WD with a two-speed transfer case (Series III). Wagoneer Series II and III buyers who want an electronic limited-slip differential and hill descent control need to purchase the Advanced All Terrain Group or Heavy-Duty Trailer Tow package.
The Wagoneer can tow up to 10,000 pounds.
The biggest differences between the Wagoneer and Grand Wagoneer, aside from upholstery and appointments are the features. In the Wagoneer, a tri-pane sunroof, reversible cargo mat, second-row captain's chairs, surround view camera and parallel/perpendicular park assist are available, however they are standard on the Grand Wagoneer.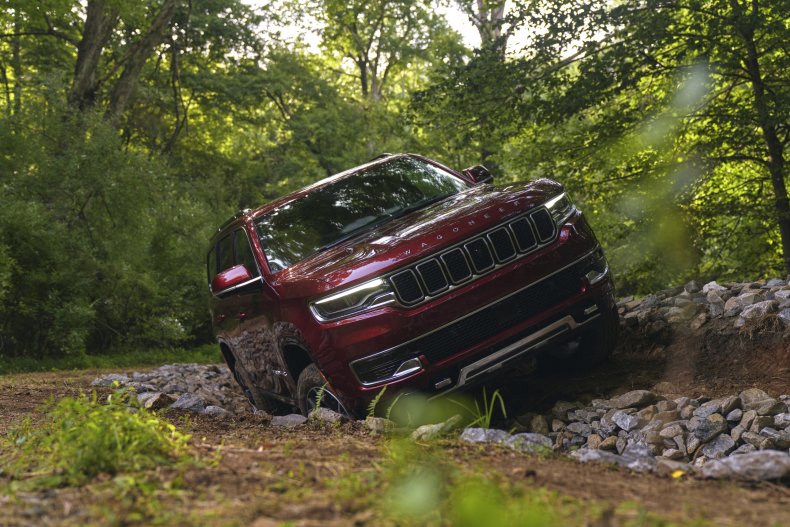 Wagoneer gets s 10.1-inch infotainment touch screen while the Grand Wagoneer gets a 12-inch. Grand Wagoneer buyers can upgrade their 19-speakerMcIntosh MX950 Entertainment System system to a 23-speaker system. There's also standard 24-way power-adjustable driver and front-passenger seats in the Grand Wagoneer versus the Wagoner's 12-way power-adjustable seats.
There's no doubt that the Grand Wagoneer's features are nicer, but buyers shouldn't shy away from the Wagoneer if they're comfortable with the way the Dodge Durango is appointed in its highest trim levels, which mirrors the appointments and features in the Wagoneer.
Like the Jeep Grand Cherokee L, the Wagoneer has a good amount of second- and third-row seating space. However, it's in the third row where the Wagoneer shines. There it offers six inches more legroom, two inches more headroom and over a foot more shoulder room than the Grand Cherokee L. The Wagoneer also has 10 cubic-feet more cargo space behind the third row.
When it comes to safety features, the two vehicles line up similarly with the Wagoneer coming standard with blind spot monitoring with rear cross traffic detection, active lane keeping assist, electronic stability control, forward collision warning with braking, hill start assist, front and rear park assist, keyless entry, antitheft engine immobilizer, and trailer sway control.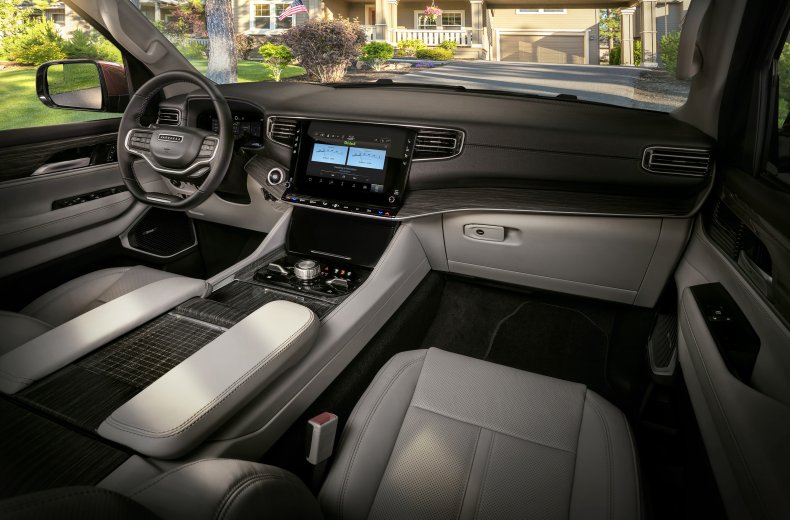 The Wagoneer Series I, a 4x2, has late availability and won't be coming with a 4WD option. It will start at $57,995 when it arrives on dealership lots. The Wagoneer Series II 4x2 has a starting MSRP of $67,995. Adding 4WD bumps the price up $3,000. The same pattern holds true with the Wagoneer Series III, which sees its 4x2 priced at $72,995 and 4WD priced at $75,995. All prices exclude a $2,000 destination charge.
Pricing is in line with the competition and expectations for the model. In broader scope, the Wagoneer exceeds expectations when it comes to daily driver and weekend warrior duties. If you don't plan to tow or require a spacious third row, it's worth cross-shopping the new Grand Cherokee L alongside the Wagoneer.