Famed Belgian singer-songwriter Stromae has dropped his third album Multitude, making a long-awaited homecoming to the international music scene following an eight year hiatus.
Known for hits such as "Alors on danse," "Papaoutai" and "Formidable," Stromae (real name Paul Van Haver; the stage name is a spin on "Maestro") is among the most influential contemporary francophone artists. His proclivity for writing bleak lyrics to upbeat electro music has earned him much praise since his debut album Cheese in 2010.
"If it's an uptempo track, like, a really happy song, I don't want to sing really happy words on it, I want to twist it," the 36-year-old singer tells Newsweek. "I think it's possible to dance on difficulties. I think it's possible to celebrate hard life."
Naturally, the world is not as it was in 2013, the year Stromae's critically acclaimed last album Racine carrée was released. Why did it take him so long?
"I just needed to live," he says. "I had the chance to have a beautiful baby, to get married, I've experienced some cool things. And to meet people, to discuss, to listen... And in the end, all of this provides material."
In the midst of a taxing world tour, Stromae announced his indefinite retirement from music in 2014, but he was hardly dormant over the years. He collaborated with household names like Billie Eilish, Dua Lipa and Coldplay, and also launched five clothing lines under his creative label Mosaert.
"I started getting, not jealous, but when I began seeing other artists release stuff, I started telling myself, 'Ah man, this is really good music, I would have liked to make that,'" he says. "I started getting a little bitter, so I told myself, 'This means it's maybe time that I get back to it.'"
Unbeknownst to patient fans, Stromae began working on his new album originally to be titled Folklore in 2018. That is, before Taylor Swift released her chart-topping 2020 album of the same name. The new title Multitude, he says, was more than the next best thing: "It made complete sense."
"I just love to act different characters, and even the influences of the music direction is completely diverse," he told Newsweek.
Racine carrée unveiled a rich tapestry of electronica, nostalgic French folk and vibrant African percussion. Multitude branches out even further. The record blends vocals and instrumentals from many parts of the world, including contributions from Chinese erhu master Guo Gan, Bolivian charango player Alfredo Coca, Franco-Bulgarian choir Orenda, and the Belgian National Orchestra.
The sounds of Multitude are pulsating, but less sanguine than Stromae's previous material. There is a darker edge, some pause, an air of malaise. The singer describes the album as "a little less upbeat" and "pretty slow."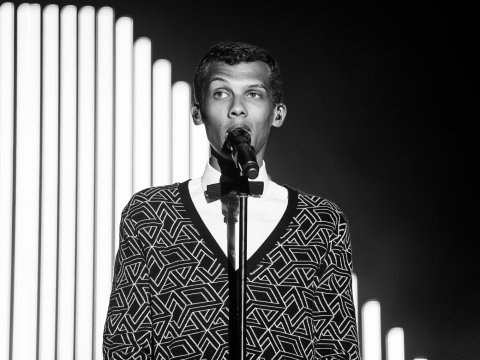 However, lyrical storytelling through larger-than-life protagonists remains a leitmotif. Stromae's first two albums introduced striking personalities: a woman airing her grievances with men in "Tous les mêmes," a man succumbing to AIDS in "Moules frites," a child abused by the adults around him in "Dodo."
Listeners seeking love songs in Multitude will encounter a man haplessly disillusioned by both singlehood and relationships ("La solassitude"), a serial cheater indignant at his ex-partner moving on ("Mon amour") and an out-of-love couple unsure why they remain together ("Pas vraiment").
Multitude's cast of characters evokes the human condition's many faces, among them existential anguish. This seems timely given the universal psychological toll of loss and lockdown during the Covid-19 pandemic. "L'enfer," a single released in anticipation of the album, took an intimate look at loneliness and suicidal ideation.
Stromae explains these themes spilled out of his stream of creativity—a process that begins with musical composition, followed by putting together a chorus, then "writing a story" around that. "I didn't tell myself, 'Hey, I'll talk about mental issues or health,'" he says "It just came like that, spontaneously." Regardless, the words are mordant.
Multitude concludes with two mirroring tracks: "Mauvaise Journée" and "Bonne Journée." The first song describes a bad mental health day spent painstakingly slogging through a routine drenched in misery. The next is a cheery emergence from the depressive episode, with a spring in each step revisited from the day before.
"It was one of the most difficult to finish 'cause the process was really long," Stromae says. "I'm used to telling stories, acting some characters in my songs, but never describing a mood or a day, you know?"
"I wanted to finish the album with a positive message, which is 'Bonne Journée.' There's not only bad stories like I love to tell, there is happiness also." Still, Stromae says "Mauvaise Journée"—in which he cries out, "Help me/I feel so lonely/Leave me alone/It's my right to be depressed on my armchair"—is a song "I love to dance on."
Racine carrée drew praise for addressing various strands of the self, including race and gender. In "Tous les mêmes," Stromae fluidly performed as a female character for the song's music video and on stage.
Identity and belonging have been central to the culture wars that engulfed the U.S. and bled into other parts of the world, including francophone nations.
Following global Black Lives Matter protests in 2020, the Belgian government is looking to atone for the country's genocidal colonial legacy under King Leopold II. The monarch's brutal rule over the Congo Free State (today the Democratic Republic of the Congo) from 1885 to 1908 resulted in the deaths of an estimated 10 million Congolese people.
All the while, the Flemish far-right—a fervently anti-immigration movement with white supremacist elements—has been gaining momentum for the past several years.
Over in neighboring France, presidential candidate Éric Zemmour soars as a superstar for right-wing hardliners, who perceive him as an antidote to political correctness run amok. There has even been uproar over leading French dictionary Le Petit Robert introducing gender-neutral pronoun iel.
Given all that has transpired over Stromae's hiatus, fans may be surprised to find Multitude eschewed political statements—bar "Déclaration," a clear-as-day message on misogyny and feminism.
"I admit that it's a bit voluntarily that I try to avoid topics of current events, but it's because the debate is already there, so I don't really see what more I can bring because all the opinions were already given," he says. "Of course, we all want to head towards a better world and we all want equality for everyone."
"This is the reason why I hesitated to add 'Déclaration' on the album, because it was such a topical subject," he continued.
"I relistened to this song and, actually, no—the lyrics are another point of view, and it's the male point of view. There aren't many male opinions on feminism."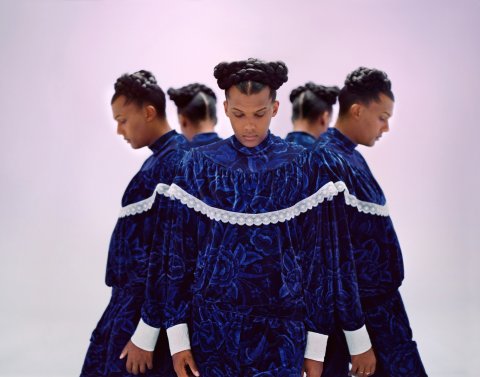 Stromae expresses a preference for drawing attention to "topics we talk a little less about." He points to the track "Fils de joie," in which we hear from people in the orbit of a sex worker, most notably her child. "In the end I told myself, 'What better than to take the voice of this son, of this madam, of this cop, of this client,'" he says. "Everybody has a point of view on this woman and we never really ask her for her opinion."
It is not the first time Stromae has explored filial connections. "Papaoutai," a beloved energetic song from Racine carrée, is about a boy seeking out his absent dad. (The artist's Rwandan father was killed during the country's 1994 genocide.) Now himself a dad to a young son born in 2018, Stromae paints an unforgiving portrait of parenthood in "C'est que du bonheur." The song starts off with love to the brim for the child, before thanking him for "having destroyed mommy's body, she didn't like herself very much but it's worse than before."
"Cause there are so many songs about fatherhood which are, like, 'Okay, I love you, you're the best thing of my life,'" Stromae tells Newsweek. "Of course I love him, and like I say at the very beginning of the song, 'I gave you birth and you saved my life.' "So yeah, ironically, like I love to do, I love to describe the bad side of it."
"C'est que du bonheur" covers diapers, odors, vomit and poop, before getting into teenage tantrums and empty nesting. When the grown son has children of his own and deals with the ensuing messes, he also witnesses his aging parents' incontinence.
Which bares another noticeable pattern in Multitude: scatology. In "Mauvaise Journée" and "Bonne Journée," respectively, the "caca" goes wrong, then is "perfect" the next day.
"Maybe the most popular word of this album is poo," Stromae says with laughter. "Maybe because I had literally my hand in the shit for two years, maybe that's the reason why I use this word a lot."
While Multitude creatively splinters into uncomfortable realities, Stromae said he sought to channel positivity. In late 2021, he teased his reemergence with a "happy song" from the album.
"Santé" is a lively tribute to workers—from waiters to nurses to fishermen—whose jobs involve night shifts and grueling schedules. A fitting release, given the inequalities made apparent and exacerbated by the pandemic.
Though Multitude's opening track "Invaincu" is not as kind, it is similarly relevant. Stromae can be heard combatively rapping about putting three bullets in someone's head, later revealed to be disease personified, as the song is meant to "celebrate recovery."
"I'm just saying that if you're alive, you're 'invictus,'" he told Newsweek. "We always like talking about cancer, COVID, whatever, but actually, if we are still alive, it's something really positive."
"We just fought it and we won the fight, and that's beautiful."