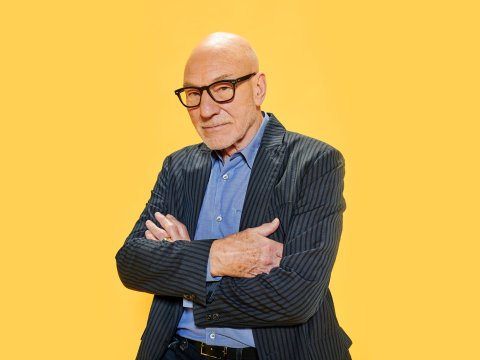 After more than 30 years playing Jean-Luc Picard in many iterations of Star Trek: The Next Generation and now with the Paramount Plus series Star Trek: Picard (season finale May 5), it's wild to think Patrick Stewart almost might not have gotten the iconic part. "Gene Roddenberry [series creator] didn't want me." Even Stewart was on the fence, with friends telling him, "Come to L.A., get to know Hollywood, make a little bit of money for the first time in your life and go home with a suntan. That's what I expected. I shot the pilot episode expecting every day to be canceled." Stewart says he was intrigued by the idea of "performing the same character 30 years later" and showing how they "would change all the way through the seasons." After finishing the second season of Picard (there will be a third), Stewart has spent time writing a memoir. Reluctant at first, Stewart says the new "discoveries" he finds every day brings him joy. "My wife will look at my face and say, 'I know exactly what you've been doing. You've been writing your memoir.' Because I look happy."
Do you feel like Picard shows a new evolution of Jean-Luc?
I only took the first meeting so that I could say to these brilliant people who had come together to offer me this project, I'm meeting you for one reason only, I respect you so much, I wanted to say that I was going to pass to your faces and explain to you why I was going to pass. And then they made a long speech. After the meeting, I said to my agents, if you could get them to put down on paper everything that they said, not because I don't trust them, but because reading their comments is going to have more impact on me than being talked at. And I went back and after my second meeting, I said, "Yes, sign me up." What they had said made all the difference. They said, "Look, 30 years have passed since you were Jean-Luc Picard. They've passed for you in a way your life has gone on, your career has gone on, your private life has changed. You've got to understand we believe the same things have been happening to Jean-Luc, that he too, has gone through transitions, he is not the same man who was flying in the USS Enterprise. He's a different man." That hooked me because of the idea of performing the same character 30 years after I'd done the previous one and to develop an individual who has changed, and would change all the way through the seasons.
That's such a wonderfully British thing to do, to say "no" to someone's face rather than just not call back.
I always try to do that. There was Alex Kurtzman, Akiva Goldsman, Michael Chabon at that meeting. It was extraordinary. We had one Pulitzer Prize winner, we had an Academy Award winner. It was only the right and promising thing to do.
Whoopi Goldberg is back in the Star Trek universe, which is so exciting! What was it like having her back?
Well, maybe you're not aware, but I offered her the role live on television on The View. I didn't know right up to the moment that I began to say the words. I'd been granted approval from my fellow executive producers. I love doing The View. She was sitting at the other end from me so I could look fully at her face. What I didn't realize was that she began to cry. She was so thrilled and she said yes immediately. When we met up again on set, it was with all of that emotion and all of that feeling. I adore her and admire her strength, ethics, complexity, all these things are enrichments to a wonderful actress.
You've been portraying this character for over 30 years now. Did you ever expect to be doing it this long?
I really shouldn't have been cast as the role of Picard. Gene Roddenberry didn't want me. Now this is not giving away state secrets and I mean absolutely no insult to Gene, because he did agree to have me in the show, but he didn't think I was right for it. There were times when we were filming when he would come down on the set and they always brought out a huge director's chair for him—he's a tall man, he towered over everyone—and he would sit there watching and I would catch him looking at me. The expression on his face was unmistakable. It was, what the hell is this guy doing? It was unmistakable. And then when I asked advice from people in Hollywood—I knew a handful of people, not many in those days—and I said to them, "Look, I've been offered this, what should I do? I've got plays lined up in London, I'm finally beginning to get a reputation in the West End playing leading roles." And they told me now, this is a six-year contract, don't worry about it. You cannot revive an iconic show like Star Trek, it cannot happen, you will be lucky to make it halfway through the season before it's canceled. Everybody said that to me and so I realized, well, that's fine. The other thing that somebody said was, come to Los Angeles, get to know Hollywood, make a little bit of money for the first time in your life and go home with a suntan. That's what I expected. I shot the pilot episode expecting every day to be canceled. Especially after Gene. Somewhere in the vaults of Paramount there is a letter which circulated from Gene to all the other associate producers and senior people on the show telling them that if he heard my name mentioned again in a meeting, he would throw them all out. I mean, that's how serious it really was. [laughs]
I love that the first image that shows up in a Google search of you is a picture of you and Ian McKellen kissing.
I should tell you, I mentioned that there was one person who strongly believed I should not do Star Trek who happened to be in Los Angeles during the five days that I had to make a decision. I was cast on Monday morning very early, and I was given till the end of working day on Friday to get my decision. And Ian is the one who said, "Don't do it. No, no, no, don't do it. You have too many important things waiting for you. Don't go down that road."
Does he feel differently now?
He does. He's a very, very sensitive and self-examining person. He is beloved both to me and my wife. We adore him.
You're such an accomplished Shakespearean actor. How does Shakespeare influence you playing these fantasy and sci-fi characters like Professor X from X-Men or Jean-Luc?
In Shakespeare's plays there is, without any doubt, a heightened quality to the language. It's not everyday speech. Now, you can say the same thing about Star Trek. It's not everyday language, certainly not the way that genre spoke. And I felt quite early on that having all that extra Shakespeare experience benefited me so much when it came to walking on the bridge in my uniform, which, by the way, had no pockets unlike everything I'm wearing [on Picard] because now it's got pockets. In fact, I was told after the first couple of episodes, "Patrick, you've got to stop putting your hands in your pocket."
I can't imagine life without pockets.
My clothing in Picard has got pockets at the front of the trousers, pockets on the backside of the trousers, the jacket, it has got inside pockets, and it's got pockets on the outside as well. I have so many pocket choices. But I've been told to stand with my hands at my side. Because the thing is, it makes you look insecure, or uncomfortable. There is a vulnerability about an actor when he stands with his hands simply hanging by his side. He is simply being who and what he is. When I see actors do that on stage, it always makes me lean forward in my seat. I want to get closer to them.
Even though you're not known for comedy, you do it so well! A great example is your Emmy-nominated guest appearance on HBO's Extras. What's harder, comedy or drama?
I think I'm always a little more apprehensive with comedy than I am with drama. I am so comfortable with powerful emotions, strong urges, strong objectives and intentions. Comedy is a different tonality. I love doing it. I loved doing Extras. Actually, all I did was copy my brilliant master with whom I was playing the scene [Ricky Gervais]. He's a classic example of the brilliance of subtle real comedy. I would like to do more comedy.
Are you discovering anything new about yourself as you write your forthcoming memoir?
Every day that I rise, those discoveries are made. I was quite reluctant. In fact, very reluctant. I had always turned down offers partly because I didn't have the time. I am not a speedy writer and I knew that if I were to write, I would need to have weeks and weeks and weeks and months and months of time to get it right. When my agent called me and talked about this offer, which came from Simon and Schuster, this was right at the beginning of COVID, he said it's possible there may never come another time like this when you and hundreds of other actors will not be working. Why not sit at home and write your memoir during those periods? So I did. I have loved the experience. My office is upstairs and when I come down, my wife so often will look at my face and say, "I know exactly what you've been doing. You've been writing your memoir." Because I look happy. It's been so interesting, because you're continually asking yourself questions, Why? How? Who? What? So I'm grateful that I was approached about this. They have been so patient with me, but I now feel the end is in sight.
To hear the full discussion, listen to the latest Parting Shot podcast. New episodes of Newsweek's Parting Shot drop weekly. Subscribe on Apple, Spotify or wherever you listen to podcasts.